Mercredi 1er août, la matinée est consacrée au shopping. Les outlets et magasins de souvenirs sont au programme.
Dans l'un des magasins, sur Hollywood Boulevard, des PLV de Michael sont en vente. Elles sont magnifiques mais je ne me vois pas ramener ça dans l'avion, et puis pas sûr que mon mari soit d'accord hihi, je me contente de les prendre en photos !!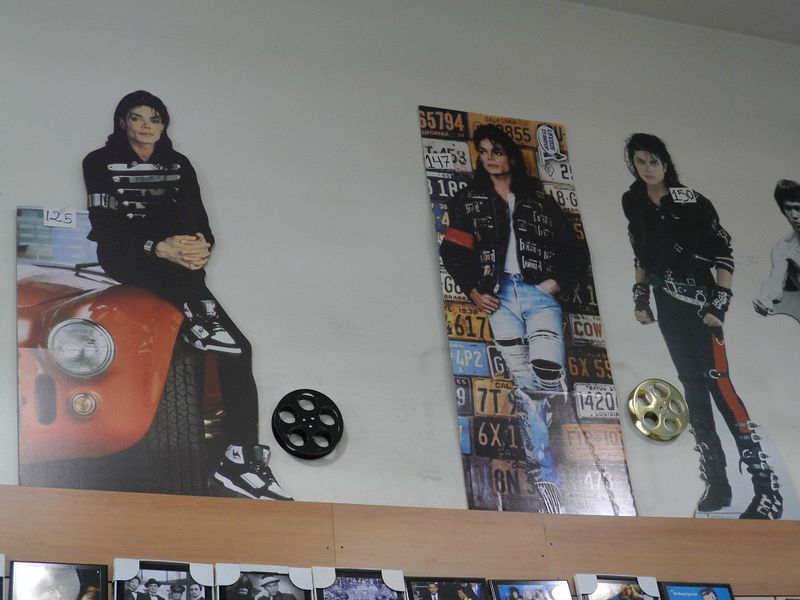 Dans un petit magasin dédié aux collectionneurs, Starworld, je trouve quelques petits trucs sympas : des cartes topp année 1984, un écusson de Neverland. Il y a aussi bien d'autres pièces (des goodies) mais attention aux $$$$$$$$$.
Dans l'après midi, nous allons visiter le Griffith Observatory, l'Observatoire de Los Angeles, qui surplombe la ville, en haut duquel on aperçoit les fameux signes HOLLYWOOD et avec une vue à couper le souffle sur la cité des Anges : je ne résiste pas au plaisir de vous mettre les photos.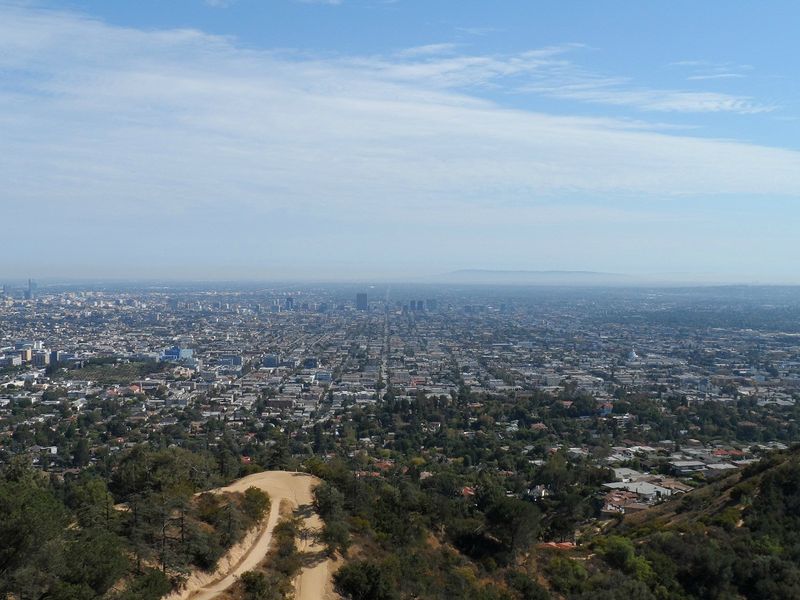 Le Griffith Observatory, encore un lieu où Michael est passé : un des premiers photoshoot pour la couverture de l'album Off The Wall a eu lieu à cet endroit. La séance de photos s'est déroulée sans autorisation et Michael s'est changé très vite dans les toilettes de l'observatoire. Peu satisfait du résultat, Michael et Mike Salisbury abandonneront ces photos pour celles du mur que l'on connait. (voir l'interview de Mike Salisbury sur le mjdatabank).
En fin de journée, après avoir loupé l'horaire du match de base ball des Dodgers (du coup on assistera au match des Giants à San Francisco), je décide d'aller voir The Thriller House, la maison qui a servi à tourner certaines scènes du célèbre clip.
Il est 20h, le jour commence à tomber, et je trouve la maison sinistre. Brrrrr, digne du clip. Elle n'est pas très bien entretenue, une partie de la toiture est endommagée et on dirait qu'un meurtre y a été commis (enfin c'est mon imagination qui me fait dire ça !!!) : un cordon comme ceux qu'on voit dans les séries entoure la terrasse de devant !! En tout cas, il y a du monde à l'intérieur, elle semble habitée car j'aperçois de la lumière à l'étage. L'idée d'aller frapper m'a traversé l'esprit mais je l'abandonne vite : j'imagine qu'ils doivent en voir passer des fans et ça doit pas forcément être agréable. Et puis, comme je l'ai dit, elle me file des frissons cette maison. Quelques photos et je m'en vais !!!