Jeudi 2 août, direction le downtown de Los Angeles
Je décide de continuer l'épisode Thriller de la veille, avec le cinéma d'où sortent Michael et Ola Ray au début du clip, le Palace. Je trouve qu'il n'a pas beaucoup changé, même si évidemment il n'y a plus la même magie.
Aux studios Universal, quelques jours auparavant, j'avais vu une réplique de ce cinéma (enfin je pense que cela en est une !!)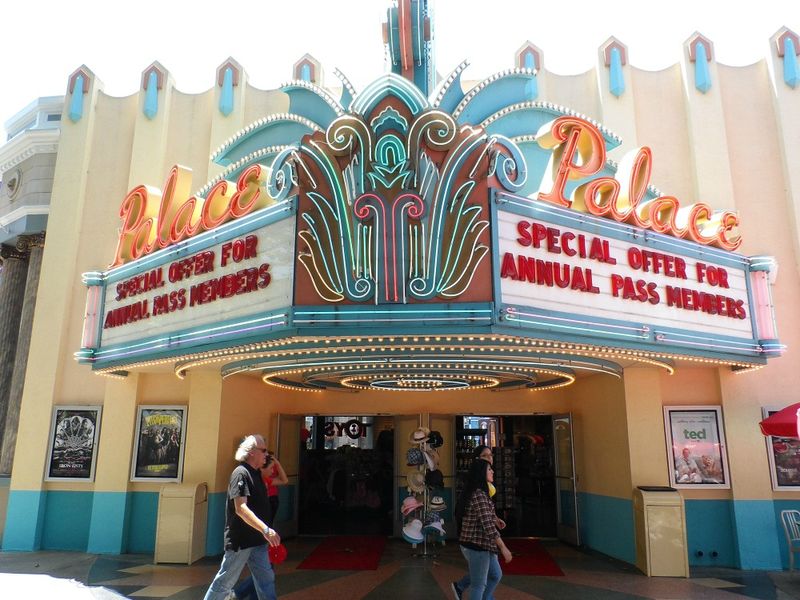 A quelques rues du cinéma, se trouve le Monte Carlo Restaurant, le café qui a servi au tournage du clip Beat it. Le quartier n'est pas très sur, il y a beaucoup de homeless qui m'entourent et j'avoue que je ne me sens pas très à l'aise (je suis même à cette heure un peu matinale, la seule femme blanche dans la rue !!!) Du coup je n'ose même pas y entrer. La devanture n'est plus tout à fait la même mais j'aperçois tout de même l'arrondi du bar, comme dans le clip.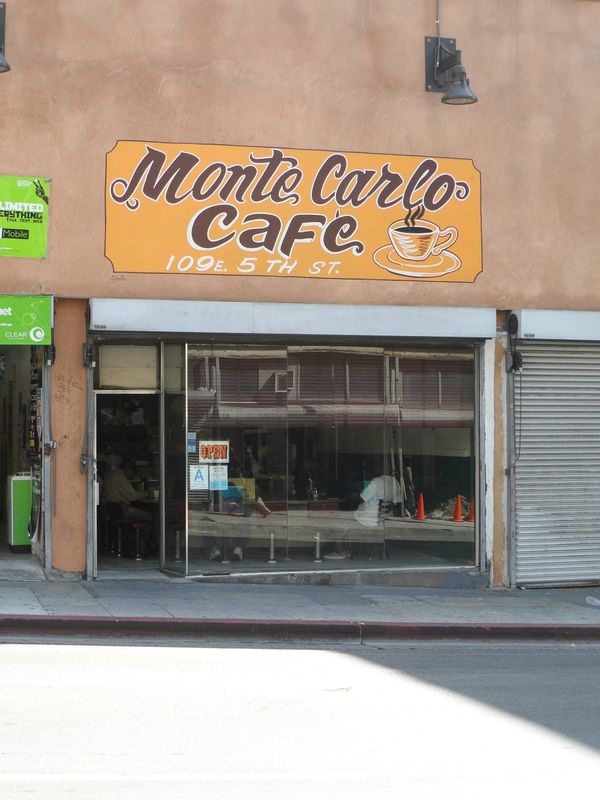 En cherchant mon chemin, en voiture, je passe devant le tribunal de Los Angeles, là où il y a quelques mois, le Docteur Murray a été jugé. La famille Jackson doit s'y présenter ce jeudi pour discuter de la garde des enfants suite à la « disparition » de Katherine dans l'Arizona. Les camions de la télé et des journalistes sont déjà stationnés devant. Fucking Tabloïd !
En attendant l'ouverture du Grammy Awards Museum, nous nous dirigeons vers le Staples Center. Mon mari et mon fils veulent voir l'endroit eux aussi, en tant que fan de Basket Ball (le staples center est l'arène notamment des Lakers !). Malgré le prestige de la salle, j'ai du mal à me réjouir. Michael a répété dans cette salle en vue de son futur show en 2009 mais je n'arrête pas de me dire « et si……. Et si….. » J'aurais préféré ne jamais avoir à venir ici. Et puis bien sûr il y a eu ce funeste mémorial du 7 juillet 2009.
Le lieu est peu fréquenté. Mon mari trouve une porte ouverte et se paie le culot d'entrer et de filmer à l'intérieur de la salle. J'en profite pour prendre quelques photos .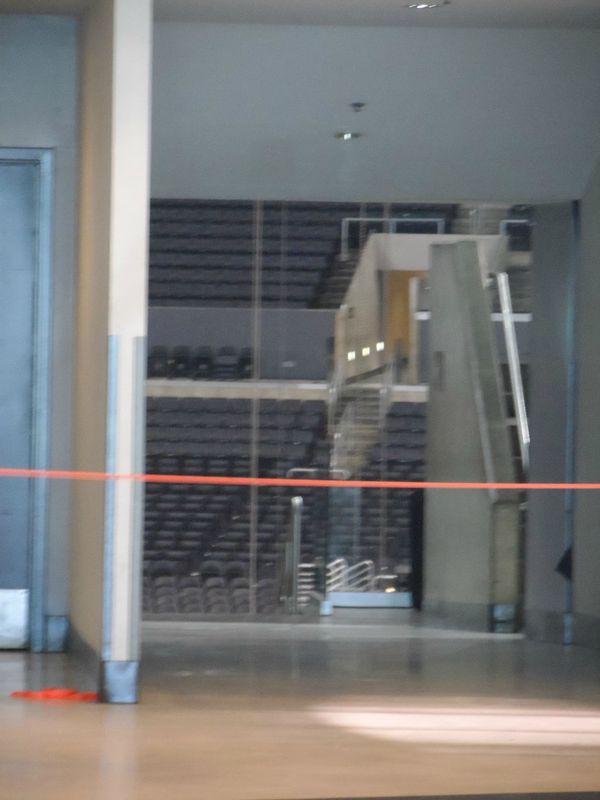 En face se trouve le Nokia Theater, lieu des premières répétitions de This Is It.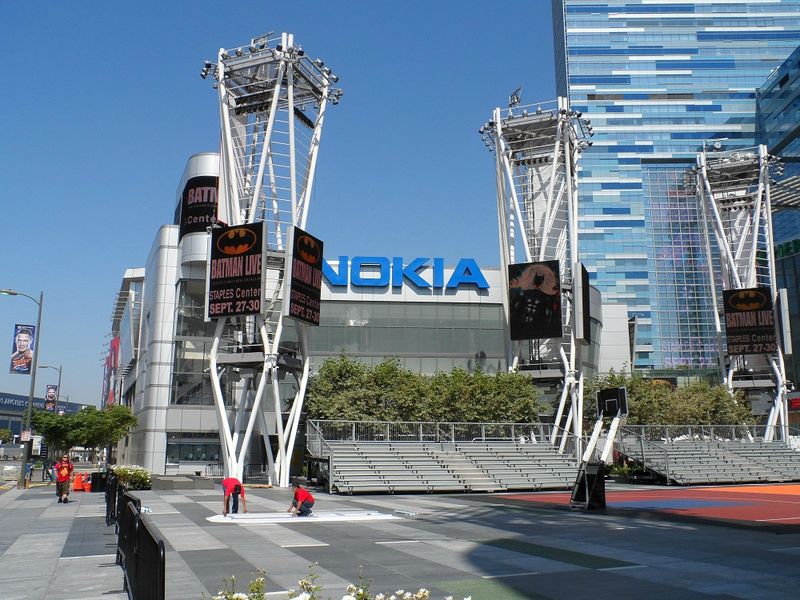 Sur le trottoir du Nokia Theater, se trouvent gravés les médaillons des Grammy Award : je trouve celui de 1984 pour l'album Thriller et celui de 1986 pour We are The World.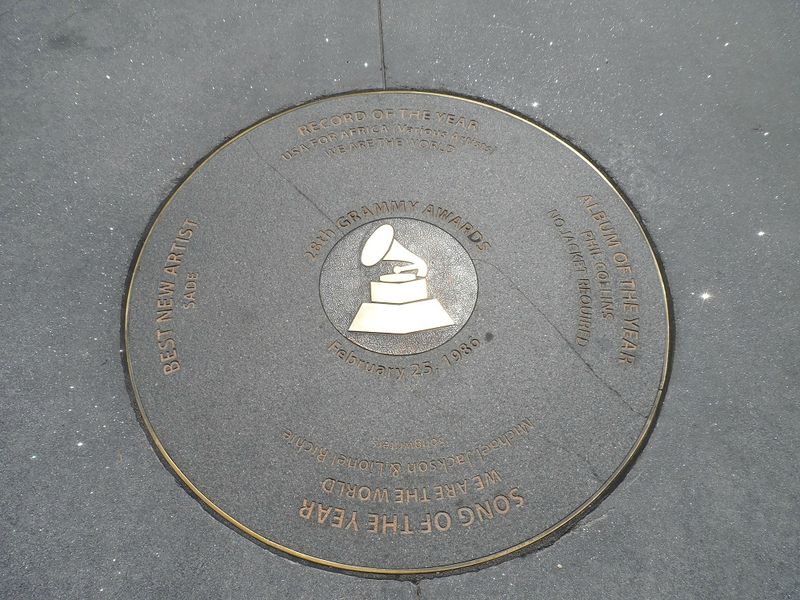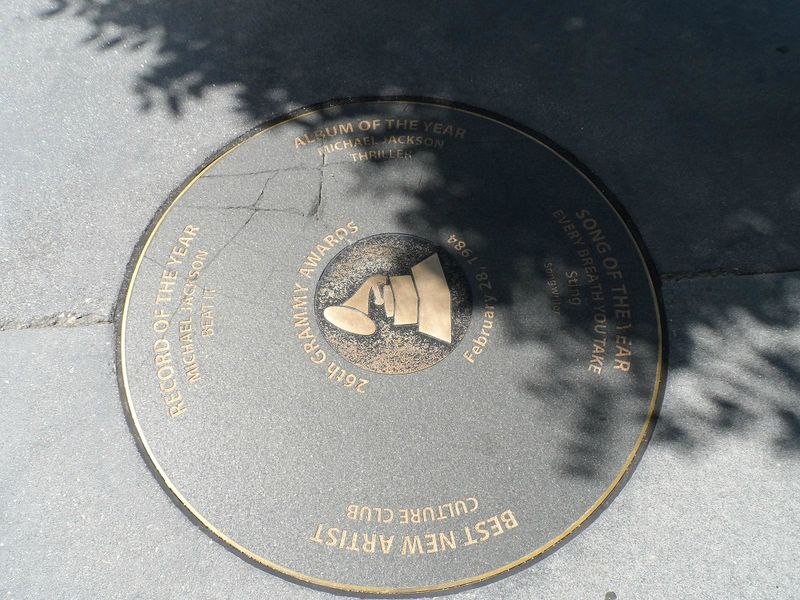 Fin de matinée, il est temps d'aller voir le Grammy Award Museum. Une expo concernant Michael permet d'admirer des vestes, notamment, portées par Michael (prêtées par l'Estate ou par Michael Bush). Il y a aussi des paroles de chansons (We are the World), des gants et les jambières du HIStory tour. Une vidéo de Michael recevant ses récompenses (ses Grammy) tout au long de sa carrière est diffusée en boucle. Je passe un certain à la regarder, même si je connais déjà les images.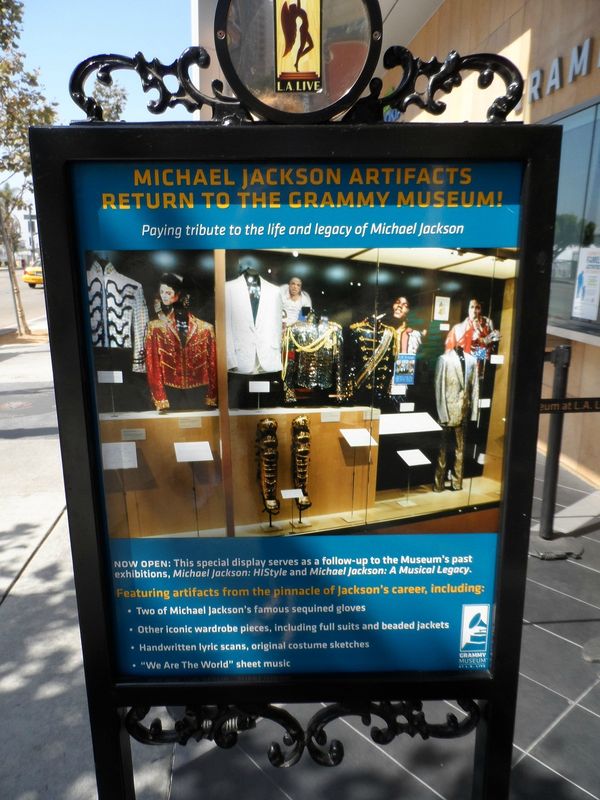 Officiellement, il est interdit de prendre des photos. Pourtant je suis en admiration devant la vitrine. Ces vestes sont magnifiques, elles brillent. Michael les portaient à merveille, elles sont à la hauteur du roi qu'il était, magnifiques !!!! Je me retiens mais je ne tiens plus : tant pis, je sors l'appareil photo, personne autour de moi, j'en profite. Au bout de 5 ou 6 photos, une des vigiles arrivent et me dit que c'est interdit. Je fais l'idiote et m'excuse en disant que je ne savais pas…….. Mais voilà c'est fait !! Je suis contente de moi !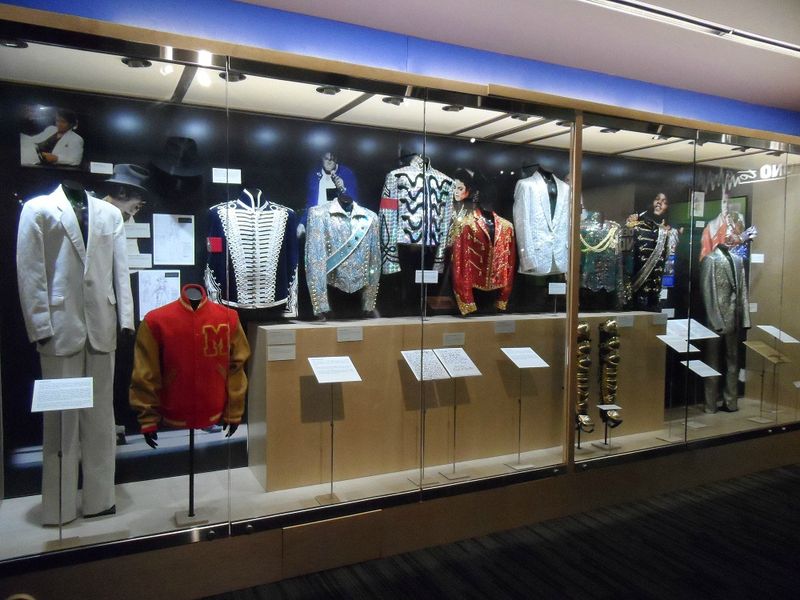 Petit passage par la boutique de souvenirs mais je ne trouve rien d'intéressant, c'est bien dommage d'ailleurs. Les produits habituels, des CD, DVD, T shirts, j'aurais préféré quelque chose qui rappelle l'expo.
A quelques kilomètres du Grammy Museum, se trouve The Graff Lab, une magnifique fresque de Michael lors de la conférence de presse annonçant le TII tour le 05 mars 2009. Elle a été peinte par l'artiste Rudy Martinez et inaugurée pour l'anniversaire de Michael, le 29 août 2010.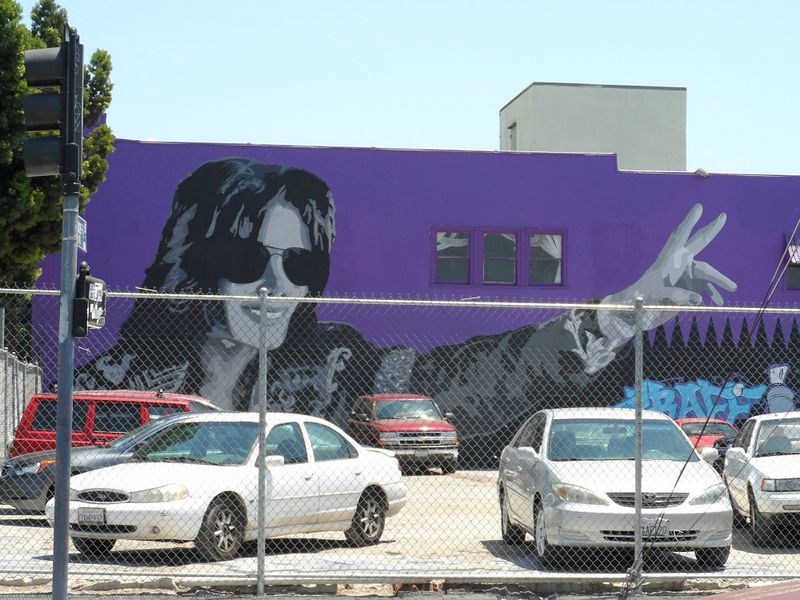 Ce sera mon dernier rendez-vous de la journée avec Michael, direction Venice Beach et sa plage pour le reste de l'après midi !!