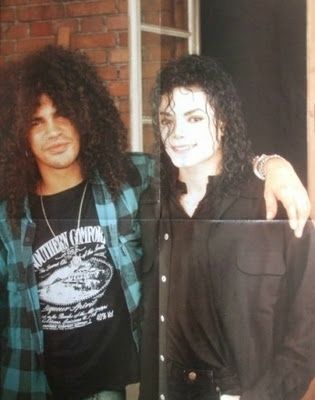 Slash, ex-guitariste des Guns N' Roses, a commencé à collaborer avec Michael Jackson en 1991, sur deux singles de l'album DANGEROUS : "Black or White" et "Give In to Me" . Slash apparaît dans le clip de "Give In to Me" et sur la pochette du single du même titre.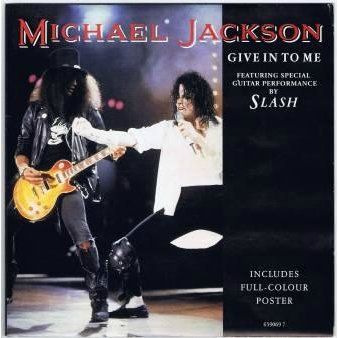 Le guitariste a fait quelques apparitions scéniques avec Michael Jackson à l'occasion du morceau "Black or White" durant le Dangerous Tour.
Slash et Michael Jackson sont également apparus ensemble au MTV Video Music Awards de 1992 et 1995.

Slash joue de la guitare sur "DS", un des titres de l'album HIStory (1995) et "Morphine" de l'album de remix Blood on the Dance Floor (1997).
En 2001, Slash rejoint Michael sur scène pour ces 30 ans de carrière, au Madison Square Garden de New York, sur "Black or White" et "Beat It".
En 2010, lors d'une interview accordée au mag Les Inrocks, Slash évoque sa collaboration avec Michael:
(Lui montrant la couv' des Inrocks 2 spécial Michael Jackson)
J'aimerais savoir quels souvenirs tu as gardé de…

Michael… j'ai fait tellement de choses avec lui. C'était bien. Je n'ai rien de mal à dire sur l'homme. Ca a été une fierté et un honneur de bosser et tourner avec lui. C'était simplement fabuleux d'arpenter la même scène alors qu'au début, pour Dangerous il était prévu que je ne fasse qu'une chanson. Il était épatant. Très doux et en même temps très, très pro. Sachant exactement ce qu'il faisait et les erreurs à éviter. Ce n'était pas un esclavagiste. Pas le genre à te dire "fais ci", "fais ça !". Il faisait en sorte que les gens se sentent bien autour de lui pour pouvoir atteindre sa propre vision des choses.
Te donnait-il des instructions précises ?
Pas du tout et c'est ce qui rendait ma relation avec lui si cool : il me laissait faire exactement ce que je voulais. Par exemple, les chorégraphies sur scène ce n'est pas mon truc, il me disait "pas de souci, occupe toi juste des guitares !" J'ai donc joué avec lui par intermittences jusqu'en 2001, pour son 30e anniversaire en solo, à New York, la veille du 11 septembre…
Avez-vous gardé le contact par la suite ?
On est restés un bout de temps sans se parler, suite aux premières accusations contre lui. Puis il m'a invité avec Robert Evans, le producteur du Parrain devenu un ami. C'était en 2003, après la naissance de mon premier fils London. Ma femme et moi sommes donc allés chez lui avec le bébé que j'ai présenté à Michael. Ce fut notre dernière rencontre.

Comment as-tu réagi à sa mort ?

J'ai trouvé ça triste. Que dire d'autre… D'autant que les 10 dernières années de sa vie n'ont pas été faciles. J'étais content de le voir se remettre en selle avec les shows londoniens. Mais c'est triste de voir où le travail l'a conduit. Il avait une telle influence sur la pop : tout le monde lui doit quelque chose. Moi-même tout môme, à l'époque de la folie Jackson 5, j'adorais le groupe.
Et lors d'un entretien sur le site live-concert.sfr.fr, toujours en 2010
Vous avez accompagné Michael Jackson, cela m'a toujours semblé très étrange qu'un guitariste de heavy metal puisse accompagner la star de la musique pop.
Il m'a appelé car il devait aimer ma manière de jouer. C'est vrai que je viens de la scène hard telle qu'on l'entend, mais en tant que guitariste, on n'a cessé de m'appeler pour des collaborations très diverses. Pas que pour du hard rock quoi. Et un jour j'ai eu ce coup de fil de Michael Jackson. Je pense que la meilleure réponse que je puisse t'apporter, c'est que les gens qui ont du talent transcendent leur genre, ça doit être mon cas, c'est, en tout cas, ainsi que je me l'explique. Car lorsque que quelqu'un d'aussi incroyablement talentueux que Michael Jackson m'appelle, c'est un plaisir mais aussi une sorte de récompense. J'ai toujours apprécié plein d'autres genres que le hard-rock, j'adore le rhythm and blues, j'aime lorsqu'il y a du rythme et avec Michael j'étais plutôt servi. On s'est beaucoup amusé. Poser quelques guitares sur sa musique a été une tâche aisée. Je l'ai souvent accompagné sur scène aussi, c'était un honneur d'être invité par lui et surtout d'être à la hauteur de ce qu'il me demandait. Pas parce que c'était une grande vedette mais d'abord parce qu'il était un performer exceptionnel, un danseur unique et un incroyable chanteur. Sa réputation n'était pas usurpée ! Qu'est-ce qu'on s'est marré ensemble… Je garde en moi l'image de son sourire et de sa gentillesse.