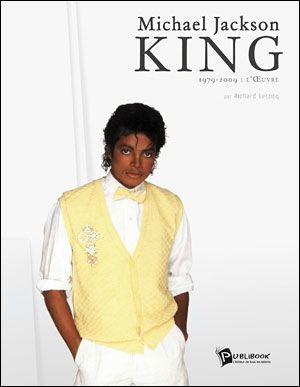 Ecrit par Richard Lecocq, l'administrateur du site MJDatabank, le livre est sorti en avril 2011, aux éditions Publibook.
Passionné de musique, Richard Lecocq a notamment travaillé pour Michael Jackson de 2004 à 2009 en tant que consultant et collaborateur pour ses sociétés MJJ Productions, Triumph International et MJ Licensing. Il participe régulièrement à l'élaboration de produits culturels (CD's, Livres...) destinés aux amateurs de musique.
Les mots de l'éditeur: 2009: brutalement, le rideau tombe sur la vie de Michael Jackson. Sortie de scène traumatisante pour les milliers de fans qui espéraient revoir le King of Pop en live après sa longue absence. Il faut dire que, ces derniers temps, le chanteur ne faisait plus parler de lui que judiciairement, ou bien à travers les rumeurs concernant le déclin de sa fortune. Et pourtant, avant de figurer parmi les cibles privilégiées de la presse tabloïd, Jackson était un artiste. Brillant, complet, génial. Chanteur qui a imposé sa marque à la musique contemporaine, danseur flamboyant et déroutant, showman flirtant avec le gigantisme et la démesure, révolutionnaire du vidéoclip, il a bouleversé à la fois les codes du spectacle, mais aussi le public, toujours subjugué par son audace. Une dimension littéralement extraordinaire que nous rappelle le KING de Richard Lecocq, ouvrage qui dresse le bilan d'une carrière solo (1979-2009) incomparable, inégalable. Genèse des albums et des chansons, tournage des short films et description des tournées mara-thons, investissements humanitaires et ultimes désirs de cette star planétaire sont ainsi la matière première de ce texte-hommage qui, via des révélations et des rencontres avec ceux qui ont collaboré avec le Roi (Buz Kohan, Vincent Paterson, Matt Forger notamment), dresse le panorama d'une œuvre guidée par l'ambition de se réinventer, de se remettre en jeu, de surprendre, encore et encore.
De l'envol que représente Off the Wall au dernier opus Invincible, une rétrospective, passionnée et inspirée, qui s'adresse tout autant aux inconditionnels qu'à ceux qui veulent découvrir le travail acharné, perfectionniste, de l'une des dernières icônes de notre temps.
Ma petite review sur le livre:
Michael Jackson KING ou le parcours d'un roi
Un livre que les fans attendaient, que j'attendais. Un livre que j'ai lu avec passion et que je recommande à tous. De la conception d'Off The Wall à l'annonce des concerts de Londres le 05 mars 2009, Richard nous livre là un récapitulatif complet de la carrière de Michael. Pas de (fausses) rumeurs, pas une énième biographie banale ou un livre d'analyse sur un sujet racoleur, non, juste les faits, l'œuvre, le travail de l'artiste
Le livre est simple, se lit facilement, et est parfaitement structuré. On s'y retrouve facilement, ce qui permet de chercher et obtenir une information rapidement.
Un avant-propos où les fans de la première heure devraient se reconnaître, notamment dans la « fan-attitude » : coupures de presses, copie d'émissions sur VHS, bref l'archivage, et même l'envie d'écrire un jour un livre. Et puis surtout cette phrase « Michael Jackson représente une partie de nous ».
Les différentes parties du livre correspondent aux périodes « Era » que les fans connaissent bien, sans oublier les différents « à côtés » que Michael a pu faire, les ponts (Pont Captain Eo par exemple), en référence au Bridge des chansons peut être ? En tout cas le plan du livre semble se présenter comme une chanson : les couplets (chaque période) entrecoupés de ces fameux ponts. Chaque partie est également bien composée, toujours de la même manière : présentation/récompenses et distinctions/pochette/la tournée. Genèse du travail, analyse, références musicales et artistiques, classement, ou simple description, tout est passé en revue, musicalement parlant, mais sans trop de jargon, ce qui me convient tout à fait. J'appréhendais d'ailleurs que ce soit trop axé sur le milieu musical mais c'est finalement accessible.
Les chapitres sont courts et fluides, ce qui permet une lecture aisée. Régulièrement une anecdote, un commentaire, une interview des personnes ayant collaboré avec Michael viennent ponctuer la lecture. J'ai personnellement adoré ces témoignages qui vont tous dans le même sens : ils rappellent tous, s'il est encore nécessaire de le faire, le côté charmant, gentil, humble et timide de Michael, sa grande personnalité, son aura et bien sur son talent artistique, sans oublier aussi le côté mégalomane.
J'ai un petit faible pour les fins de parties, concernant les prestations et collaborations. Certaines correspondent à des moments symboliques dans la vie de Michael et je dois bien avouer que j'ai eu certains frissons en lisant et en revivant ces moments, même s'ils sont pour la plupart connus des fans. C'est cependant tellement bien décrit et raconté que j'avais en tête la vidéo de la prestation. C'est notamment le cas avec la description de la performance de Man In The Mirror aux Grammy Awards de 1988 ou encore le discours prononcé lors Gala d'investiture de Bill Clinton en 1993.
Ce livre n'est pas une biographie au sens où on l'entend habituellement mais si l'on y regarde bien finalement les chansons de Michael reflétant ses états d'âmes, ses colères, ses préoccupations, ses envies, on revit le trajet, pas toujours rose, de Michael à travers elles. Richard arrive à décrire, tout en gardant le cap artistique, les changements qui s'opèrent dans la vie et la carrière de Michael. On passe d'un Michael maître de son œuvre (Off The Wall, Thriller) à un Michael qui se bat pour faire imposer ses idées face à une maison de disque qui veut plus faire de l'argent que de l'art ! « Le spleen que traverse Michael Jackson au milieu des années 90 transpire de son œuvre », « le spleen artistique », le terme est presque récurrent et malheureusement vrai !
Le livre s'adresse à tous les fans bien sûr, qui en apprendront encore plus sur Michael. Fan depuis 30 ans, je ne prétends pas tout savoir (loin de là !) et j'ai particulièrement apprécié ces petites infos que j'ai pu glanées (Un clip de The Way You Make Me feel de 20 mn dormant dans les coffres, waouh !!!). J'ai lu avec beaucoup d'intérêt la partie Invincible, avec l'accouchement difficile de l'album, les déboires avec Sony, peut être parce que c'est cette période de sa vie que je « maîtrise » le moins bien. Et puis, de temps à autre, on nous laisse entrevoir un espoir sur les produits à sortir (« Mais, tôt ou tard, les fantômes finissent toujours par ressortir…… »). Ca y est j'ai l'eau à la bouche !!!!
Mais c'est aussi un livre pour le grand public, permettant de découvrir le vrai Michael Jackson, pas celui des tabloïds. C'est à peine s'il est fait référence aux moments difficiles de la vie de Michael, en note, en bas de page. Richard nous expose les faits, même si de temps en temps le grand admirateur qu'il est ne peut s'empêcher de faire un petit commentaire sur certaines situations. Normal, je dirais !
Petit bémol peut être (j'ai le droit ?) : quelques petites photos inédites supplémentaires n'auraient vraiment pas été de refus. C'est certainement difficile à obtenir mais j'aurais aimé voir des photos de Michael en studio par exemple.
Et puis, que dire de cette conclusion ? Une lettre ouverte à Michael, où enfin Richard se livre. Emouvante, touchante, et où, là encore, n'importe quel fan peut se retrouver : « Te rends-tu compte que pas une seule journée ne s'est écoulée, depuis ce jour de printemps de 1983 où je t'ai découvert, sans que je ne pense à toi et à ta musique ? » « Je suis réduit à avancer avec un bout de moi qui a disparu » Les phrases sont magnifiques, les larmes me montent aux yeux en les lisant, parce que c'est exactement ce que je ressens, ce que je vis.
Merci Richard, tu as su trouver les mots justes, à la fois pour décrire ce que nous ressentons et raconter les faits. Je ne doutais pas que ce livre me plairait. Je viens de le terminer mais je sens déjà qu'une seconde lecture s'impose. J'ai envie de revivre « la magie, les rêves et l'amour », de retourner avec « un des motifs de désobéissance les plus recommandés de la planète » !!
Tu me manques Michael, plus que jamais !