Samedi 4 août. J'ai mal dormi, j'ai pensé à Michael et à L.A. toute la nuit, à tous ces endroits que j'ai vu et que je ne veux pas quitter ! Je suis debout de bonne heure (comme tous les autres jours d'ailleurs, pas question de grasse matinée à Los Angeles, je voulais profiter de chaque instant !), il faut bien boucler les valises !
En descendant dans la rue, je jette un dernier regard sur la rue et les studios qui nous entourent (notre appart était juste à côté des studios Paramount, sur le trottoir d'en face !), sur les palmiers qui bordent les larges routes. Nous reprenons la freeway, direction Santa Monica. Je reviendrai, c'est certain, cette ville me manque déjà, Michael me manquera à jamais !
Direction Santa Barbara et Solvang. La route le long du Pacifique est très belle, malgré le temps couvert. Je cherche un endroit en particulier : une des plages de Malibu dans le Leo Carrillo State Park. C'est là qu'a eu lieu le photoshoot des Jackson pour la tournée Victory, par Harrison Funk. Quand finalement je trouve l'endroit, il faut payer pour y accéder. J'aurais du y penser, un parc d'Etat, ça ne peut pas être gratuit. Mais bon 15 dollars pour y accéder, ça fait chère la photo. Tant pis pour moi !
Santa Barbara sera notre arrêt déjeuner. Une petite station balnéaire très agréable, touristique, bien sûr. La mer d'un côté, la montagne de l'autre. Des paysages de carte postale.
Nous reprenons la route pour Solvang, petit village construits par des danois, en début d'après midi. Je sais que Michael y avait quelques habitudes, alors je profite de l'originalité de ce village pour y emmener ma petite famille.
En roulant, on découvre des paysages époustouflants. Nous ne sommes pas loin de Los Olivos, et je comprends maintenant pourquoi Michael est tombé amoureux de cette région et a voulu s'y installer. Les montagnes, à perte de vue, sont splendides malgré la sécheresse qui règne. Des couleurs entre l'ocre, l'orangé et le jaune se mélangent au loin alors que le long de la route se succèdent le vert des arbustes. Le ciel est d'un bleu magnifique ! Un peu avant de tourner sur la gauche pour rejoindre Solvang, j'aperçois le lac Cachuma. Un écrin d'eau au milieu de ce paysage désertique.
Impossible de s'arrêter pour prendre des photos, les bas-côtés ne sont pas sécurisés. Celles que nous prenons en roulant ne reflètent absolument la beauté de ce que nous voyons mais en voici quand même.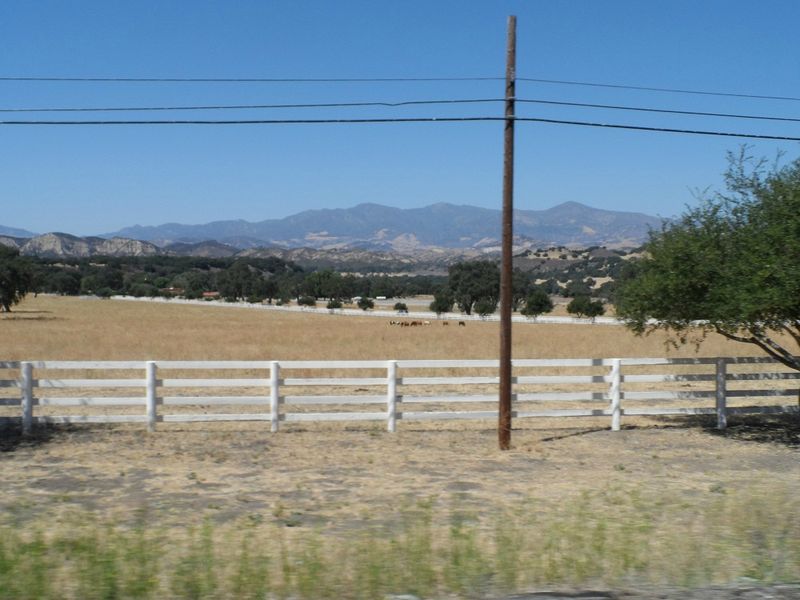 Solvang : village créé par une colonie de Danois en 1911, qui en a gardé l'architecture et qui fleurit de boutiques culinaires. Les touristes répondent présents, bien sûr ! Deux magasins m'intéressent car Michael venait y faire des achats, occasionnellement. La boutique d'Antiquité, qui semble attirer pas mal de visiteurs et un autre, beaucoup plus discret, une boutique dédié au sport, le basket et le base ball, notamment, et qui s'adresse aux collectionneurs. Cela intéresse particulièrement mon mari qui s'y attarde, ce qui me laisse le temps de trouver un moyen d'aborder la conversation avec les vendeurs qui n'ont pas l'air très loquaces !!!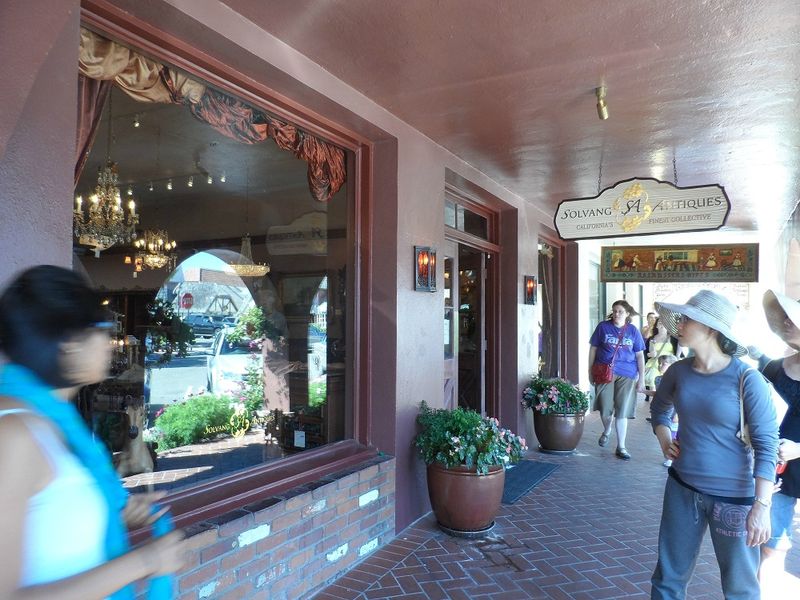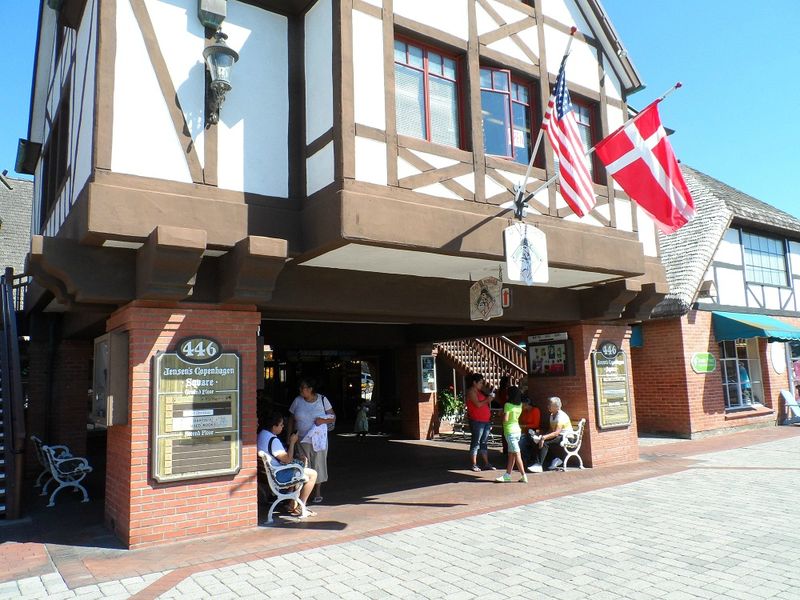 Finalement c'est mon mari qui va me trouver la solution : il trouve des paquets de cartes panini 2011. Il en reste 9 dans la boîte d'origine : j'embarque le tout ! A la caisse, je demande à la fille si elle a déjà vu Michael dans le magasin. Son collègue me répond que oui, qu'il y est venu à plusieurs reprises et elle ajoute, qu'elle l'a vu une fois, avec son Chimpanzé, Bubbles. Je n'en saurais pas plus, j'ai l'impression d'en avoir déjà obtenu beaucoup de leur part !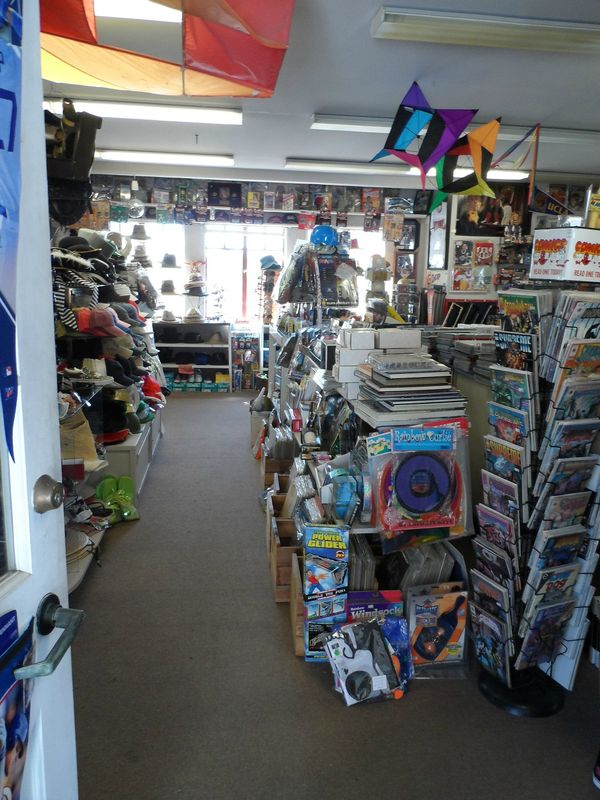 Nous flânons dans la ville encore un peu et j'en profite pour aller voir The Wine Valley Inn, un hôtel à la sortie de la ville, qui en 1983 a vu Michael y séjourner plusieurs nuits lorsqu'il tournait le clip Say Say Say, non loin de là. A l'époque l'hôtel s'appelait The Chimney Sweep.