Dimanche 5 août : Nous nous réveillons sous un ciel gris. Je suis un peu déçue car c'est ce matin que j'ai prévu d'aller à Neverland et j'espérais le voir sous le soleil qui a l'habitude d'illuminer cet endroit. Ce n'est pas grave, rien ne peut, ce matin, me démotiver.
LE moment que j'attends depuis des mois est enfin là, très proche. Neverland, c'est l'endroit qui m'a motivé pour ce voyage. Quand je pensais à ce séjour, c'est le lieu que je voyais avant tout. Parce que Neveralnd c'est Michael. "Neverland it's the totality of who I am" disait-il. Alors c'est vrai certains diront que Michael ne voulait plus entendre parler de Neverland à la fin, cela dit il y a passé des moments merveilleux et, à mes yeux, Neverland et Michael ne font qu'un. C'est vraiment l'endroit le plus symbolique de sa vie et je n'avais qu'un rêve, depuis toutes ces années, voir ce lieu.
Vers 10h nous prenons le chemin de Los Olivos. Notre hôtel n'est qu'à quelques kilomètres et déjà quand la voiture se retrouve sur la route principale, le ciel se dégage très rapidement. Le soleil apparait, il fait chaud, le ciel est vite d'un bleu azur. Je n'en reviens pas, je vais voir Neverland comme je l'espérais !! Comme on dit, les cieux sont avec moi ! Les quelques kilomètres qui me séparent de Los Olivos sont vite avalés. Je m'engage sur la route d'accès au petit village et je ne sais pas pourquoi, je demande à mon mari de mettre la radio (chose que l'on a fait que peu de fois durant notre voyage, à l'exception du trajet entre Las Vegas et Los Angeles). Je ne sais pas si je dois croire à un signe, mais alors que le panneau d'entrée de Los Olivos apparaît, les premières notes de Billie Jean résonnent à la radio. Je n'y crois pas, je monte le son et je dis à ma famille « C'est un signe, je ne sais pas lequel, mais c'est un signe » (évidemment je me fais charrier, mais peu importe !!) En fait, je me dis que Michael est avec moi, il ne peut pas en être autrement. D'habitude, je suis quelqu'un de rationnel mais là je veux croire que c'est ça ! La chanson jouera à la radio le temps de monter Figueroa Mountain Road, la route qui va à Neverland.
Ma fille avait programmé le GPS, mais une fois entrée à Los Olivos, je reconnais le chemin. Il faut dire que j'avais passé un certain temps sur google map à faire le trajet !!! Les ranchs sur la route se succèdent, et alors que le GPS nous annonce encore quelques miles à parcourir, j'aperçois les plots orange qui sont placés devant l'accès au portail, afin d'interdire les voitures de stationner. C'est là, on y est !! Ma fille me dit que ce n'est pas ce qu'indique le GPS mais s'il y a bien un endroit au monde que je pourrais reconnaître c'est celui-ci. Je m'arrête sur le bas-côté et je descends, tremblante à nouveau, comme à Forest Lawn.
Nous sommes seuls, il n'y a personne. Mon mari descend de la voiture avec moi et il est tout de suite impressionné par les témoignages laissés par les fans, notamment des petits mots insérés entre les pierres des murets. Il filme un peu puis me laisse seule et retourne à la voiture avec les enfants. C'est mon moment.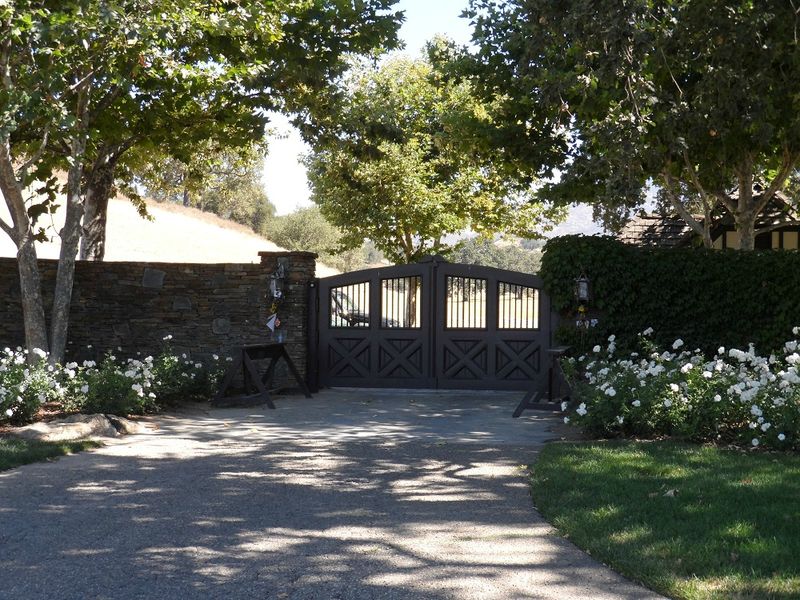 L'endroit est calme, reposant, il n'y a pas un bruit. L'herbe est jaunie, brûlée par le soleil et le ciel magnifique. En fond de décor, les montagnes. Voilà ce que Michael voyait quand il vivait à Neverland. Je me dirige vers le portail, en passant sous un très beau chêne, qui apporte une ombre agréable. Des rosiers à fleurs blanches bordent le portail. Effectivement, les fans, de tous pays, ont laissé des mots, des marques de leur passage partout ! Plus j'approche du portail et plus les larmes me montent aux yeux. Quand je suis enfin devant, je regarde au loin, la route qui se perd dans le paysage est là, menant à Sa maison, au paradis, à Son paradis. Combien de fois il est passé par là, a franchi ce portail, voilà ce que je me dis. Des tas d'images se mélangent dans ma tête, de ce que j'ai pu lire dans les reportages, voir dans les vidéos, et je revois particulièrement des extraits des PHM. Inutile de vous dire à quel point je suis émue. Je pleure à nouveau. Que j'aurais voulu voir Neverland au temps du bonheur ! Son esprit est là, présent plus que jamais, plus que dans aucun autre endroit que j'ai pu voir.
Je reprends un peu mes esprits et je retourne à la voiture chercher ma petite carte et la rose que j'ai apporté pour lui. Je dépose également la carte d'une fan, le tout au milieu du lierre, sur le mur, près du portail. Une voiture arrive, les occupants prennent quelques photos et s'en vont. Une autre arrivera peu après et restera un peu plus longtemps. Deux voitures d'allemands viendront également, sur la fin, des gens peu discrets, parlant très forts, la musique à fond (chacun sa manière de vivre les choses, mais je n'ai pas aimé !).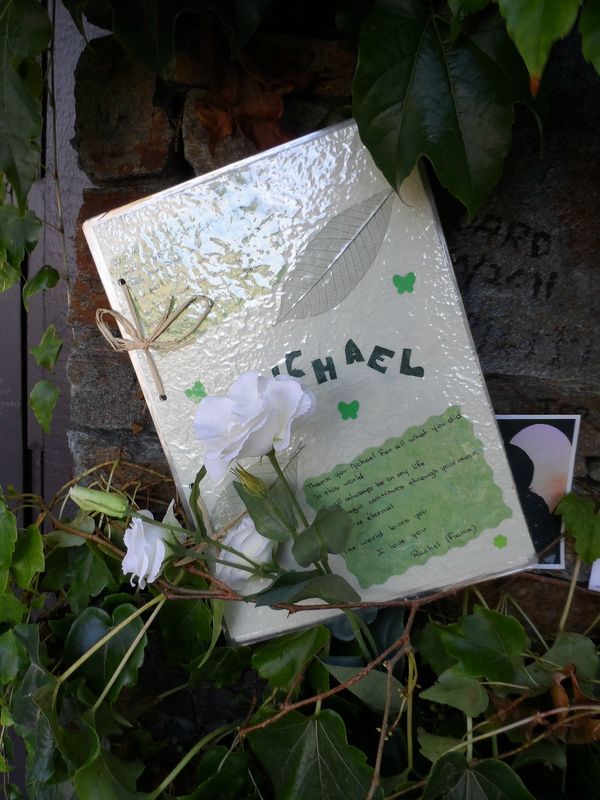 Puis je vais m'asseoir sur un muret en pierre près des rosiers. Je pense à lui, à cet endroit si beau qui le représente tellement. Comment certaines personnes ont-elles pu le souiller ? Pourquoi a-t-il fallu qu'un seul homme vienne tout détruire ? Je ne comprendrai décidément jamais certains aspects de la nature humaine.
Je me décide enfin à écrire sur les pierres. La décision n'a pas été facile car je ne voulais pas abîmer cet endroit qu'il aimait tant mais comme de nombreuses fois au cours de ce voyage, je savais que je le regretterais si je ne le faisais pas. Je lui laisse deux petits mots, en lui demandant de m'excuser !!!
Je vais, je viens, du portail aux côtés du ranch, à droite, à gauche, je prends des tas de photos, je ne veux rien rater. Je m'aperçois que dans l'herbe se baladent des petits écureuils. Eux aussi semblent apprécier ce lieu si calme. Comment ne pas l'aimer d'ailleurs ? Je ramasse des feuilles, des pierres, une fleur (et cette fois-ci j'y ferai bien attention !), je veux emporter un peu de Neverland avec moi, ne jamais oublier que j'y étais !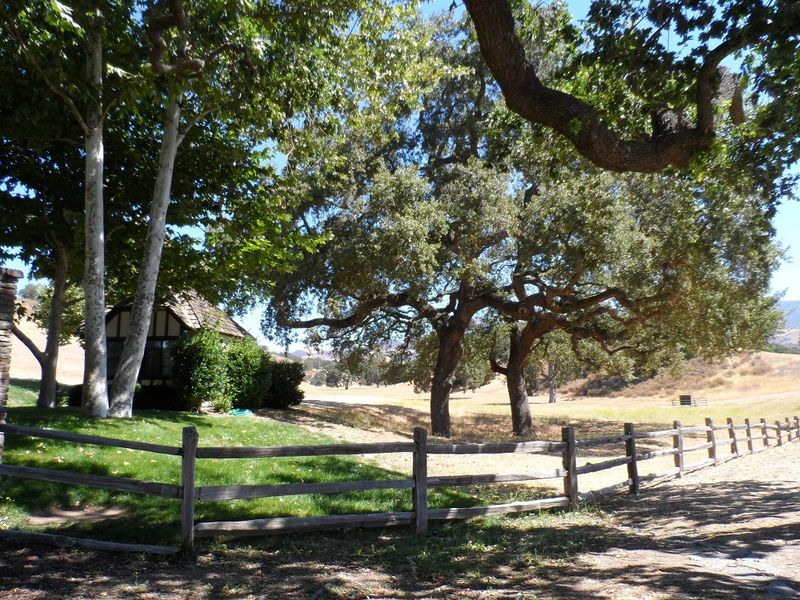 Cela fait 45 minutes que je suis là et je me dis qu'il va falloir partir. Quitter cet endroit magnifique. Pourquoi le temps passe-t-il si vite quand on vit de belles choses ! Je ne veux pas partir, je ne veux pas partir. Et pourtant……. Je remonte en voiture. Mes gestes sont lents, je gagne du temps, cherchant un prétexte pour admirer encore un peu plus cet endroit. Puis finalement je démarre et je reprends la direction de Los Olivos, sans une parole. Je pleure derrière mes lunettes noires, à tel point que ma vue se brouille et que j'ai du mal à voir la route. Quitter Neverland est un véritable déchirement. J'ai l'impression de le quitter, Lui ! Je reviendrai c'est certain, il ne peut pas en être autrement.
Quand cela ira mieux, mon mari me dira que le passage des fans n'a pas l'air d'être du goût de tout le monde. Un cycliste qui passait au moment où j'y étais a lâché un « fucking situation » en voyant les voitures !!