MJ reste et restera le roi de la pop internationale mais aussi ... le roi de la publicité. En effet, pendant toute sa vie notre génie a largement investi les médias et notamment par la publicité.


LES ANNES 1970 : Les premières publicités


Les céréales Alpha Bits

Au cours des années 1970, c'est l'essor des Jackson 5 et notamment du tube ABC. La marque de céréales Alpha Bitsprofite de ce phénomène musical pour promouvoir ses céréales en formes de lettres. La décennie 70 est marquée par les nombreux spots de la marque qui utilisent les Jackson 5. Ce sont les premières publicités avec MJ.
LES ANNES 1980 : La période de gloire


Le côté japonais de Michael Jackson - Love is my message

Michael Jackson étant un artiste qui s'exporte très bien, l'ensemble des marques internationales commencent à le désirer. En 1983, Michael est encore au début de sa gloire et accepte de tourner deux publicités pour Suzuki. Il est intéressant de voir que ces deux publicités collent parfaitement à son image de l'époque et qu'il s'efforcera de défendre même tout au long de sa vie : l'amour à tout prix. Slogan tout trouvé : Love is my message.
LA Gear : Unstoppable !

1989, période de gloire pour Michael Jackson, entre BAD et Dangerous. L.A Gear célèbre marque de chaussures américaines engage Michael Jackson pour une campagne publicitaire nommée « UNSTOPPABLE »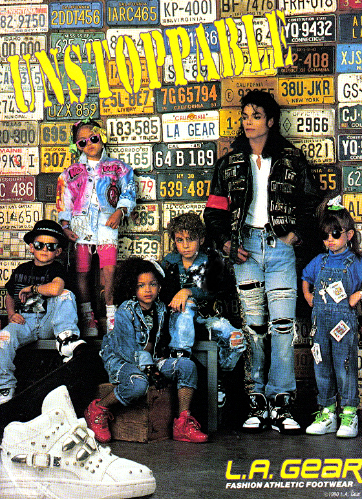 Les premiers spots apparaissent au printemps 1990 au cinéma avec seulement en bande son de certains titres de MJ : Wanna Be Startin Something et The Way you Make Me Feel (Michael n'apparaît pas)
En août 1990, un spot évidemment axé sur les pas de danse désormais légendaires du King of Pop est diffusé. Un spot clean, sans grande prétention à part celle de jouer sur les talents de Michael (mais qui reprend légèrement l'esprit de la partie censurée de la vidéo de Black or White)
La marque fidèle (?) - Pepsi

Alors que Coca Cola s'est démenée pendant des années pour avoir les plus grandes célébrités dans ses spots, son concurrent Pepsi a engagé Michael dès ses débuts.
The street, premier spot pepsi
The Convention (The Concert)
Cette publicité est tristement connue comme la publicité où MJ a été gravement brûlé à la tête et au corps après qu'une pièce pyrotechnique ait pris feu trop tôt pendant le tournage.Après le drame, MJ avait obtenu un dédommagement de 1,5 million $ de la part de Pepsi. Il avait versé cette somme à un hôpital californien pour la construction d'un centre de traitement pour les enfants victimes de brûlures.Pepsi sera LA marque qui aura le plus utilisé Michael avec une dizaine de spots au compteur sur deux décennies.
1987 : BAD
1987 - The choice of a new generation
1988 - Bad (The Chase) (voir aussi la version The Price of Fame ici)
1991 - Black or White Dangerous Tour
1992 – Dreams
1992 - I'll Be There
LES ANNEES 1990 : le début de la chute

Les années 1990 sont des années difficiles sur le plan personnel et influe sur le plan professionnel. Les ventes de disques ralentissent Au début de la décennie les publicités continuent à un rythme effréné mais elles se feront de plus en plus rares au fil des ans.

Michael Raisin : les raisins de Californie

1989: " Michael Raisin ", nouveau personnage Claymation (mode d'animation à partir de pâte à modeler) est la vedette des publicités pour le raisin californien.
Le jeu Sega: Moonwalker
Les pub sony
Esonic - Début des années 1990
Kirara Basso - Sony - 1991
LES ANNEES 2000 : Symbole universel
Les années 2000 signent pour Michael Jackson une longue et douloureuse descente aux enfers. Il ne compose plus et logiquement les annonceurs se retirent. Pepsi lâche progressivement la star pour changer de registre et les quelques annonceurs restant sont frileux. La publicité lâche Michael.
On le retrouve encore ceptendant dans une pub pour un jeu vidéo de Sega au tout début des années 2000, Space Channel

Le 25 juin 2009, Michael Jackson décède et laisse derrière lui l'empire Jackson à une famille plus ou moins scrupuleuse. Il laisse derrière lui des millions de fans et surtout trois enfants. Publicitairement parlant, les années 2000 furent les années sombres de Michael Jackson, il devient discret et perd ses différents contrats. Pour parler de lui, on détourne ses symboles : chapeau, moonwalk, costume ...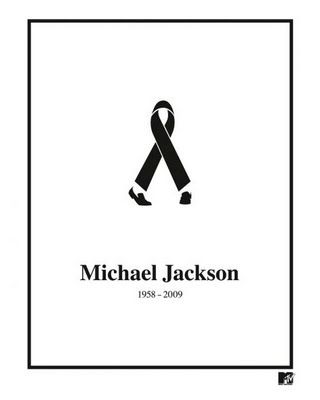 Cette affiche en est un parfait exemple puisqu'il s'agit d'une publicité faite par MTV pour la prévention contre le Sida. Pour traiter d'un sujet universel, on utilise un symbole universel