We Are the World est une chanson caritative enregistrée par le groupe américain USA for Africa en 1985. Elle est écrite par Michael Jackson et Lionel Richie, et co-produite par Quincy Jones sur l'album We Are the World. Le single a pour objectif de collecter des fonds pour lutter contre la famine en Éthiopie. L'événement, historique, réunit quelques-uns des artistes les plus célèbres de l'industrie musicale américaine de l'époque.
La chanson sort le 7 mars 1985, comme seul single de l'album et devient un succès commercial international. Il est en tête de plusieurs palmarès de musique à travers le monde et devient le premier single à être récompensé plusieurs fois disque de platine par la RIAA. Cependant, la chanson reçoit un avis mitigé de la part des journalistes, des critiques de musique et du public.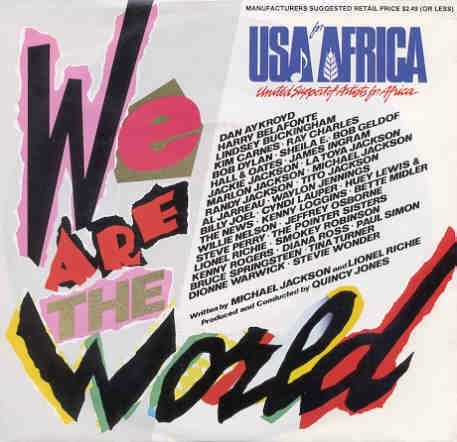 We Are the World reçoit de nombreuses récompenses dont trois Grammy Awards, un American Music Award et un People's Choice Award. Le single est devenu l'un des plus vendus au monde avec plus de 20 millions d'exemplaires écoulés et a réussi à récolter plus de 63 millions de dollars pour l'aide humanitaire en Afrique et aux États-Unis.
En début d'année 2010, suite aux ravages causés par le tremblement de terre en Haïti du 12 janvier 2010, une reprise de la chanson par d'autres chanteurs célèbres a été enregistrée. Le single, titré We Are the World 25 for Haiti, est destiné à lever des fonds pour les victimes du séisme.
Avant l'écriture de We Are the World, l'artiste et activiste américain Harry Belafonte a cherché pendant un certain temps à produire une chanson interprétée par les artistes les plus célèbres de l'industrie musicale de l'époque. Il avait l'intention de reverser les profits à un nouvel organisme appelé United Support of Artists for Africa (USA for Africa). La fondation, sans but lucratif, aiderait alors à nourrir et soulager les populations affamées en Afrique, notamment d'Éthiopie, où près d'un million de personnes sont mortes durant la famine de 1984-1985. L'idée émane de la chanson caritative Do They Know It's Christmas? du groupe britannique Band Aid dont Belafonte avait entendu parler. Belafonte contacte alors le manager Ken Kragen afin de proposer aux chanteurs Lionel Richie et Kenny Rogers de participer à son projet. Kragen et les deux musiciens acceptent à condition d'engager également Stevie Wonder afin d'ajouter un « nom » supplémentaire à leur projet. Quincy Jones est engagé comme co-producteur. Richie contacte également Michael Jackson qui achevait la tournée Victory Tour avec ses frères.
Michael Jackson explique alors à Lionel Richie qu'il ne souhaite pas seulement chanter mais également participer à l'écriture de la chanson. Au départ celle-ci devait être écrite par Michael Jackson, Lionel Richie et Stevie Wonder mais par manque de temps de la part de Wonder, seuls les deux premiers s'en chargent. Ils commencent à travailler la chanson à Hayvenhurst, la maison de la famille Jackson située à Encino (Los Angeles). Durant une semaine, ils passent chaque nuit à travailler sur les paroles et la mélodie de We are The World dans la chambre du chanteur. Ils souhaitaient créer une chanson qui soit facile à chanter et à mémoriser. Le duo souhaitait créer un hymne. La sœur de Jackson, La Toya, les regardait travailler et affirma plus tard que Richie avait seulement écrit quelques lignes. Elle a déclaré que son frère avait écrit 99 % des paroles « mais qu'il n'a jamais senti le besoin de le dire ». La Toya ajouta également à propos de la création de la chanson : « J'allais dans la chambre pendant qu'ils écrivaient et c'était très calme, ce qui est bizarre car Michael est généralement très joyeux quand il travaille. C'était très émouvant pour eux ».
Richie avait enregistré deux mélodies pour We Are the World, dont Michael Jackson s'est immédiatement emparé ajoutant de la musique et des paroles à la chanson le jour même. MJ a déclaré « J'aime travailler vite. J'ai avancé sans même que Lionel ne le sache. Je ne pouvais pas attendre. Je suis entré et ressorti la même nuit avec la chanson terminée : Batterie, piano, cordes et les paroles pour le refrain ». Michael présente alors sa démo à Lionel Richie et Quincy Jones, tout deux très surpris ; ils ne s'attendaient pas à voir la pop star terminer la structure de la chanson aussi vite. Les rencontres suivantes entre Michael Jackson et Lionel Richie sont infructueuses, ils n'écrivent pas de nouvelles paroles et ne produisent aucun travail. Le duo achève finalement les paroles et la mélodie de We Are the World le 21 janvier 1985, la veille au soir de la première session d'enregistrement en moins de deux heures et trente minutes.
Les artistes participant au projet se réunissent au A&M Recording Studios à Hollywood, le 28 janvier 1985, suite à la cérémonie des American Music Award afin d'obtenir le plus d'artistes possible. Quincy Jones, dans son invitation, leur écrit « Check your egos at the door » (« Laissez vos égos à la porte du studio »).
En tout plus de 45 artistes se joignent au projet, dont 21 chantent au moins une ligne de la chanson : Dan Aykroyd, Harry Belafonte, Lindsay Buckingham, Kim Carnes, Ray Charles, Bob Dylan, Sheila E., Bob Geldof, Daryl Hall, James Ingram, Jackie Jackson, LaToya Jackson, Marlon Jackson, Michael Jackson, Randy Jackson, Tito Jackson, Al Jarreau, Waylon Jennings, Billy Joel, Cyndi Lauper, Huey Lewis and the News, Kenny Loggins, Bette Midler, Willie Nelson, John Oates, Jeffrey Osborne, Steve Perry, The Pointer Sisters, Lionel Richie, Smokey Robinson, Kenny Rogers, Diana Ross, Paul Simon, Bruce Springsteen, Tina Turner, Dionne Warwick, Stevie Wonder
We Are the World est interprété à la première personne, permettant aux auditeurs d'intérioriser le message en chantant le mot We (nous) ensemble. La chanson a été décrite comme « un appel à la compassion humaine ». Les premières lignes du refrain proclament « We are the world, we are the children, we are the ones who make a brighter day, so let's start giving »
Le premier couplet est interprété par Lionel Richie, Stevie Wonder, Paul Simon, Kenny Rogers, James Ingram, Tina Turner et Billy Joel. Michael Jackson et Diana Ross enchainent ensuite sur le premier refrain ensemble. Dionne Warwick, Willie Nelson et Al Jarreau chantent le second couplet, avant que Bruce Springsteen, Kenny Loggins, Steve Perry et Daryl Hall ne s'occupent du second refrain. Michael Jackson, Huey Lewis, Cyndi Lauper et Kim Carnes suivent avec le pont. Cette structuration de la chanson permet de « créer un sentiment de surprise continue ainsi qu'une accumulation émotionnelle ». We Are the World s'achève par le refrain chanté tour à tour par Bob Dylan et Ray Charles, Stevie Wonder et Bruce Springsteen ainsi que ad libitum par Ray Charles et James Ingram.
Le single est un succès commercial. Les 800 000 exemplaires initialement produits se vendent en moins de trois jours ce qui en fait le single vendu le plus rapidement de l'histoire de la pop américaine. Dans un Tower Records de Sunset Boulevard à West Hollywood, 1000 copies de la chanson se vendent en deux jours. Un employé commente : « un single numéro 1 se vend entre 100 et 125 exemplaires sur une semaine. C'est absolument inouï ». À la fin de l'année 1985, We Are the World devient le single le plus vendu de l'année. We Are the World" est finalement désigné comme le single le plus vendu de l'histoire à la fois de la musique américaine et de la musique pop. (voir ici, ici et ici)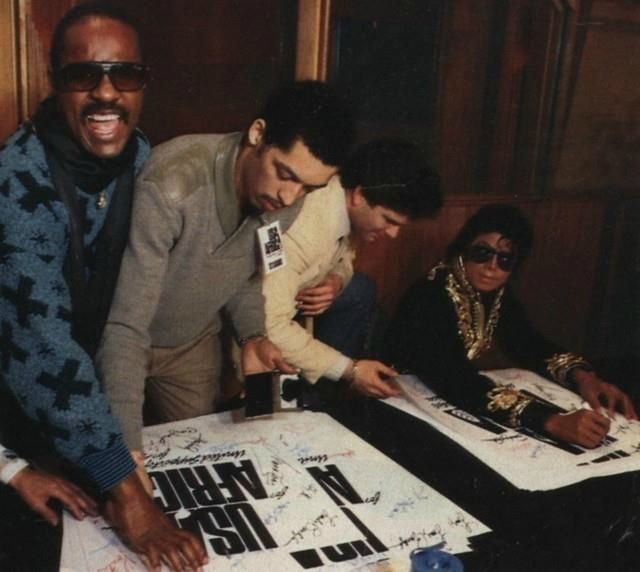 "Je crois que We Are The World" est une chanson très spirituelle dans un sens particulier. J'étais fier de participer à cette chanson, d'être présent avec les autres musiciens cette nuit-là. Nous étions tous unis dans notre désir de faire quelque chose de différent. Le monde est devenu un endroit plus respirable pour nous et cela a fait une différence pour les malheureux que nous voulions aider" (Michael Jackson, Moonwalk)
Paroles
"We Are The World (USA For Africa)"


There comes a time when we heed a certain call
When the world must come together as one
There are people dying
And it's time to lend a hand to life
The greatest gift of all

We can't go on pretending day by day
That someone, somewhere will soon make a change
We all are a part of God's great big family
And the truth, you know,
Love is all we need

[Chorus:]
We are the world, we are the children
We are the ones who make a brighter day
So let's start giving
There's a choice we're making
We're saving our own lives
It's true we'll make a better day
Just you and me

Send them your heart so they'll know that someone cares
And their lives will be stronger and free
As God has shown us by turning stone to bread
So we all must lend a helping hand

[Chorus]

When you're down and out, there seems no hope at all
But if you just believe there's no way we can fall
Well...well...well
Let's realize that a change can only come
When we stand together as one

[Chorus]
Le making of de la session d'enregistrement (voir également
l'album photos
)