Nous nous sommes tous un jour posés des questions sur les relations que Michael entretenait avec les femmes. Dans ses chansons, il est clair que Michael aimait les femmes mais l'amour a toujours été une expérience difficile pour lui.
Michael était un génie, un artiste, un homme complexe et vivre avec lui devait certainement relever du défi. Il le dit lui-même, le mariage n'est pas pour lui. « Je ne peux pas rester en place et je ne sais pas si je pourrais rester marier tout le temps. (….) Je suis comme une pierre qui roule. J'ai une telle vie, je suis toujours en train de bouger et les femmes n'aiment pas cela. Elles veulent se poser à un endroit mais moi je veux bouger » (The Michael Jackson Tapes)
Dans sa quête d l'âme sœur, Michael a cherché une femme qui comme lui aspirait à une relation plus intellectuelle que sexuelle, une femme honnête, une complice, une amie, qui l'aurait aimé en tant qu'homme et non en tant qu'artiste, qui aimerait l'être humain et pas son nom et l'argent qu'il rapportait. C'était bien sur quelque chose de difficile quand on s'appelle Michael Jackson, qu'on est mondialement connu et qu'on enflamme le cœur de millions de femmes
Plusieurs femmes ont cependant fait partie de la vie de Michael et je vous propose de voir celles qui l'ont le plus marqué.
Sa mère
Pour commencer, il y a avant tout celle qu'il a toujours aimé, qui l'a toujours aimé et soutenu dans tous les moments de sa vie, même si elle n'était pas toujours d'accord : sa mère Katherine.
« Ma mère était extraordinaire (…) C'est vrai, chacun est persuadé que sa mère est le meilleure mais nous, les Jacksons, nous continuons à le penser. Quand je songe à la tendresse, à la gentillesse, à la chaleur de ma mère, je n'arrive pas à imaginer ce que c'est de grandir sans l'amour d'une mère » (Moonwalk)
Sa relation avec sa mère était telle qu'il a par la suite recherché, parmi ses amies, cette image maternelle. Il s'est entouré très souvent de femmes toujours plus âgées que lui, qui prenaient soin de lui, qui le comprenaient et jouaient un peu ce rôle de mère
Sa muse
Il y a eu sa muse, son modèle, celle qui lui a aussi ouvert l'esprit et apporté le goût de la culture : Diana Ross
« Diana aimait beaucoup les arts, la peinture notamment, et elle m'a appris à l'apprécier. Elle m'a vraiment initié dans ce domaine. Tous les jours (en 1969), on allait acheter du papier et du matériel de peinture. Quand on n'était pas en train de peindre ou de dessiner, c'est qu'on était en train de visiter un musée. Elle m'a fait découvrir les grandes œuvres de Michel-Ange, Degas, et depuis je n'ai jamais cessé de m'intéresser à la peinture. Je lui dois beaucoup. (…) Comment croire qu'une grande star comme Diana ait pu prendre la peine et le temps d'enseigner la peinture à un gamin et de l'initier à l'Art ? Je l'ai toujours aimée à cause de cela et je l'aime encore. Je suis fou d'elle. Elle a été ma mère, ma maîtresse et ma sœur en même temps, et c'est une femme étonnante » (Moonwalk)
Diana et Michael sont toujours restés très proches (c'est à elle qu'il confiera ses enfants dans son testament au cas où il arriverait quelque chose à sa mère), il a écrit pour elle (« Muscle ») et a tourné avec elle (« The Wiz »)
Une des premières petites amies de Michael, vers l'âge de 11 ans, était une certaine Jocelyne Danchik. Ils allaient à l'école ensemble, la Hollywood's Gardner Street Elementary School.
Elle explique que les éleves ne parlaient pas beaucoup avec Michael (qui ne se sentait pas à l'aise depuis son départ de l'Indiana), à cause de sa célébrité et que comme elle était très timide et restait à l'écart des autres, il est venu vers elle et ils sont devenus amis. Ils s'aimaient beaucoup, se sont embrassés quelque fois mais pas souvent car comme l'explique Jocelyne , ils n'avaient que 11 ans. Il y avait cependant un très fort lien entre eux, ils s'aimaient beaucoup. Elle trouvait Michael très amusant.
Ils ont perdu contact quand Michael a commencé à faire des tournée de plus en plus souvent et quand elle a déménagé avec sa famille en 1971. Ils ne se sont jamais revus.
Il s'agit de la jeune fille entourée en rouge sur la photo, derrière Michael, qui aurait absolument tenu à l'avoir derrière elle sur la photo
Puis en 1977, il y aurait eu Stephanie Mills, une chanteuse ayant commencé sa carrière à l'âge de 9 ans. Repérée par Jermaine Jackson en 1975, il l'aurait faite engagé par Motown, sans grand succès par la suite. Michael aurait voulu qu'elle reprenne le rôle de Dorothy dans The Wiz (elle interprétait déjà le rôle dans la comedie musicale de Broadway) mais on lui a préféré Diana Ross. Michael parle très brièvement de cette anecdote dans son livre Moonwalk.
Ses premières petites amies "officielles" : Tatum O'Neal et Brooke Shields
« Ma première petite amie fut Tatum O'Neal (…). Le jour de notre premier rendez-vous, (..) on a passé un moment super. C'est ce soir-là qu'elle m'a pris la main. Nous étions assis à table et soudain, j'ai senti une main, douce, qui prenait la mienne. C'état Tatum. Pour d'autres, ça pourrait sembler peu de chose, mais pour moi ça signifiait beaucoup » (Moonwalk)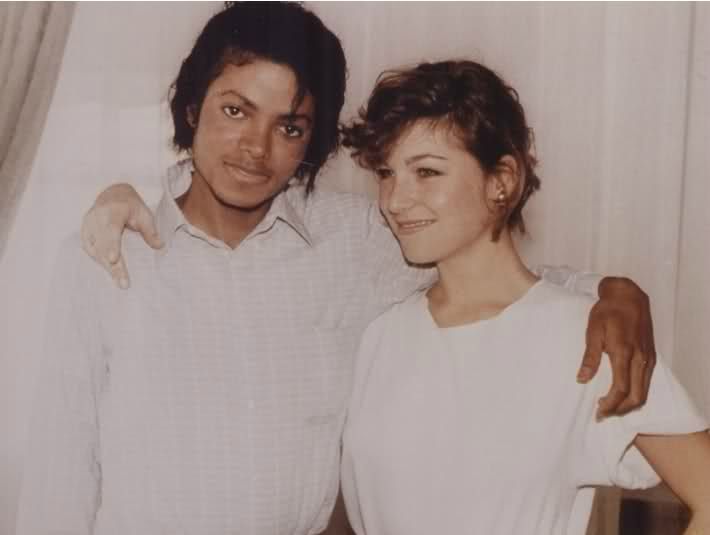 Cette relation platonique démarra dans les années 1970 alors que les deux jeunes gens n'étaient encore que des adolescents - il avait 17 ans, elle en avait 12 et prend fin en 1979, l'année de la sortie de album solo de Michael Jackson, "Off the Wall". La chanson "She's out of my life" (qui s'achève dans un sanglot), incluse dans l'album serait dédiée à la jeune femme.
Au cours des années 80, Michael et Brooke Shields ont très souvent été vu ensemble, ils partageaient ensemble leur statut d'enfant star trop tôt exposé. De nombreuses photos attestent de leur relation très « people » mais Michael aurait à plusieurs reprises demandé Brooke en mariage, celle-ci refusant en lui disant qu'elle serait cependant toujours là pour lui.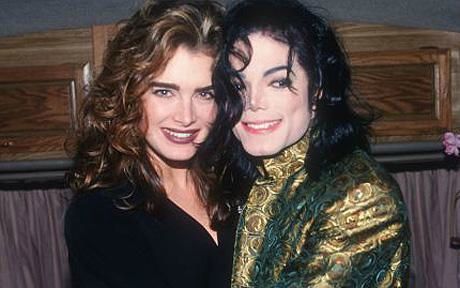 « Notre amour a été très romantique, et cette histoire a été sérieuse » confie-t-il (Moonwalk)
Le mannequin et danseuse Tatiana Thumbtzen a été recrutée pour le tournage de la vidéo "The way you make me feel" et les premiers concerts du Bad World Tour.. Par la suite, MJ et elle sont devenus assez proches. On raconte même que Michael se serait véritablement amouraché d'elle, avant qu'on ne lui annonce qu'elle était déjà sorti avec Prince. Tatiana perdit sa place sur le Bad Tour lorsqu'au Madison Square Garden, elle embrassa MJ sur la bouche, sans que cela ne soit prévu. Arrivée en coulisses, les ennuis commencèrent pour elle.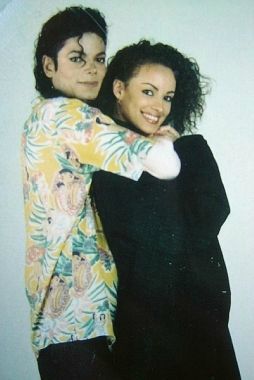 On ne saura jamais véritablement si ces deux là ont connu plus qu'une amourette, mais selon Tatiana, ils se seraient aimés. Elle a raconté son expérience dans une autobiographie très axée sur sa collaboration avec Michael, du titre évocateur "The Way he made me feel" . Elle a par la suite soutenu publiquement Michael lors du procès de 2005 et gardé des contacts réguliers avec la famille Jackson, dont notamment Joe. Tatiana Thumbtzen était présente lors des funérailles de Michael Jackson le 3 septembre 2009
Ses amies les plus proches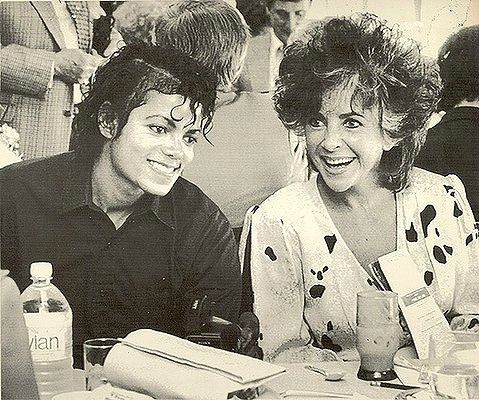 Sa grande amie Elizabeth Taylor. Elle a toujours été là pour lui. Michael lui voue une adoration sans borne, ils se comprennent, en tant qu'enfant star. Leur relation pourrait parfois prêter à confusion mais elle a toujours été pure, amicale et sincère. Liz l'a soutenu dans les pires moments de sa vie, n'a pas hésité à le rejoindre à l'autre bout du monde lorsque son monde s'écroulait. C'est elle qui l'a surnommé « The King of Pop » et il lui a écrit une chanson « Elizabeth I love you ». Elle est aussi la marraine de ses deux premiers enfants
« Nous sommes comme frère et sœur, mère et fils, des amoureux… c'est un pot pourri…. C'est quelque chose de spécial (…) On peut parler de tout. Elle est mon amie la plus loyale. Elle dit qu'elle m'adore et qu'elle ferait n'importe quoi pour moi. Elle dit que Hollywood devrait écrire un film juste pour nous deux » (The Michael Jackson Tapes)
Parmi les autres amies dont s'entoura Michael Jackson, figuraient Liza Minnelli et Jane Fonda, toutes deux filles d'immenses vedettes du cinéma, habituées dès l'enfance à la surmédiatisation. Comme ce fut le cas avec Brooke Shields et Tatum O'Neal, peut-être trouva-t-il auprès de toutes ces confidentes une écoute et une compréhension que nul autre ne pouvait lui offrir. Une certaine dimension maternelle en plus, pour ce jeune homme timide et angoissé qui avait été totalement privé d'enfance, d'adolescence et d'insouciance. Bien sûr, des rumeurs n'ont pas manqué de circuler sur la vraie nature de ces relations jugées hors normes.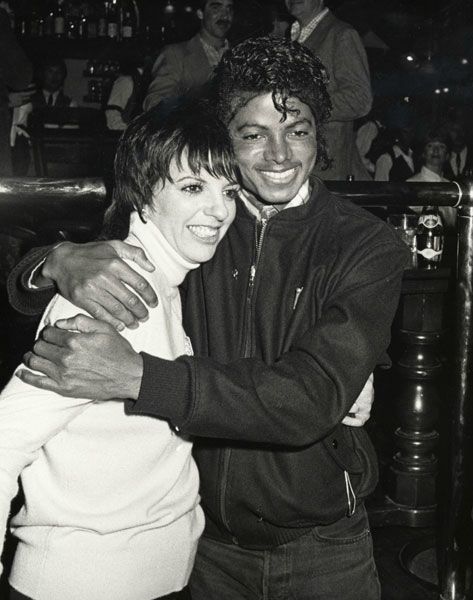 Ses épouses : Lisa Marie Presley et Debbie Rowe qui lui donna deux enfants
Lisa Marie et Michael se sont mariés le 18 mai 1994, en toute intimité, en République Dominicaine. Ils se rencontrent la première lorsque Lisa Marie n'était encore qu'une petite fille, ils se croisent ensuite à plusieurs reprises, en toute amitié. C'est à un moment critique de leurs vies respectives que leurs liens se resserrent. Le couple échappe quelque temps à la tempête médiatique, puis fini par se prêter au jeu des interviews, des séances photos officielles et des apparitions publiques. Un fougueux baiser sera par exemple échangé, en direct, durant la cérémonie des MTV Video Musc Awards, à l'automne 1994. Certains, pourtant, douteront dès le départ de la sincérité de cette union, voulant y voir l'alliance de deux fortunes colossales. Malgré leur divorce, au début de l'année 1996, pour « incompatibilité » (en fait Michael voulait des enfants et Lisa Marie n'en voulait pas, ce qui a profondément déçu MJ), ils restent proches et en bons termes. Elle a d'ailleurs confié, après son décès « Je suis certaine qu'il m'a aimée autant qu'il pouvait aimer quelqu'un, et je l'ai moi-même beaucoup aimé »
Debbie Rowe, l'assistante de son dermatologue, sera donc celle qui lui donnera des enfants. Ils se connaissent depuis 1981 et se marie à Sydney en Australie (durant le HIStory tour), le 14 novembre 1996. Debbie est déjà enceinte et donnera naissance en février 1997 à Prince Michael Jr, puis en avril 1998 à Paris Katherine. Ils divorcent en novembre 1999 et Michael obtient la garde des enfants. Ce mariage a toujours été vu comme un mariage arrangé ayant pour seul but les enfants, mais pas d'amour, en tout cas du côté de Michael ! Il semble en fait que ce soit Katherine, la mère de Michael qui l'ait obligé à épouser Debbie !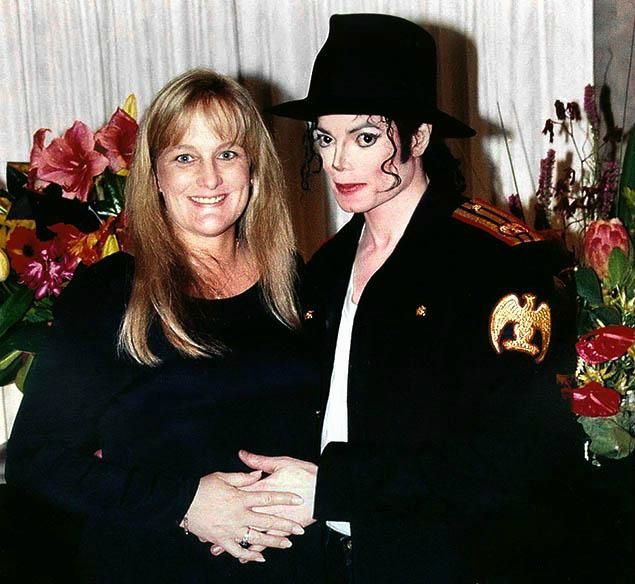 Partager la vie de Michael ne devait pas être une chose simple : « Je ne suis pas facile à vivre, ainsi, avec une femme. Je ne suis pas facile et je le sais. Parce que je consacre tout mon temps aux autres. Je le consacre aux enfants, aux malades, à la musique. Et les femmes veulent être au centre. Je me rappelle que Lisa Marie me disait toujours « Je ne suis pas un meuble, je ne suis pas un meuble. Tu ne peux pas …. » Et je disais : « Je ne veux pas que tu sois un meuble » mais, il y avait des petites filles malades qui me téléphonaient, elle (Lisa Marie) devenait folle et elle raccrochait. Mais tu vois, je sais que c'est ma mission, Shmuley, je dois le faire » (The Michael Jackson Tapes, conversation avec le rabbin Shmuley Boteach)
Michael confesse finalement que la femme idéale, il la voit en la personne de Lady Diana. Une femme célèbre, qui ne l'aimerait pas ni pour son nom ni pour son argent et surtout qui comprendrait son besoin de venir en aide aux plus démunis, aux malades.