Michael Jackson For The Record
La première édition de ce livre est publiée en mars 2007.
Réalisé par deux fans de la première heure de Michael Jackson, cet ouvrage, bien qu'il soit en anglais est une véritable bible pour ceux qui veulent tout savoir de la carrière de Michael.
Un travail de titan des auteurs réunissant les chansons des albums des Jackson 5, des Jacksons, de la période solo de Michael Jackson, toutes les chansons qui ont un rapport avec lui, les chansons inédites des sessions des albums, des chansons inédites qui n'ont pas d'album affilié, les chansons auxquelles Michael a contribuées pour d'autres artistes et les rumeurs des chansons inédites. Sans oublier le référencement des différentes versions des titres, les classements de ventes des singles dans les pays anglo-saxons et les prestations scéniques des différentes chansons.
Une encyclopédie de l'immense catalogue de Michael Jackson
Le livre se décompose en 9 parties :
- Les chansons : les chansons, par ordre alphabétique, dans lesquelles Michael s'est trouvé impliqué, durant toute sa carrière, en tant que chanteur, compositeur, producteur ou simplement en tant que « sujet » d'un titre.
- Les albums : une liste complète et chronologique des albums, solo et avec ses frères, sorti aux USA et en Grande Bretagne, accompagné d'une sélection de compilations détaillées sorties hors USA et UK
- Les films
- Les Home Vidéos
- Les concerts
- Les livres écrits par Michael
- La chartographie : classement des titres aux USA, au Canada, en Grande Bretagne, en Allemagne et en Australie
- La discographie complète sortie aux USA
- La discographie complète sortie en Grande Bretagne
Michael Jackson For The Records – 2nd Edition Revised and Expanded
Chris Cadman/Craig Halstead
Authors Online Ltd, 2nd Edition
503 pages
Sorti le 18 septembre 2009
En Anglais
Ce livre peut être complété Michael Jackson The Early Years, écrit par les mêmes auteurs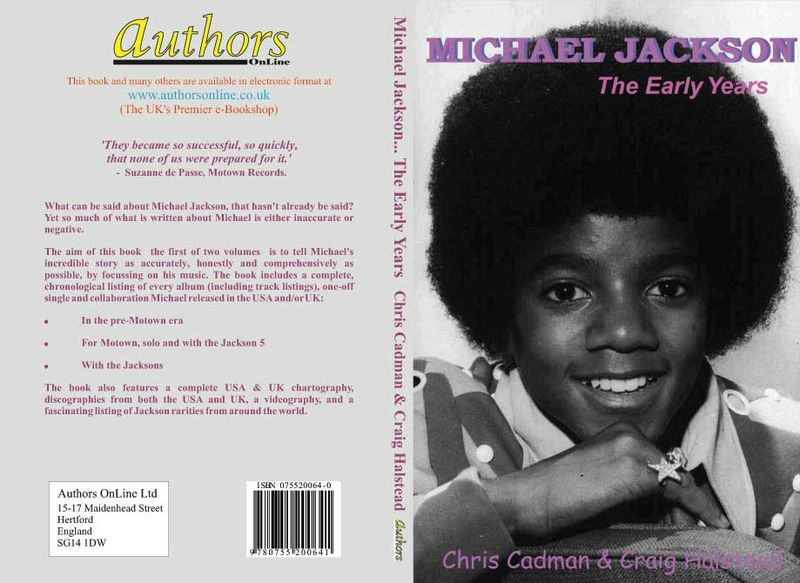 Ce livre de 176 pages, en anglais a été édité en 2002.
Il propose une discographie très détaillée de la période Motown. Chaque album du groupe et de Michael Jackson en solo, dès l'aire Steeltown, est décrit de façon tout à fait remarquable : référence du vinyle original américain, et anglais, date de sortie dans ces 2 pays, tracklist, ainsi que le récit de son élaboration, des anecdotes, avec donc des passages biographiques. Il contient également les nombreuses compilations sorties aux USA et en Grande-Bretagne, tout aussi détaillées que les albums.
Le livre se compose de 10 parties
- In The beginning : une courte biographie de la famille Jackson avant l'enregistrement du premier 45tours et la période Steeltown
- The Motown Era
- Motown's Rich Legacy
- The Jacksons
- Chartographie
- Top Single et Albums
- Vidéographie
- La discographie aux USA
- La discographie en Grande Bretagne
- Raretés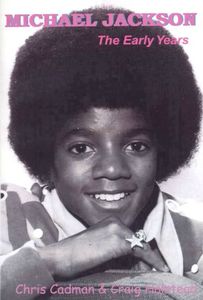 Michael Jackson The Early Years
Chris Cadman/Craig Halstead
Authors Online Ltd
176 pages
Sorti le 1er octobre 2002
En Anglais