Le 30 janvier 1968, sortait le premier titre enregistré par les Jackson 5!
Avant d'être repéré par le célèbre label Tamla Motown, Michael Jackson et ses frères, les Jackson 5, écument les clubs et les bars autour de Chicago.
Le 30 Janvier 1968, Michael a neuf ans quand sort le premier titre du groupe « Big boy ». La chanson a été enregistrée quelques mois plus tôt, en novembre 1967 (voir ici) dans petit studio situé au 1025 Taney Street à Gary, Indiana, dirigé par Gordon Keith pour son petit label local, Steeltown Records. Les studios n'existent plus aujourd'hui, le bâtiment est la maison personnelle de Gordon Keith à Gary.
Laissons Michael se souvenir de cette période:
« Un jour, peu de temps après nos expériences dans les clubs de Chicago, papa rapporta une cassette de chansons que nous n'avions jamais entendues auparavant. On se demandait bien pourquoi il nous faisait écouter ça, car jusqu'ici, il ne nous passait que des chansons connues. C'était la voix d'un type qui ne chantait pas très bien, avec un vague accompagnement de guitare. Papa nous a dit que le type en question n'était pas vraiment un chanteur, mais quelqu'un qui écrivait des chansons et qui avait son propre studio d'enregistrement à Gary. Il s'appelait M. Keith et il nous avait donné une semaine pour apprendre les chansons. Nous pourrions en faire un disque éventuellement. Naturellement, nous étions très excités par cette idée. Nous étions prêts à enregistrer n'importe quoi pourvu que ce soit un disque.
Nous avons travaillé surtout la musique, sans nous préoccuper des mouvements de scène qu'il faut apprendre en même temps normalement. Ca n'était pas aussi amusant que le répertoire déjà connu, mais nous étions suffisamment professionnels pour cacher notre déception, et donner tout ce que nous pouvions. Quand nous avons senti que nous étions prêts et que nous avions fait le maximum, papa nous a fait faire une petite maquette, après quelques faux départs et quelques critiques sévères. Un ou deux jours plus tard, papa est revenu de chez M Keith avec de nouvelles chansons que nous devions travailler pour notre premier enregistrement.
Comme papa, M. Keith était un ouvrier d'usine qui adorait la musique. Mais il avait aussi un pied dans l'enregistrement et la production de disques. Son studio et son label s'appelaient Steeltown. Quand j'y repense, je suis sûr que M. Keith était tout aussi excité que nous à l'idée de faire ce disque. Son studio était en plein centre ville, et nous sommes allés chez lui un dimanche matin de bonne heure, juste avant mon émission de télé favorite : « The Road Runner Show ». M. Keith nous accueillit à la porte et nous fit entrer dans son studio ; il nous montra une petite cabine en verre avec un tas d'appareils à l'intérieur, et nous expliqua à quoi ils servaient ; ce n'était pas le moment de tripoter les machines, du moins pas dans ce studio. Je mis un casque sur mes oreilles, et avec cet étrange machin qui me descendait jusqu'au cou, je décidai d'avoir l'air prêt à tout.
Mes frères essayaient de voir où ils allaient brancher leurs instruments et à ce moment là, des choristes et une section de cuivres sont arrivés. D'abord, j'ai cru qu'ils étaient là pour enregistrer après nous. Mais ils nous ont dit qu'ils venaient enregistrer avec nous et nous étions ravis. Papa n'avait pas bronché. Visiblement, il était au courant. C'est pas facile de surprendre mon père. Il nous demanda d'obéir à tout ce que nous demanderait de faire M. Keith, quand nous serions dans la cabine d'enregistrement. Si nous faisions tout ce qu'il nous demandait, le disque se passerait très bien.
Quelques heures plus tard, nous avions fini la première chanson de M. Keith. Certains choristes et joueurs de cuivre n'avaient jamais enregistré auparavant et ils n'avaient pas l'habitude de recommencer encore et encore jusqu'à ce que ça soit parfait. Mais ils n'avaient pas un manager perfectionniste comme le nôtre et ils trouvaient ça difficile. C'est à ce moment là qu'on a compris que papa nous faisait travailler comme de vrais professionnels. Nous sommes revenus plusieurs dimanches de suite, après des répétitions intenses pendant la semaine. Chaque fois nous rapportions une copie de l'enregistrement. Un dimanche, papa apporta sa guitare et il joua avec nous. C'est la seule fois qu'il a enregistré quelque chose avec nous
Une fois les disques pressés, M. Keith nous donna des boîtes de disques pour que nous puissions les vendre à l'entracte et après nos spectacles. Nous savions que ce n'était pas la façon dont les groupes connus opéraient, mais il fallait bien démarrer quelque part, et à cette époque-là, avoir son nom sur un disque était une affaire. On se sentait vraiment privilégiés.
Ce premier quarante-cinq tours Steeltown, s'appelait " Big Boy ". C'était une bonne chanson, qui racontait l'histoire d'un garçon qui tombe amoureux d'une fille. Pour vous donner une idée de la chose, imaginez un môme maigrichon de neuf ans en train de chanter ça. Les paroles disaient que je voulais davantage qu'un joli conte de fées, mais en réalité, je ne comprenais rien à ce que je chantais. Je chantais seulement ce que l'on me demandait de chanter.
Quand ce disque, qui avait une ligne de basse d'enfer, est sorti, et que les radios locales de Gary ont commencé à le diffuser, c'était vraiment un événement dans le quartier. Personne ne voulait croire que c'était notre disque. Et même nous, nous avions du mal à y croire aussi."
Moonwalk, Michael Jackson, 1988 ( pages 39 à 43).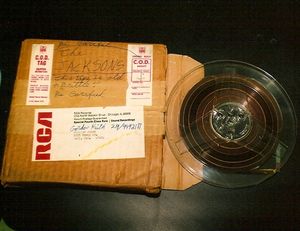 La chanson deviendra un petit hit dans la région.Le 45 tours (avec un autre titre enregistré pour Steeltown, You've Changed, en face B) s'est bien vendu au niveau local mais le titre n'est pas entré dans les charts.
Quelques temps plus tard, Gordon Keith décide de tirer sa part du gâteau du succès montant du groupe en sortant une nouvelle édition du 45T. Deuxième édition distribuée de manière plus large aux USA par ATCO, filiale de Atlantic Records mais toujours estampillée SteelTown.
La seule manière de différencier le vrai pressage original vendu par les Jackson Five eux-mêmes et la seconde édition, c'est la référence du disque. En effet, le pressage de janvier 1968 comporte la référence 681 et l'adresse du studio de Gordon Keith (1025 Taney St Gary Ind.).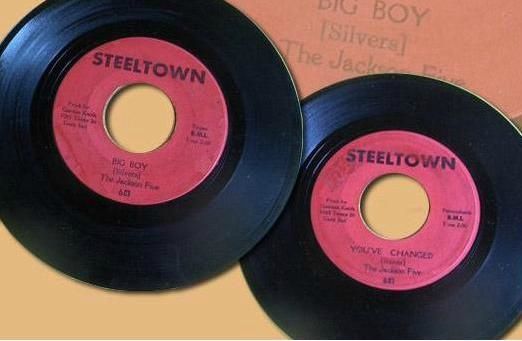 La seconde édition date de 1970 et comporte la référence 45-681 et comporte la mention "DISTRIBUTED BY ATCO RECORDS , 1841 BROADWAY NEW YORK, N.Y".
Mais le titre dans sa version originale apparaît sur la compilation THE JACKSON FIVE : PRE – HISTORY » sortie en 1996.
"Big boy" est un titre qui n'exploite pas tout le talent du jeune chanteur ni les talents musicaux de ses frères mais il symbolise les premiers pas de Michael dans la musique.
Les paroles de Big Boy
Fairy tales, fairy tales
I don't enjoy
Fairy tales and wishful dreams
Are broken toys

'Cause I'm a big boy now (Big boy)
That's looking for (Big boy)
Someone to love, oh yeah
Someone, someone to enchant my dreams, oh yeah

Mother goose, oh mother goose
Oh, won't you join
All I need is an ol' lovely girl
Holding my arm

'Cause I'm a big boy now (Big boy)
That's looking for (Big boy)
Someone to love, oh yeah
Someone, someone to enchant my dreams, oh yeah

Skating boards
And kiddie cars
Have had their day
Dating at the picture show with you
Is here to stay

'Cause I'm a big boy (Big boy)
That's looking for (Big boy)
Someone to love, oh yeah
Someone, someone to enchant my dreams, oh yeah
Come on, baby
Come on, baby, ooh
Gordon Keith, a été interviewé suite à la disparition de Michael Jackson et se souvient du talent exceptionnel du jeune artiste comme chanteur et danseur: