En association avec Seminar Center et la fondation Heal The World, le tout premier événement public de la nouvelle fondation Heal The Kids de Michael est organisé au prestigieux Carnegie Hall de New-York le jour de la St-Valentin, le 14 février 2001. La conférence de presse avait pour but de sensibiliser les parents face à l'éducation des enfants dans une vie familiale harmonieuse et équilibrée. D'abord présenté à l'assistance par son ami, le rabbin Shmuley Boteach, Michael a livré son premier discours :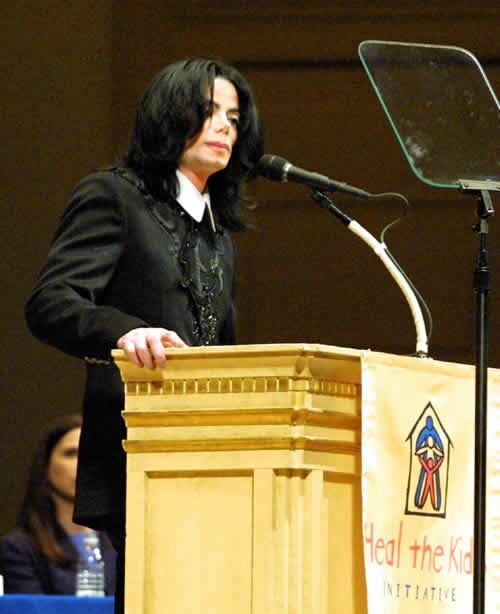 "J'aimerais vous souhaiter la bienvenue au Carnegie Hall, la plus célèbre salle de concert au monde, pour entendre une sorte de musique entièrement différente... une noble mélodie... une chanson plus éternelle.
Il y a deux sortes de musique. L'une vient des cordes de la guitare, l'autre des liens du coeur. L'une vient d'un orchestre de chambre, l'autre du battement dans la chambre du coeur. L'une vient d'un instrument de graphite et de bois, l'autre d'un organe de chair et de sang.
Cette musique noble dont je parle ce soir est plus agréable que les notes des plus doués compositeurs, plus touchante qu'un groupe en cadence, plus harmonieuse qu'un millier de voix jointes dans un hymne et plus puissante que tous les instruments de percussion réunis de la terre.
Cette douce musique est le chant de l'amour.
Il y a une génération, c'était ce chant qu'on pouvait entendre à chaque tournant, dans chaque ville. C'était le chant de l'amour qui résonnait dans les maisons quand le père riait avec son fils ou quand la mère chatouillait son petit enfant. C'était le chant de l'amour qui faisait écho aux classiques littéraires des enfants quand les parents leur lisaient des contes avant qu'ils n'aillent au lit. Et c'était le chant de l'amour qui vibrait pendant les conversations du dîner entre parents et enfants. Pas seulement une fois par année mais devait être découvert à tous les jours pour être en paix et progresser.
Tristement, ce chant est devenu une mélodie perdue, un refrain oublié, un air vide et tout ce que nous avons à la place aujourd'hui est un bruit sombre et terrible. À la place des conversations du dîner, il y a le bruit des jeux vidéo. À la place des devoirs et leçons, il y a le vacarme des bulletins de nouvelles. À la place des échanges normaux entre parents et enfants sur les drogues et la violence, il y le grand silence.
Qui parmi nous aurait cru que les cris des enfants au terrain de jeu seraient remplacés par les rafales des mitrailleuses dans nos écoles ? Que le son de la corde à danser des petites filles serait éclipsé par les cris affolés des enfants esquivant des balles ? Pourtant, au lieu d'aimer nos enfants davantage, nous installons des détecteurs de métaux dans nos écoles. Sommes-nous aveugles au fait que nos enfants s'écrient contre l'indifférence, protestent contre le laisser-aller et grondent contre la négligence.
"Heal The Kids" veut faire quelque chose, veut faire la différence et essayer d'aider les adultes et parents à réaliser qu'il est dans notre pouvoir de changer le monde dans lequel vivent nos enfants. Comme un homme sage avait dit, "Si ce n'est pas nous, c'est qui ? Si ce n'est pas maintenant, c'est quand ?" (J.F. Kennedy).
Mes amis, ayant moi-même deux enfants, je sais ce que signifie d'équilibrer les demandes entre la famille et la carrière... ne parlons même pas de me trouver une petite amie... même que le rabbin Shmuley m'a promis qu'il me trouverait la femme parfaite... ma réponse a été : et autant que ce ne soit pas une journaliste !
Apprendre à retrouver cet équilibre nécessaire est le but de cette soirée spéciale.
Dans trois semaines, à l'Université Oxford, je prononcerai un discours avec des implications solides sur les relations parents-enfants et s'en sera un qui vous surprendra assurément. Mais d'ici-là, je veux vous remercier d'être venu manifester votre amour. Je remercie Steven Shaunfeld, il est formidable, formidable. Tout ce qu'il fait pour Heal The Kids est tout simplement incroyable.
Ensemble, nous pouvons changer pour le meilleur, ensemble nous pouvons prendre soin du monde et en faire un meilleur endroit. Dieu vous bénisse tous, je vous aime tous."
(voir l'album photos sur la page facebook)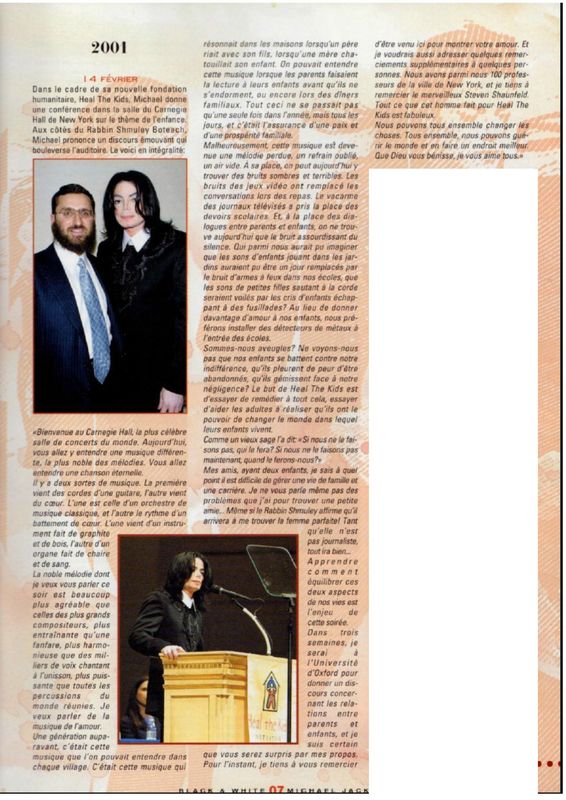 Le 06 Mars 2001: Michael Jackson donne une conférence à Oxford. S'étant fracturé le pied en dansant quelques jours auparavant, Michael est en béquilles.

Merci MJSabe (facebook) pour la photo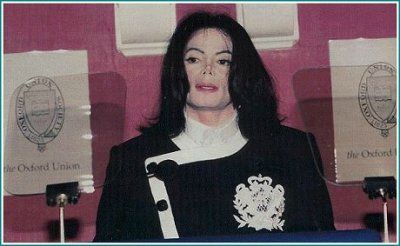 Le message est clair : "Heal The Kids veut faire quelque chose, créer une différence et essayer d'aider les adultes, les parents, à réaliser que c'est en notre pouvoir de changer le monde où nos enfants vivent."
Michael délivre son plus long discours certainement (30 minutes), et un des plus émouvants: