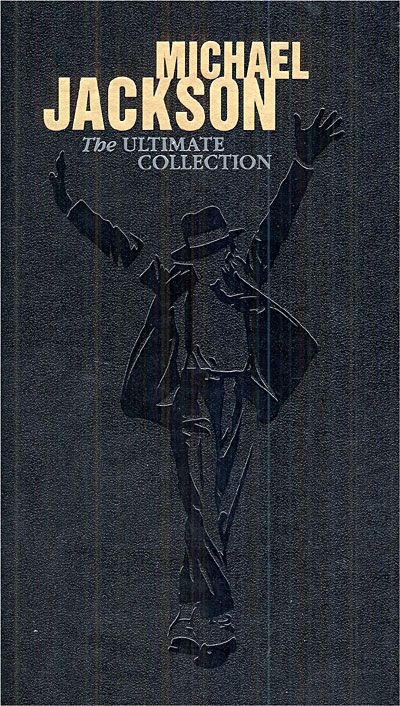 Parmi les différentes compilations sorties de Michael Jackson, il est est une qui semble essentielle: The Ultimate Collection
Il s'agit d' un coffret en édition limitée, sorti le 16 novembre 2004 et incluant quatre CD (57 chansons) et un DVD.
Le coffret contient 14 titres inédits dont les premières versions non-finalisées de P.Y.T. (Pretty Young Thing), Shake a Body (1ère version de Shake your body (Down To The Ground) de l'album Destiny des Jacksons) et la démo de We Are The World , chantée par Michael seul ainsi que We Are Here to Change the World (issue du film Captain Eo), les inédits Cheater et Monkey Business (issus des sessions d'enregistrement des albums Bad et Dangerous) et enfin quatre nouvelles chansons composées par Michael Jackson (In The Back, Beautiful Girl, The Way You Love Me, We've Had Enough).
Le cinquième disque sous forme DVD du Dangerous World Tour enregistré en septembre 1992 à Bucarest fera l'objet d'une commercialisation séparée en 2005.
Un livret de 64 pages, comprenant des photographies et une discographie complète viennent parfaire le tout.
VoicI la tracklist: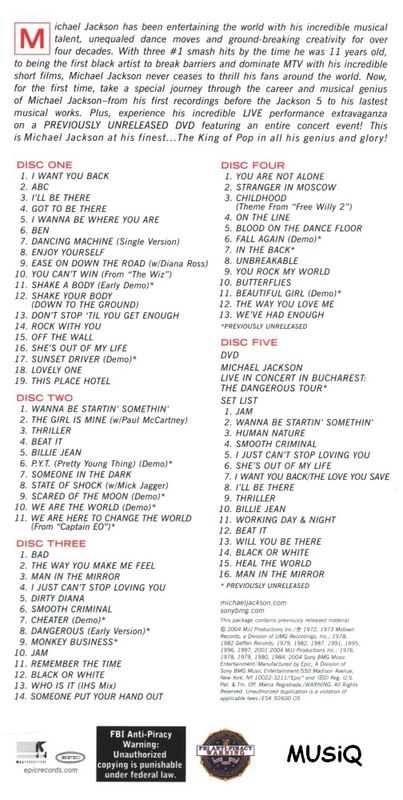 Ce coffret existe en 3 éditions, une blanche américaine, une noire européenne et une blanche Japonaise (identique visuellement à la blanche américaine)
Quelques nuances sont à noter sur l'édition japonaise :
CD 1 : 20 titres contre 20 aux USA. Le titre supplémentaire est Blame It On The Boogie (plage 11).
CD 2 : 12 titres au lieu de 11 aux USA (Human Nature, plage 6) et la confirmation de la présence de la démo de We Are The World (plage 11).
CD 3 : Someone Put Your Hand Out disparaît sur le pressage japonais au bénéfice de Heal The World (plage 13). ce CD passe à 15 titres au lieu de 14 avec la présence de Another Part Of Me (plage 3).
CD 4 : 15 titres contre 13 aux USA. Someone Put Your Hand Out se retrouve en ouverture de ce dernier CD (plage 1). One More Chance (plage 12) fait aussi partie de la sélection.