Le magazine "VIBE" dans son édition de Mars 2002 proposait une interview exclusive de Michael Jackson. (voir l'article original)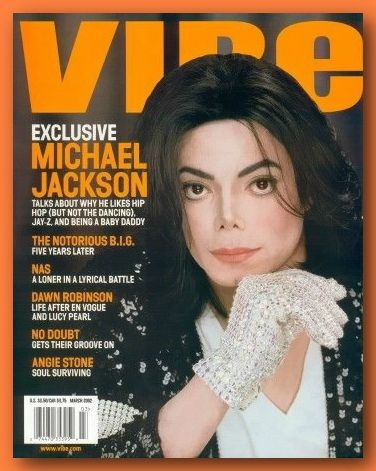 Michael Jackson INCASSABLE
Après avoir crée de la musique pendant 30 ans, Michael Jackson demeure une énigme. Regina Jones s'asseoit avec la mystérieuse légende pour parler de hip hop, de la vie d'unique parent, et des joies étonnantes des batailles de ballons à eau.


J'ai rencontré Michael Jackson il y a 33 ans quand Diana Ross a présenté les Jackson 5 (qui étaient alors de tout nouveaux membres de la Motown) à 350 professionnels de la musique et des média au Daisy Club de Beverly Hills. Mon mari, Ken, et moi-mêmes publiions "Soul", l'un des premiers magazines nationaux sur l'actualité des artistes noirs.

A 10 ans, Michael savait déjà comment charmer une foule. Faisant référence au soutien de Diana, il a dit " Après avoir chanté pendant 4 ans sans devenir une star, je croyais que je ne serais jamais découvert, jusqu'à ce que Melle Ross est venue sauver ma carrière."

Seulement 4 mois plus tard, le 1er single des Jackson 5 "I want you back" a monté au sommet du Billboard Hot 100, suivi, 2 mois plus tard par "ABC". Des milliers de lettres venant de tout le pays ont atterri dans notre boîte aux lettres. En réaction à la première tournée des Jacksons, un lecteur a écrit "Ces jeunes ont chanté d'une manière qui pourrait être nocive à la santé de certains, le coeur ne peut supporter qu'un certain degré de soul, et leur performance était certainement une overdose."

Pendant les 10 années suivantes, "Soul" est resté proche de la famille Jackson en tant qu'invité d'honneur a des soirées, des mariages et des concerts. Nous nous rendions également régulièrement à la maison familiale, où Michael qui était discret, poli, curieux et calme était souvent dans son coin en train de dessiner ou de jouer avec ses serpents et ses autres animaux, pendant que ses grands frères, ses cousins, et les invités jouaient au basket. Mais quand nous avons cessé de publier "Soul" en 1980, j'ai perdu contact avec la famille.
Et puis Michael est devenu une superstar de la pop, il a changé la face de la musique, de la danse, de la mode et des clips enchaînant tube sur tube. Il était adulé et poursuivi par les fans et les média partout où il allait. Il a pris une forme artistique, il l'a améliorée et modelée et il est devenu une idole internationale. Les American Music Awards l'ont récemment nommé l'Artiste du Siècle. En ce qui concerne le Roi de la Pop, le monde est insatiable.

On peut se faire une idée de quelqu'un avec les gens qui travaillent pour lui. En arrivant au ranch de Neverland Valley de 1093 hectares à Los Olivos, en Californie, au nord de Santa Barbara, je suis accueillie par quelques uns des 70 membres du personnel excessivement sympathique de Michael, qui aide l'auto proclamé Roi de la Pop a entretenir le complexe et qui accueille les bus remplis de visiteurs chaque année, surtout des enfants qui sont en phase terminale de maladie.

Habillé avec un pantalon noir, des chaussettes blanches, des mocassins noirs et une chemise jaune, Michael m'accueille avec un chaleureux bonjour et un gros câlin. Puis il s'excuse de devoir s'enquérir de son fils, Prince, 5 ans, et sa fille, Paris, 3 ans, qui reviennent tout juste d'une longue promenade et qui racontent leur journée tout excités à leur papa. La nounou, qui ressemble beaucoup à la mère de Michael, Katherine, me propose d'aller faire un petit tour dans le parc avant la nuit. Alors je pars dans une voiture de golf, pendant que Michael passe du temps avec ses bébés. Je découvre un parc d'attractions, un terrain de jeux, une gare, une salle jeux, un zoo, une piscine, un Jacuzzi, des auto-tamponneuses, et divers endroits où les animaux se promènent en liberté. J'aperçois un lama, un perroquet, un chimpanzé, un poney, et plusieurs faons.
Michael est prêt à discuter quand je reviens 45 minutes plus tard. J'ai apporté une bonne quantité de " Soul", et il regarde les vielles photos en riant de lui-même, de ses frères, et d'une photo de Diana Ross. "Vous vous rappelez quand vous m'interviewiez étant petit ?" demande-t-il, ce qui me rappelle l'époque où "Soul" lui avait parlé par l'intermédiaire de son "interprète ", Janet. "Ce n'était pas un jeu, c'était réel" dit-il "J'avais peur. Je pensais que s'il y avait ma sour, la personne serait plus indulgente envers moi."

Souvent très agité, Michael passe instantanément d'un chuchotement à un rire rauque. Le seul sujet qu'il refuse d'aborder est sa chirurgie esthétique. "C'est une question idiote," dit-il. "C'est l'une des raisons pour lesquelles je n'ai pas donné d'interviews pendant des années." A une époque où les stars habituellement se ventent de leurs Bentleys et de toutes les choses très chères et magnifiques qu'elles possèdent, Michael est singulièrement modeste. Il boucle rapidement une question sur son état financier - étant donné certaines rumeurs prétendant qu'il y aurait des problèmes - en ne disant que "On s'occupe très bien de moi." Michael gagne de l'argent en dormant. Il possède la moitié des parts de Sony/ATV Publishing, qui comporte la plupart des chansons des Beatles, ainsi que Jimi Hendrix, Bob Dylan, Miles Davis, Babyface et Elvis Presley. A 43 ans, Michael est incontestablement de retour. "Invincible", son premier album en 4 ans, a été n°1 au Billboard 200. Ses deux concerts à guichets fermés au Madison Square Garden (juste avant les attentats terroristes) ont ensuite été diffusés lors d'une émission spéciale sur CBS regardée par plus de 27.5 millions de personnes, qui est devenue l'émission musicale récoltant le plus d'audimat de la chaîne de tous les temps. Alors que nous récapitulons la conversation qui avait commencée il y a tant d'années, je remarque que, malgré tous les bouleversements pendant le temps où Michael a été sous les projecteurs, il n'a remarquablement pas changé - il se soucie toujours des autres, il est curieux et sensible.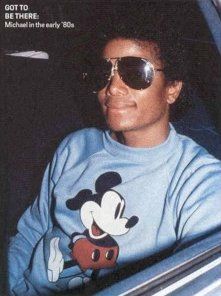 VIBE : Qu'est-ce que ça fait d'être en compétition pour les ventes de disques avec des gens comme Britney Spears ou N Sync, des enfants qui sont quasiment nés lorsque vous étiez au sommet de la gloire ?

MJ : C'est rare. J'ai des disques qui ont été n°1 en 1969 et 70, et je suis encore entré n°1 dans les classements en 2001. Je ne connais aucun artiste qui ait accompli cela. C'est un grand honneur. Je suis content, je ne vois pas ce que je pourrais dire d'autre. Je suis heureux que les gens acceptent ce que je fais.
VIBE : Que pensez-vous de l'état actuel du R&B ?

MJ : Je ne catégorise pas la musique. De la musique c'est de la musique. Ils ont changé le mot R&B à Rock 'n' Roll. Ca a toujours existé, de Fats Domino à Little Richard à Chuck Berry. Comment peut-on vraiment juger si c'est bon ou mauvais? C'est ce que c'est, de la musique géniale.

VIBE : Vous aimez le hip hop ?

MJ : J'aime beaucoup de chansons hip hop, beaucoup. J'aime la musique. Je n'aime pas tellement la danse. Ils ont l'air de faire des aérobics.

VIBE : Comment avez-vous décidé de mettre The Notorious BIG sur "Unbreakable", extrait d' "Invincible " ?

MJ : En fait, ça n'était pas mon idée. C'était celle de Rodney Jerkins, l'une des auteur/producteurs qui travaillaient sur l'album. C'était mon idée de mettre un rap dans la chanson, et il a dit "Je connais celui qui irait parfaitement - Biggie." Alors il l'a mis, et c'était parfait.

VIBE : Pourquoi avez-vous choisi Jay-Z pour faire le remix de votre premier single "You rock my world" ?

MJ : Il est dans le coup, dans le courant actuel, il touche les jeunes aujourd'hui. Ils aiment son travail. Il a frappé les nerfs de la culture populaire. Il était logique de faire ça.

VIBE : C'était comment d'apparaître au concert Hot 97 Summer Jam à New York comme invité de Jay-Z ?

MJ : Je suis juste arrivé et je lui ai fait un câlin. Il y a eu une explosion tumultueuse d'acclamations, un accueil vraiment adorable, et j'en étais très heureux. C'était un sentiment génial - l'amour, l'amour.

VIBE : Cela ne vous dérange pas de voir des gens vous imiter, comme Usher, Sisqo, Ginuwine, et même les Destiny's Child ?

MJ : Pas du tout. Ce sont des artistes qui ont grandi avec ma musique. Quand vous grandissez en écoutant la musique de gens que vous admirez, vous avez tendance à devenir comme eux. Vous voulez leur ressembler, vous habiller comme eux. Quand j'étais petit, j'étais James Brown, j'étais Sammy Davis Jr., alors je comprends cela. C'est un compliment.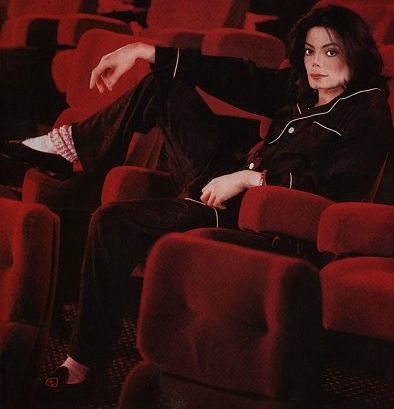 VIBE : Saviez-vous que vous faisiez des classiques quand vous enregistriez "Thriller" et "Off the wall" ?

MJ : Oui, sans vouloir être arrogant, mais oui. Parce que je reconnais de la bonne musique quand j'en entends. Et au niveau de la mélodie, du son, de la musique, c'est si émouvant. C'est cela qui promet [le succès d'un album].

VIBE : Pensez-vous que les artistes noirs sont mieux acceptés de nos jours ?

MJ : Je crois que les gens ont toujours admiré la musique noire depuis le tout début, si on retourne jusqu'aux Negro Sprirituals. De nos jours, le marché accepte simplement le fait que c'est le son qui a le plus de succès. De Britney à N Sync, ils font tous du R&B. Même Barry Gibb des Bee Gees, il me dit tout le temps [il imite l'accent anglais] " Mec, on fait du R&B". Je dis Barry, je ne catégorise pas la musique. Je comprends l'influence musicale qu'il a eue. J'adore la musique géniale - ça n'a pas de couleur, ça n'a pas de frontières.

VIBE : Vous avez l'air de profiter de la vie en tant que parent élevant seul ses enfants.

MJ : Je ne me suis jamais autant amusé de toute ma vie. C'est la vérité. Parce que je suis un grand enfant, et maintenant je peux voir le monde à travers les yeux des tout petits. Ils m'apprennent plus que je ne leur apprends. Je suis constamment en train d'essayer et de tester des trucs sur eux pour voir ce qui fonctionne ou pas. Les enfants sont les meilleurs juges pour contrôler quelque chose. Si ça plaît aux enfants, c'est bon, vous l'avez. Voilà pourquoi "Harry Poter" a eu autant de succès - c'est un film familial. Vous ne pouvez pas vous y tromper. On veut avoir un large public, et c'est pour cela que j'essaie de ne rien dire dans mes chansons qui pourrait offenser les parents. Je ne veux pas être comme ça. Nous n'avons pas été élevés de cette manière. Maman et Joseph [son père] ne diraient pas des choses comme ça.

VIBE : Qu'écoutent Prince et Paris ?

MJ : Ils écoutent ma musique, et ils aiment le classique, on entend ça dans tout le ranch. Ils aiment n'importe quel chanson dance.

VIBE : Comment le prendriez-vous si vos enfants devenaient des idoles de la pop, par rapport à votre propre expérience ?

MJ : Je ne sais pas comment ils arriveraient à gérer tout ça. Ca serait dur. Je n'en sais rien du tout. C'est difficile, surtout quand on voit que la plupart des enfants de célébrités finissent par se détruire parce qu'ils n'arrive pas à avoir le talent de leurs parents. Les gens disaient toujours à Fred Astaire Jr ., "Vous savez danser ?", et il ne savait pas. Il n'avait pas le sens du rythme. Mais son père était un danseur de génie. Ca ne transmet pas forcément. Je dis toujours à mes enfants "Vous n'avez pas à danser, vous n'avez pas à chanter. Soyez qui vous voulez, du moment où vous ne faites de mal à personne. C'est le principal."
VIBE : Quels anciens artistes ou contemporains vous inspirent ?

MJ : Stevie Wonder est un prophète musical. Tout les vieux Motown. Tout des Beatles. Je suis dingue de Sammy Davis Jr., Charlie Chaplin, Fred Astaire, Gene Kelly, Bill "Bojangles" Robinson - les artistes authentiques, le véritable esprit, pas juste des gens qui gâchent les spectacles. Quand James Brown était avec les Famous Flames, il était incroyable. Il y a tellement de chanteurs merveilleux - Whitney Houston, Barbara Streisand, Johnny Mathis. Ils ont leur propre style. Vous entendez une phrase, et vous savez qui c'est. Nat "King" Cole, c'est génial. Marvin Gaye, Sam Cooke - ils sont tous super !

VIBE : En quoi avez-vous contribué à la sélection des artistes qui ont participé au concert de vos 30 ans de carrière solo ?

MJ : Je n'y étais pas du tout impliqué.

VIBE : Comment avez-vous pu ne pas faire attention à une chose si importante et spéciale ?

MJ : La confiance.

VIBE : Qu'avez-vous fait le 11 Septembre ?

MJ : J'étais à New York, et j'ai reçu un appel d'amis d'Arabie Saoudite me disant que l'Amérique avait été attaquée. J'ai mis les infos et j'ai vu les tours jumelles qui s'effondraient et je me suis dis "Oh mon Dieu". J'ai crié à toutes les personnes avec qui j'étais dans le couloir de l'hôtel, "Tout le monde dehors, on s'en va tout de suite !". Marlon Brando était à un bout [du couloir] et le personnel de la sécurité à l'autre. Nous étions tous là-bas, mais Elizabeth Taylor était dans un autre hôtel. On est tous sortis aussi rapidement que possible. On s'est précipité dans la voiture, mais il y avaient ces filles qui étaient au concert la veille, et elles tambourinaient sur les vitres, elles couraient dans la rue en criant. Les fans sont si fidèles. Nous nous sommes cachés dans le New Jersey. C'était incroyable, j'étais mort de peur.

VIBE : Dans un autre registre, que faites-vous pour vous détendre ?

MJ : J'aime les batailles de bombes à eau. Nous avons un fort de ballons à eau ici, et il y a l'équipe rouge et l'équipe bleue. Nous avons des frondes et des cannons, et on est trempé à la fin du jeu ! Il y a un chronomètre, et celui qui a le plus de points gagne. Quand je fais quelque chose de sportif, il faut que je m'amuse aussi. Je n'aime pas le basket-ball ou le golf. Le basket se passe dans un esprit de compétition, tout comme le tennis ; ça vous met en colère. Ca ne m'intéresse pas. Ca devrait être thérapeutique. J'aime aussi aller dans des parcs d'attractions, être avec des animaux, des trucs comme ça.

VIBE : Avez-vous un rêve ou quelque chose que vous aimeriez voir dans votre vie ?

MJ : J'aimerais voir une vacance internationale pour l'enfant pour honorer nos enfants, parce que le lien familial a été brisé. Il y a la fête des Mères et la fête des Pères, mais il n'y a pas de fête pour les enfants. Cela représenterait beaucoup. Vraiment. La paix dans le monde. Je souhaite que la nouvelle génération pourra voir un monde en paix, pas comme maintenant.

VIBE : Est-ce que la chanson n'a jamais cessé d'être amusant pour vous et n'est devenu que du travail ?

MJ : Ca a toujours été amusant. A moins que ça ne me rende malade physiquement, c'est toujours amusant. J'adore toujours ça.

VIBE : Beaucoup d'entre nous vous considèrent comme une icône historique, un innovateur qui a crée un nouveau type de standard en terme de musique, qui existe encore aujourd'hui. Que va faire Michael Jackson maintenant ?

MJ : Merci, merci. J'aime profondément le cinéma. Et je veux innover dans le médium cinématographique - écrire, réaliser et produire des films, apporter un divertissement incroyable.

VIBE : Quels genres de films ? Vous lisez des scriptes ?

MJ : Oui, mais rien n'a encore été conclu.

VIBE : Vous arrive-t-il de vous sentir seul ?

MJ : Bien sûr. Quand je suis sur scène, je suis bien. Mais on peut être dans une maison pleine de monde et se sentir seul à l'intérieur. Je ne me plains pas, car je pense que c'est bon pour mon travail.


VIBE : Parlez-moi de l'inspiration que vous avez eue pour " Speechless". C'est très affectueux.

MJ : Vous allez être surprise. J'étais avec ces enfants en Allemagne, et on a eu une grosse bataille de bombes à eau - je suis sérieux - et j'étais si heureux après cette bataille que j'ai couru à l'étage dans leur maison et j'ai écrit "Speechless". Je suis inspiré quand je m'amuse. Je déteste dire ça, car c'est une chanson si romantique. Mais c'est cette bataille qui l'a faite. J'étais heureux, et je l'ai écrite en entier là à l'instant. Je la trouvais assez bonne pour l'album. De la plénitude viens la magie, l'étonnement et la créativité.

VIBE : Faites-vous collection de quelque chose ?

MJ : J'aime tout ce qui a rapport avec Shirley Temple, les Little Rascals, et les Trois Stooges. J'adore Curly. Je l'aime tellement que j'ai écrit un livre sur lui. J'ai pris sa fille et nous avons écrit le livre ensemble.

VIBE : Voulez-vous dire quelque chose aux lecteurs de VIBE ?

MJ : J'adore Quincy Jones. Vraiment. Et aussi, je veux dire aux lecteurs de ne pas juger une personne sur ce qu'ils entendent, ou sur ce qu'ils lisent, à moins qu'ils ne l'aient entendu de la bouche de la personne concernée. La presse a scandales recherche tellement le sensationnel. Ne tombez pas dans le piège, c'est moche. J'aimerais prendre tous les tabloïds et les brûler. Je veux que vous imprimiez ça ! Certains essaient de se masquer, mais ça reste toujours des tabloïds.

VIBE : Pour finir, comment canalisez-vous votre créativité ?

MJ : Je ne la force pas à venir, je laisse la nature faire les choses. Je ne m'assoies pas au piano en me disant que je vais écrire la plus grande chanson de tous les temps. Ca ne vient pas comme ça. Ca doit vous être donné. Je pense que c'est déjà là avant notre naissance, puis ça vous tombe directement sur les genoux. C'est la chose la plus spirituelle du monde. Quand ça arrive, ça vient avec tous l'accompagnement, les cordes, la basse, la batterie, les paroles, et vous n'êtes que le médium à travers lequel ça arrive, le tunnel. Parfois je me sens coupable de mettre mon nom sur les chansons "écrit par Michael Jackson" - car c'est comme si les cieux l'avaient déjà fait. C'est comme Michel Ange, qui aurait cet énorme bloc de marbre des carrières d'Italie, et il dirait "Il y une forme invisible à l'intérieur". Et il prend un marteau et un ciseau, et il est juste en train de la libérer. C'est déjà dedans. Ca y est déjà.

Traduction réalisée par Birch pour MJFRANCE.