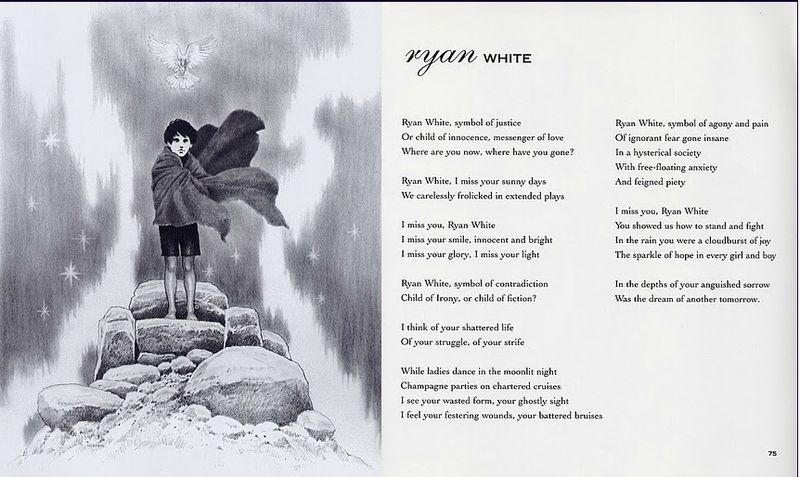 Ryan White
'Dancing The Dream' (1992)

Ryan White, symbol of justice
Or child of innocence, messenger of love
Where are you now, where have you gone?

Ryan White, I miss your sunny days
We carelessly frolicked in extended plays

I miss you, Ryan White

I miss your smile, innocent and bright
I miss your glory, I miss your light

Ryan White, symbol of contradiction
Child of irony, or child of fiction?
I think of your shattered life
Of your struggle, of your strife

While ladies dance in the moonlit night
Champagne parties on chartered cruises
I see your wasted form, your ghostly sight
I feel your festering wounds, your battered bruises

Ryan White, symbol of agony and pain
Of ignorant fear gone insane
In a hysterical society
With free-floating anxiety
And feigned piety

I miss you, Ryan White

You showed us how to stand and fight
In the rain you were a cloudburst of joy
The sparkle of hope in every girl and boy
In the depths of your anguished sorrow
Was the dream of another tomorrow.

Michael Jackson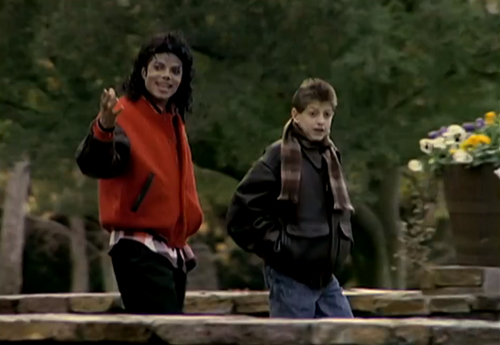 Ryan white.
Ryan White, symbole de justice
Ou messager d'amour, enfant de l'innocence
Ou es-tu maintenant, ou es-tu donc parti?
Ryan White, tes jours ensoleilles me manquent
Nous partagions avec insouciance des jeux interminables
Tu me manques, Ryan White
Ton sourire me manque, ton innocence et ton intelligence
Ta splendeur me manque, ta Lumière me manque
Ryan White, symbole de contradiction,
Enfant de l'Ironie ou enfant de fiction?
Je pense à ta vie brisée
A ton combat, à tes conflits
Pendant que des femmes dansent à la lueur de la lune,
Font des fêtes au champagne lors de croisières
Je vois ta silhouette gâchée, ton apparence fantomatique
Je ressens tes blessures infectées, tes meurtrissures de martyr
Ryan White, symbole d`agonie et de douleur
D'une peur que l'ignorance rend tulle
Dans une société hystérique
Pleine d'anxiété ambiante
Et de pitié feinte.
Tu me manques, Ryan White
Tu nous as montré comment tenir debout et combattre
Dans la pluie tu étais une averse de joie
L'étincelle d'espoir en chaque fille, chaque garçon
Dans les profondeurs de ton chagrin tourmenté
II y avait le rêve d`un autre lendemain.
Michael Jackson