Il s'agit d'un documentaire de 60 minutes environ, produit par Motown, sorti, uniquement en VHS et en anglais, retraçant à l'aide de videos d'archives, la carrièrre de Michael Jackson, de l'audition à la Motown en juillet 1968 au Bad World Tour de 1988.
Diffusé en mars 1988 sur la chaîne américaine Showtime, la VHS est sortie en Europe le 3 juin 1988.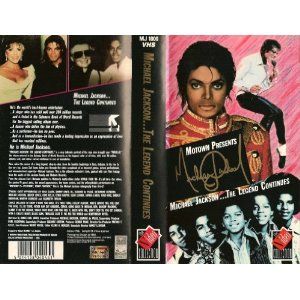 ll est l'artiste le plus connu au monde.
.... Un chanteur qui a vendu plus de 200 Millions de disques, répertorié dans le livre des records pour l'album le plus vendu de tous les temps.
....Un danseur qui défie les lois de la gravité.
....Un artiste sans égal.
....Un humanitaire qui a fait forte impression par son amour et ses dons chiffrés en millions.
Il est Michael Jackson.
"Michael Jackson : The Legend Continues" est un portrait intime de celui qui vous a fait acheter "Thriller", l'album qui est entré dans le livre des records pour avoir été la meilleure vente de tous les temps, avec plus de 40 millions d'albums vendus, et une carrière qui continue sans aucune limite.
Maintenant, revivez la carrière de cette légende vivante pas à pas. De ses humbles débuts à Gary, dans l'Indiana, à sa consécration, James Earl Jones vous conduit dans l'album vidéo de cet innocent génie, perfectionniste, et une superstar incomprise : Michael Jackson. C'est le collector ultime, incluant des images rares provenant des archives de la famille Jackson et de Motown Records.
De l'audition des Jackson 5 à la Motown au Michael Multi Millionnaire du World Tour' 88, tout est là ! Les vidéos, les performances télé, les apparitions aux Awards, les films personnels, et sa performance inoubliable à MOTOWN 25 – YESTERDAY, TODAY, FOREVER. Il s'agit de la vidéographie de Michael Jackson de A à Z !"
Apparitions spéciales de : Dick Clark, Sammy Davis Jr., Suzanne de Passe, Katharine Hepburn, Marlon Jackson, Quincy Jones, Gene Kelly, Cyndi Lauper, Sean Lennon, Sophia Loren, Yoko Ono, Smokey Robinson, Martin Scorsese et Elizabeth Taylor.
27 extraits de chansons incluant: I Want You Back, It's Your Thing, Feelin' Alright, Who's Loving You, The Love You Save, I'll Be There, Never Can Say Goodbye, Stand, Going Back To Indiana, Ben, Dancin' Machine, Blame It On The Boogie, Shake Your Body, Can You Feel It, Rock With You, Don't Stop Til You Get Enough, With A Child's Heart, Billie Jean, Thriller, Beat It, We Are The World et This Place Hotel
Raconté par : James Earl Jones
Producteur executifs : Michael Jackson et Suzanne de Passe
Producteur superviseur : Burl Hechtman et Suzanne Coston
Producteur : George Paige
Directeur/Co-Producteur : Patrick T. Kelly
Producteur doublage : Wendy Neuss
Editeur : Glenn A. Morgan
Directeur Associé : Nancy Leiviska
Design par : Michael McWillie.