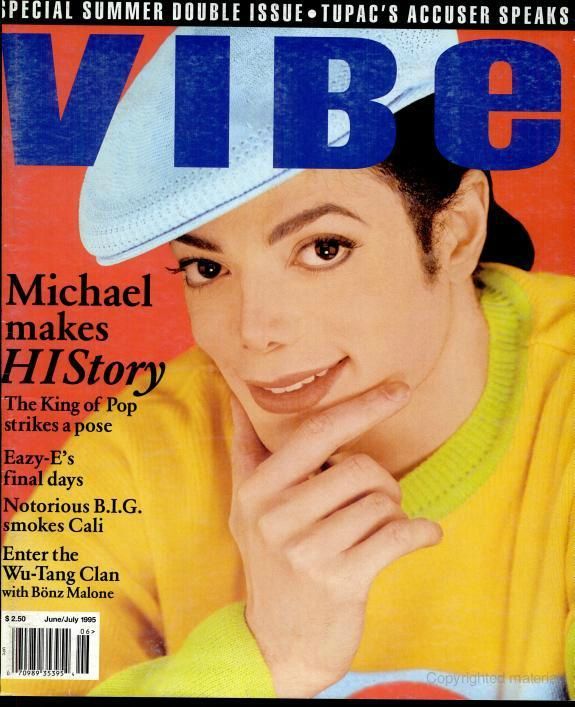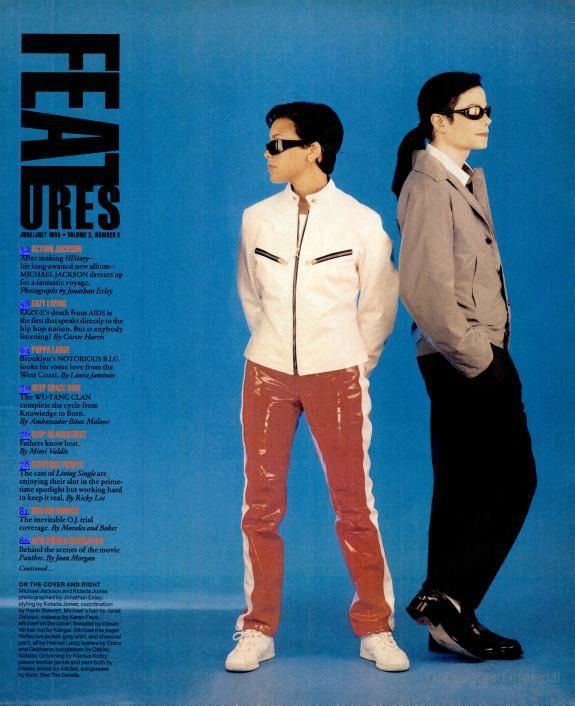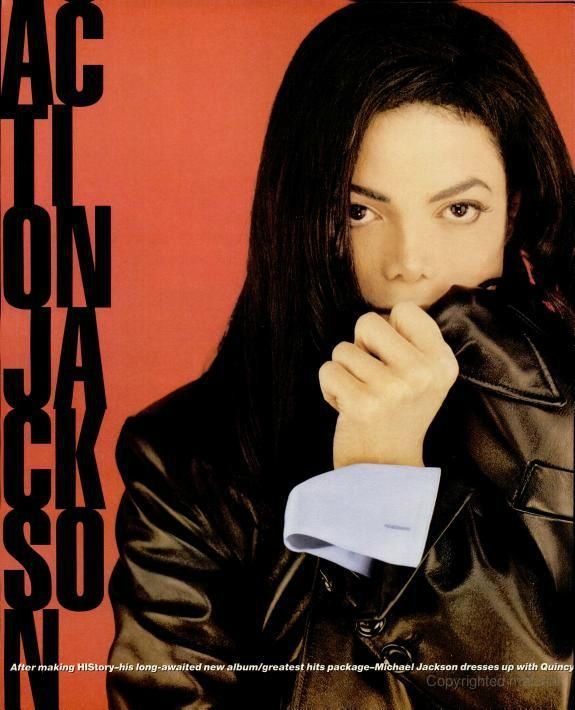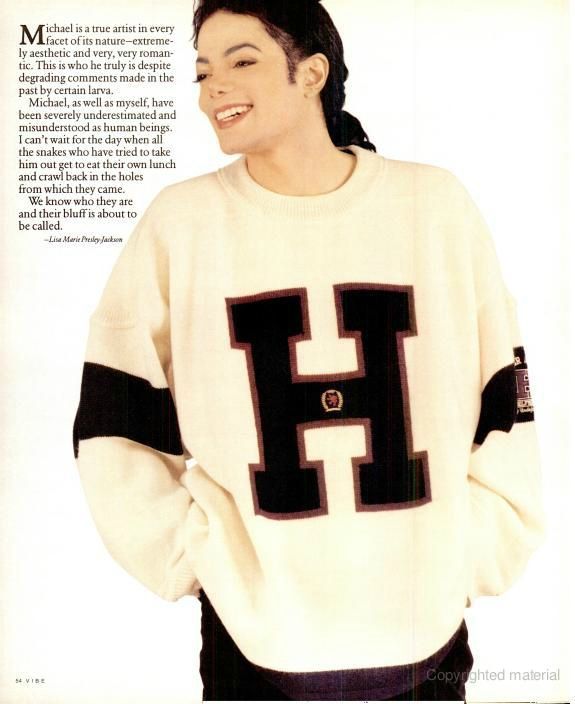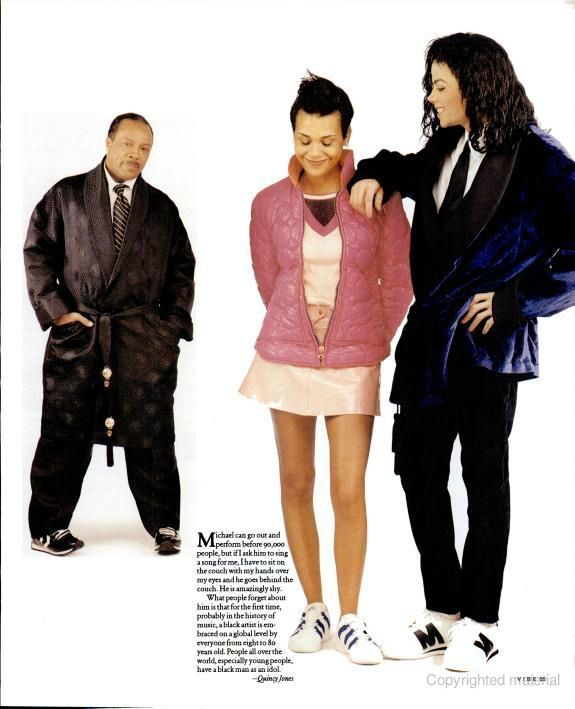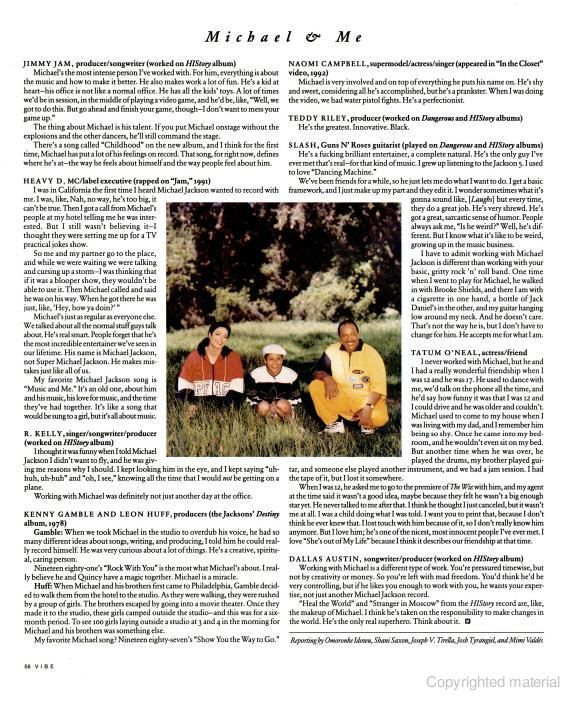 Traduction de l'article
Michael est un vrai artiste aux multiples facettes – extrêmement esthétique et très, très romantique. C'est ce qu'il est vraiment malgré les commentaires dégradants faits dans le passé par certaines larves.
Michael, tout comme moi, a été sévèrement sous-estimé et incompris en tant qu'être humain. Il me tarde de voir le jour où tous les serpent qui ont essayé d'en faire leur repas ramperont jusqu'au trou d'où ils étaient sortis.
Nous savons qui ils sont et ils seront bientôt au pied du mur.
Lisa Marie Presley Jackson



Michael peut se produire devant 90000 personnes, mais si je lui demande de chanter une chanson pour moi, je dois m'asseoir sur le canapé et mettre les mains devant mes yeux, et il se cache derrière le canapé. Il est étonnamment timide. Ce que les gens oublient à son sujet, c'est que pour la première fois de toute l'histoire de la musique, un artiste noir est globalement aimé par tout le monde, de 7 à 77 ans. Des gens partout dans le monde, spécialement des jeunes, ont un homme noir pour idole.
Quincy Jones



Michael est la personne la plus intense avec laquelle j'ai travaillé. Pour lui, tout a un rapport avec la musique, et la façon de l'améliorer. Il rend aussi le travail très amusant. Il est un enfant dans son cœur – son bureau ne ressemble pas à un bureau normal. Il y a plein de jouets. Un certain nombre de fois, alors que nous étions en session d'enregistrement, et en plein milieu d'une partie de jeu vidéo, il a dit : "Il faudrait qu'on fasse ça. Mais vas-y, finis ta partie – je ne veux pas que tu perdes à cause de moi".
La caractéristique de Michael c'est son talent. Si on met Michael sur une scène sans les explosions et les autres danseurs, il tiendra quand même la scène.
Sur le nouvel album, il y a une chanson qui s'appelle Childhood[ /i], et je pense que pour la première fois Michael a mis beaucoup de ses sentiments sur le disque. Cette chanson, pour l'instant, le définit tel qu'il est – ce qu'il pense de lui-même et ce que les gens pensent de lui.
Jimmy Jam, producteur, auteur (a travaillé sur l'album HIStory)



La première fois que j'ai entendu que Michael Jackson voulait travailler avec moi, j'étais en Californie. Je me disais, non, c'est pas vrai, c'est trop énorme, ça ne peut pas être vrai. J'ai reçu un appel d'un collaborateur de Michael à mon hôtel, disant qu'il était intéressé. Mais je n'y croyais toujours pas – je pensais que la télé essayait de me piéger pour une caméra cachée.
Donc moi et mon partenaire nous sommes quand même allés au rendez-vous, et en attendant nous discutions en faisant les cent pas – j'étais en train de me dire que si c'était une caméra cachée, ils ne pourraient pas diffuser ça. Puis Michael a appelé pour dire qu'il était en chemin. Quand il est arrivé il a dit "Hey, comment ça va ?".
Michael est aussi normal que n'importe qui. On a parlé de choses dont parlent tous les mecs normaux. Il est vraiment intelligent. Les gens oublient qu'il est l'artiste le plus incroyable qu'on ait jamais vu de toute notre vie. Il s'appelle Michael Jackson, pas Super Michael Jackson. Il fait des erreurs comme nous tous.
Ma chanson préférée de Michael est Music and Me. Elle est ancienne, elle parle de lui et de sa musique, de son amour pour la musique, et du temps qu'il lui consacre. On dirait une chanson qui pourrait être chantée à une fille, alors qu'elle est pour la musique.
Heavy D (a rappé sur Jam en 1991)



J'ai trouvé très drôle le jour où j'ai dit à Michael Jackson que je ne voulais pas prendre l'avion, et il m'a donné tout un tas de raisons pour que je change d'avis. Je le regardais dans les yeux, et je répondais : "Hum, hum", et "Oh, je vois", tout en me disant que jamais je ne prendrais l'avion.
Travailler avec Michael n'a jamais été quelque chose de commun.
R. Kelly, chanteur, auteur, producteur (a travaillé sur l'album HIStory)



Quand nous avons emmené Michael en studio pour enregistrer sa voix, il avait beaucoup d'idées différentes à propos des chansons, de leur écriture, et de leur production. Il était curieux à propos de beaucoup de choses. Il est créatif, spirituel, attentionné.
La chanson qui représente le mieux Michael est Rock With You. Je crois vraiment que lui et Quincy dégagent de la magie ensemble. Michael est un miracle.
Kenny Gamble, producteur (album Destiny, 1978)



Quand Michael et ses frères sont venus la première fois à Philadelphie, Gamble a décidé de les emmener de leur hôtel au studio. Alors qu'ils marchaient, ils ont été envahis par un groupe de filles. Les frères ont réussi à s'échapper et à se réfugier dans un cinéma. Une fois arrivés au studio, ces filles ont campé à l'extérieur – et ça a continué pendant 6 mois. Voir une centaine de filles camper à l'extérieur du studio à 3h00 ou 4h00 du matin pour Michael et ses frères n'était pas quelque chose d'habituel.
Ma chanson préférée de Michael ? Show You The Way To Go.
Leon Huff, producteur (album Destiny, 1978)



Michael est toujours au top de tout ce qu'il fait. Il est timide et doux, en comparaison de tout ce qu'il a accompli, mais c'est aussi un farceur ! Quand j'ai tourné le clip, nous avons fait des batailles de pistolet à eau. Il est aussi perfectionniste.
Naomi Campbell, top model (est apparue dans le clip In The Closet, 1992)



C'est le meilleur. Innovant. Noir.
Teddy Riley, producteur (a travaillé sur les albums Dangerous et HIStory)



C'est un putain d'artiste brillant, c'est naturel chez lui. C'est le seul mec que j'ai rencontré qui est vrai. J'ai grandi en écoutant les Jackson Five. J'adorais Dancing Machine.
Nous sommes amis depuis longtemps, alors il me laisse faire ce que je veux faire. J'ai une structure de base, je fais ma partie et ils l'éditent. Parfois je me demande à quoi ça va ressembler [rires], mais à chaque fois, ils font un boulot génial. Il est très astucieux. Il a un énorme et sarcastique sens de l'humour. Les gens me demandent toujours : "Est-ce qu'il est bizarre ?". Eh bien, je dirais qu'il est différent. Mais je sais ce que c'est qu'être bizarre, et d'avoir grandi dans le milieu de la musique.
Je dois admettre que travailler avec Michael Jackson est différent de travailler avec un groupe de rock. Je me souviens d'une fois où je suis allé jouer pour Michael, il était avec Brooke Shields, j'avais une cigarette dans une main, une bouteille de Jack Daniel's dans l'autre, et la lanière de ma guitare autour du cou.
Et lui il s'en fout. Ce n'est pas du tout sa façon d'être, mais je n'ai pas besoin de changer pour lui. Il m'accepte tel que je suis.
Slash, guitariste des Guns N'Roses (a joué sur les albums Dangerous et HIStory)



Je n'ai jamais travaillé avec Michael, mais lui et moi avons eu une formidable amitié quand j'avais 12 ans et lui 17. Il dansait avec moi, nous discutions des heures au téléphone, et il trouvait drôle le fait que je sache conduire à 12 ans alors que lui ne savait pas à 17. Michael venait chez moi quand je vivais chez mon père, et je me souviens qu'il était très timide. Une fois il est venu dans ma chambre, et il n'osait pas s'asseoir sur mon lit. Mais une autre fois il a joué de la batterie, mon frère jouait de la guitare, et quelqu'un d'autre jouait d'un autre instrument, et on a eu droit à un petit concert improvisé. J'en ai l'enregistrement, mais je ne sais plus où il est.
Quand j'avais 12 ans, il m'a demandé de l'accompagner à la première de The Wiz, et mon agent de l'époque a trouvé que c'était une mauvaise idée, peut-être parce que selon lui il n'était pas encore une grande star. Il ne m'a plus jamais parlé après ça. Il a sûrement cru que c'était moi qui avais annulé, alors que ce n'était pas moi du tout. J'étais une enfant qui faisait ce qu'on lui disait de faire. Je veux que vous imprimiez ça, parce que je pense qu'il ne l'a jamais su. Je l'ai perdu de vue à cause de ça, donc je ne le connais pas vraiment. Mais je l'aime ; c'est l'une des personnes les plus gentilles, les plus innocentes que j'ai jamais rencontrées. J'adore She's Out Of My Life, parce que je pense qu'elle illustre bien notre amitié de l'époque.
Tatum O'Neal, actrice et amie



Travailler avec Michael est une façon de travailler différente. Il y a parfois de la pression, mais pas à cause de la créativité ou de l'argent. C'est une sorte de folle liberté. On pourrait penser qu'il voudrait tout contrôler, mais s'il vous aime suffisamment pour travailler avec vous, il veut avoir votre expertise, pas juste un autre album fait par Michael Jackson.
Heal The World et Stranger In Moscow représentent bien Michael. Je pense qu'il a pris la responsabilité d'apporter des changements dans le monde. C'est le seul vrai super héros. Il faut y penser.
Dallas Austin, auteur, producteur (a travaillé sur l'album HIStory)