Le 16 juin 1995, sort en France le neuvième album studio de Michael Jackson. HIStory - Past, Present & Future - Book I se présente comme un double album CD (et triple vinyle) de trente chansons, d'une durée de presque 150 minutes.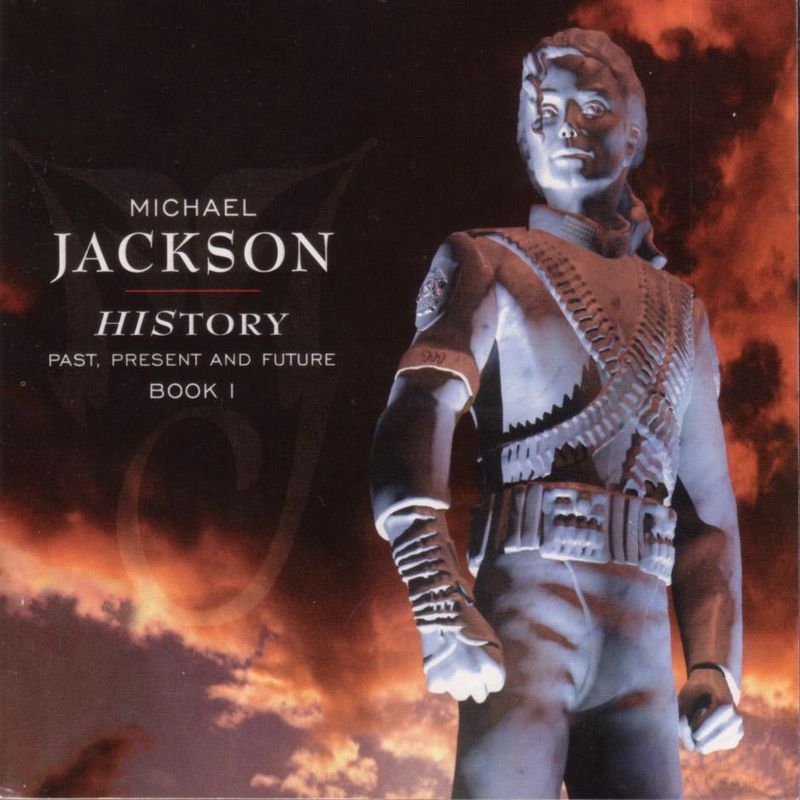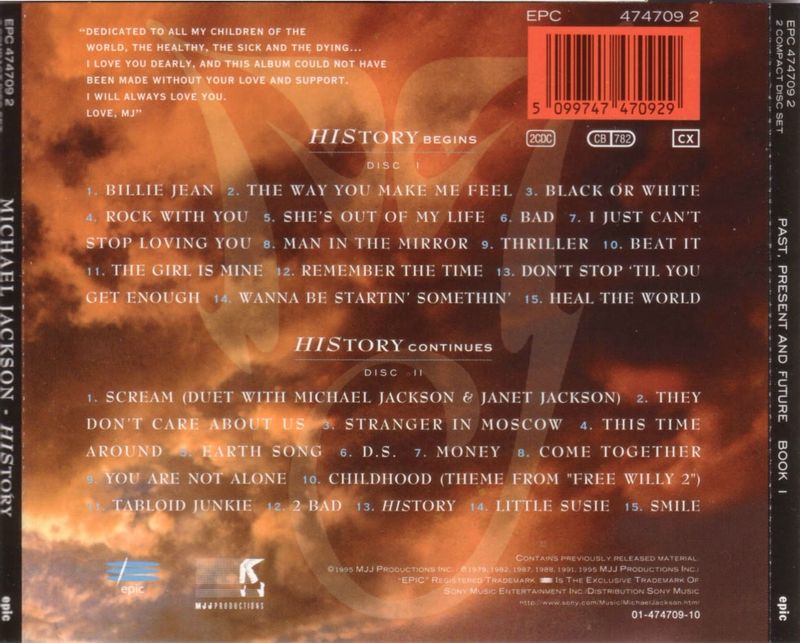 Le premier CD, baptisé HIStory Begins, est un Best Of des 15 meilleurs titres de Michael chez Epic.
Le deuxième CD, intitulé HIStory Continues, et produit par Jimmy Jam, Terry Lewis, Dallas Austin et R. Kelly, comprend 14 nouveaux titres et la chanson Come Together (enregistrée pendant les sessions Bad de 1986-87) déjà exploitée en face B du titre Remember the time, en 1992.
Tracklist:
CD1 : HIStory Begins (durée: 71:38)
Billie Jean
The Way You Make Me Feel
Black Or White
Rock With You
She's Out Of My Life
Bad
I Just Can't Stop Loving You
Man In The Mirror
Thriller
Beat It
The Girl Is Mine
Remember The Time
Don't Stop 'Til You Get Enough
Wanna Be Startin' Somethin'
Heal The World
CD2: HIStory Continues (durée: 77:12)
Scream (duet with Michael Jackson and Janet Jackson)
They Don't Care About Us
Stranger In Moscow
This Time Around
Earth Song
D.S.
Money
Come Together
You Are Not Alone
Childhood (Theme from Willy 2)
Tabloid Junkie
2BAD
HIStory
Little Susie
Smile
Michael compose 7 des 15 chansons de HIStory Continues.
Le concept de l'album s'appuie sur le jeu de mot "HIS story" . Celui fait allusion à la partie best-of de 15 titres sur le premier CD mais avec "HIS story", Michael souhaite apporter sa version des faits, sa réalité, SON histoire.
Enregistré entre 1993 et 1995 HIStory continues a un son plus amer et coléreux que les autres albums: Michael y crache sa colère contre la presse à scandale (Scream, Tabloïd Junkie), règle ses comptes avec le procureur Tom Sneddon (D.S.). Il y expose son état d'esprit mélancolique dans Stranger in Moscow. You Are Not Alone traite d'isolation et d'amour tandis que Little Susie est une douce ballade amère sur la mort d'une jeune fille et la négligence humaine. Dans Childhood, dont Michael dira d'ailleurs qu'elle est la chanson la plus personnelle de son répertoire, il demande à ses detracteurs de ne pas le juger trop vite et de faire preuve d'empathie à l'égard de l'enfance qu'il n'a pas connue.
Sur l'édition française originale du disque, Michael a enregistré un message pour ses fans français, en piste 16 du CD n°1. Ce message sera supprimé sur le deuxième pressage du CD. En effet sous la pression de la controverse du titre They Don't Care About Us, dont les paroles sont jugés antisémites, Michael réenregistre la chanson en modifiant les paroles et ressort une nouvelle version de l'album.
"Salut, c'est Michael Jackson. Je veux remercier tous mes fans en France pour leur support et leur amour continuel au fil des années. J'espère venir vous voir très bientôt et me produire pour vous tous. J'ai hâte de vous voir. D'ici là, au revoir et prenez soin de vous. Je vous aime. Bye!"
Voir les articles sur la sortie de l'album ici, ici, ici
Lorsque l'album sort dans le commerce, la maison de disques, Sony Music soutient la promotion de l'album et sa campagne marketing avec un budget de 30 millions de dollars. Cette promotion se traduira notamment par la construction de 9 statues géantes de Michael prenant la pose comme sur la pochette de l'album et envoyées à travers le monde. A Londres, la statue de près de 10 mètres de haut, défile sur la Tamise avant d'être exposée à travers le pays. Le 29 juin, une statue sera également exposée à Berlin (Allemagne).
Cette statue est également le point central du teaser HIStory qui sera diffusé pour la première fois sur MTV le 22 mai 1995. Filmé à Budapest en Hongrie, le mini film publicitaire de 4 minutes, intitulé "The Eastern Europe Redeemer" («Le Rédempteur Europe de l'Est") et réalisé par Rupert Wainwright, présente Michael Jackson comme le général d'une armée gigantesque pacifiste, adulé et glorifié par les masses. Le clip se termine par le dévoilement de la statue illuminée par des projecteurs et acclamée par tous.