Michael Jackson a toujours été un très grand fan des trois comiques américains qui ont tourné de nombreux courts métrages au milieu du XXème siècle, entre 1930 et 1970 .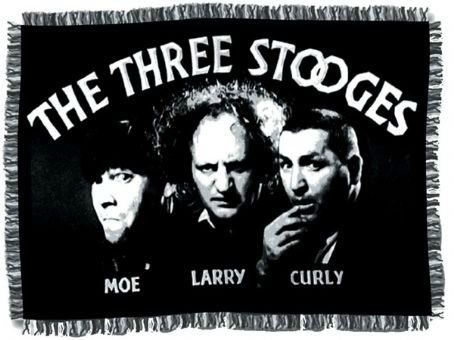 Curly Howard, Moe Howard et Larry Fine composent la formation originale de ce trio américain, chacun ayant une personnalité bien définie . Dans la lignée du vaudeville américain et de la comédie, l'humour des Three Stooges s'appuie essentiellement sur la farce, la bouffonnerie et le slapstick, à savoir une profusion de baffes, de coups divers et variés, de chutes et de situations cartoonesques, Les acteurs, se retrouvant très régulièrement dans des situations abracadabrantes, se donnent des claques, des coups ou sont assommés par des objets et chaque coup donné ou reçu, est accompagné d'un petit bruit rigolo.
Moe était le plus agressif, le tyran du trio.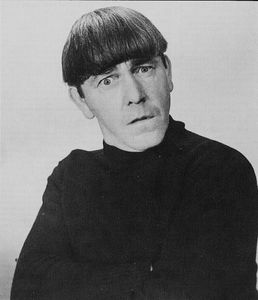 Curly était le membre le plus populaire de l'équipe pour le public et les critiques. Souvent considéré comme l'idiot de l'équipe et victime de l'abus de Moe, Curly est le plus reconnaissables des Stooges. Il était bien connu pour sa voix haut perchée et ses cris, des grognements et des singeries physiques.
Larry était l'intermédiaire un peu plus passif mais connu comme le membre le plus intelligent.
190 films ont été tournés par The Three Stooges. L'équipe a fait 97 comédies pendant les «années Curly" (1934-1946), avec la période 1938-1942 considérée comme exceptionnellement forte.
Dans une interview de 1999, accordée à Alex Coletti sur, MTV, Michael Jackson a révélé que l'une des forces motrices derrière ses concepts vidéo était les Three Stooges. "Mon rêve a toujours été de faire des petits films courts, parce que je suis un grand fan des Three Stooges, et j'aime regarder Curly, qui à mon avis, est merveilleux. Ils font ces courts métrages de 15 minutes, et j'ai dit: «J'adorerais faire quelque chose comme ça un jour», et ["Thriller"] a été ma chance. "
Lors du mémorial du 07 juillet 2009 au Staples Center de Los Angeles, Marlon Jackson a déclaré que durant leur jeunesse, ils ont toujours regardé les Three Stooges.
La mère de Ryan White, ce jeune garçon hémophile décédé du SIDA en 1990, indique également dans une interview à CBS en 2009, que son fils a passé beaucoup de temps à Neverland avec Michael à regarder la série comique.
Dans son récent témoignage au tribunal, lors du procès contre AEG, Taj Jackson, le neveu de Michael disait qu'il passait également des heures avec son oncle à regarder The Three Stooges. Michael avait d'ailleurs offert un livre sur The Three Stooges qu'il aimait beaucoup à son neveu, lui demandant d'en prendre bien soin!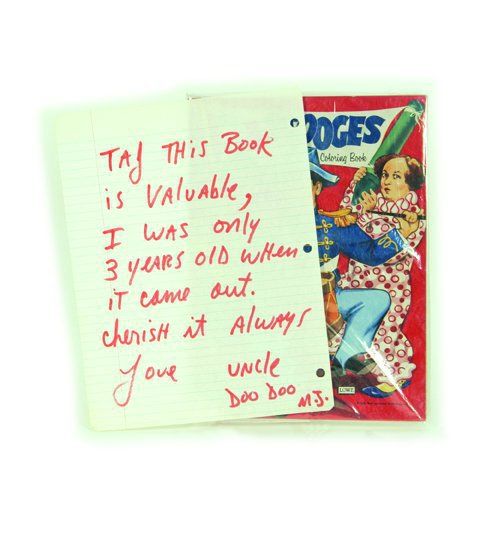 En 1985, MJ a accepté d'écrire la préface d'un livre de Joan Howard Mauer sur Curly, l'un des trois protagonnistes des Three Stooges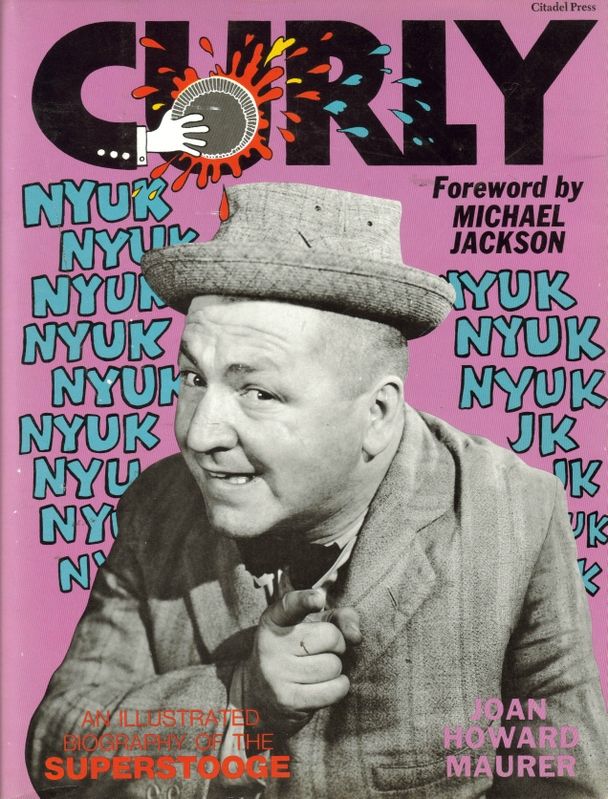 L'auteur, la fille de Moe Howard, explique:
« Lorsqu'il a fallu que je décide qui allait écrire la préface du livre, je me suis souvenu d'un article que j'avais lu récemment dans People Magazine sur Michael Jackson. Dans cet article, il y avait une double page avec une grande photo de sa coiffeuse indiquant « quelques objets favoris de Michael Jackson ». Bien en évidence sur la table, il y avait une photo des Three Stooges et j'ai tout de suite compris que LE Michael Jackson était un fan des Three Stooges. Je lui ai écrit en lui demandant s'il pouvait m'écrire la préface du livre et à ma grande surprise, sans hésitation, il a pris le temps, dans son emploi du temps très chargé, de m'écrire ces mots qu'il considérait comme un grand honneur »
Cette photo est également celle qui est à l'intérieur du l'autobiographie de Michael, Moonwalk .
La préface du livre Curly: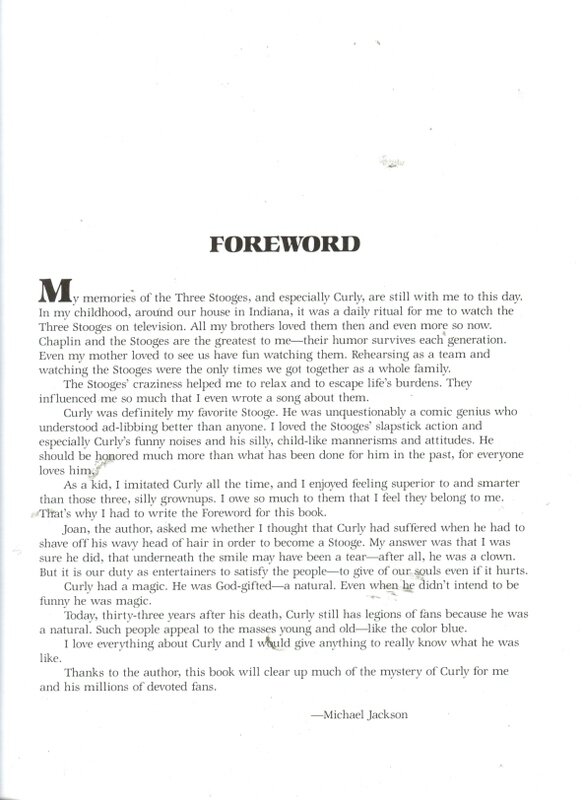 Source: the-michael-jackson-archives.com
Traduction:
"Mes souvenirs des Trois Stooges, et surtout de Curly, sont encore avec moi à ce jour. Durant mon enfance, dans notre maison dans l'Indiana, c'était un rituel quotidien pour moi de regarder les Trois Stooges à la télévision. Toutes mes frères les adoraient à l'époque et encore plus maintenant. Chaplin et les Stooges sont les plus grands pour moi, leur humour survit à chaque génération. Même ma mère aime nous voir à prendre du plaisir à les regarder. Répéter comme une équipe et regarder les Stooges étaient les seules fois où nous étions tous ensemble, en famille.
La folie des Stooges m'a aidé à me détendre et à échapper aux contraintes de la vie. Ils m'ont tellement influencé que j'ai même écrit une chanson sur eux.
Curly était certainement celui que je préférais. Il était incontestablement un génie comique qui a compris comment improviser mieux que quiconque. J'adorais le slapstick des Stooges et surtout les drôles de bruits de Curly, ses manières et ses attitudes enfantines ridicules. Il devrait être honoré beaucoup plus que ce qui a été fait pour lui dans le passé, pour tous ceux qui l'aiment.
Enfant, j'imitais Curly tout le temps, et j'adorais me sentir supérieur et plus intelligent que ces trois adultes stupides. Je leur dois tellement que j'ai l'impression qu'ils m'appartiennent. C'est pourquoi je devais écrire la préface de ce livre.
Joan, l'auteur, m'a demandé si je pensais que Curly avait souffert d'avoir du raser ses cheveux ondulés afin de devenir un Stooge. Je pense qu'il a effectivement souffert, que, sous le sourire il y avait peut-être une larme - après tout, c'était un clown. Mais il est de notre devoir en tant qu'artistes de satisfaire le public - de donner notre âme, même si ça fait mal.
Curly avait la magie. Il avait un don de Dieu – c'était inné. Même quand il n'avait pas l'intention d'être drôle, il était magique.
Aujourd'hui, 33 ans après sa mort, Curly a encore des légions de fans, car il était doué. De telles personnes appellent aux masses, aux jeunes comme aux vieux - comme la couleur bleue.
J'aime tout de Curly et je donnerais n'importe quoi pour savoir vraiment qui il était.
Merci à l'auteur, ce livre va éclaircir le mystère Curly pour moi et ses millions de fans dévoués. "
Michael Jackson
Le livre devrait être réédité en septembre 2013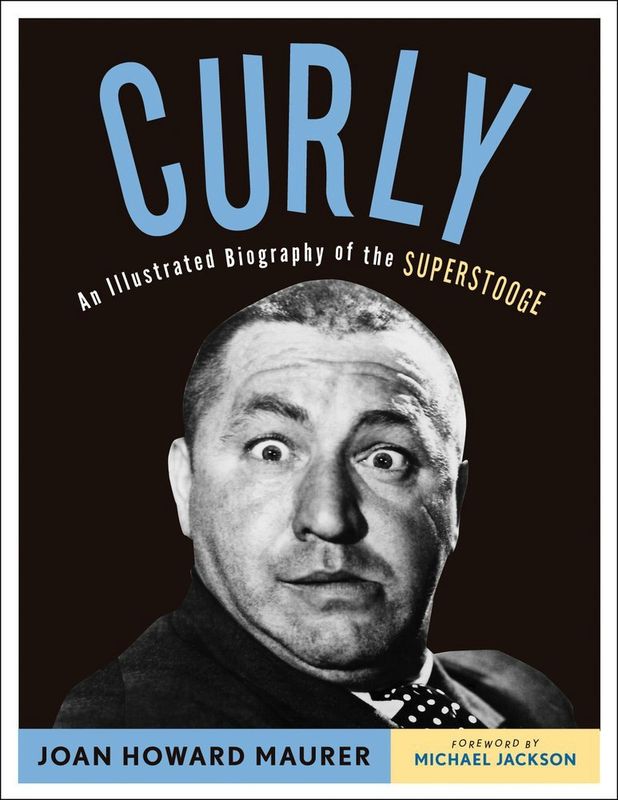 http://www.amazon.com/Curly-Illustrated-Joan-Howard-Maurer/dp/1613747462/ref=sr_1_11?s=books&ie=UTF8&qid=1373407095&sr=1-11&keywords=michael+jackson