New York, le 7 Septembre 2001. Il est un peu plus de 20 heures lorsque le spectacle va commencer dans un Madison Square Garden plein à craquer.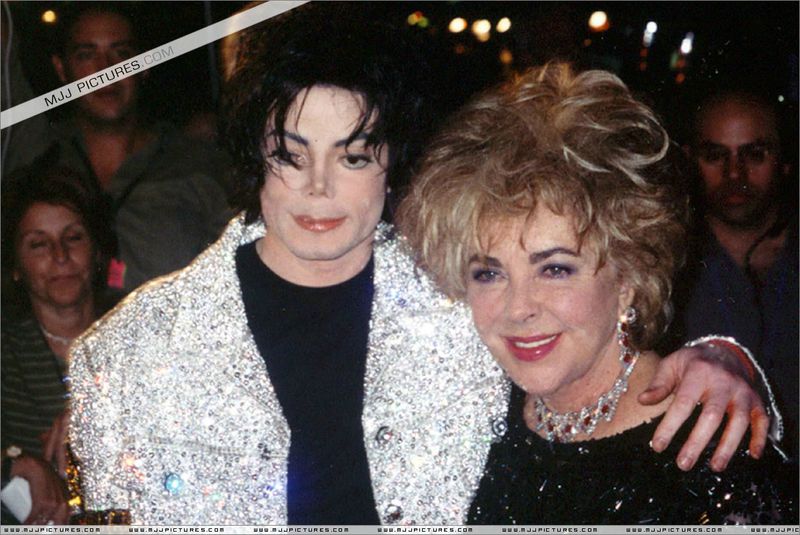 Lorsque Michael Jackson arrive à cet évènement qui célèbre ses 30 ans de carrière solo, et qu'il a est escorté jusqu'à sa place pour profiter de la première partie du concert, il est accueilli par des tonerres d'applaudissements de la part du public. Il est accompagné d' Elizabeth Taylor et de Macaulay Culkin et est habillé d'une veste à paillette blanche.
Michael arrive et s'installe dans la tribune d'honneur. Les artistes vont se succéder pour lui rendre hommage. Déjà les applaudissements et les cris de la foule sont si forts que Samuel L. Jackson doit s'interrompre pendant qu'il présente la première performance de la soirée ...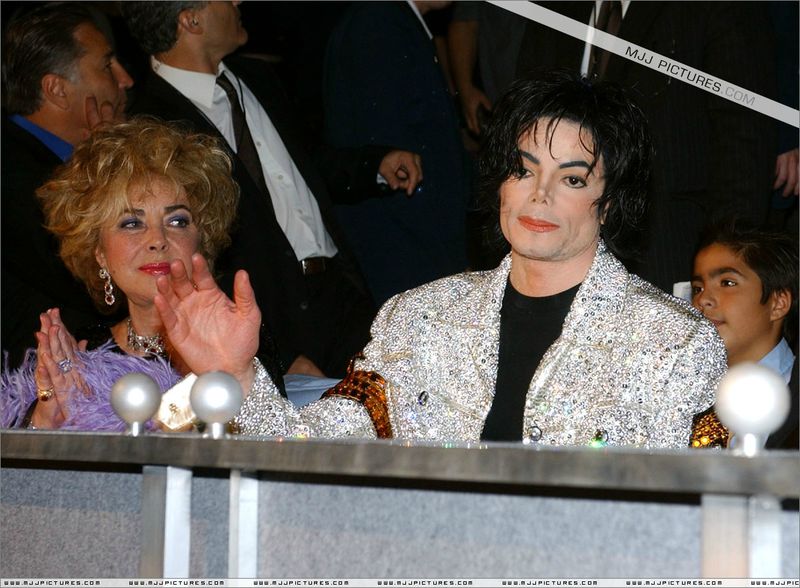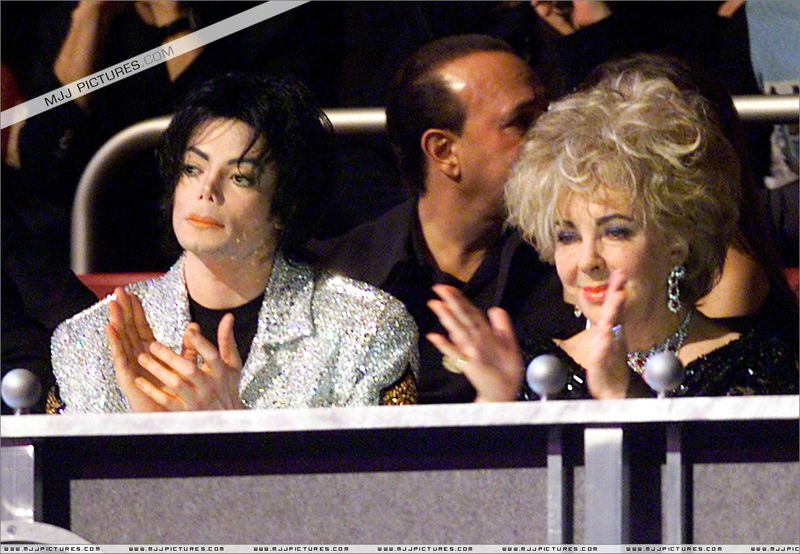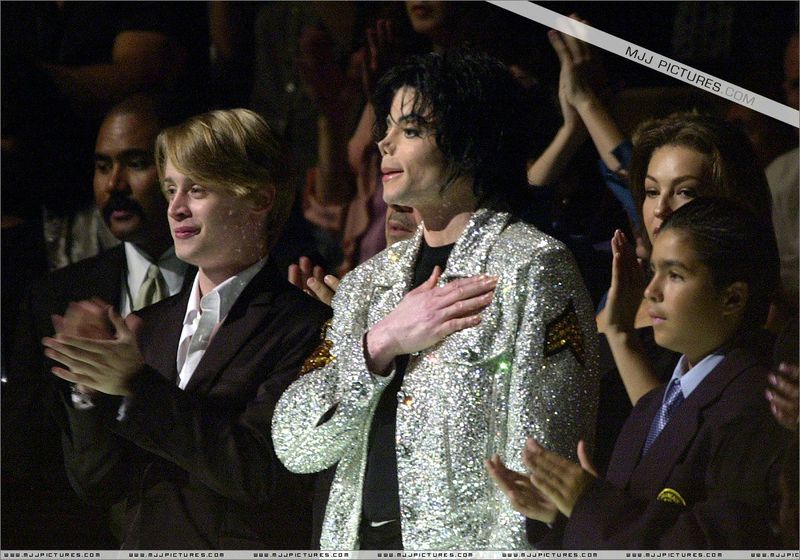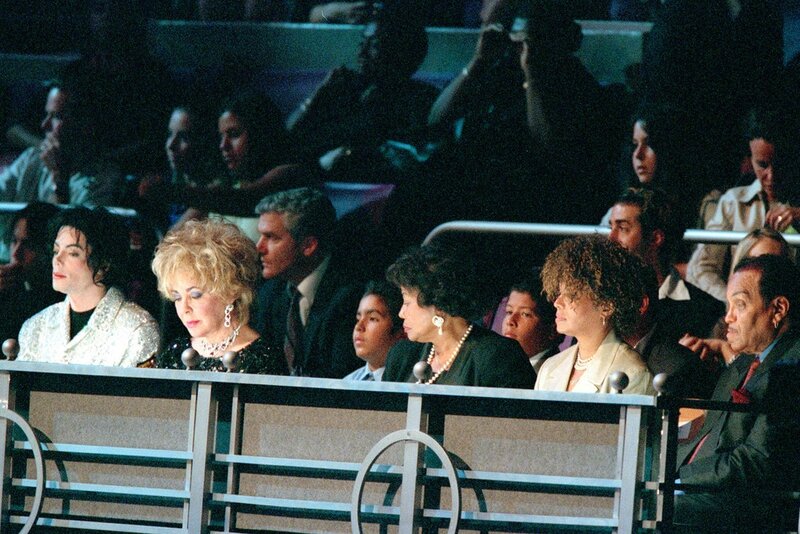 Le show commence par la performance de Usher et de Mya sur "Wanna Be Startin' Somethin'" qui sont rejoints par Whitney Houston vers la fin de la chanson, au rythme des "Ma ma se, ma ma sa, ma ma coo sa" qui font vibrer toute la salle et qui offre ainsi la première des nombreuses standing ovations de la soirée.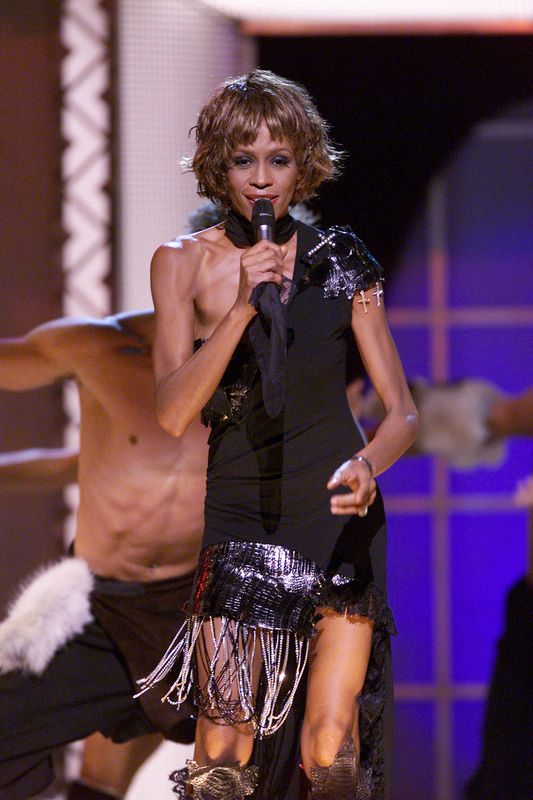 C'est ensuite au tour de Billy Gilman, trés jeune chanteur de country agé de 13 ans qui interprète "Ben" à la perfection selon certains commentaires. L'année précédent ce concert, sur son album intitulé "One Voice", Billy Gilman chantait "Little Bitty Pretty One" la chanson de Robert Byrd que les J5 ont interprété en 1972 sur leur album "Lookin' Through The Windows".
Comme tout au long du concert et aprés chaque prestation Michael Jackson se lèvera et applaudira afin de remercier les différents artistes lui rendant hommage.
C'est ensuite au tour de Shaggy, la révélation de l'année qui interpréte "Angel" et "It Wasn't Me" alors que les fans de Michael Jackson auraient peut-être préféré "Dance & Shout" le premier single tiré de son album et reprise de "Shake Your Body (Down To The Ground)".
Puis Monica, Al Jarreau, Jill Scott & Deborah Cox interprétent un medley de la bande originale du film The Wiz avec "You Can't Win" et "Ease On Down The Road". Jill Scott est déguisée en Epouvantail, Al Jarreau en Homme de fer, Deborah Cox en Lion peureux et Monica en Dorothy.
Aprés une pause les lumières se rallument sur Marlon Brando, assis sur un canapé, qui explique pendant un long moment le but de la soirée, c'est-à-dire récolter de l'argent pour aider les enfants à travers le monde. Marlon Brando mentionne le nom de Michael Jackson indiquant qu'il aa fait un don important pour la construction d'un hôpital pour enfants en Floride.
James Ingram et Gloria Estefan interprétent ensuite "I Just Can't Stop Loving You" puis Marc Anthony, artiste trés apprécié aux Etats-Unis chante "She's Out Of My Life" suivi de Mya , Tamia, Deborah Cox Monica qui montent sur scène pour une excellente version de "Heal The World", repris en coeur par toute la salle.
Liza Minelli, amie de longue date de Michael Jackson, propose une interprétation de "You Are Not Alone". Elle enchaîne ensuite avec quelques notes de Over the Rainbow, une chanson de sa mère, Judy Garland et adresse un "I Love You Michael" en direction de la tribune.
Viennent alors les Destiny's Child, grandes fans du King Of Pop qui interprètent sur scène leur tube "Bootylicious". Elles portent le chapeau et les gands blancs, rendant hommage à Michael Jackson et conformément à leur clip-vidéo influencé par le King Of Pop.
La première partie du concert s'achève avec Ray Charles et Cassandra Wilson sur "Variations"...
Aprés une pause, le moment est venu de passer aux choses sérieuses!!! Elizabeth Taylor apparait sur scène pour présenter celui que tous attendent. Tous les spectateurs se lèvent, l'excitation atteint son paroxysme, de la fumée envahit la scène, 5 silhouettes apparaissent en contre-jour, et après une énorme explosion, une sixième jaillit du dessous de la scène, style "grille-pain" du Dangerous Tour! Elle est habillée avec un casque façon History Tour.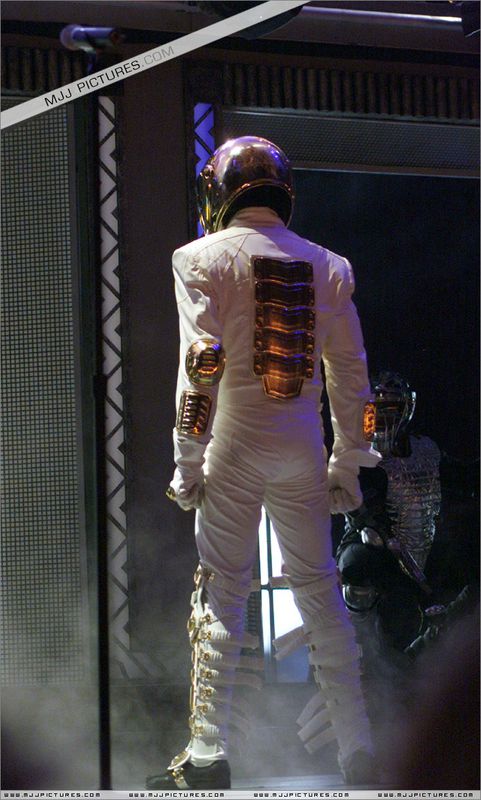 Alors que les 5 autres silhouettes avancent et qu'on reconnaît Tito, Jackie, Marlon, Jermaine et Randy, la sixième enlève lentement son casque et... c'est bien Michael Jackson!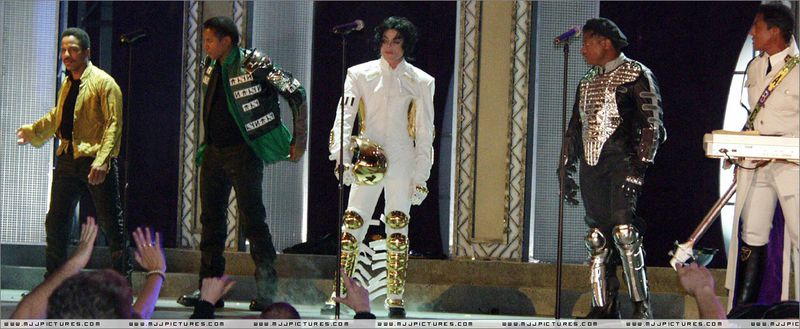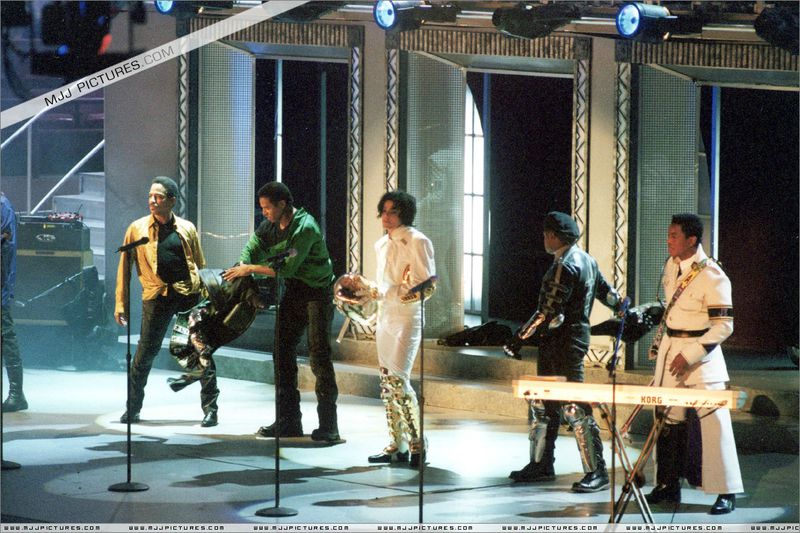 Tout le stade explose alors que retentissent les premières notes de "Can You Feel It", et, pour la première fois depuis le Victory Tour en 1984, les Jacksons chantent et dansent ensemble sur scène! Un moment inoubliable...
Les chansons s'arrêtent, la foule hurle, tout le stade est en transe… Les 6 frères nous refont alors le coup de l'intermède du The Jacksons Live, sauf que cette fois c'est Michael qui veut chanter ses vieilles chansons et ses frères qui ne veulent pas! Michael chantonne même "Never Can Say Goodbye", reprenant le rôle de Randy dans l'album. Ils finissent par se mettre se mettre d'accord, à condition de faire "I Want You Back" à la façon du Ed Sullivan Show de 1970! Aussitôt dit, aussitôt fait, et les voilà qui se retournent l'un après l'autre et enchaînent sur leur fameux titre qui fait frissonner tout le Madison Square Garden. C'est ensuite Dancing Machine qui démarre, et les Jacksons sont rejoints pour la fin du morceau par les NSync...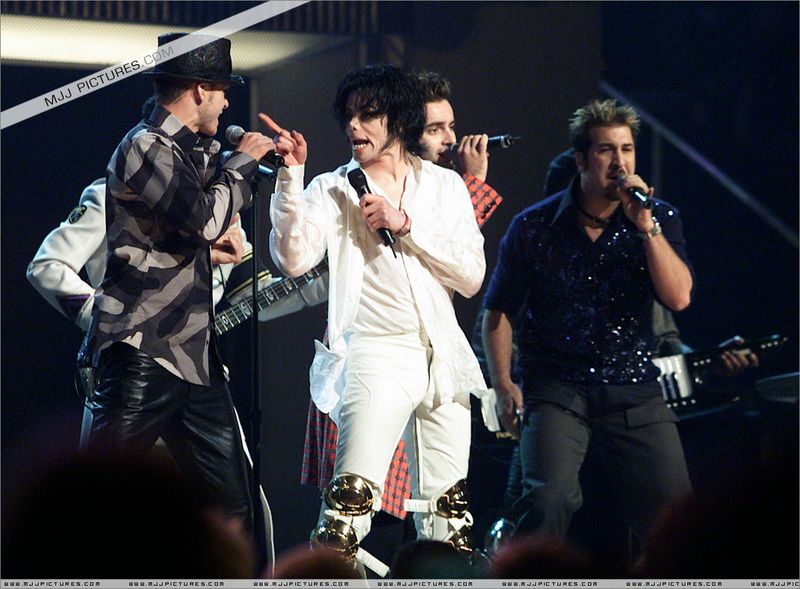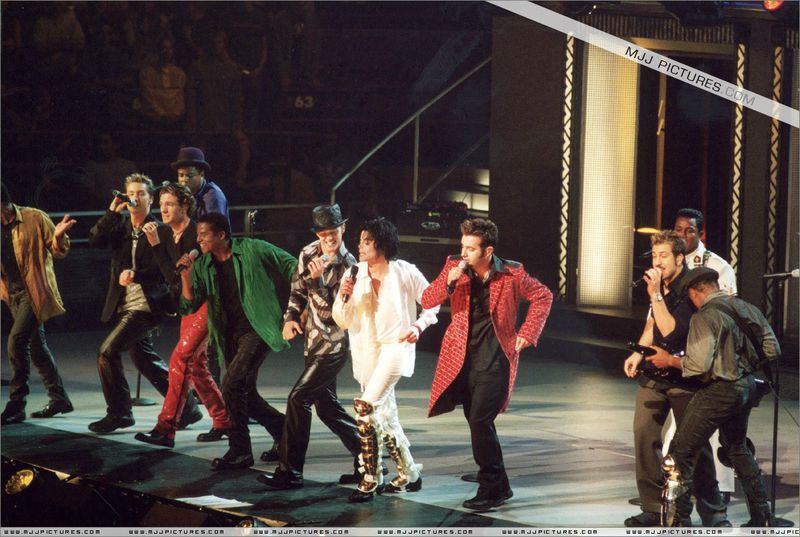 Dans une chorégraphie réunissant les deux groupes, et permettant de se rendre compte que les Jacksons n'ont rien perdu de leurs mouvements, NSync faist presque pâle figure à côté d'eux. Et comme si ça n'était pas assez, on passe à "Shake Your Body" (Down To The Ground) ...on se croirait vraiment revenu à l'époque du Victory Tour!
Après une vingtaine de minutes de show des J6, on se dit que ça ne peut pas être fini... Et ça tombe bien, ça ne l'est pas! Un grand rideau blanc descend alors sur la scène, les premières notes de l'intro des versions live de "Heartbreak Hotel" ou "Smooth Criminal" retentissent alors que Michael fait ses pantomimes en ombre chinoises, et c'est "The Way You Make Me Feel" qui démarre, version Grammy 88 ! Et devinez qui est la fille qui se dandine et que Michael essaye de séduire ? Britney Spears elle-même, qui chante certaines parties de la chanson !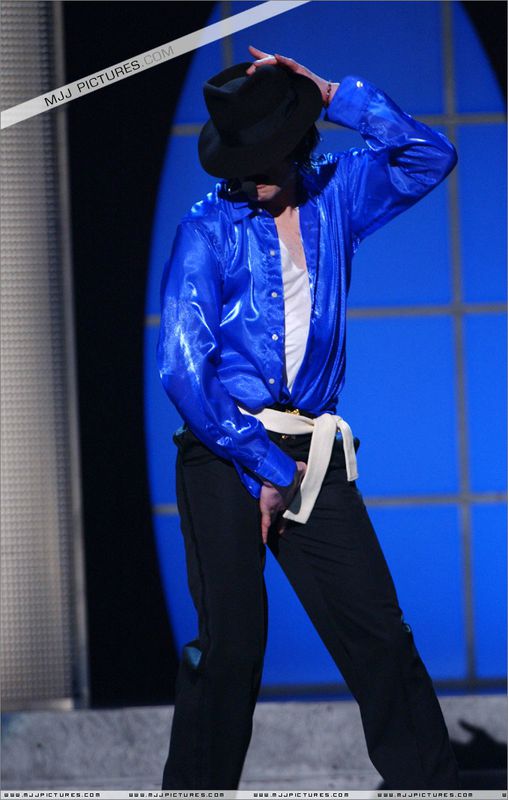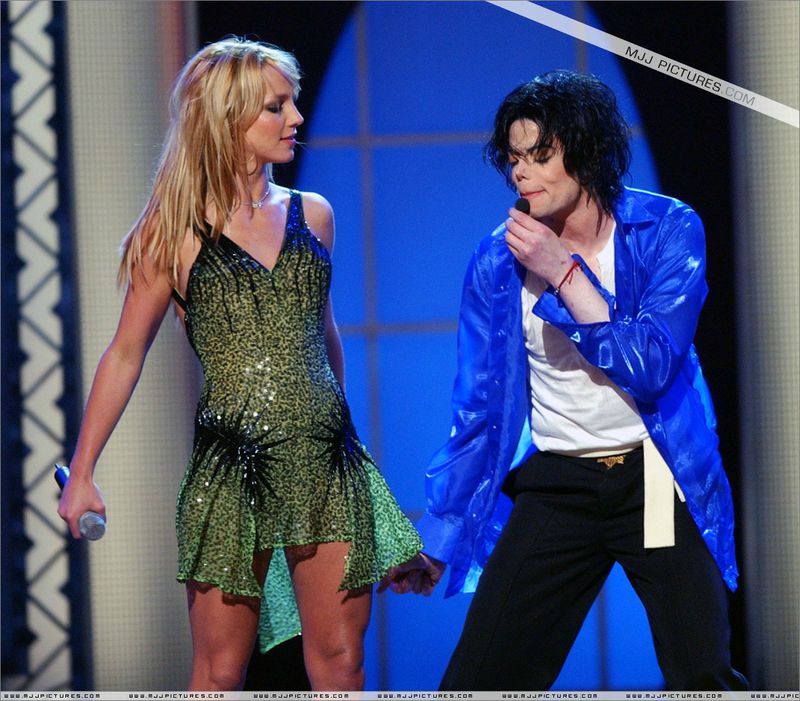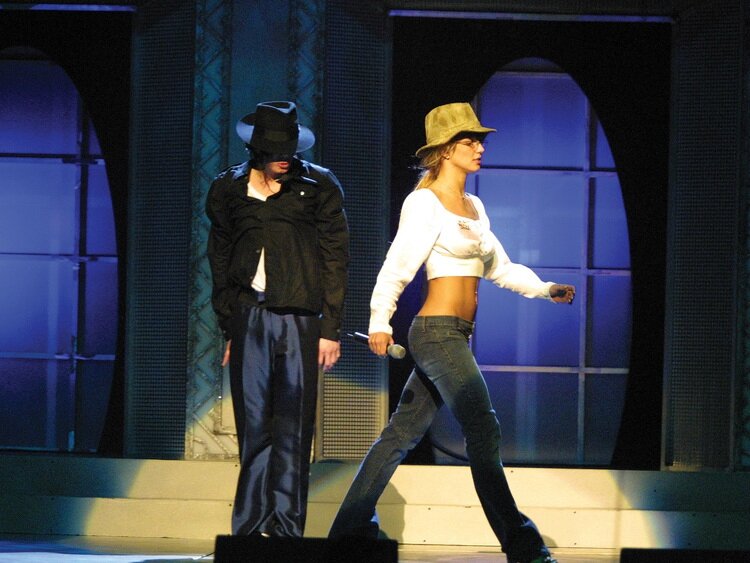 Michael et Britney Spears lors des répétitions (photo: Hamid Moslehi)
Après The Way You Make Me Feel, Michael revient sur scène muni d'une valise, dont il sort doucement mais sûrement son chapeau et son gant blanc ! Et oui, c'est bien Billie Jean qui commence, avec la dernière chorégraphie en date, celle du History Tour...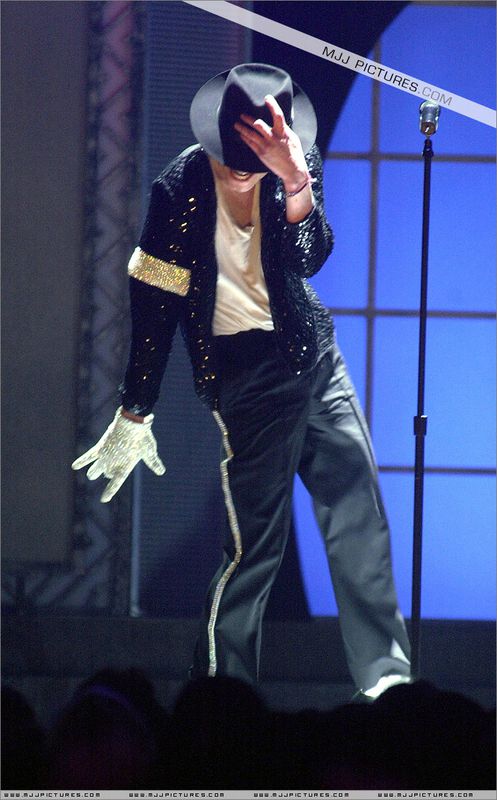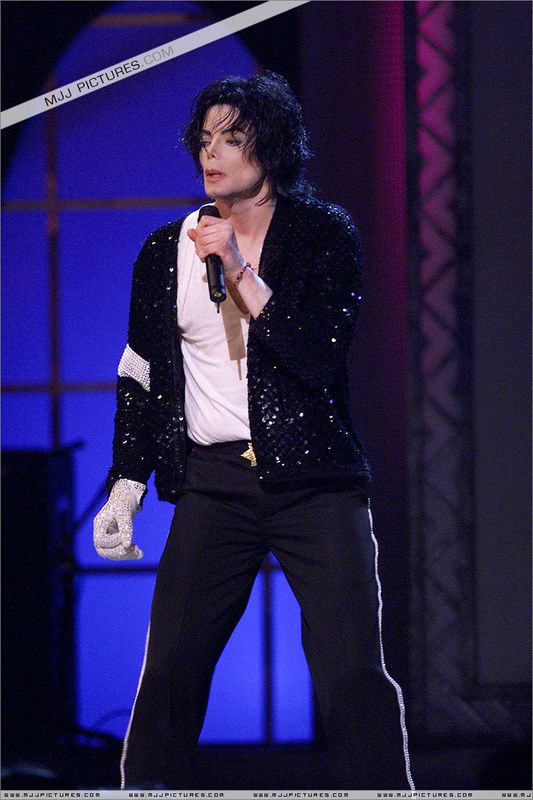 A la fin du morceau, Michael envoie son chapeau dans la foule, et pendant que les premiers rangs se l'arrachent, Slash monte sur scène pour rejoindre Michael sur "Black or White", puis surtout sur "Beat It", où il reprend le solo de Eddie Van Halen à sa manière! La chanson se termine dans une multitude d'explosions pyrotechniques qui laissent le Madison Square Garden sans voix.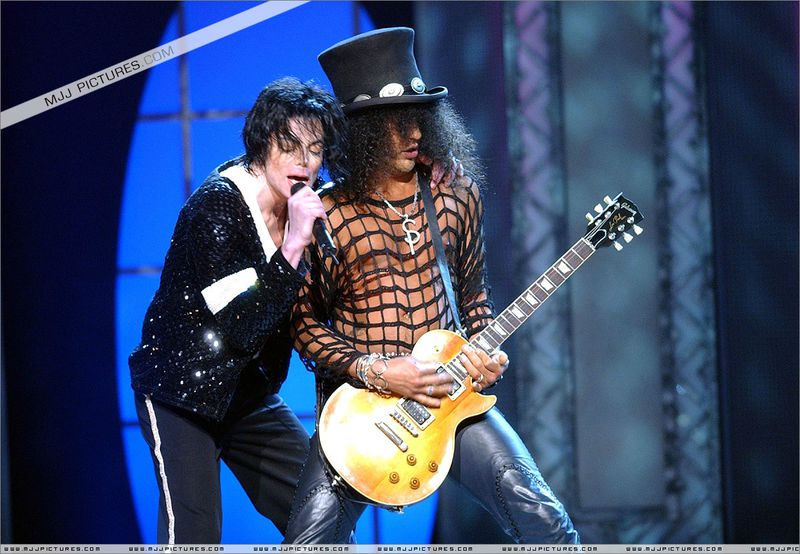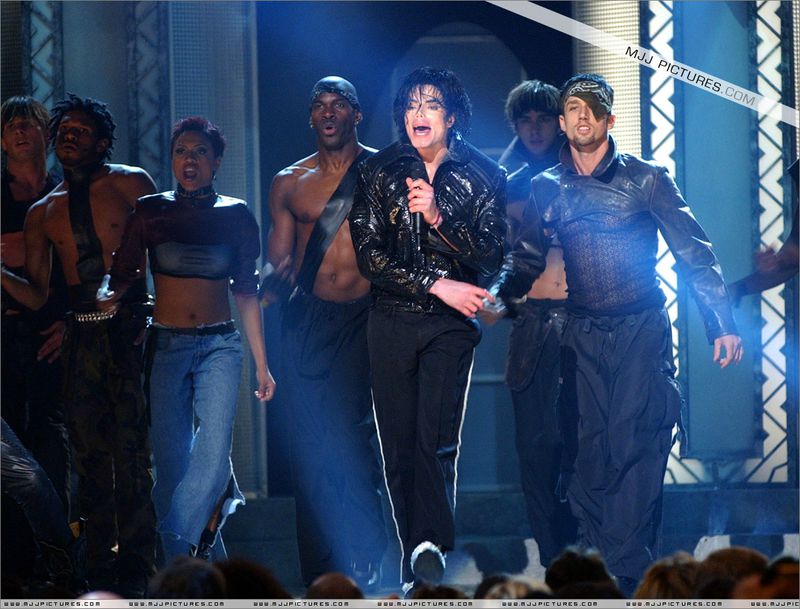 Michael semble totalement heureux, improvisant, discutant avec le public: "et maintenant, c'est vous qui allez me dire quelle chanson vous voulez entendre", le show est bien moins préparé et huilé que ses concerts habituels, et du coup il est beaucoup plus naturel et spontané. Il explique alors au public qu'il va interpréter son nouveau titre, et c'est "You Rock My World" qui annonce la conclusion du concert. On assiste à la nouvelle chorégraphie que Michael a imaginée pour ce titre, seul sur scène avec les mouvements saccadés dont il a le secret...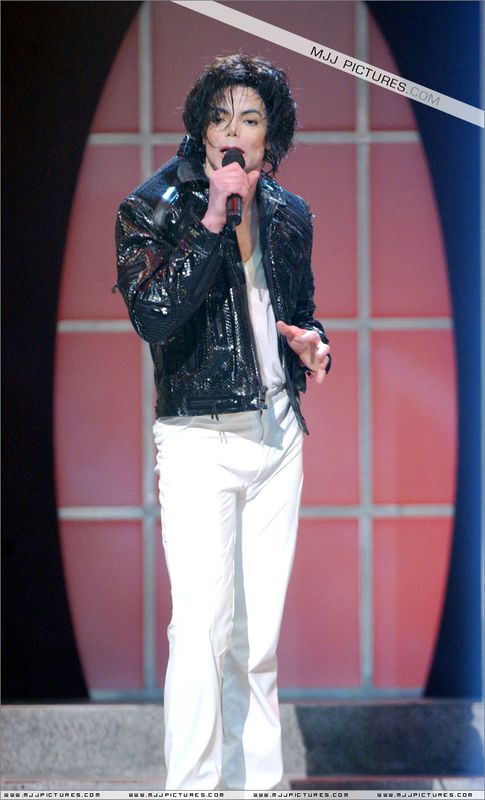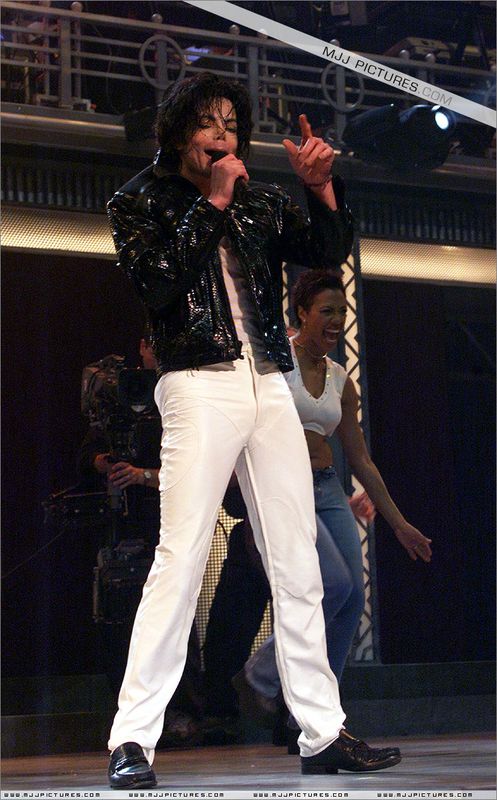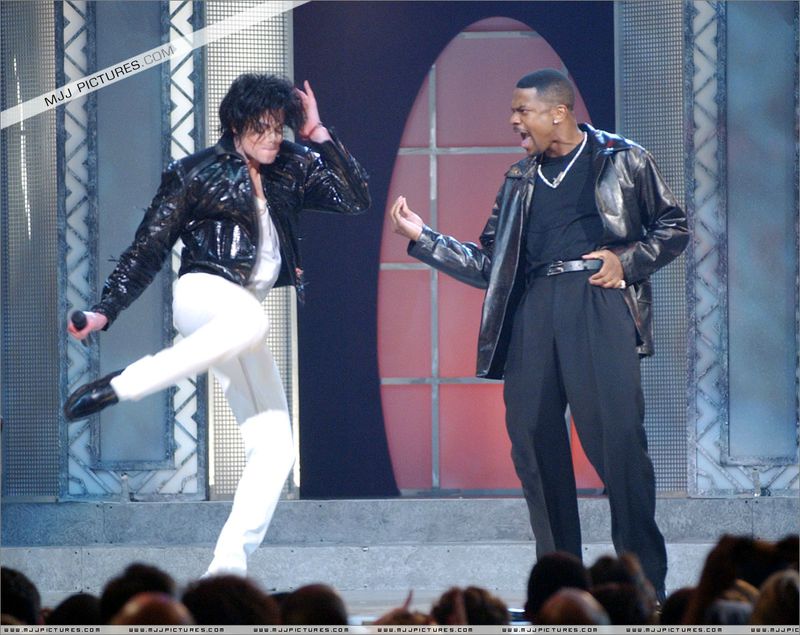 Mais on en veut encore, et on va en avoir encore! Pour le final, c'est Quincy Jones qui monte sur scène, et qui réunit tous les artistes de la soirée pour un "We Are The World" phénoménal, réunissant quelques uns des artistes qui chantaient sur la version originale du titre! A l'affiche : The Legends of Jazz (David "Fathead" Newman, Les McCann, Herbie Mann, Al Jarreau, Clark Terry, Jimmy Smith, Cassandra Wilson), Ray Charles, Dionne Warwick, Kenny Rogers, James Ingram, Yoko Ono, Petula Clark, NSync, Gloria Gaynor, Liza Minnelli, The Jacksons, Jill Scott, Monica, Deborah Cox, Tamia, Shaggy, Ricardo Ducent, Rayvon, Mya, Usher, Chris Tucker, Aaron Carter, Billy Gilman, Gloria Estefan, et Marc Anthony.
Michael est évidemment de la partie, et c'est même une des rares fois qu'il chante "We Are The World" en live!!! D'ailleurs, il ne veut plus s'en aller, n'en finit plus de chanter, de sourire, de dire "I love you", de nous émerveiller et d'écrire une fois de plus... sa fabuleuse histoire...
Le concert se termine à minuit et Michael Jackson de conclure au public : "Je voudrais remercier chaque personne qui est venue ce soir. C'était une expérience incroyable. Je vous aime tous. Merci beaucoup."
Après le concert, une after-party a lieu au restaurant "Tavern On The Green" . Le thème de la fête était "Le Magicien d'Oz" et il y avait des jeux-vidéos, des échassiers et des Munchkins (des gros vases en argile ou en papier accrochés au plafond, rempli de bonbons et qu'il faut essayer de casser avec un bâton, les yeux bandés.) Michael Jackson est arrivé vers 1h30 du matin.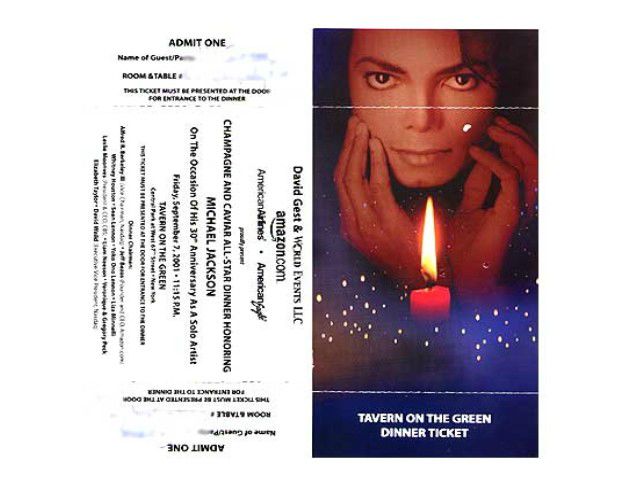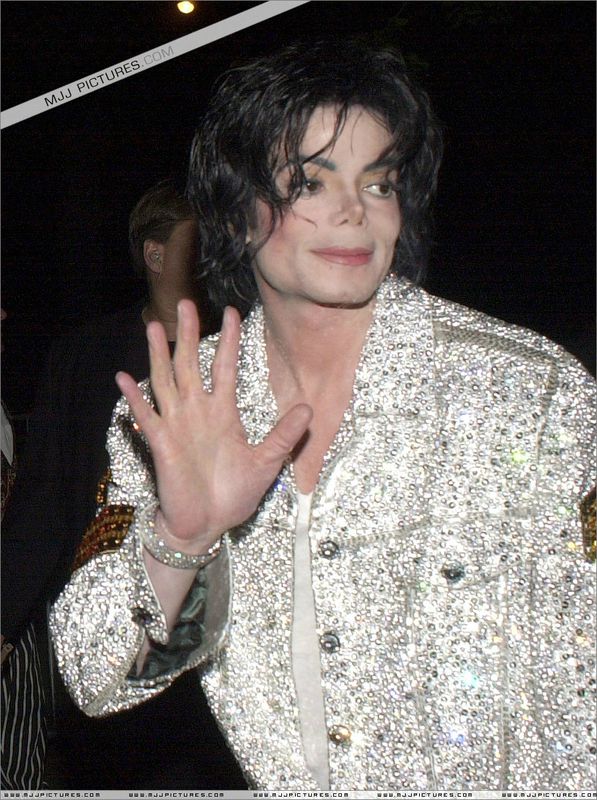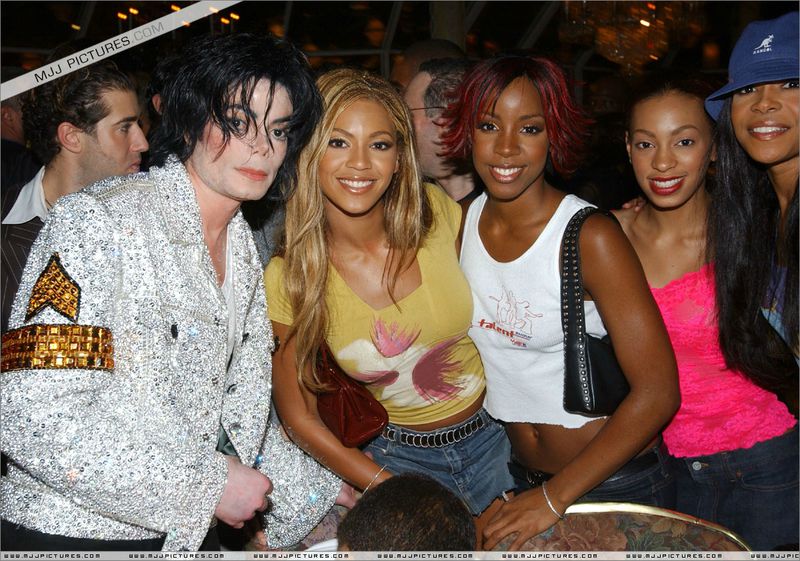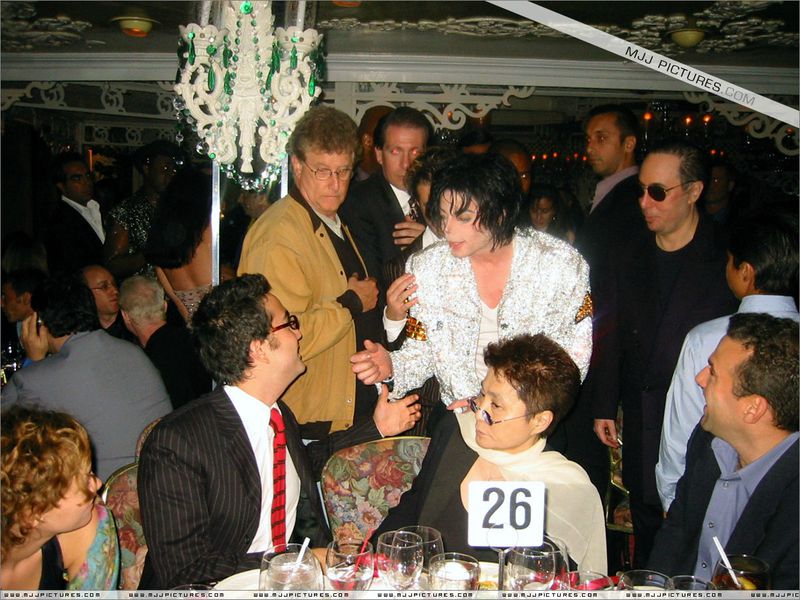 La liste des invités prévus par Michael pour cette soirée: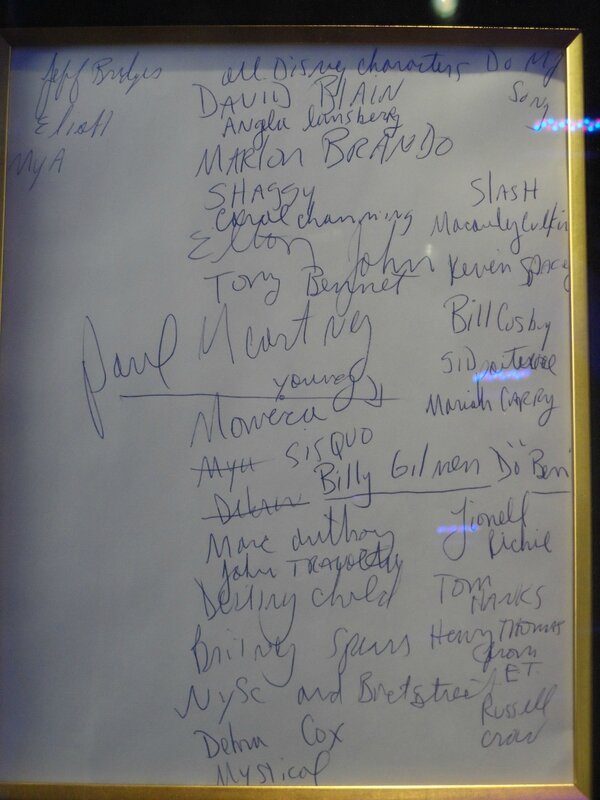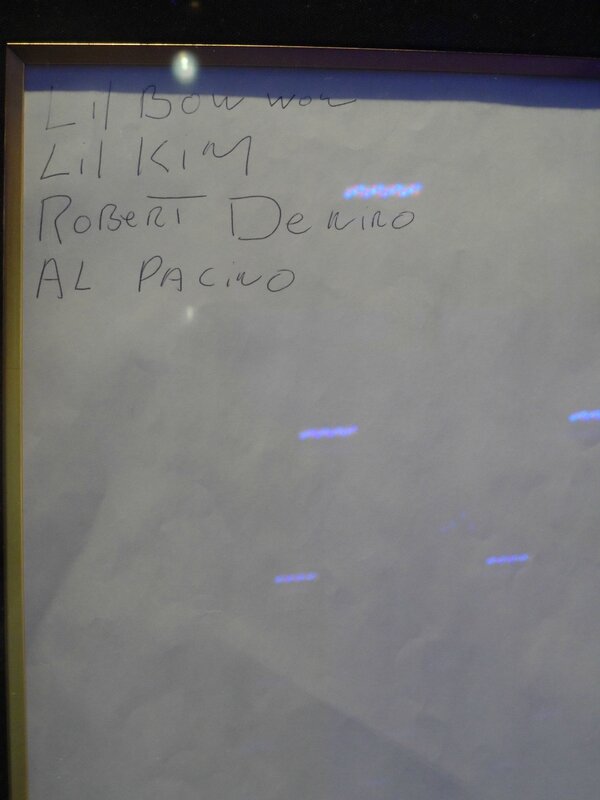 Le deuxième concert du 10 Septembre proposait une soirée légèrement différente de celle du 7 Septembre . C'est Mya, Usher et cette fois-ci Monica et non Whitney Houston qui ont ouvert la soirée en interprétant "Wanna Be Startin' Somethin'" suivi de multiples artistes entrecoupés de vidéos de Michael Jackson. Lil Roméo était présent sur scène et a chanté "My Baby" utilisant le sample d'I Want You Back des J5, Gloria Gaynor a interprété son succés mondial "I Will Survive", Usher et Luther Vandross ont interpété "Man In The Mirror", Billy Gilman "Ben", Liza Minnelli "You Are Not Alone", les Destiny Child "Heal The World", Michael Jackson et ses frères ont interprété le medley habituel et Michael Jackson "The Way You Make Me Feel" avec une autre danseuse que Britney Spears. Chris Tucker a usé de ses talents de comique et Michael Jackson a interprété Billie Jean suivi de Black Or White et Beat It avec Slash pour finir sur You Rock My World.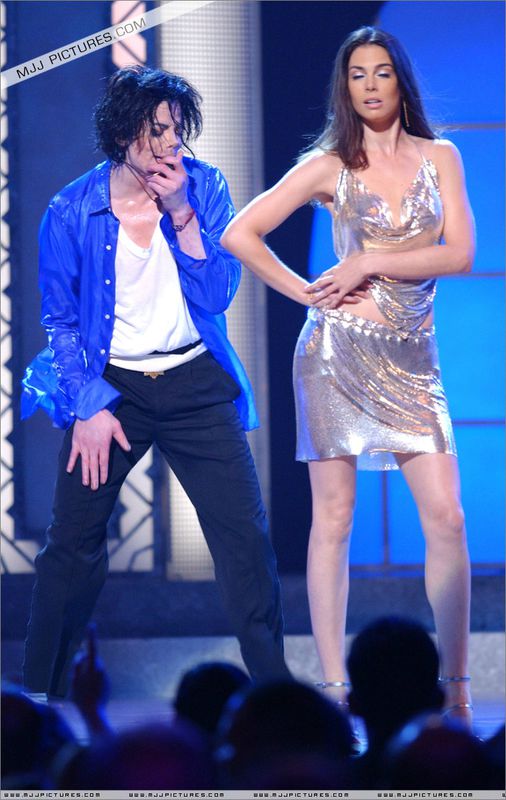 Source: http://mjtheking.com
Voir l'album photos sur la page facebook