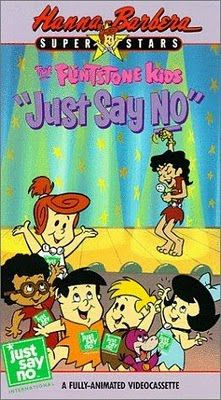 Just Say No! est un épisode spécial de 30 minutes du dessin animé The Flintstone Kids, diffusé sur la chaîne américaine ABC le 15 septembre 1988. Produit par Hanna-Barbera Productions, l'épisode encourage les enfants à dire non à la drogue.
Dix sept ans après la première diffusion de The Jackson 5ive, le dessin animé où Michael et ses frères sont les héros, Michael Jackson revient en vedette dans un cartoon, avec sa chanson Beat It, qu'il a prêtée pour cette campagne anti-drogue.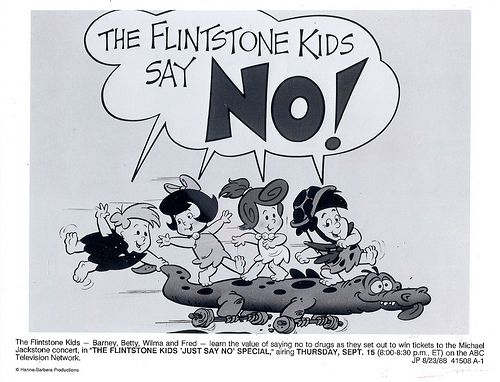 Dans cet épisode, les jeunes Fred, Barney, Wilma et Betty font des petits boulots pour gagner assez d'argent pour s'acheter des billets pour un concert de Michael Jackstone
Alors qu'ils essaient de gagner de l'argent auprès de leur équipe, certains enfants plus âgés essaient d'inciter nos jeunes modèles à consommer des drogues mais Wilma refuse de consommer de la marijuana afin de rejoindre une "foule cool".
Après avoir échoué à réunir l'argent, les enfants participent à une course dont le premier prix est des billets pour voir Jackstone. Les consommateurs de drogue participent à la course, et croient pouvoir battre les enfants . Les effets de la drogue sont montrés lorsque les enfants Flintstone gagnent la course à cause de la mauvaise santé des consommateurs de drogues.
Les enfants Flintstone assistent finalement au concert de Michael Jackstone, qui chante Beat It, dont les paroles ont été réadaptées (voir ci-après), contre l'usage de la drogue.
Dans le dessin animé, Michael Jackstone est doublé par Christopher "Kipp" Lennon, celui là même qui avait doublé Michael dans l'épisode "Stark Raving Dad" des Simpsons, en chantant Happy Birthday Lisa, et qui avait également été la voix chantée de Michael dans The Jacksons: An American Dream. Le personnage de Michael porte un gant et des lunettes de soleil. Il fait le Moonwalk, et saisit même son entrejambe tout en dansant!
Ce fut l'un des rares dessins animés des années 80 à montrer aux jeunes enfants que l'usage des drogues est mauvais. Ce fut aussi une façon très efficace de le faire parce que chaque enfant pouvait se projeter dans l'histoire. Le processus de réflexion souhaité chez les enfants était, "J'aime gagner. Les drogues me feront ralentir, ce qui signifie que je vais perdre. Par conséquent, les drogues feront de moi un perdant."
Bien que la plupart des enfants ne se soucient pas de ce message, il s'est cependant infiltré dans leur subconscient.
Music from Michael Jackson's Recording: "Beat It"
Adopted lyrics for "Beat It" by: Laren Bright, Lane Ralchert
"Just Say No" Performed by: LaToya Jackson
La chanson Just Say No! aurait donc été inspirée du titre du même nom de La Toya, composée spécialement pour la campagne anti drogue de Ronald Reagan

Les paroles
Just Say No!
They told the girl
Why don't you step over here
You wanna be cool
Take a look in here
They wanna do drugs
And they're words are really clear
So beat it!
You don't need it!
(Say no!)
You don't need friends
Doing things that are wrong
There's lots of kids like you
Who are cool and strong
It might be kinda tough
But you can move along
So beat it!
And say it ain't fair

Don't mean it!
Don't need it!
Just say no to drugs
Defeat it!
Have a life that's happy
A future that's bright
You make it happen
Drugs are wrong
And you're right
Just beat it!
Just beat it!
Say no
And defeat it!
Now Moms and Dads
You ought to listen to me
To be a kid today
It ain't easy
Just make your home and family
A loving place to be
So beat it!
Send it riding wave!
Les voix
Scott Menville - Freddy Flintstone
Elizabeth Fraser - Wilma Slaghoople
Hamilton Camp - Barney Rubble
Don Messick - Narrator (impersonating Ranger Smith)
B.J. Ward - Betty Jean Bricker, Mrs. Gravelstone
Bumper Robinson - Philo Quartz
Dana Hill - Stoney
Jean Vander Pyl - Pearl Pebble-Slaghoople
Frank Welker - Dino
Shuko Akune - Dottie
René LeVant - Officer Bob Quartz
Henry Corden - Ed and Edna Flintstone
Kipp Lennon - Michael Jackstone
La Toya Jackson - La Toya Jackstone