Stark Raving Dad (en français, Mon Pote Michael Jackson) est le 1er épisode de la saison 3 de la série télévisée d'animation Les Simpsons, diffusée sur la chaîne Fox le 19 septembre 1991.
Dans cette épisode, Michael double la voix du personnage de Leon Kompowsky, un malade mental qui se prend pour ....Michael Jackson!!!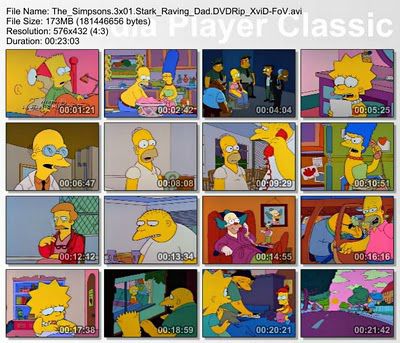 La voix de Michael, pour des raisons contractuelles, a été créditée en tant que John Jay Smith dans le générique de fin, et son rôle dans l'épisode n'a été confirmé officiellement que bien plus tard. En raison du crédit trompeur, le fait que MJ faisait la voix de Leon Kompowsky est resté une rumeur parmi les nombreux fans apparemment mis en garde par la leçon souvent enseignée dans les Simpsons de ne jamais croire tout ce qui est dit à la télévision. Ce n'est qu'en 2003 que Matt Groening, le réalisateur du dessin animé, a confirmé que Michael a bien doublé la voix de Leon, quand l'épisode est sorti en DVD.
Michael etait un grand fan de l'humour second-degré de ce dessin animé très apprécié aux Etats-Unis, créé par Matt Groening (à la fin du clip Black or White un clin d'oeil est fait à cette série avec l'apparition de Bart)
Après lecture du script, MJ a précisé ses conditions: il enregistrerait les parties vocales mais il ne voulait pas être crédité, et sa voix pour les chansons serait effectuée par quelqu'un d'autre. La voix de chant de Leon Kompowsky a été chantée par Kipp Lennon. Celui-ci a enregistré ses parties en même temps que Michael, qui a trouvé les imitations hilarantes. L'épisode était à l'origine censé se terminer par Kompowsky en train de chanter une partie de "Man in the Mirror", avec la voix de Michael Jackson, alors qu'il marchait dans la rue, mais il a été changé et finalement Leon interprète le début de "Happy Birthday Lisa".
Michael ne chante pas Happy Birthday Lisa mais il a réellement enregistré la chanson
Les paroles de la chanson
Lisa it's your birthday
And God bless you this day
You gave me the gift of
a little sister
And I'm proud of you today
Lisa it's your birthday
Happy birthday Lisa
Lisa it's your birthday
Happy birthday Lisa
I wish you love and goodwill
I wish you PRAISE and joy
I wish you better than
your heart desires
And your first kiss from a boy
Lisa it's your birthday
Happy birthday Lisa
Lisa it's your birthday
Happy birthday Lisa
L'histoire
Lisa réveille Bart pour lui signaler que dans deux jours c'est son anniversaire et qu'elle voudrait que cette fois, il lui offre un cadeau. Bart justement a, « presque par erreur », laissé sa casquette rouge vif dans la machine à laver où était posée la chemise de travail d'Homer, ce qui donne une chemise rose bonbon. Contraint d'aller au travail ainsi, Homer se fait tout de suite remarquer sur les caméras de surveillance de la centrale et est contraint de venir s'expliquer de sa tenue « excentrique » devant son patron et son équipe. Le docteur Marvin Monroe convainc M. Burns qu'Homer est un fou dangereux, et qu'il doit être enfermé sans autre forme de procès dans un asile psychiatrique.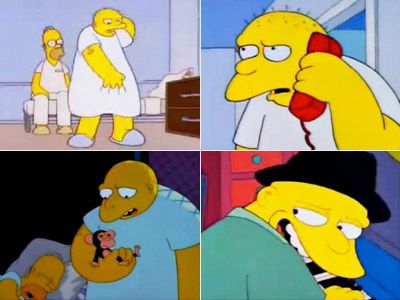 Le personnel de l'asile décide de le mettre « dans la même chambre que le gros mec blanc qui se prend pour le petit mec noir ». Quelle n'est pas la surprise d'Homer de découvrir un gros personnage, Leon Kompowsky, se prenant pour Michael Jackson. Pourtant, Homer ne voit pas qui est la personne en question, et est convaincu que ce malade mental est bien le célèbre chanteur. De plus, ce personnage chante aussi bien que Michael Jackson. Le jour où il peut passer un appel, Homer demande à Michael Jackson s'il peut appeler pour lui. Malheureusement, c'est Bart qui décroche et convaincu que son père est avec le vrai Michael Jackson, il ébruite l'affaire.
Le jour où Homer et Michael sortent de l'hôpital psychiatrique, une foule immense les attend de pied ferme croyant à la venue du vrai Michael Jackson. Une crise s'installe alors chez les Simpson : Bart est en colère contre le faux Michael Jackson qui a fait de lui l'ennemi de tous les habitants et Lisa ne supporte pas que tout le monde ait oublié son anniversaire.
Finalement, le faux Michael Jackson sauve la situation : il convainc Bart qu'il est Michael Jackson et compose avec lui une chanson qu'ils chantent comme cadeau pour Lisa. À la fin de l'épisode, le faux Michael part en avouant qu'il sait très bien qu'il n'est pas Michael Jackson. Cette chanson est "Happy Birthday Lisa !"
"Stark Raving Dad" a reçu des critiques généralement positives, en particulier pour l'écriture et la performance de Michael.
"Happy Birthday", Lisa, a été incluse sur l'album compilation a Simpsons publié en 1997, Songs In The Keys Of Springfield. Les notes sur la pochette de l'album, indique que la chanson possède le copyright Mijac, et la particpation de Michael a été confirmé par la suite.
En outre, la chanson Do The Bartman a été créditée à Bryan Loren, mais Groening a également
confirmé que Michael a co-écrit et chanté les chœurs sur Do The Bartman qui, bien que non sorti en tant que single aux Etats-Unis, a contribué à propulser l'album à la 3ème place des classements et à obtenir un disque de platine RIAA.