Le site Damienshields.com a publié il y a quelques jours un article sur la chanson Scared Of The Moon
http://www.damienshields.com/scared-of-the-moon-the-little-song-that-could/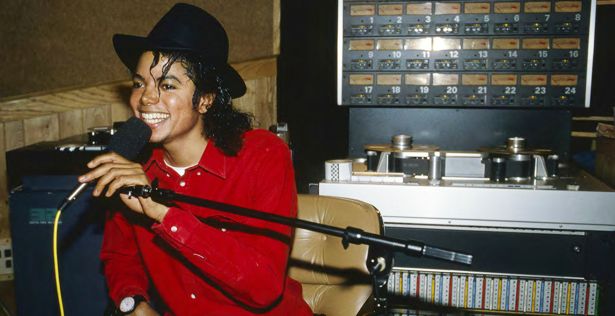 "Scared Of The Moon" – La petite chanson qui pouvait le faire !

Quand le Roi de la pop est décédé le 25 juin 2009 il a laissé dernière lui des titres inachevés. Non, je ne parle pas des 50 malheureux concerts 'This Is It' qui l'attendaient à Londres. Je parle de musique - et de beaucoup de musique.

Michael Jackson est connu pour prendre plus de temps que les autres artistes pour finaliser et sortir des albums studio. Parce qu'il était perfectionniste. Pour chaque album, Jackson et ses collaborateurs travaillaient sur plus de titres que nécessaire, sélectionnant uniquement les meilleurs pour une sortie officielle.

"Comme d'habitude [Michael] va en studio et produit beaucoup de choses, des centaines d'enregistrements et autres, vous savez, et c'était super," se remémore Quincy Jones - producteur des albums "Off The Wall", "Thriller" et "Bad".

"Et ["Bad"] est l'album dont je lui ai demandé d'écrire tous les titres," poursuit Jones. "Je l'ai tout simplement vu grandir en tant qu'artiste et comprendre [les procédés] de production et tout le reste. Michael avait écrit 33 chansons et elles vous disaient "Bon OK, c'est le moment de se prendre la tête - on doit choisir. Vous ne pouvez pas mettre 33 chansons sur un album. Et il a écrit des trucs fantastiques ! Vraiment, vraiment fantastiques."

L'une des 33 chansons que Michael Jackson a écrites lors des sessions qui ont finalement débouché sur l'album "Bad" de 1987 s'appelait "Scared Of The Moon". Elle n'a pas rejoint la tracklist finale et est restée inconnue des fans pendant longtemps et inédite.

"On avait l'habitude d'enregistrer sur bande," se souvient Brad Sundberg - responsable technique et ingénieur de longue date de Michael Jackson. "De grosses bandes 2-pouces, 24 pistes."

Matt Forger, un autre collaborateur de longue date et ingénieur du son, a enregistré la démo de "Scared Of The Moon" aux studios Westlake. Jackson, en grand professionnel, a posé toutes les parties vocales en une seule session. "Ils ont fait les voix d'arrière-plan, la voix principale et le piano. C'était fait," ajoute Sunberg.

"En suite, Matt a enfreint la règle n°1 que vous n'enfreignez jamais - il a donné à Michael la bande master. Et quand vous donnez quelque chose à Michael Jackson ça revient à le balancer d'une falaise, parce que vous ne la reverrez jamais."

Un mois ou deux se sont écoulés après l'enregistrement des parties vocales de "Scared Of The Moon", lorsque Forger a reçu un appel de l'ingénieur depuis les studios d'Evergreen.

"L'ingénieur est là à Evergreen, en train d'appeler Matt et lui disant; 'Eh, j'ai cette session de Michael Jackson pour 'Scared Of The Moon'. Michael est ici et les musiciens qui font faire les cordes sont là, mais on n'a pas la bande. Tu peux nous l'apporter ?' Et Matt de répondre, 'je n'ai pas la bande... Je l'ai donnée à Michael !"

Ils ont donc tenté de voir ce qu'ils pouvaient faire. Heureusement, Matt avait conservé une cassette qui était la copie de la session originale, il l'a donc amenée à Evergreen. Ce n'était pas la multipistes d'origine, mais c'était déjà ça.

Ils ont transféré le contenu de la cassette sur une nouvelle bande multipistes, ils ont enregistré les cordes et on mixé le tout.

"Du point de vue d'un ingénieur du son, c'est vraiment outrepasser toutes les règles du manuel," explique Sunberg en parlant de son expérience. "Vous ne pouvez pas extraire une piste vocale d'une cassette et la réinjecter dans une multipistes et vous dire que c'est nickel."

Les cassettes produisent toujours un peu de grésillements, et j'ai dit à Matt que c'était du génie," poursuit Sunberg. "C'est complètement impressionnant que ça ait fonctionné, parce que c'était la voix d'origine et que c'était une petite chanson tirée par les cheveux et mignonne que Michael voulait faire - on en a fait des dizaines - nous avons enregistré un grand nombre d'extraits pour lesquels Michael avait une nouvelle idée et on en faisait une démo. Mais la manière dont "Scared Of The Moon' a été techniquement produite n'aurait pas dû fonctionner, mais ça l'a fait. C'était la petite ingénierie que nous avons fait dessus qui a rendu ça possible. C'est cette petite chanson qui a rendu ça possible."

"Scared Of The Moon' n'a pas été sélectionnée pour l'album "Bad" de 1987 et n'a refait surface qu'en 1999, peu de temps après que Jackson ait entamé des sessions de collaboration pour l'album "Invincible".

"Il y a des choses que je conserve intact en mémoire," raconte Michael Prince - qui a largement travaillé en tant qu'ingénieur de confiance entre 1995 et 2009. « Parfois il écrit de nouvelles chansons, et parfois il veut ressortir du passé ce qu'il considère comme étant un diamant brut ».

« Je me souviens que nous avons fait un petit travail sur 'Scared Of The Moon' pour l'album 'Invincible'. Et je me souviens de la plaisanterie de Steve Porcaro, 'Oh, encore cette chanson ?' C'est très drôle, parce que je ne l'avais jamais entendue auparavant. Mais c'est la manière qu'avait Michael de travailler – il revisitait sans cesse quelques unes de ses pièces favorites. Il pouvait dire, « pourquoi n'avons-nous pas ajouté ceci à mon dernier album ? Réécoutons-la. Est-ce qu'on peu l'améliorer ?' Parfois, ça finit sur l'album, parfois non. »

Au final, le petit travail réalisé sur "Scared Of The Moon" pendant les sessions "Invincible" n'a pas été pris en compte sur les versions préexistantes de la chanson, qui est retournée dans le coffre dans son état pré-"Bad".

Puis, en novembre 2004, Epic Record, branche de Sony Music Entertainment a sorti un coffret retraçant la carrière de Michael Jackson et ses meilleurs titres, comprenant à la fois des chansons déjà connues et des inédites. Le coffret, intitulé "The Ultimate Collection", comporte une version fraîchement mixée de "Scared Of The Moon".

Ecoutez "Scared Of The Moon" ci-dessous, telle qu'elle apparaît dans "The Ultimate Collection".
Matt Forger a pertinemment été rappelé pour apporter les touches finales sur le titre, ce qui apparaît justement sur "The Ultimate Collection" comme une démo. Le mix final de Forger inclus les 24 pistes de cordes, la cassette originale comportant voix et piano et les pistes de guitare.

En dépit du fait que la démo est officiellement sortie sur "The Ultimate Collection" quatre plus tôt, Jackson n'avait pas dit son dernier mot concernant "Scared Of The Moon" en 2009.

Ceci, accompagné d'un bon nombre d'autres titres produits à différentes époques de sa carrière, a fait partie d'une liste "à faire" que Jackson n'a jamais eu la chance de concrétiser au cours de sa vie. La note manuscrite qui apparaît ci-dessous, détaille le titre de 28 chansons qu'il a espéré "finaliser" (dont "Cheater, également issue des sessions "Bad" et également sortie dans "The Ultimate Collection"). La note a été retrouvée scotchée sur un mur de la chambre du Roi de la pop au moment de sa mort, le 25 juin 2009 - 24 ans après que cette petite démo "tirée par les cheveux" fût enregistrée aux studios Westlake.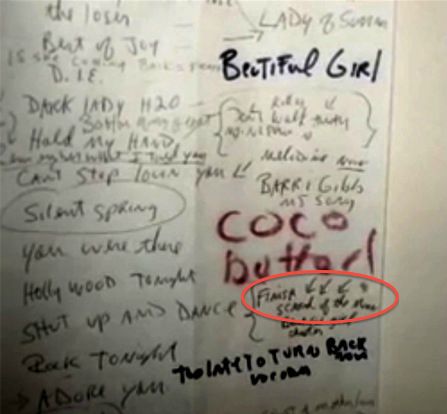 Traduction de l'article: mjackson.fr