Le 16 octobre 1981, alors qu'il est en studio avec ses frères pour l'album LIVE, Michael participe à une session d'enregistrement de Joe "King" Carrasco. Il fait les choeurs sur "Don't Let A Woman (Make a Fool Out of You)", au grand dam de sa maison de disque de l'époque, Epic Records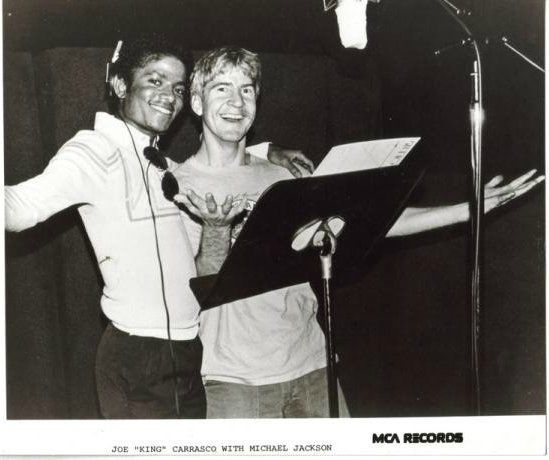 Joe Nick Patosci, le manager du groupe de l'époque raconte:
C'était à l'automne 1981, j'étais le manager du groupe Joe "King" Carrasco & The Crowns qui venait de signer un contrat d'enregistrement avec MCA Records pour faire un deuxième album, Synapse Gap (Mundo total).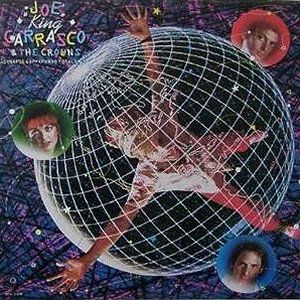 Nous vivions au Tropicana Motel sur Santa Monica Blvd, nous prenions le petit déjeuner chez Duke et on passait le reste du temps au Studio 55 au 5555 Melrose, juste à côté des portes des studios Paramount. Le studio était un établissement de deux pièces détenu par le producteur Richard Perry. L'autre pièce était louée par la famille Jackson qui faisait le mixage de leur album Live. Au cours des deux semaines, nous avons appris à connaître les Jacksons, les côtoyant dans la salle de jeux où était la télévision, et même partageant une partie du poulet frit que leur tante leur avait acheté.
Michael était déjà une star, après avoir obtenu un disque de platine avec son album Off The Wall. L''album le plus vendu de tous les temps, Thriller, sortirait dans moins d'un an. Michael semblait être un gars sympa pour quelqu'un de vingt trois ans. Il était calme, timide et poli, ne parlant pas beaucoup sauf lorsqu'on lui posait une question. La seule indication qu'il était Michael Jackson était la Rolls Royce Bentley qu'il conduisait pour venir au studio. Une fois, il crevé à un bloc du studio et a demandé de l'aide en utilisant son téléphone mobile, le premier téléphone cellulaire sans fil que j'ai vu. Et il y avait ces moments où j'allais dans les toilettes pour hommes et je voyais MJ debout devant le miroir, jouant avec son visage, comme s'il avait un gros problème de boutons, ou contemplant quelques modifications ......
Au bout d'à peu près une semaine et demie d'enregistrement, Joe "King" a dit: «Ce ne serait pas cool si Michael Jackson venait chanter les harmonies sur«'Don't Let A Woman (Make A Fool Out of You)? "
C'était une chanson reggae que Joe avait écrit qui sonnait un peu comme "No Woman, No Cry."
Quelqu'un a dit à Joe, "Pourquoi tu ne lui demandes pas?" C'est ce qu'il a fait, et Michael a dit oui.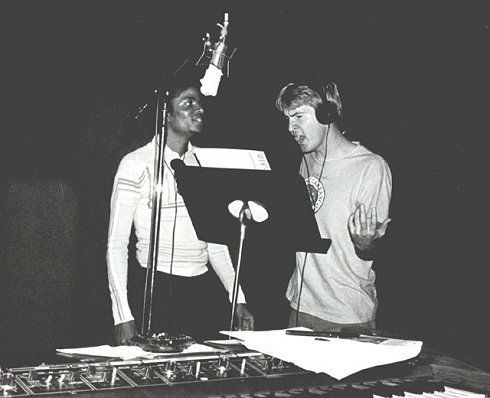 Et il était là, le casque sur les oreilles, essayant de savoir qui était ce personnage de Joe "King", pendant que le professionnel qu'il était s'approchait du micro face à Joe, tenant les hautes harmonies et rendant le titre de Joe très bon. Quelqu'un à la table de mixage plaisanta en disant que la voix de Joe devrait être retirée de l'enregistrement afin que nous puissions sortir une version dub de Micheal Jackson interprétant la chanson.
Comme prévu, la chanson a été mixée avec les deux voix et publiée sur l'album et en single qui est passé pendant quelques semaines sur les radios.
J'ai dû payer L'Union Scale pour avoir Michael sur la session, et lui faire un chèque de 100 $. Qui a été encaissé. L'album allait et venait, bien que Joe et le groupe sont partis en tournée avec Police après le disque. Dans l'année, Michael sortirait l'album le plus vendu de tous les temps, Thriller.
Dites ce que vous voulez à propos de sa carrière musicale, sa vie personnelle, sa chirurgie plastique et son amour des enfants et de l'enfance, dont il n'a pas pu beaucoup profiter parce qu'il était trop occupé à travailler. Au cœur de tout cela, il m'est apparu comme une personne agréable, cocoonnée dans business pas forcément très agréable
http://joenickp.blogspot.fr/2009/06/when-michael-jackson-sang-with-joe-king.html
Extrait du mensuel britannique MOJO