A l'occasion d'Halloween, voici un dossier pour frissonner de plaisir et retrouver Michael Jackson à travers sa musique et ses vidéos sur le thème de l'horreur !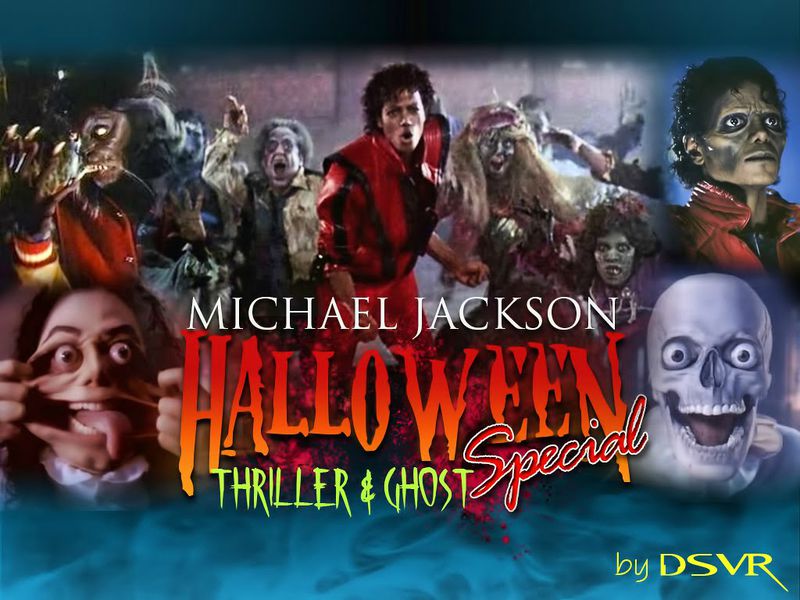 OFF THE WALL ERA
Michael Jackson a toujours été attiré par le côté « obscur de la force » et il nous l'a prouvé à nombreuses reprises durant sa magnifique carrière d'artiste mythique et légendaire. Bien sûr, vous pensez tout de suite à « Thriller » mais il y avait des signes avant coureur de son attrait pour les films d'horreur.
Dans « Off the Wall » le titre écrit par Rod Temperton et issu du premier album solo de Michael du même nom (en dehors de sa carrière Motown), il utilise déjà dans l'introduction une voix malicieuse, nerveuse et moqueuse digne d'un personnage des Contes de la Crypte. Même dans la musique, les premières notes sont savamment orchestrées pour vous mettre le frisson.
THRILLER ERA
Dans « Thriller », Michael exploite enfin ce filon jusqu'au bout en commençant sa chanson avec des bruits d'une porte qui grince, des pas lourds et même un loup qui crie à la mort. L'ambiance est inquiétante, pesante, frissonnante ! Bien sûr les paroles collent parfaitement à l'univers horrifique du titre. En voici un petit extrait :
It's close to midnight and something evil's lurking in the dark
(Il est presque minuit et quelque chose de diabolique menace dans le noir)
Under the moonlight you see a sight that almost stops your heart
(Sous le clair de lune, tu vois quelque chose qui arrête presque ton cœur)
You try to scream but terror takes the sound before you make it
(Tu essayes de crier mais la terreur s'empare du son avant que tu ne l'émettes)
You start to freeze as horror looks you right between the eyes
(Tu commence à être glacé d'effroi, l'horreur te regarde droit dans les yeux)
You're paralyzed
(Tu es paralysé)
Michael Jackson fait également appel à Vincent Price (figure de l'horreur à l'époque) qui avec sa voix envoutante et un son guttural, réalise le passage parlé vers la fin de la chanson. Une voix à vous glacer d'effroi !
La session intégrale de Vincent Price, parue sur la ré-édition de Thriller en 2001
Quand arrive le court métrage de cette chanson (Michael n'aimait pas qu'on parle de vidéo) en 1982 qui dure 14 minutes, c'est une véritable révolution dans l'univers musical de l'époque, par sa longueur déjà mais aussi du fait de son histoire. En général, les vidéos de l'époque n'ont ni début, ni milieu, ni fin et ne raconte pas d'histoire, et encore moins d'histoire d'horreur !
Dans ce film, Michael emmène une jeune femme au cinéma pour voir un film d'horreur où un jeune homme (interprété par Michael aussi), après avoir déclaré sa flamme (en lui faisant le coup de la panne d'essence !) à une jeune fille se transforme sous les effets de la pleine lune en une bête monstrueuse.
« I am not like others guys… I mean I'm different… »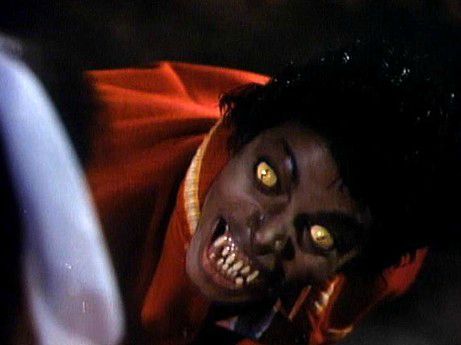 Michael suit sa dulcinée qui sort du cinéma, apeurée, et sur leur route, ils passent devant un cimetière. Les morts vivants se réveillent et le couple se retrouve bientôt entouré de zombies
Vous le connaissez tous par cœur, mais aujourd'hui, en l'honneur de ces journées halloweenesques, replongeons-nous dans l'horreur de « Thriller » !
La vidéo a le succès qu'on lui connait et c'est largement mérité !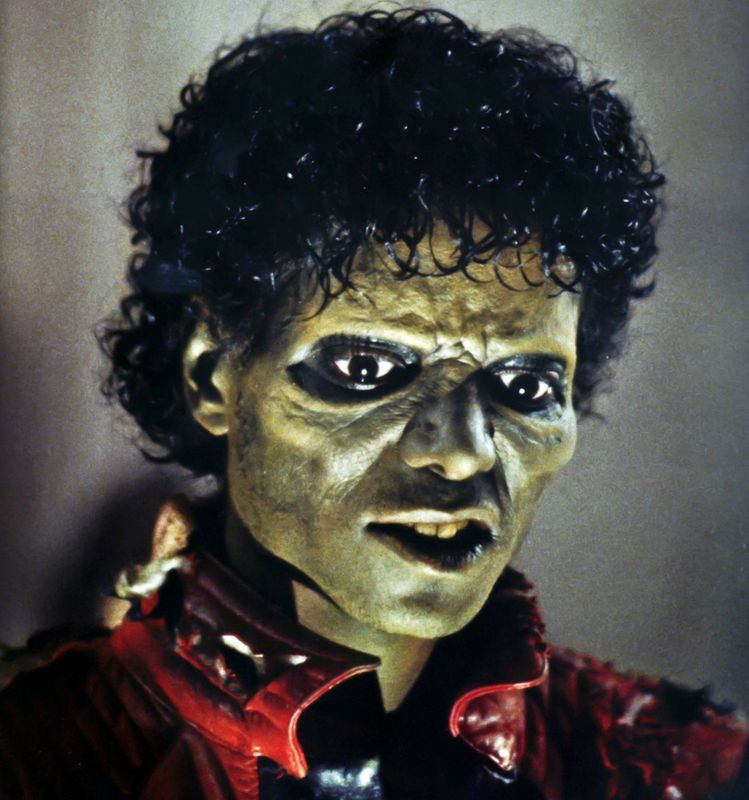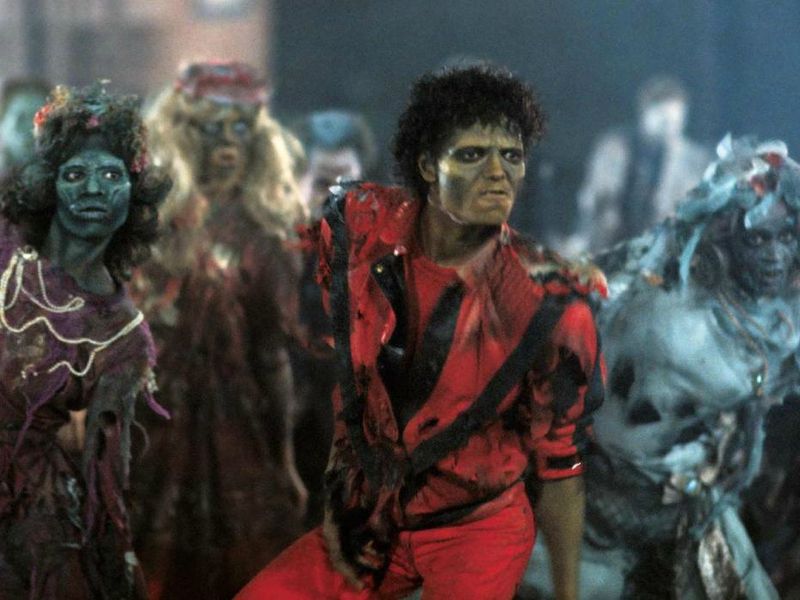 D'ailleurs la chorégraphie fait le tour du monde et inspire le danseur qui se cache en nous ! Les Flashmobs, mariages ou autres hommages à Michael reprennent très fréquemment les fameux pas de danse. Quelques extraits!
Le film « 30 ans sinon rien » sorti en 2004
Flashmob réalisé en juillet 2007 par des prisonniers Philippins (1500 participants !)
Même Naomi Campbell (accompagnée de petits lézards terrifiants) s'y met pour une pub de boisson énergisante ! (pendant le Superbowl 2008) Thrillicious!!!
Pour finir, des fans ont créé un évènement qui s'appelle « Thrill The World » où dans le monde entier des milliers de danseurs reprennent simultanément la chorégraphie de Thriller (l'évènement prend en compte le décalage horaire de chaque pays pour faire la chorégraphie exactement en même temps).
Chaque année, les danseurs se regroupent pour agrandir encore les rangs et battre leur propre record de l'année précédente.
HISTORY/BLOOD ON THE DANCE FLOOR ERA
Michael a lancé la tendance mais son génie a d'autres facettes de la musique à explorer… Ce n'est que bien plus tard que Michael reprend ce thème de l'horreur, plus précisément en mai 1997 avec l'album « Blood on the dance floor » où il écrit deux chansons dans la lignée de Thriller : « Ghosts » et « Is it scary », même si elles se révèlent beaucoup plus sombres et beaucoup moins funky.
« Ghosts » traitent des médias et de l'acharnement dont est victime Michael. Ils comparent les paparazzis et les journalistes mal attentionnés à des fantômes. Quand à « Is it Scary », il parle de lui comme un monstre, jouant le jeu de tous ceux qui le critiquent, l'accusent…
Une fois de plus, c'est avec une vidéo que Michael va frapper le plus fort en réalisant le court métrage « Ghosts » incluant les deux chansons citées ci-dessus. C'est un film de 37 minutes, la vidéo musicale la plus longue de l'histoire et certainement aussi une des plus belles.
Dans « Ghosts », des habitants menés par le maire de leur ville rendent visite à Maestro, interprété par Michael Jackson, dans son manoir hanté pour lui demander de partir car ils le jugent trop effrayant et déroutant. Le maitre des lieux les invitent alors à jouer un petit jeu… S'il les effraient, ça sera à eux de partir, si ce sont eux qui arrivent à l'effrayer, il partira pour toujours. (voir le dossier sur Ghosts)
Le scénario a été écrit par Stephen King, maitre littéraire de l'horreur (le short-film sera d'ailleurs diffusé en avant première le 24 octobre 1996, en première partie de la diffusion de Thinner, adapté du roman de Stephen King). Michael a, décidément, toujours su comment bien s'entourer au niveau artistique ! Mais Ghosts est inspiré d'un projet qui n'a malheureusement pas vu le jour, datant de 1993, censé accompagner le film Les Valeurs de la Famille Adams.
Michael Jackson interprète cinq rôles dans ce court métrage dont le maire. Il totalement méconnaissable grâce à son maquillage.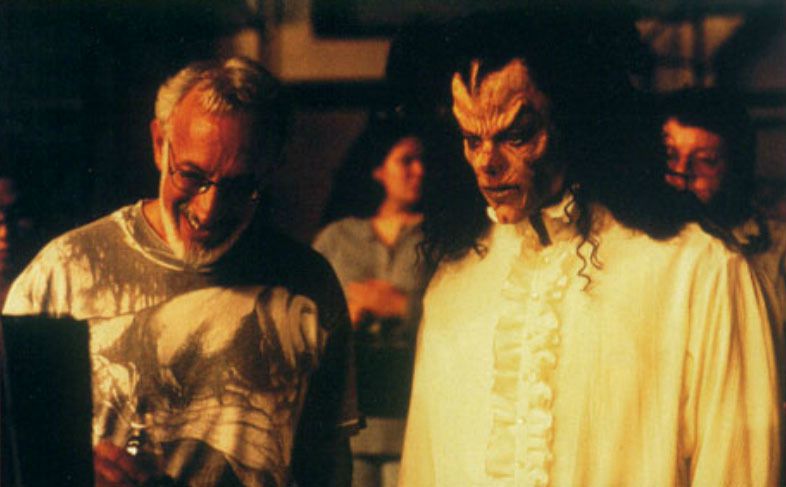 Le film est tellement bon qu'il rendrait presque obsolète la vidéo de « Thriller ». La performance de Michael est époustouflante aussi bien au niveau de la danse que du jeu d'acteur. L'esthétique est absolument superbe ! Un vrai chef d'œuvre ! Enjoy!
INVINCIBLE ERA
En 2001, Michael Jackson sort un nouvel opus « Invincible » et renoue encore une fois avec son thème préféré. Dans la dernière chanson de l'album, « Threatened » Michael chante à nouveau qu'il est le monstre que les médias décrivent et qu'il faut avoir peur de lui (à prendre au second degré bien sûr, ils dénoncent plutôt ces médias et ce qu'ils disent en étant ironique et surtout sarcastique).
A nouveau il fait appel à une voix remarquable, celle de Rod Serling, qui est le créateur de la série « La quatrième dimension ». Dans la chanson, un montage de sa voix a été fait (Rod Serling est décédé en 1975) à partir de la série. L'intro de Threatened est notamment un extrait de l'épisode 8 de la saison 3 "It's A Good Life"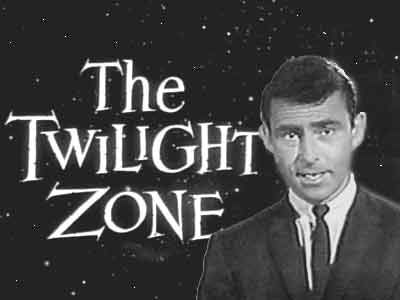 Pour ceux qui connaissent un peu Disneyland Paris, ce sont des extraits de cette série qui ont été repris pour l'introduction de l'attraction la Tour de La Terreur. L'homme qu'on voit sur les vidéos dans l'attraction est bien Rod Serling.
Même si Threatened n'est jamais sorti en single, ni n'a fait l'objet d'une vidéo, Michael avait décidé de l'inclure à un medley horrifique pour ses concerts « This is it »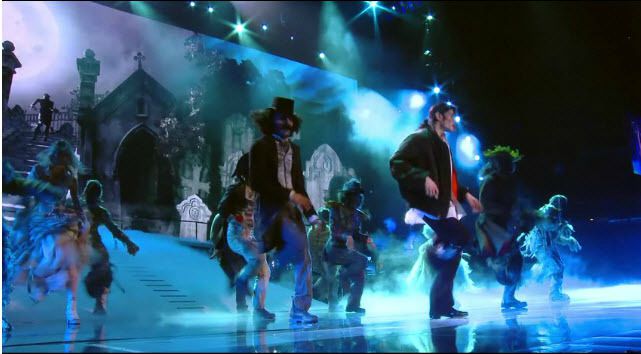 Voilà, il me semble avoir fait le tour du côté obscur de Michael Jackson qui s'est toujours beaucoup amusé avec ce thème et qui le distingue aussi parmi tous les autres artistes. Michael est un conteur d'histoire.
J'espère que vous avez apprécié cette petite parenthèse spécial Halloween !
Laissons le mot de la fin à Michael...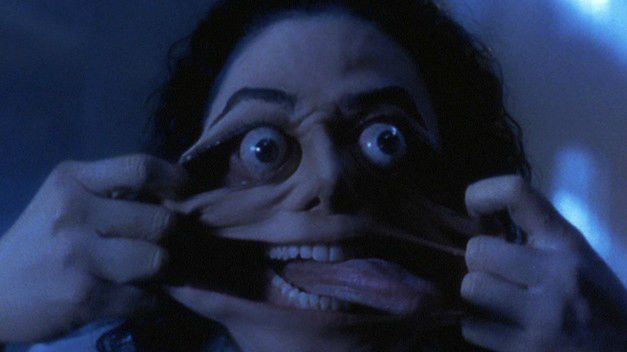 IS IT SCARY YET ?
Ce dossier a été écrit par Anaïs Cherbonnier, et publié il y a quelques années sur le MJJLegacy. Merci à elle. Que de bons souvenirs de nos délires sur le Legacy.