Itinéraire d'un passionné est un livre écrit par un fan de Michael Jackson, Brice Najar.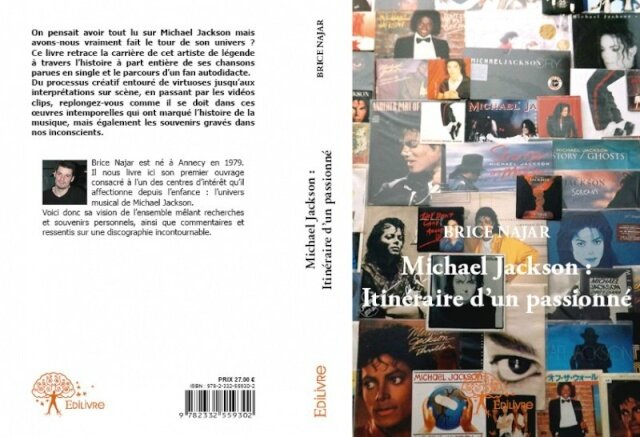 Connu sous le pseudo Phillinganes sur les forums consacrés au King Of Pop, et notamment sur MJFrance, Brice a réalisé régulièrement des topics sur les titres de Michael, que je lisais avec plaisir les quelques fois où je fréquente le forum.
Les mots de l'éditeur
On pensait avoir tout lu sur Michael Jackson mais avons-nous vraiment fait le tour de son univers ? Ce livre retrace la carrière de cet artiste de légende à travers l'histoire à part entière de ses chansons parues en single et le parcours d'un fan autodidacte. Du processus créatif entouré de virtuoses jusqu'aux interprétations sur scène, en passant par les vidéos clips, replongez-vous comme il se doit dans ces œuvres intemporelles qui ont marqué l'histoire de la musique, mais également les souvenirs gravés dans nos inconscients.
Paru chez Edilivre en mai 2013, l'ouvrage de plus de 400 pages, reprend, dans l'ordre chronologique, les singles de la carrière solo de Michael à partir de Off The Wall. L'histoire des chansons, leur signification, l'analyse des short-films, les collaborations sur les titres et dans les vidéos, les prestations scéniques, tout est là. Trente huit chapitres au cours desquels nous revivons la magnifique carrière de Michael. Une « biographie musicale », écrite par un passionné, simplement.
Car c'est bien là le plus important, la musique. Le nom de Michael Jackson, bien trop souvent associé aux tabloïds, reprend sa juste place dans ce livre. Les rumeurs sont oubliées pour laisser faire le génie créatif de Michael.
Chaque chapitre relate donc « la vie » des singles sortis entre 1979 et 2008. 30 ans d'une carrière solo très riche que j'ai pu vivre (enfin seulement à partir de 1982) mais cela ne m'a pas empêché de découvrir encore grâce à ce livre. J'ai d'ailleurs tout particulièrement apprécié la richesse des détails sur les collaborations de Michael avec les musiciens qui l'ont aidé à marquer l'histoire de la musique.
S'il est construit de manière chronologique, le livre peut également se lire de manière aléatoire, à la manière, comme l'indique l'auteur, d'un CD, où chaque chapitre serait une piste (j'aime beaucoup cette image !). La musique et les paroles des titres résonnent d'ailleurs facilement dans nos têtes tout en parcourant les pages les unes après les autres.
Les chapitres, introduits par une courte citation d'un grand nom (et la toute première, de Walt Disney, sur Don't Stop 'Til You Get Enough est à mon avis la plus belle), sont construits à l'identique : la naissance de la chanson, le contexte et le travail avec les musiciens (on appréciera également les liens faits avec les différentes productions des artistes), accompagnés éventuellement de témoignages et/ou anecdotes, l'analyse (personnelle) du titre, le short film (son histoire, sa création), et les interprétations sur scène du titre. Des phrases simples, des mots justes, un savoir indéniable, une passion que l'auteur a juste envie de partager…..pour notre plaisir.
Et à travers ce parcours, Brice fait de temps à autre le parallèle avec sa propre vie, et il est facile de s'y projeter, en tant que fan. J'ai moi-même été une grande adepte du magazine Black & White, dès ses débuts, dont j'attendais impatiemment la parution chaque trimestre et retrouver des anecdotes a été un plaisir. L'expérience des concerts, l'attente pour la sortie d'un album, les émissions télévisées avec la diffusion des clips, la vie de fan, parfois vue bizarrement par les autres, …autant de souvenirs auquel Brice fait référence et qui m'ont aussi permis de revivre mes années de fan !!!
C'est donc un livre que les fans apprécieront sans aucun doute et que le grand public devrait lire pour oublier l'image du Michael Jackson médiatique et découvrir (enfin !) le personnage travailleur, pointilleux, qui a su s'entourer des plus grands tout en restant simple.
Merci Brice, d'avoir su à nouveau faire briller la magie du Roi !