Présentation du Off The Wall Appreciation Award , par Janis DaSilva (Janis DaSilva est la reporter américaine du magazine anglais Off The Wall, créé et dirigé par Adrian Grant)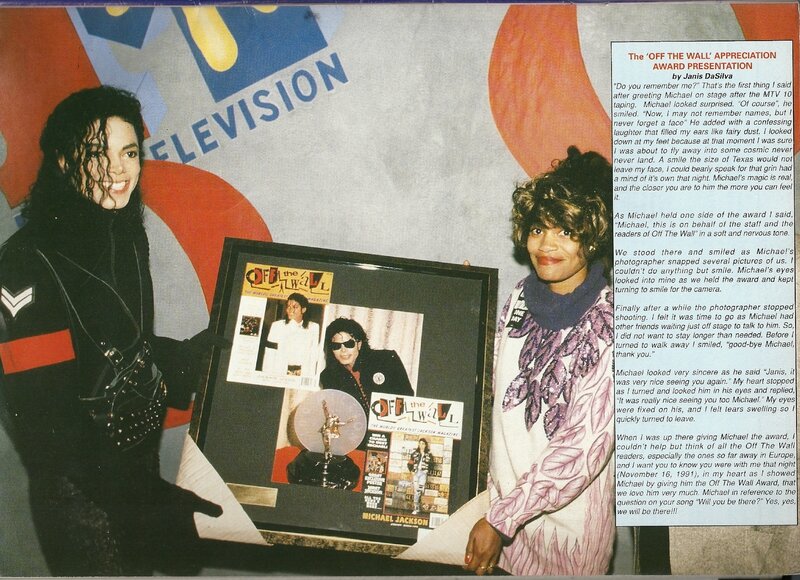 "Te souviens –tu de moi?" C'est la première chose que j'ai dite après avoir félicité Michael sur scène après l'enregistrement de MTV 10. Michael paraissait surpris. « Bien sûr », dit-il en souriant. « Je peux très bien ne pas me souvenir des noms mais je n'oublie jamais un visage », a-t- il avoué avec un rire qui a rempli mes oreilles comme une poussière magique. Je regardais mes pieds parce que, à ce moment, j'étais sûre que j'étais sur le point de m'envoler dans pays imaginaire cosmique. Un sourire de la taille du Texas ne quittera pas mon visage. Je ne pourrais à peine vous dire à quel point ce sourire a hanté mon esprit cette nuit là. La magie de Michael est réelle, et plus vous êtes proche de lui, plus vous la sentez.
Pendant que Michael tenait un côté de la récompense, j'ai dit : « Michael, c'est au nom de l'équipe et de tous les lecteurs du magazine Off The Wall » d'une voix faible et nerveuse.
Nous sommes restés là, souriant, pendant que le photographe de Michael prenait plusieurs photos. Je ne pouvais rien faire d'autres que sourire. Les yeux de Michael regardaient les miens pendant que nous tenions l'award et il continuait à sourire pour les caméras.
Finalement, après un moment, le photographe a arrêté. J'ai senti que c'était le moment de partir, Michael avait d'autres amis qui l'attendaient en coulisses pour lui parler. Je ne voulais pas rester plus longtemps que nécessaire. Avant que je m'en aille, j'ai sourit et j'ai dit « Au revoir Michael, merci ».
Michael semblait très sincère quand il m'a dit : « Janis, c'était sympa de te revoir ». Mon cœur s'est arrêté, je me suis retournée et je l'ai regardé dans les yeux et j'ai répondu : « C'était sympa de te voir aussi Michael ». Mes yeux fixaient les siens et j'ai senti les larmes monter alors je me suis vite retournée et je suis partie.
Lorsque j'étais en train de remettre la récompense à Michael, je n'ai pas pu m'empêcher de penser à tous les lecteurs du magazine Off The Wall, et particulièrement à tous ceux qui sont loin en Europe, et je veux que vous sachiez que vous étiez avec moi cette nuit du 16 novembre 1991, dans mon cœur, lorsque j'ai montré à Michael, en lui donnant ce Off The Wall Award, que nous l'aimons tous énormément. Michael, en réponse à la question de ta chanson, Will You Be There ? Oui , oui on sera là !
Témoignage paru dans le numéro 15 du magazine Off The Wall du 13 mai 1992