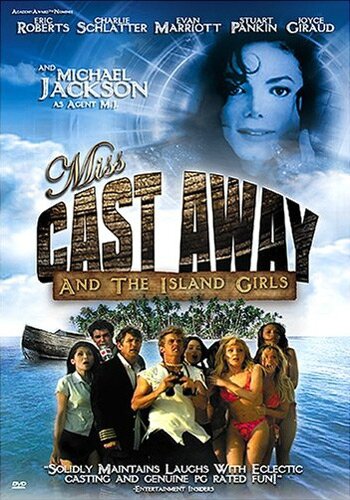 Miss Cast Away (aussi connu sous le titre Miss Cast Away and the Island Girls) est un film comique de série B, parodiant différents grands succès du cinéma, écrit et réalisé par Bryan Michael Stoller.
L'histoire:
Un avion transportant des participants à un concours de beauté s'écrase sur une île déserte. Le Capitaine Maximus Powers (Eric Roberts) et son copilote Mike Saunders (Charlie Schlatter) doivent s'occuper de leurs passagers, tout en évitant les dangereux Jurassic Pork (des porcs préhistoriques géants) et un groupe de grands singes qui sont occupés à construire une arche.
C'est alors que l'agent MJ (Michael Jackson) arrive, ayant été envoyé par le Vatican pour les manipuler au bénéfice de ce dernier. A chacune des apparitions de l'agent MJ, les participantes s'enthousiasment, l'une d'elle lui demandant même de lui apprendre le moonwalk !
Le film a été tourné durant l'été 2003, à Hawaï et en Californie (Malibu et Oxnard), les scènes où apparait Michael Jackson ont été tournées en septembre 2003.
Bryan Michael Stoller a reçu l'autorisation de tourner des scènes de Michael Jackson dans son ranch de Ranch de Neverland, dans la bibliothèque du chanteur.Il a ensuite dit que c'était excitant d'avoir un privilège aussi rare. Il a fini le tournage dans les temps malgré des perturbations liées à la vie du ranch. Dans une interview de MTV, il raconte:
"C'est sa maison. Tout cela est normal pour lui qu'il y ait un train en marche autour de la propriété, a rappelé le directeur, il y a eu une interruption bruyante qui apparaît dans les bonus du DVD. [Une autre fois,] ses collaborateurs nous ont apporté de la soupe, nous étions là en train de parler, et là, ces deux éléphants se promenaient à l'extérieur. Michael a continué à boire sa soupe comme si de rien n'était, je me tourne vers lui, je le regarde et il n'a même pas porté attention aux éléphants !!"
Comme dans Men In Black II, où il fait également une apparition, Michael n'est pas présent physiquement mais apparait virtuellement, dans un halo de lumière, pour parler aux personnages. Au cours d'une de ces apparitions, il chante même une phrase de She's Out Of My Life!
Le film devait sortir en 2004 mais suite aux problèmes juridiques de Michael, et des désaccords avec la 20th Century Fox sur le titre du film, les producteurs l'ont mis en attente. Après avoir été projeté dans trois festivals de film américain en 2004, le film sort finalement en DVD le 20 novembre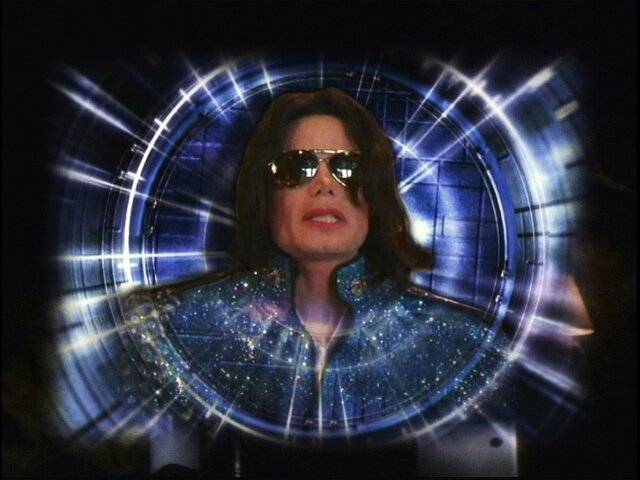 Fiche Technique
Réalisé par Bryan Michael Stoller
Produit par Jeff Assofsky, Gloria Pryor et Bryan Michael Stoller
Ecrit par Bryan Michael Stoller
Musique de Greg Edmonson
Distribué par Showcase Entertainment
Langue: Anglais
Durée: 90 mn
Distribution
Eric Roberts : capitaine Maximus Powers
Charlie Schlatter : Mike Saunders
Joyce Giraud : Julie
Stuart Pankin : Noah
Evan Marriott : Joe Millionaire
Michael Jackson : agent MJ