Le Walk of Fame (littéralement, la « promenade de la célébrité ») est le trottoir le plus prestigieux au monde.
Situé dans le quartier de Hollywood à Los Angeles (entre Hollywood Boulevard et Vine Street), en Californie, il honore les différents acteurs du show business depuis 1958. En 1978, la ville de Los Angeles a déclaré le « Walk of Fame » monument historique.
Chaque star se voit dédier une dalle carrée d'environ 80 cm de côté insérée dans le trottoir. Fabriquée avec du granito, un matériau à base de ciment imitant le marbre, chaque dalle présente, sur fond anthracite, une étoile rose à cinq branches au contour en laiton gravée du nom de la célébrité. Sous cette inscription, un emblème, lui aussi en laiton rappelle la catégorie dans laquelle la star s'est distinguée:
• une caméra, pour une contribution à l'industrie cinématographique ;
• un poste de télévision, pour une contribution à l'industrie télévisuelle ;
• une platine tourne-disque et son bras (vus de dessus), pour l'industrie musicale ;
• un microphone, pour une contribution à l'industrie radiophonique ;
• un couple de masques de théâtre ancien (comédie et tragédie), pour une contribution théâtrale.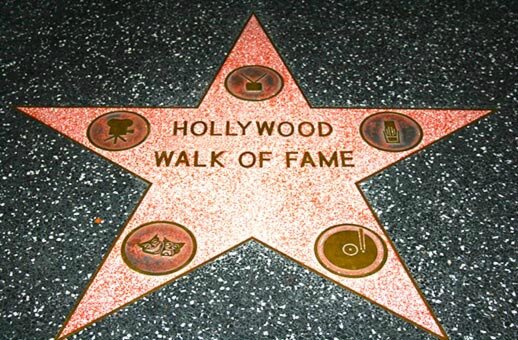 L'attribution d'une étoile est un honneur qui n'est pas gratuit. En effet, la personne récompensée doit verser 30 000 dollars à l'association qui gère le boulevard, la « Hollywood Historic Trust ». Une somme souvent réglée par les clubs de fans ou les studios…
L'attribution d'une étoile donne lieu à une cérémonie d'« intronisation » qui se déroule dans les cinq ans, à suivre sur le lieu même où l'étoile dédiée est placée ; l'impétrant se voit remettre en souvenir un cadre représentant son étoile dédicacée.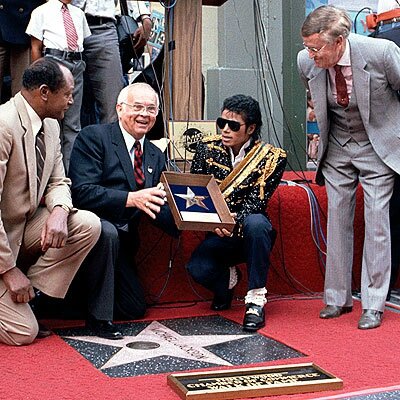 Le 20 novembre 1984, Michael inaugure donc son étoile en tant qu'artiste solo. Elle est située au 6927 Hollywood Blvd , à deux pas du célèbre Grauman's Chinese Theater (à la demande de Michael), et porte le numéro 1793.
Deux ans après le succès mondial de Thriller, et quatre ans après avoir reçu une étoile avec ses frères (située au 1500 Vine Street), Michael devient donc un des rares artistes à obtenir une seconde étoile.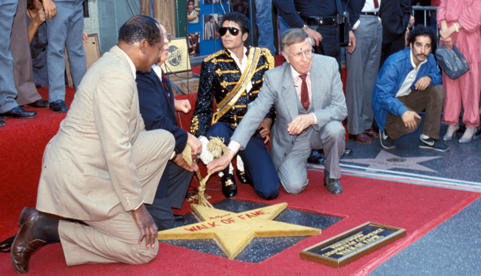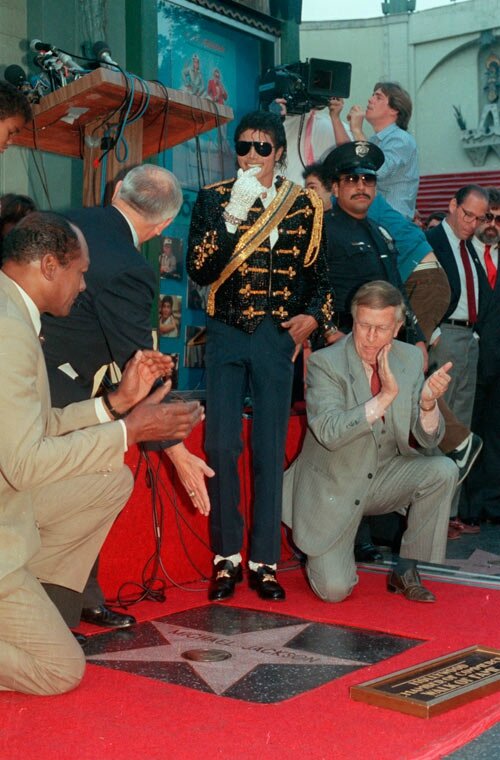 Michael apparait sur un podium, installé pour l'occasion, entouré de ses parents, du maire d'Hollywood, Johnny Grant, de son frère Tito, et de ses trois neveux (les futurs 3T) devant une foule de 6 000 fans venus apercevoir la star. Bill Welsh, le president de la Chambre de Commerce de Hollywood est là également. Michael salue le public de sa main gantée et le remercie.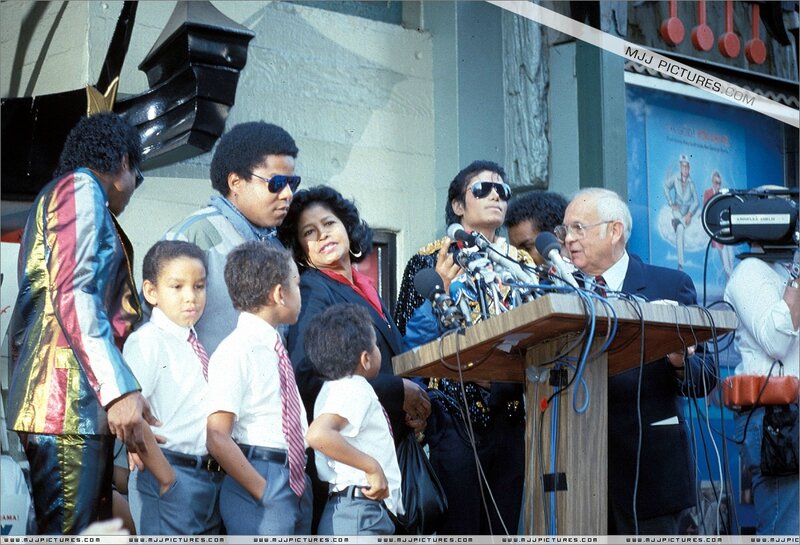 Mais l'hystérie gagne et le service de sécurité est vite débordé. Michael est contraint d'écourter son discours.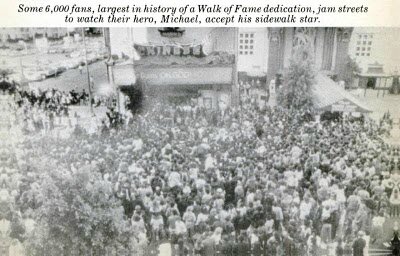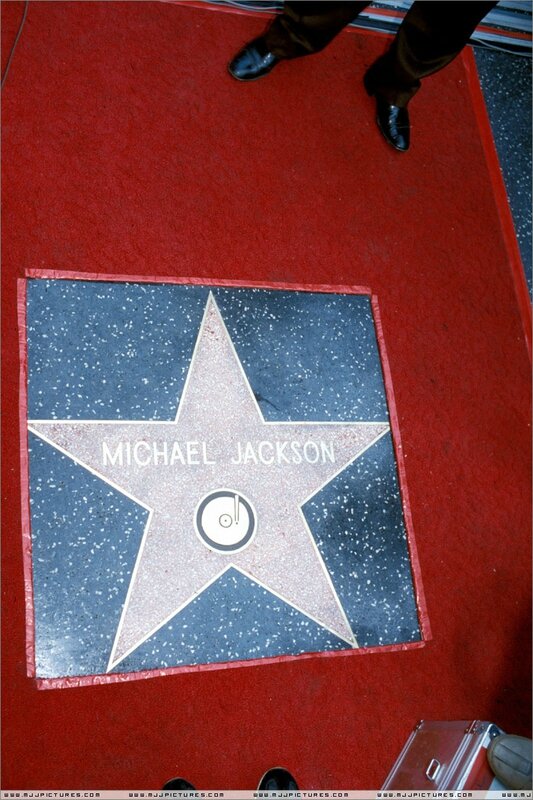 Depuis le 25 juin 2009, l'étoile est devenue un lieu de rendez-vous des fans et d'hommage à la star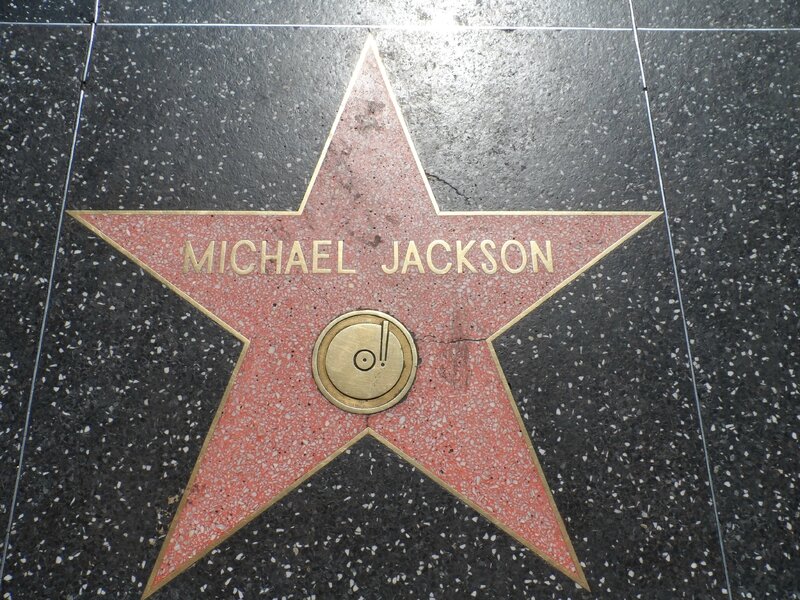 voir l'album photo sur la page facebook