Ce n'est un secret pour personne que Michael Jackson était un très grand fan du personnage de James Matthew Barrie, Peter Pan.
Le 4 novembre 2009, « Disney and More » révélait qu' à la fin des années 90, Michael Jackson projetait de faire construire un parc d'attractions ayant pour thème le pays imaginaire de Peter Pan, « Peter Pan's Neverland ». Un projet qui n'a malheureusement jamais vu le jour, bien que les plans aient été élaborés.
Tout commence le 19 Mars 1996 lorsque, lors d'une conférence de presse à Paris, au Palais des Congrès, Michael Jackson annonce qu'il s'associe avec le prince Al-Waleed (Prince et homme d'affaires milliardaire Saoudien, il a aidé à la recapitalisation de Disneyland Paris dont il détient 25%) pour créer la société « Kingdom Entertainment ». Cette société conjointe a pour but de révolutionner l'industrie du spectacle en investissant dans les parcs à thèmes, les films d'animation, les longs métrages, les livres, le disque…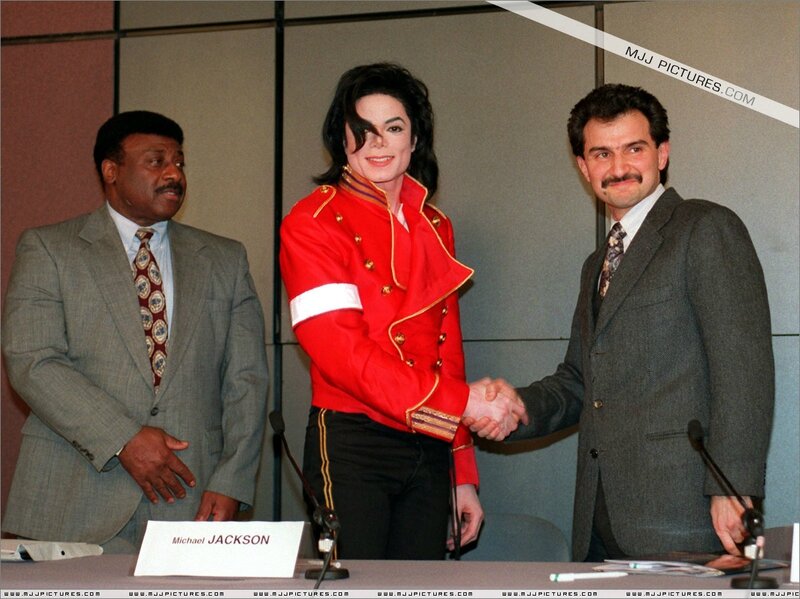 Suite à cela, ils rachètent en 1997, 50% des parts de « Landmark Entertainment » (Al-Waleed en possède alors 45% et Michael Jackson 5%),
société dirigée par Gary Goddard, qui a crée les attractions Spider-Man à« Island Of Adventures » et Jurassic Park et Terminator 3D aux « Universal Studios ».
Ainsi, ce qui devait arriver arriva, Michael demanda à Landmark s'ils pouvaient imaginer et concevoir un vrai parc à thème, pas uniquement pour lui, mais un parc où tout le monde pourrait se rendre, à l'image de Disneyland. Et ce parc aurait été nommé « Peter Pan's Neverland » !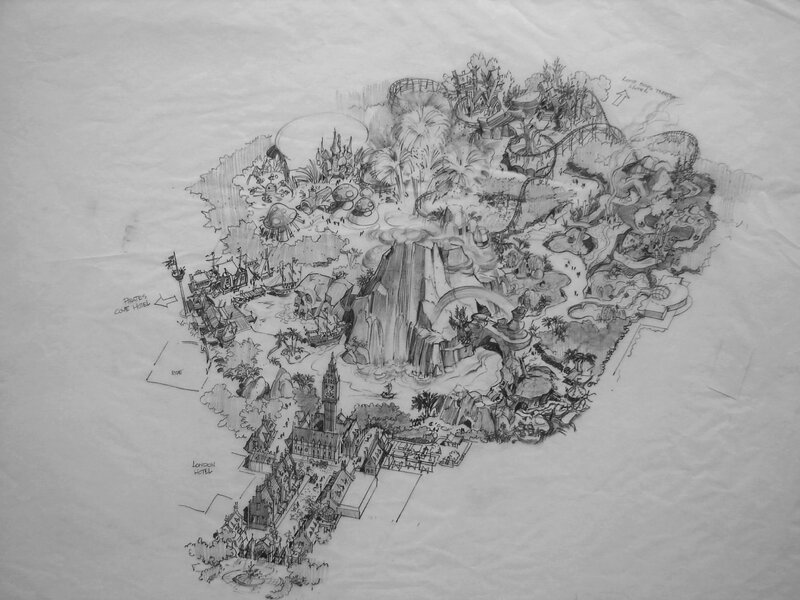 Ce premier concept est génial n'est-ce pas ? Entièrement inspiré de l'histoire de Peter Pan, l'entrée du parc nous aurait plongé en plein Londres dès le départ, comme le montre l'illustration suivante :
Une reproduction des jardins de Kensington (lieu d'inspiration de James Matthew Barrie, auteur de Peter Pan), on l'on peut voir la célèbre statue de Peter Pan, Big Ben et la Maison du Parlement à l'arrière plan, sans oublier les gardes à cheval à l'entrée, tout cela aurait donné une réplique stupéfiante de la ville Victorienne.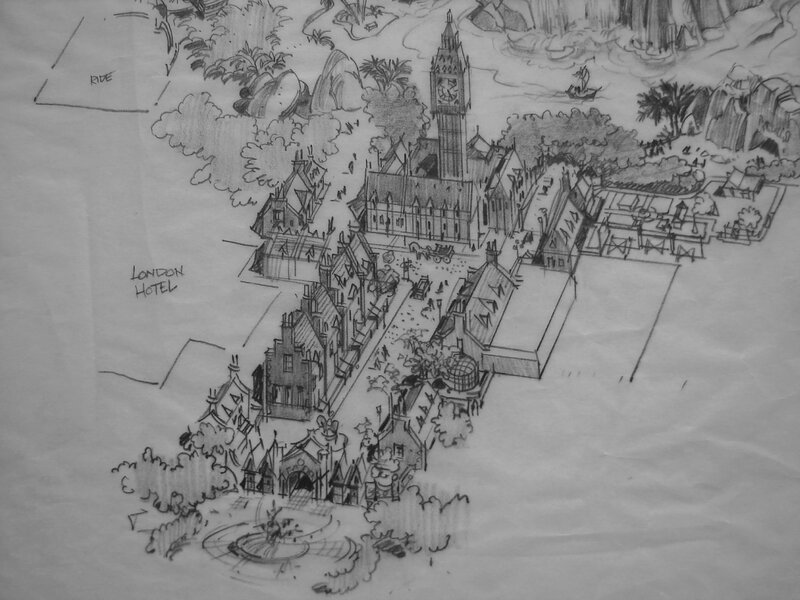 Croquis de l'entrée du parc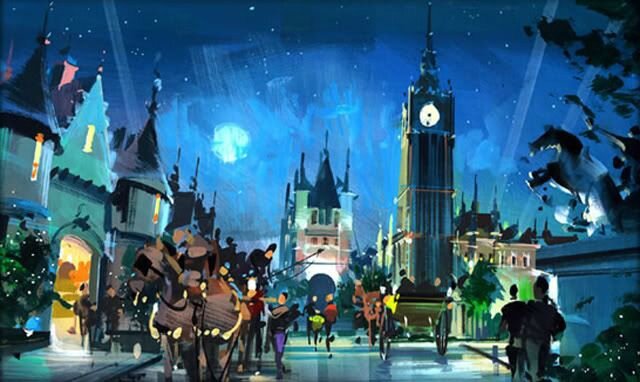 Une autre illustration de l'entrée du parc, imaginée par Greg Pro
De cette place, les invités étaient supposés se rendre sur l'île de Neverland, et les designers de Landmark ont imaginés deux façons différentes d'y aller, chacune d'entre elles étant par le biais d'une attraction.
La première, aurait été de s'envoler jusqu'à Neverland ! Comme vous pouvez le voir sur l'illustration ci-dessous, ils auraient survolé Londres, par dessus Big Ben et d'autres célèbres monuments de Londres comme le Tower Bridge (notez que sur l'illustration Big Ben et le Tower Bridge sont proches mais qu'en réalité, 2 miles les séparent). Ensuite, précédé par la fée Clochette, ils traverseraient tout Neverland, la Lagune aux Sirènes, le Rocher du Crâne et pour finir, ils atterriraient près de la maison des Enfants Perdus et des bois.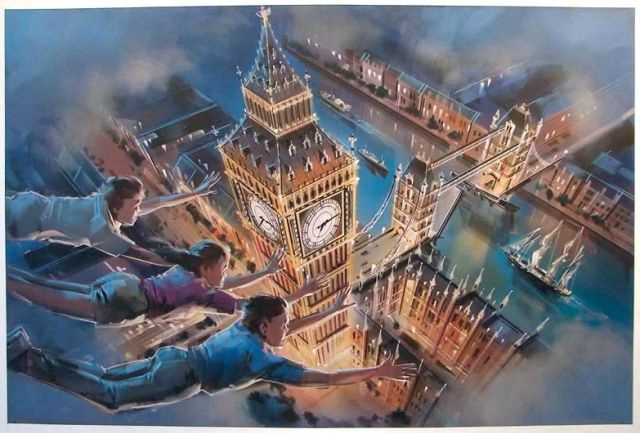 Les visiteurs du parc devaient se rendre à Neverland par les airs
Et vous vous demandez comment Landmark aurait réalisé cette attraction étonnante ? Premièrement, non, elle n'aurait pas été conçue comme Soarin' en Californie (qui, d'ailleurs, n'était pas encore construite à ce moment).
Au lieu de cela, les visiteurs auraient été assis sur une plate-forme tournante allant jusqu'à un angle de 50°, un peu moins que sur les montagnes russes volantes, et un film aurait été projeté sur un dôme Omnimax géant situé sous la plate-forme, donnant aux visiteurs l'impression de survoler Londres et Neverland ! Quelle merveilleuse attraction cela aurait été !

L'autre alternative pour se rendre à Neverland aurait été par bateau. Pendant cette courte balade, le bateau aurait traversé des cavernes mystérieuses avant d'arriver jusqu'à l'île de Neverland, sa végétation luxuriante et ses cascades.

Une fois arrivé à Neverland, les visiteurs auraient eu le choix entre 6 différents mondes.

- Le « Monde des Enfants Perdus » aurait été un espace de jeux amusants pour les plus jeunes avec des toboggans, des fontaines, un arbre-maison mais aussi une super montagne russe traversant toute le pays.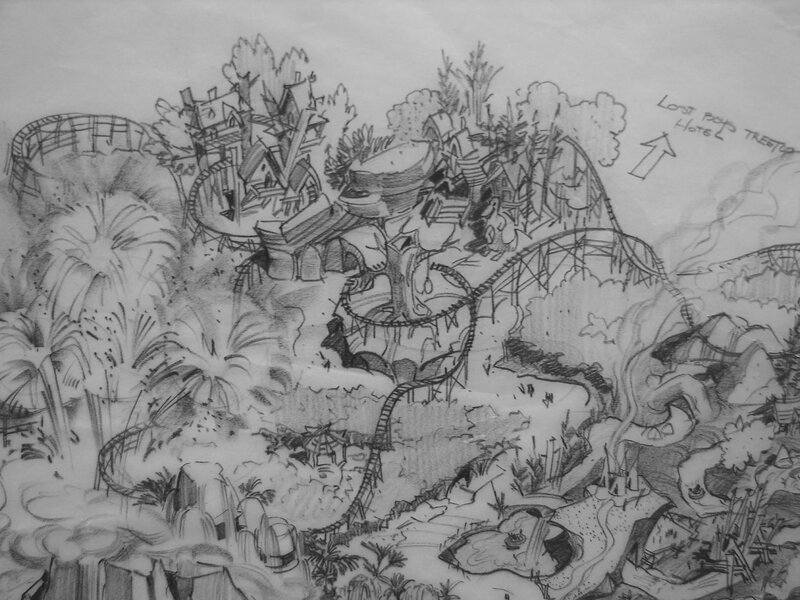 - Dans « la Lagune aux Sirènes » les visiteurs auraient eu le choix entre un tour en bateau à travers les cavernes de l'île de Neverland ou profiter d'un repas dans un magnifique restaurant sous terrain avec une énorme baie vitrée vers le lagon où un spectacle de sirènes avait été prévu.

Près de la Lagune aux Sirènes, le « Village Indien », une autre zone de Nerverland où un tour de radeau était prévu.
- De l'autre côté de l'immense rocher de Neverland, les visiteurs auraient découvert « le Royaume des Lutins », une grande zone pour les plus petits avec une aire de jeux de champignons géants et des attractions de carnavals.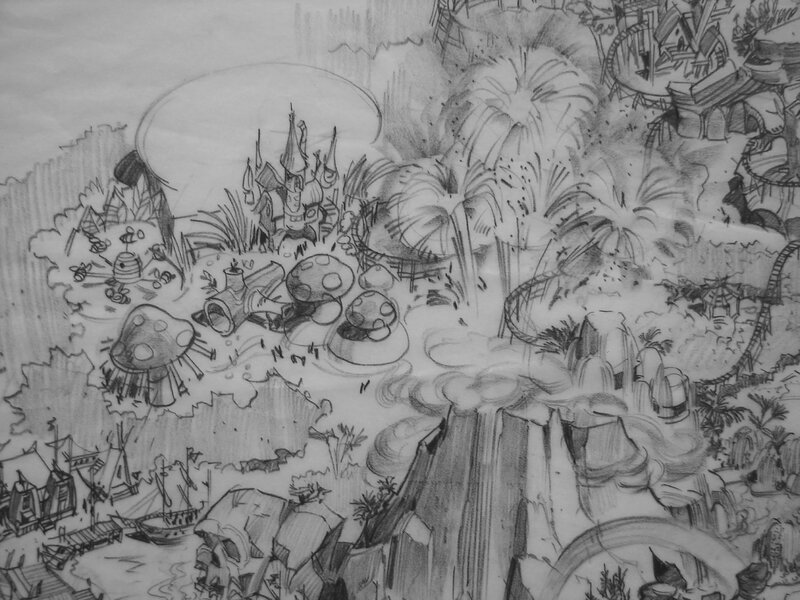 - Une autre zone importante – proche du Royaume des Lutins – devait être le Village des pirates et son Rocher du Crâne tout proche du bateau du Capitaine Crochet.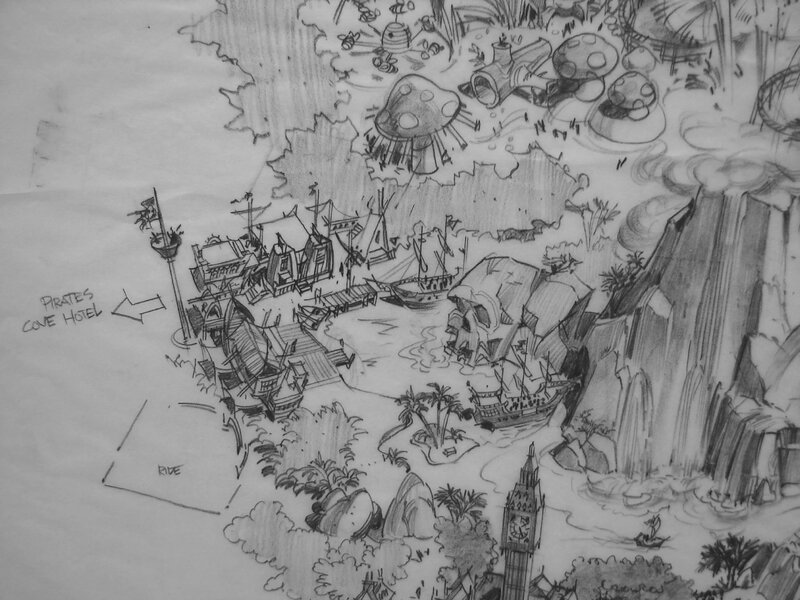 C'est là que les visiteurs auraient pu assister à un grand spectacle live avec un Peter Pan volant combattant son éternel ennemi, le Capitaine Crochet. Et bien sûr, le Crocodile aurait été de la partie.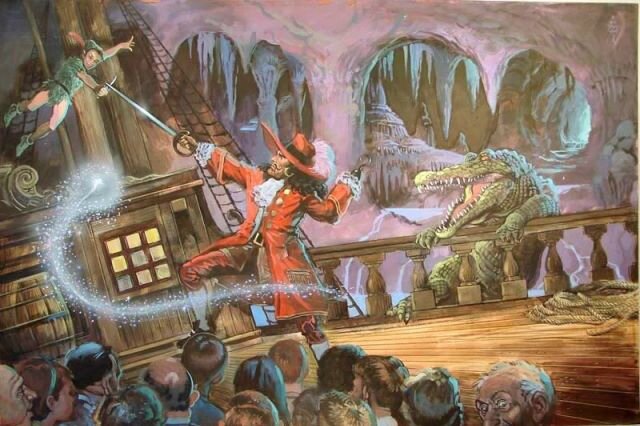 Vous pouvez aussi remarquer que dans ce premier concept, 3 hôtels étaient envisagés : un London hôtel, un hôtel « Baie des Pirates » et un hôtel « Cime des Enfants Perdus ». Comme nous allons le voir, le projet a subit des changements significatifs dans sa version finale.

Le document qui suit est une autre partie du parc « Peter Pan's Neverland », il s'agit du plan principal du concept. Dessiné le 24 mai 1999 à une échelle au 1/720e il montre un projet plus avancé avec de nouvelles attractions et également plus de bâtiments pour le staff. Regardons de nouveau l'ensemble du parc pour voir les différences par rapport au 1e concept.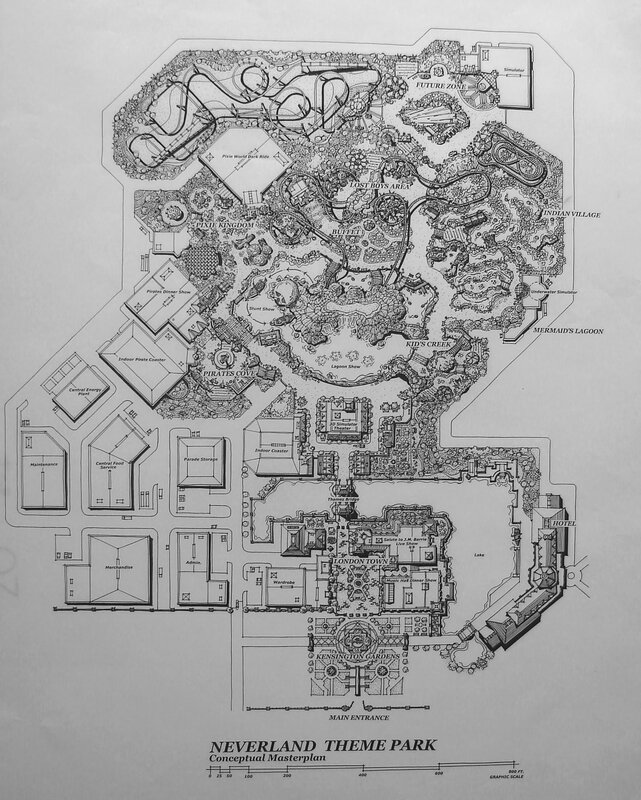 Tout d'abord, les 3 hôtels ont disparus, à la place nous avons un seul grand établissement face au lac près de la ville de Londres. Situé près de l'entrée, un peu comme celui de Disneyland Paris, il aurait permis aux clients d'avoir une vue unique sur le parc de Neverland.

Dans la ville de Londres, toujours située à l'entrée, Big Ben est encore là, mais une réplique de la célèbre Tower Bridge a été ajoutée. Ainsi que des Jardins de Kensington plus étendus à l'entrée et un cabaret music hall dans un des bâtiments principaux de droite. A l'intérieur de la réplique de la Maison du Parlement, un nouveau spectacle « Salutations à J.M. Barrie », le créateur de Peter Pan. A l'opposé du Tower Bridge des montagnes russes d'intérieur ainsi qu'un théâtre simulateur 3D étaient aussi imaginés.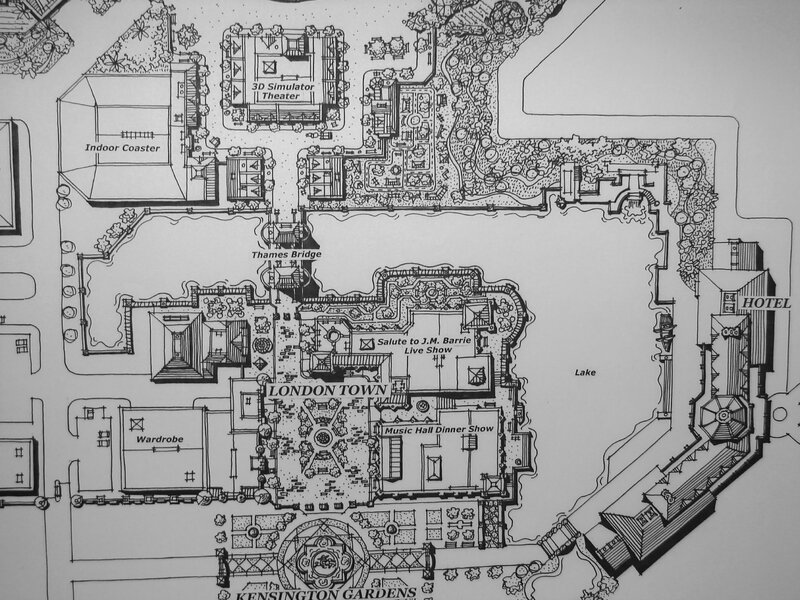 A la Baie des Pirates un dîner spectacle Pirates, une autre montagne russe roulante d'intérieur et un spectacle de cascades Pirates en face du Rocher du Crâne étaient rajoutés. Également envisagé, un spectacle à la Lagune, probablement dans la soirée.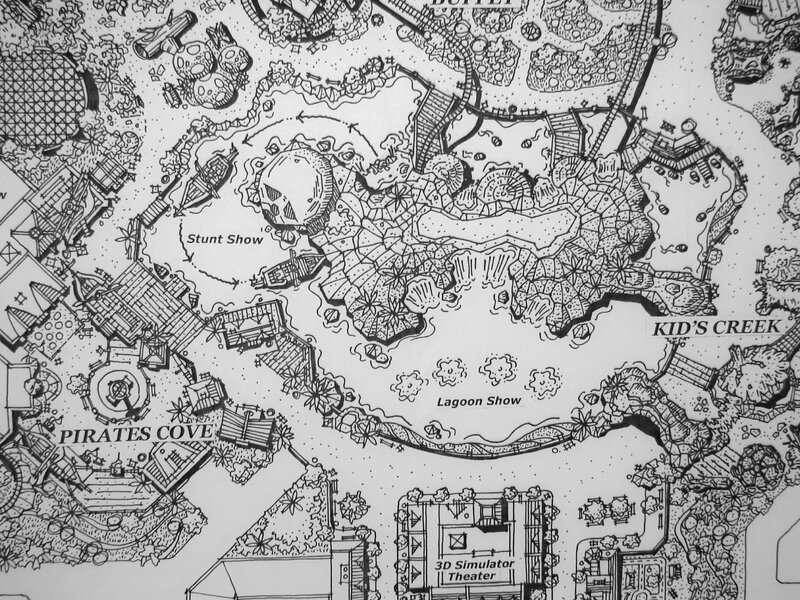 Au Royaumes des Lutins, la principale différence avec le premier concept est qu'un énorme immeuble pour une chevauchée sombre dans le Monde des Lutins a été ajouté. En haut de l'image ci-dessous, ce qui ressemble à des montagnes russes roulantes inversées auraient pu avoir son entrée située dans un nouveau pays, la « Zone Future ».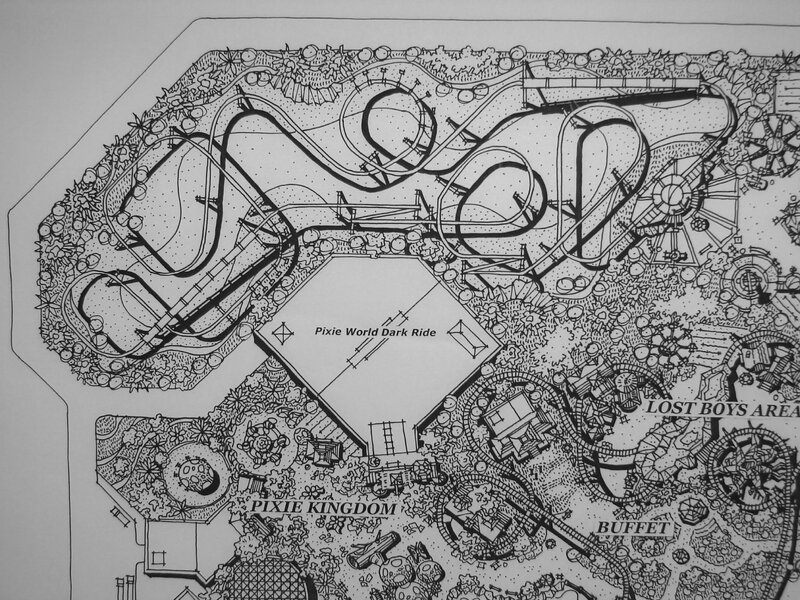 La zone des Enfants Perdus a toujours ses montagnes russes roulantes parcourant tout le pays jusque dans les montagnes de Neverland, et comme vous pouvez le voir ci-dessous, la Zone Future était située au sommet avec non seulement les montagnes russes roulantes inversées mais également une plus petite montagne russe et une attraction de simulateur.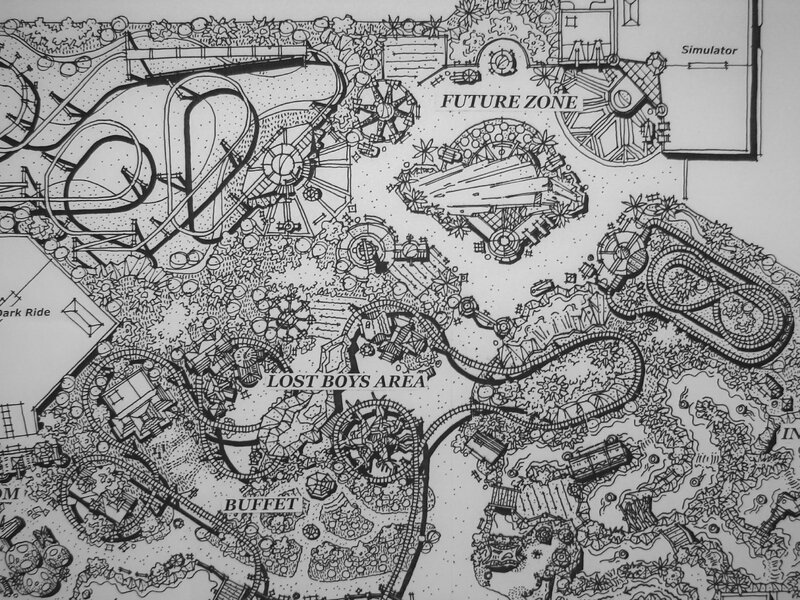 Dans la Lagune aux Sirènes, un simulateur sous marin a été ajouté au 1e concept et un nouveau monde - la Crique des Enfants - a été créé pour les jeunes enfants avec une cour de récréation et une espace de jeu aquatique incluant des petits bateaux.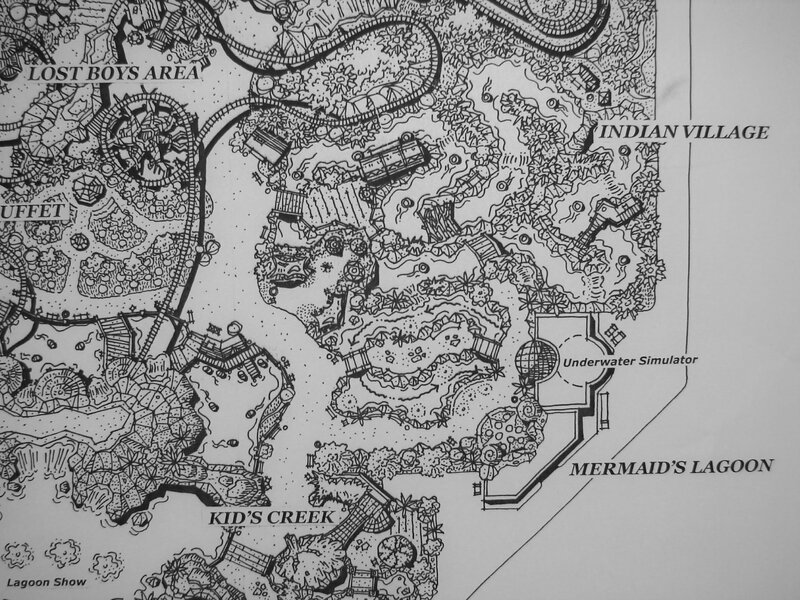 Peter Pan's Neverland n'a pas seulement été conçu pour être aussi gros que Disneyland, mais il aurait certainement été un parc à thème génial où tous les « Peter Pan » vivant sur cette planète auraient accouru !
L'illustrateur William Stout avait été chargé par Landmark Entertainment de dessiné les portes de ce parc, où toute le magie de l'histoire de Peter Pan se retrouvait en un majestueux portail. (MAJ du 10/06/2019 photos ci-dessous documentaire La Story de Michael Jackson CSTAR)
Pourquoi ce parc à thème Peter Pan's Neverland n'a jamais été construit ?
Et bien, quelques années plus tard, Michael Jackson et le Prince Al-Waleed ont mis fin à leur collaboration, et au vu du prix d'un concept comme celui-ci, ce fut malheureusement la fin du projet Peter Pans' Neverland. Bien que Michael Jackson vivait dans son ranch de Neverland, il ne marchera jamais dans ce Neverland « réel ». Pourtant, des années plus tard, Landmark érigea une immense statut de Michael en Peter Pan !
Est-ce que cela signifie que nous ne verrons jamais ce super concept de parc devenir réalité ? Qui sait, avec toutes les différentes commémorations pour Michael Jackson qui arriveront dans les années à venir - sans parler du ranch de Nerverland qui pourrait devenir pour les fans de Michael Jackson ce que Graceland est aux fans de Elvis - peut-être quelqu'un qui aurait assez d'argent trouvera, comme nous le pensons, qu'il serait génial de construire ce Peter Pan's Neverland pour de vrai ? Et puis, il y a bien assez de terrains disponibles dans le ranch de Neverland. Qui pourrait imaginer un meilleur endroit pour construire le rêve le plus cher de Michael ?
Sources: Disney and more / Merci à mjackson.fr pour la traduction