Le photographe Harry Benson exposera quelques-uns de ses meilleurs clichés (pas uniquement concernant Michael!) au Mallett Antiques de Londres (dans le quartier de Mayfair) du 5 au 15 février 2014.
http://metro.co.uk/2013/11/24/my-life-through-the-lens-harry-benson-to-exhibit-50-years-of-snapping-celebrities-4200321/
L'occasion de revenir sur sa collaboration avec Michael Jackson.
En 50 ans de carière, Benson a photographié les plus grands noms , que ce soit le président américain Dwight D Eisenhower ou les artistes comme Michael Jackson, les Beatles, Al Pacino ou les grands événements comme par exemple la chute du mur de Berlin.
Concernant la vie de Michael Jackson, Harry Benson est l'auteur de clichés mémorables montrant tout aussi bien MJ à Neverland, au Caribou Ranc en 1984, la session d'enregistrement de la chanson "We are the World" ou encore MJ et Lisa-Marie Presley.
En décembre 1997, Life Magazine publie un long reportage-photo intitulé "Michael & Son: At home with the King of Pop and his baby" (Michael & fils: à la maison avec le Roi de la Pop et son bébé). (Voir l'article ici et en français ici)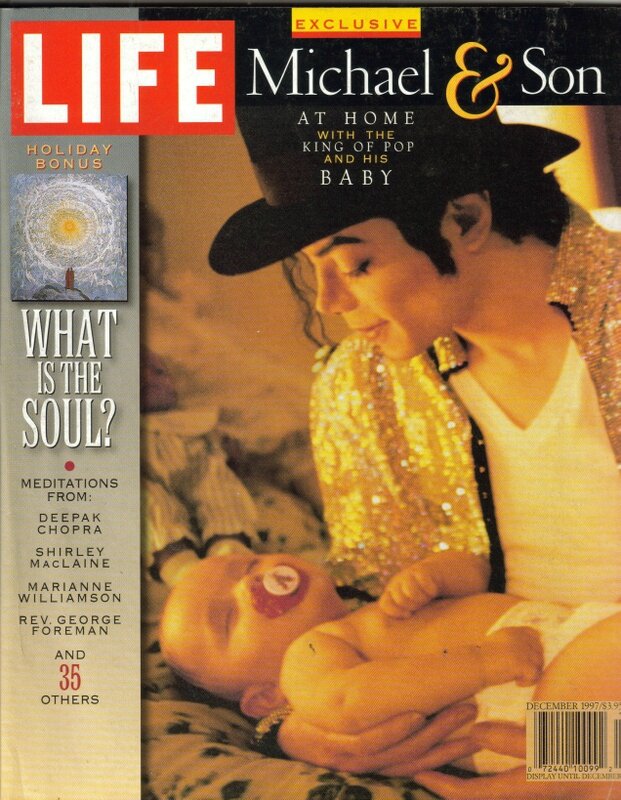 Un mois auparavant, le photographe Harry Benson, auteur des clichés figurant dans Life Magazine, est reçu sur le plateau de l'émission "The Tonight Show".
Comment l'idée de cette séance photo est-elle venue sur le tapis ?
Harry Benson: Eh bien, David Friend, qui est le directeur de la photographie du magazine Life, était resté en contact avec Michael au fil des années, comme nous tous. Et Michael a pensé que ce serait une bonne idée que nous venions pour photographier son bébé. Il veut aussi que Life photographie le bébé chaque année. Comme ce que nous avons fait pour Elizabeth Taylor.

En fait, c'est lui-même qui vous a choisi, Harry, pour prendre les photos, n'est-ce pas ?
Eh bien, j'ai toujours eu de bonnes relations avec lui, je pense que c'est parce que "Life" ne colporte pas d'histoires méchantes. Vous savez, nous faisons seulement... nous prenons seulement... vous voyez, c'est tout.

Ils ne portent pas de jugement
Oui. Vous savez... C'est le magazine de l'Amérique.

Quelles impressions avez-vous eues au sujet de Michael et de son comportement avec le bébé ? Il s'appelle Prince, c'est ça ?
Eh bien, il l'appelait... Michael l'appelait Apple Head ('Tête de Pomme').

Apple Head ?
Oui, Apple Head.

Oh, eh bien, c'est un joli petit surnom...
C'était très touchant, très attendrissant. C'était vraiment agréable. C'était très... vous voyez, une scène très agréable.

C'était donc un papa gâteau.
Absolument! Je lui ai demandé s'il aimait changer les couches du bébé et il m'a dit "Noooon", il n'aimait pas le faire mais il le faisait.

Etait-ce une surprise pour lui que les photos soient prises dans la nurserie du bébé ou dans sa chambre ?
Dans sa chambre. Ce n'est pas dans mes habitudes de demander à voir la chambre des gens. J'aime voir la chambre des gens parce qu'elles sont le champ de bataille, le lieu de travail. Vous savez, on voit la vie dans une chambre.

Et en même temps, je sais que vous avez été agréablement surpris qu'il accepte et qu'il vous laisse librement circuler partout ?
Oui. La seule chose bizarre dans la chambre était ce grand trône à l'intérieur. Vous savez, un énorme trône rouge.

Est-ce là qu'il s'asseoit ou... le bébé ?
Eh bien, il s'est assis là avec le bébé et c'était très sympathique. Vous savez, il a donné à manger au bébé. Et il a fait beaucoup d'autres choses que l'on fait lorsque la mère n'est pas à la maison...

Justement, où est la mère, elle ne vit pas avec lui, exact ?
Oui, eh bien... Michael dit qu'elle vient de temps en temps et qu'elle est là assez souvent. Mais, je n'étais pas beaucoup chez moi moi non plus quand mes enfants étaient petits.

Jetons un oeil à l'autre photo, je sais qu'il avait une idée précise des photos qu'il voulait que vous montriez. C'est une photo mignonne (Montre un cliché de Prince assis par terre, un micro à la main, dans le studio d'enregistrement de son père tandis que Michael Jackson, assis sur une chaise, le regarde).
Oui, c'est un endroit qu'il voulait me montrer et pour moi, c'est évident que Michael Jackson va avoir au moins dix enfants qui seront tous dans le show-business. Ils seront tous sur scène avec lui.

Cette fois-ci, ce sera les Jackson 10 ?
Ou les Jackson 7 (Note: "7" est le chiffre favori de Michael Jackson).

Parce que, de toute évidence, Debbie est enceinte d'un autre enfant ?
Oui, c'est exact. Et je suis sûr qu'il veut une grosse troupe sur scène avec lui.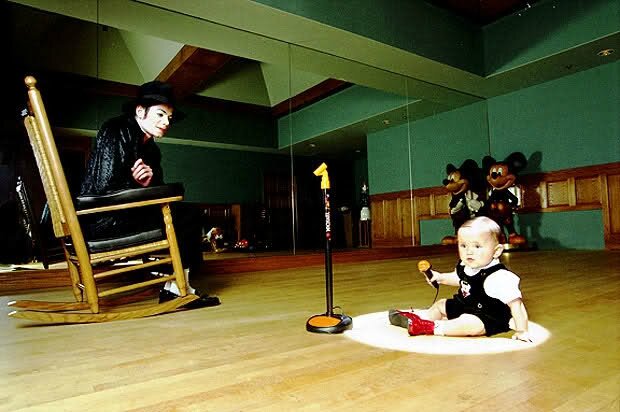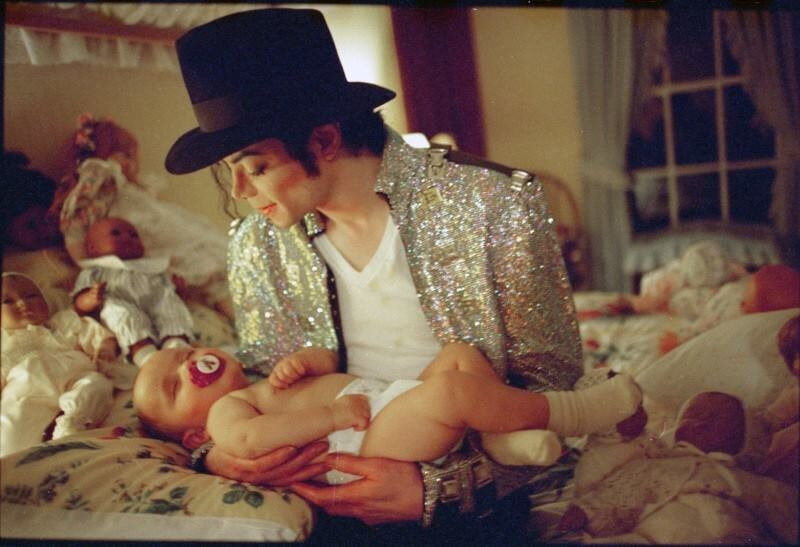 Harry Benson avait également déclaré dans une interview accordée à Architectural Digest en 2009 (voir l'article ici)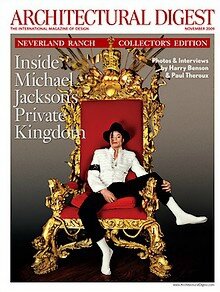 http://www.architecturaldigest.com/celebrity-homes/2009/michael-jackson-harry-benson-article
"J'ai rencontré Michael pour la première fois à flanc de coteau, dans le Colorado, en 1984. Il se produisait aux côtés de ses frères durant le célèbre Victory Tour. Michael a été le premier à arriver en courant pour m'aider lorsque j'ai glissé sur une pente escarpée et boueuse. Je ne m'étais pas fait mal mais quelques-uns de mes objectifs étaient couverts de boue. C'est au cours de cette première rencontre que Michael a flashé sur l'une de mes vestes de sport en tweed écossais marron ; je l'ai donc retirée et je la lui ai donnée. Il a semblé content de mon geste et l'a immédiatement enfilée, a tendu les bras et s'est mis à virevolter dans le soleil éclatant tandis que je le photographiais courant et bondissant. Sur scène, ce soir-là, il scintillait, couvert de paillettes. J'ai repris l'avion pour New York avec les clichés.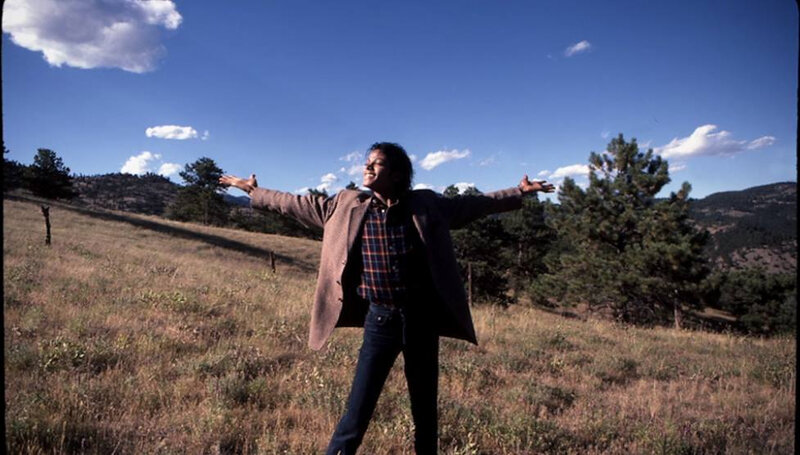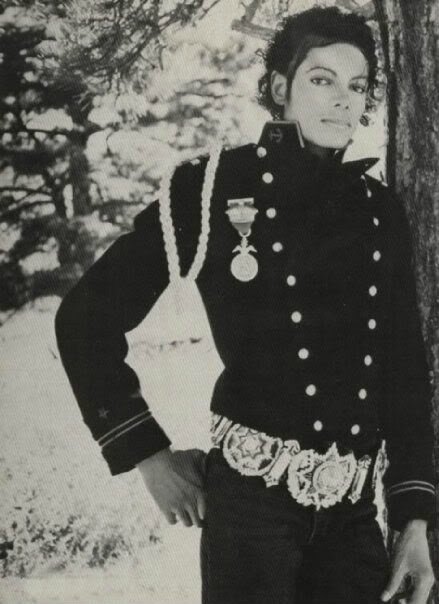 Le Victory Tour a continué sur sa lancée donc j'ai rejoint Michael à Philadelphie pour plus de photos. La même chose s'est reproduite. Cette fois-ci, c'était une veste Harris grise en tweed. Je l'ai vu regarder attentivement les couleurs du tweed. Elles semblaient le fasciner donc, à nouveau, je lui ai offert ma veste. Un peu plus tard, je me suis amusé de voir des images de Michael au journal télévisé, portant la veste et se ruant dans une limousine, assailli par les fans.

En 1985, j'ai photographié Michael lors de la session d'enregistrement nocturne de "We Are The World" à Los Angeles, destinée à récolter de l'argent au profit des enfants souffrant de la famine en Afrique. Quincy Jones avait mis une pancarte indiquant "Laissez vos egos à la porte" et c'est exactement ce qu'ont fait les 45 stars qui ont participé. L'artiste connu sous le nom de Prince n'a cessé de téléphoner en disant qu'il envisageait de venir. Quincy lui a dit de se dépêcher étant donné qu'ils avaient commencé à travailler. J'ai entendu Michael en train de dire "Prince ne viendra jamais tant que je suis là". Quand Prince a rappelé, Quincy lui a dit de ne pas se déranger ; tout était terminé.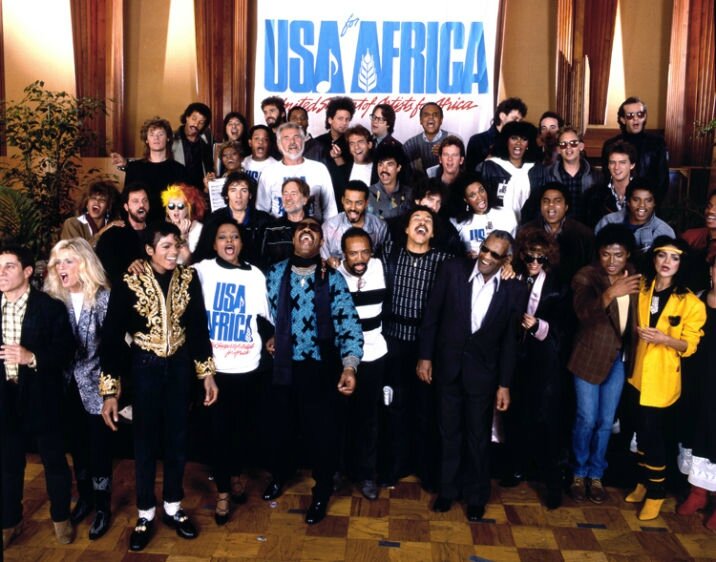 Lors de notre première rencontre, Michael semblait timide. Il parlait de cette voix très douce et aiguë reconnaissable par tout le monde mais étrangement, au bout d'une dizaine de minutes, la tonalité est devenue plus grave même s'il parlait encore très doucement. J'ai constaté que beaucoup d'hommes de pouvoir, des chefs d'Etat ou autres, s'exprimaient d'une voix très douce. Ils n'ont pas besoin de crier pour obtenir votre attention. Il faut essayer d'entendre ce qu'ils disent la première fois parce qu'ils n'aiment pas répéter. Michael était comme ça. Une heure plus tard, quand nous nous sommes revus, c'était pareil : la voix haut perchée et paisible s'est muée en une voix plus grave au bout d'une dizaine de minutes.

Quand j'ai vu Michael en 1995, une fois encore, ma veste en tweed lui faisait envie... donc je lui ai de nouveau donnée. Il l'a portée pour les photographies avec sa nouvelle épouse, Lisa Marie Presley.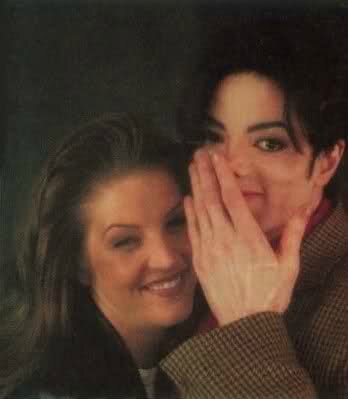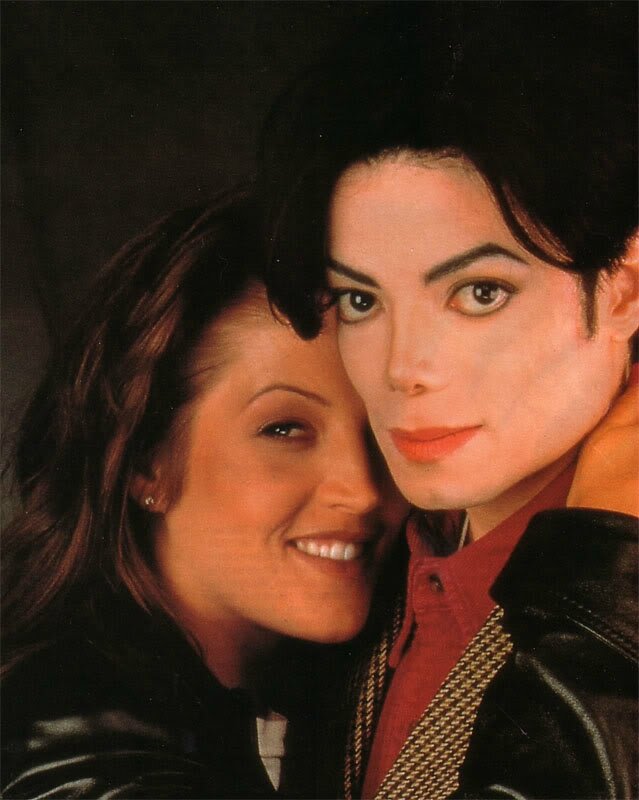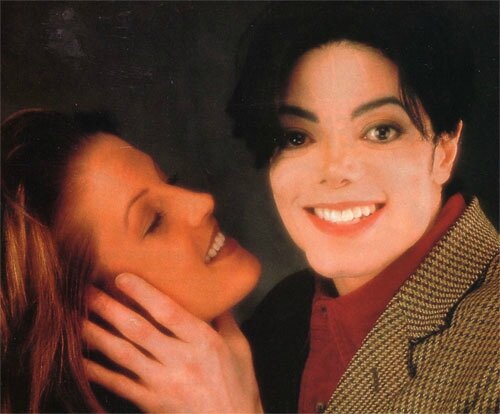 En 1997, j'ai visité Neverland pour photographier Michael avec son premier enfant, Prince Michael. Pendant qu'il nourrissait Prince, le visage du bébé a fini par être couvert de nourriture. Michael a plaisanté : "Oh, c'est l'heure de Linda Blair", faisant allusion à l'actrice du film L'Exorciste. Le bébé était heureux et riait. Plus tard, nous avons emmené Prince à l'étage, dans sa chambre, où Michael lui a donné le biberon et l'a gardé dans ses bras jusqu'à ce qu'il s'endorme en lui chantant de petites chansons, quelque chose qui parlait de bébé à son papa... Michael m'a dit que Prince l'avait inspiré à écrire encore plus de chansons qu'il n'en avait jamais écrites à d'autres périodes de sa vie.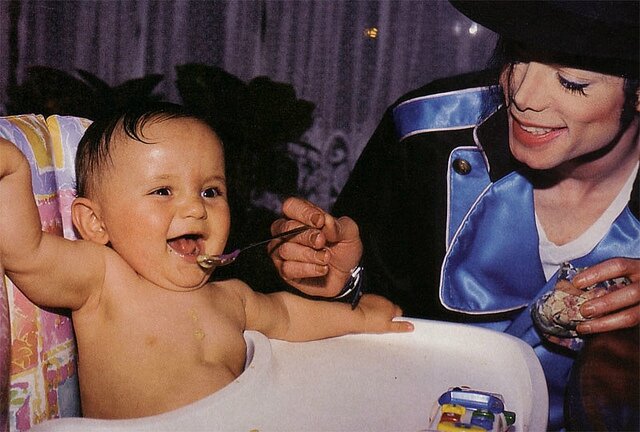 Le lendemain, Michael m'a emmené dans le studio d'enregistrement où il avait peaufiné le moonwalk. Il m'a expliqué qu'il emmenait souvent Prince là-bas pour qu'il le regarde répéter devant le mur couvert de miroirs et m'a dit que parfois, ils dansaient ensemble. J'étais convaincu que c'était ce qui allait se produire. Prince s'est assis, jouant avec un micro et observant le moindre mouvement de son père. Michael m'a dit que le moonwalk était très facile à faire. "Fais juste ça, Harry, et ramène ton pied en arrière". Inutile de dire que je n'ai pas eu la stupidité d'essayer !

A l'extérieur de sa chambre se trouvait un personnage de cire représentant un garde de la cavalerie de la Reine. La chambre elle-même était sombre et relativement simple, dans des tons beiges et bruns et, pour être honnête, un peu déprimante. A côté du lit se trouvait une énorme chaise rouge ressemblant à un trône et ornée de dorures. Au-dessus du lit à baldaquin en acajou figurait une peinture d'un Jésus blond.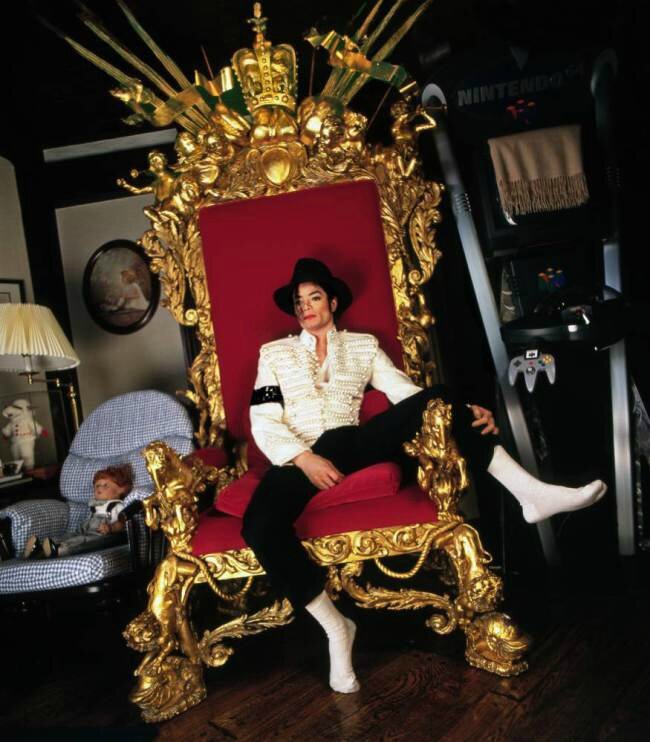 Il était facile de travailler avec Michael et il était ravi de me montrer sa maison. Toutes les photos ont été prises rapidement. C'est une chose que les gens oublient : on doit travailler vite pour que la personne ne finisse pas par s'ennuyer. Quand Michael m'a demandé ce que je voulais qu'il porte, je lui ai répondu "Sois simplement toi-même. Porte les vêtements avec lesquels tu te sens à l'aise".

On comprenait comment Neverland pouvait aider Michael à se vider la tête de tous ses soucis et le transportait loin de la réalité de sa vie stressante. Là-bas, il avait tout ce qu'il voulait. J'ai eu l'impression que Michael n'était en aucun cas un reclus. Il lisait les journaux et se tenait au courant de l'actualité. Un jour, il m'a demandé ce que je pensais des Reagan, qui étaient à la Maison Blanche à l'époque. Il était également curieux de savoir comment était l'écrivain russe Aleksandr Solzhenitsyn, étant donné qu'il avait vu les photos de lui que j'avais prises. Michael mettait un point d'honneur à savoir qui était qui et, tout le temps, ses yeux tristes cherchaient quelque chose, me regardant de près... De temps à autre, il éclatait de rire mais le plus souvent, il se contentait d'observer.
Même si je n'étais pas proche de Michael, notre relation était amicale et nous nous respections et c'est tout ce que l'on souhaite : quelqu'un qui vous laisse faire votre travail. Il me manquera. Son immense talent nous manquera à tous".

Source: MJLegend/MJBackstage/Elusive Shadow
Harry Benson parle de Michael: il évoque l'anecdote de la veste en tweed citée plus haut
Quelques photos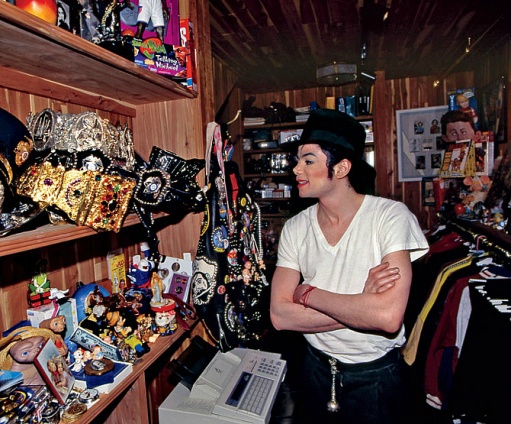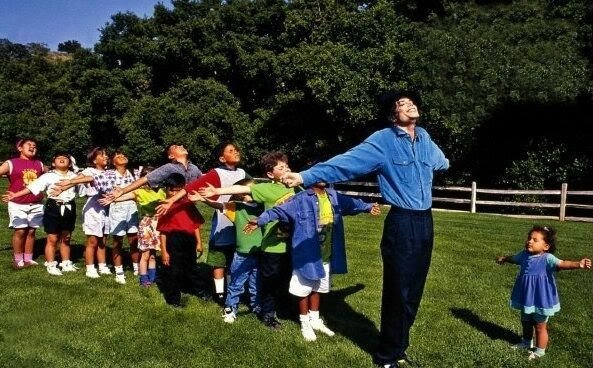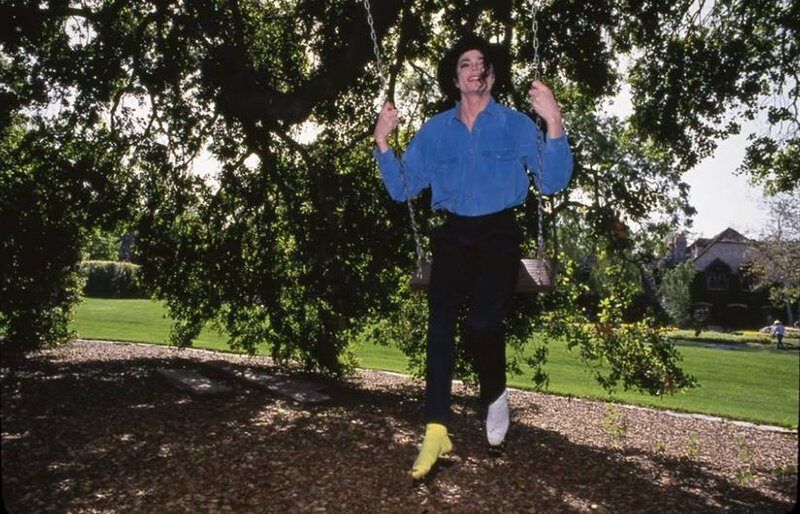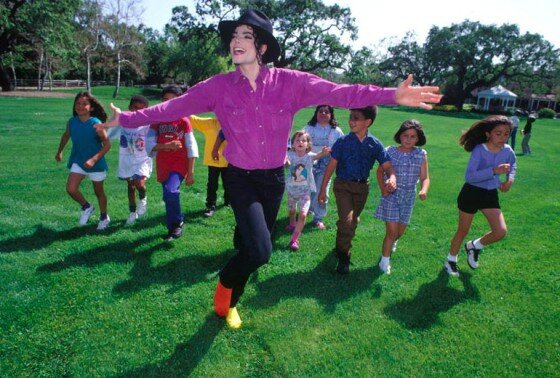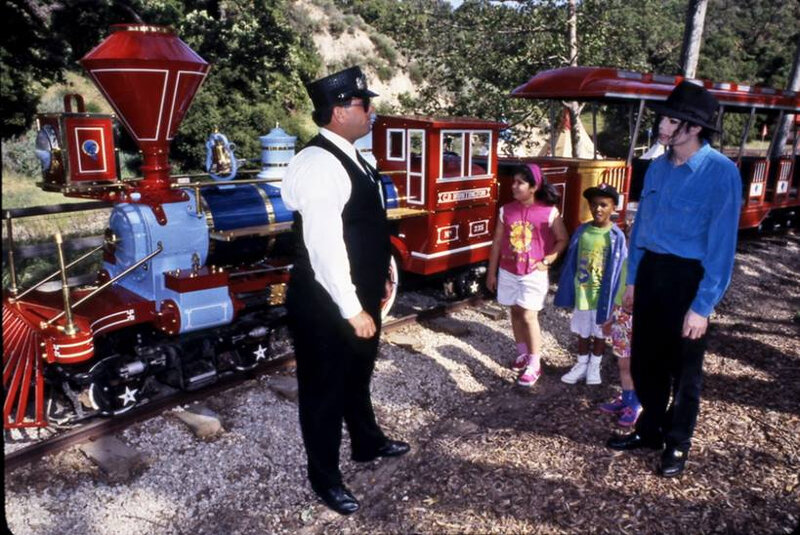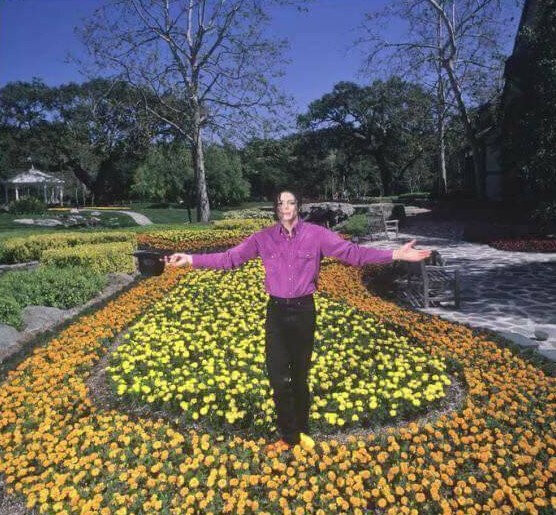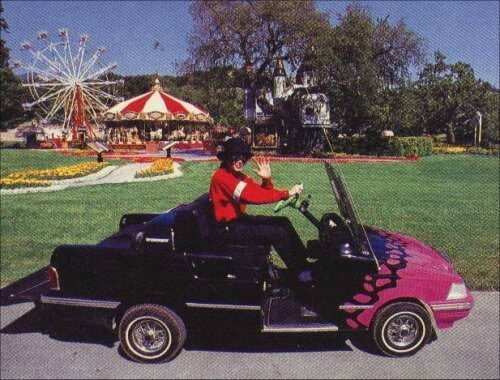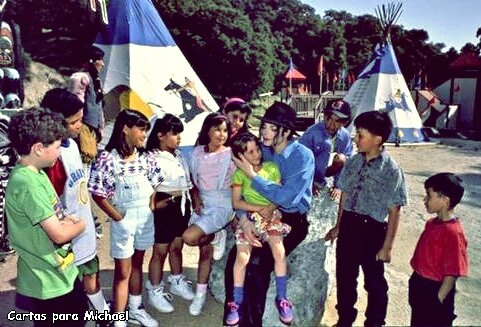 Voir aussi ici
Plus de photos sur la page facebook