Thriller est le sixième album solo de Michael Jackson. Sorti le 30 novembre 1982 chez Epic Records, il est produit par Quincy Jones et Michael lui même.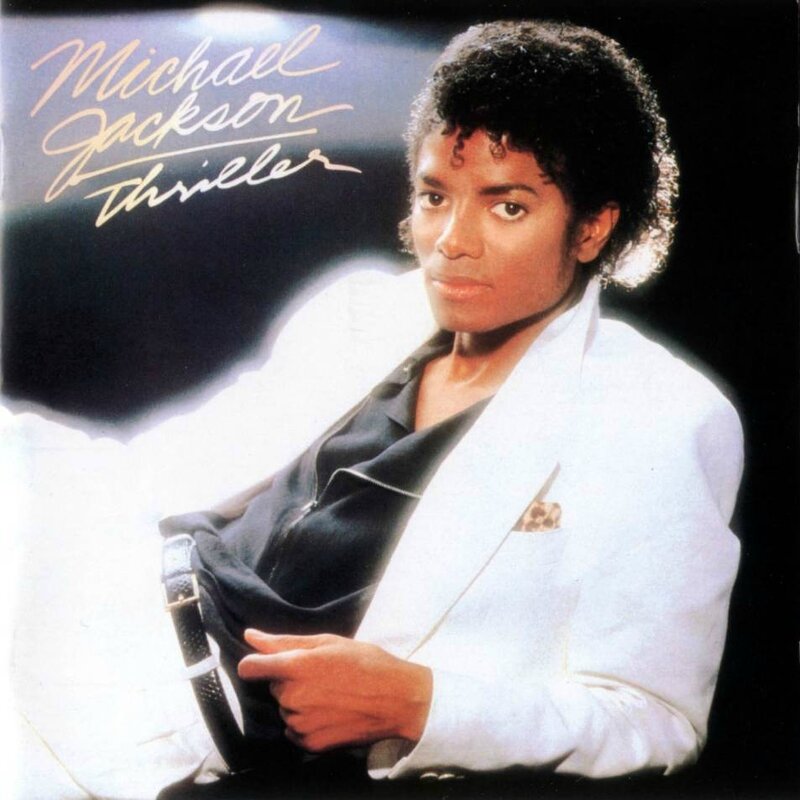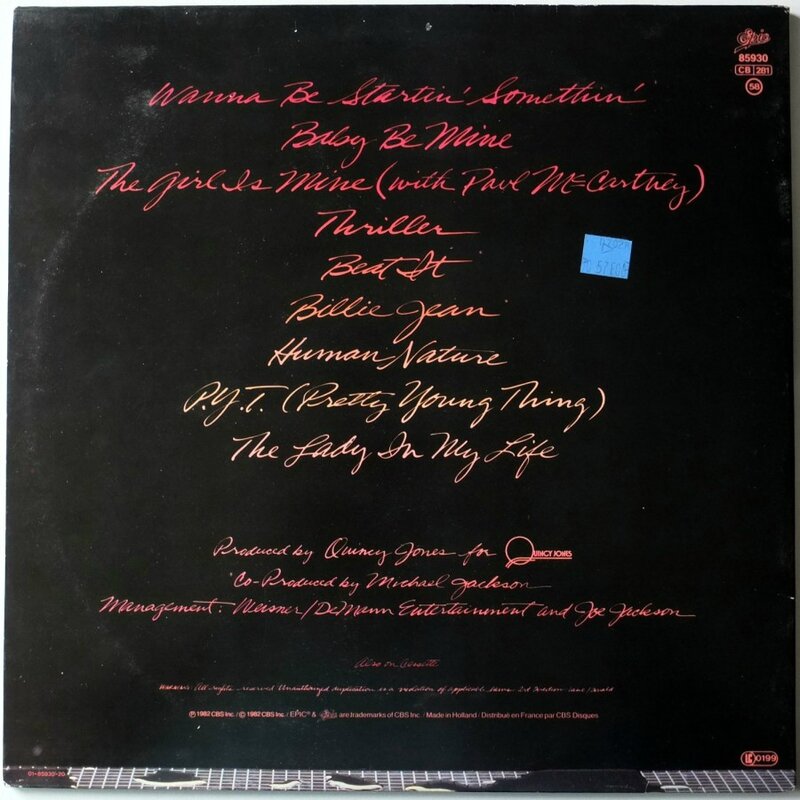 Michel-Ange a sa Chapelle Sixtine... Leonard de Vinci sa Joconde... Picasso ses Demoiselles ou Gustave Eiffel sa tour... Michael Jackson a quant à lui laissé à la postérité l'album le plus vendu de l'histoire de la musique. Selon les estimations, les chiffres varient entre 60 et 110 millions d'exemplaires. À la mort du chanteur, « Thriller » a de nouveau été le disque le plus demandé dans les bacs durant plusieurs mois.
L'origine du projet plonge dans la déception engendrée par l'énorme succès de « Off The Wall ». Michael a réalisé ce qu'aucun artiste noir avant lui n'avait fait mais il ne s'en satisfait pas. Le monde du showbusiness ne l'a pas récompensé à sa juste valeur. Il s'est senti humilié de ne recevoir qu'un seul Grammy Awards en 1980 en tant que Best R&B Vocal Male pour son Titre Don't Stop 'Til You Get Enough. Il se le jure, la prochaine fois, personne n'ignorera son travail.
La conception de son disque suivant doit mettre tout le monde d'accord : Michael souhaite que chaque chanson puisse être un hit. Huit mois durant (entre le 14 avril et le 8 novembre 1982, mais la plupart des sessions se déroule entre septembre et octobre), Quincy Jones et Michael s'enferment dans les studios WestLake à Los Angeles. Avec un budget de production de 750 000 dollars, la fine fleur des compositeurs et des musiciens est convoquée pour l'occasion. Rod Temperton, James Ingram, Eddie van Halen, le groupe Toto et même Paul McCartney sont conviés! Le résultat est aujourd'hui encore impressionnant : de fait, les chansons s'enchaînent comme autant de classiques. Si l'inspiration est sans doute moins joyeuse que sur « Off The Wall », avec des thèmes qui touchent (déjà) à la peur des rumeurs (« Billie Jean »), à la violence (« Beat it »), ou à l'horreur (« Thriller »), la force de ces chansons est imparable. Le son sur lequel Jones a travaillé est un modèle du genre : funk, soul et R&B emportent le tout tel un rouleau compresseur... Dès cette époque, Michael Jackson prend conscience que pour élargir la base de son public, qui lui est acquise, il doit intégrer dans son inspiration des fondamentaux venant d'autres inspirations. L'exemple le plus frappant en est la présence d'Eddie van Halen sur les riffs de guitare de « Beat It ». Van Halen est à ce moment l'un des fers de lance du rock, emblématique d'une audience plus blanche que noire ! Le succès du single conduira Jackson à systématiquement renouveler l'expérience sur ses albums suivants...
Début novembre 1982, l'album est prêt. Mais « La production du « E.T. Storybook » force Michael Jackson et son équipe à rogner sur certains détails de l'album « Thriller ». Lorsque Jackson, Jones, Swedien et les grands pontes de CBS se retrouvent pour écouter le master final de l'album, la déception est palpable :le mix est mal équilibré et l'ensemble sonne brouillon. Michael Jackson réalise que son oeuvre n'est pas prête et refuse de la livrer en état. Mais CBS compte sur l'album pour gonfler son chiffre d'affaires. Toutefois, la jeune star campe sur ses positions et finit par gagner cette bataille. Après deux jours de repos, il reprend le chemin du studio avec Quincy Jones et Bruce Swedien pour remixer chaque chanson, à raison d'un titre par jour.
C'est ainsi que la longue intro de « Billie Jean » est écourtée (elle ressurgit sur le maxisingle) et Rod Temperton accepte d'ôter un couplet de « The Lady in my Life » (la version intégrale apparaît en 2002 sur un CD d'éditeur publié par Chrisalys : « The Rod Temperton Songs »).
Richard Lecocq, Michael Jackson - King 1979-2009 : l'Œuvre, 2011
À la suite de la sortie du premier single de l'album, The Girl Is Mine (en duo avec Paul McCartney), sorti en octobre 1982, certains chroniqueurs prédisent un succès limité. Mais après la sortie du deuxième single, Billie Jean, l'album se hisse en tête des classements des meilleures ventes dans de nombreux pays. En une seule année, Thriller devient l'album le plus vendu au monde de tous les temps, et le demeure.
Les critiques musicaux sont enthousiasmés par Thriller et saluent la performance de Michael Jackson. Pour Rolling Stone, l'album est « somptueux », d'une « vitalité pure » et « une autre fontaine pour l'évolution créative de cet artiste prodigieusement doué ». Pour l'hebdomadaire People, « la volonté d'expérimenter et un sens du rythme sans aucune faille en font un album qui ne dément pas son titre ». Selon Variety, « Jackson retravaille des thèmes romantiques qui nous sont familiers de sa voix de fausset qui s'envole, légère ; il nous donne sa version avec élégance, dans une production adroite, vive, réminiscente de ses succès passés ». La revue musicale Stereo Review est impressionnée par « la production super-spectaculaire », « l'interprétation saisissante » et « la tempête de rythme et d'effets spéciaux ». Thriller est « flamboyant » et « ne renie pas son titre ». Autre revue musicale américaine, High Fidelity admire « la machine lisse et acérée » que constitue Thriller, il s'agit pour elle, d'« un travail de conscience et d'assurance inouïe ». Enfin, le New York Times loue un album « superbement fait » et conclut sur ces mots :« avec une confiance inébranlable qui colore l'album dans son entier, Thriller suggère que l'évolution de M. Jackson en tant qu'artiste est loin d'être terminée"

Sept des neuf chansons de l'album sortent en single et figurent toutes au Billboard Hot 100 (elles sont toutes entrées dans le Top 10).
- The Girl Is Mine (le 25 octobre 1982)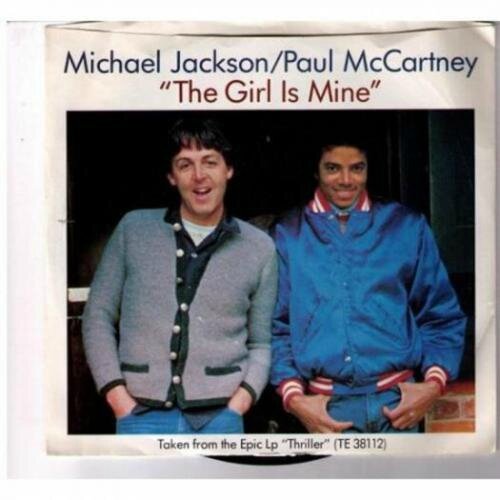 - Billie Jean (le 22 janvier 1983) (voir les dessous du clip ici)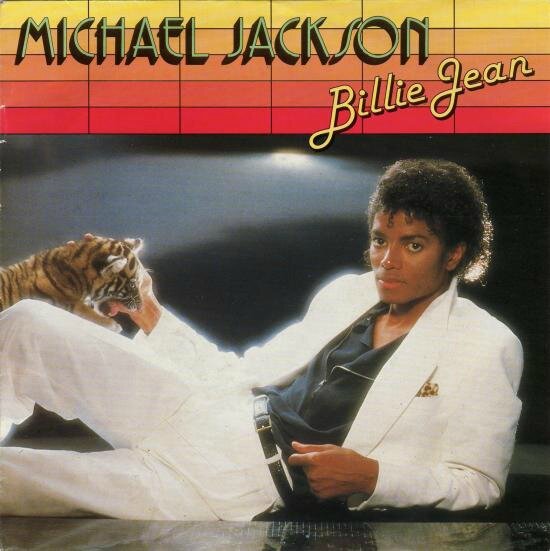 - Beat It (le 9 mars 1983)
- Wanna Be Startin' Somethin' (le 28 mai 1983)
- Human Nature (le 18 juillet 1983)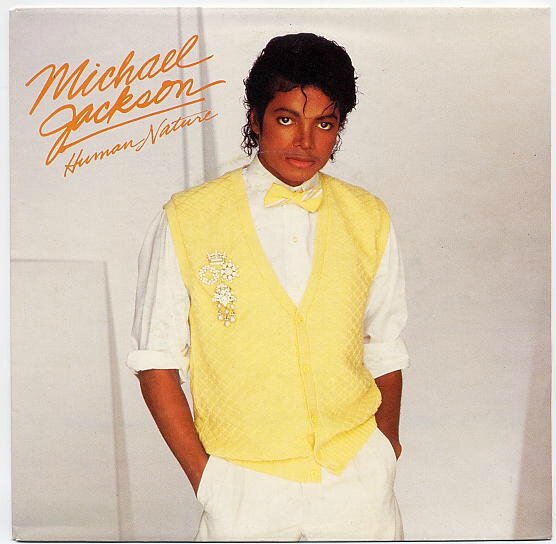 - P.Y.T. (Pretty Young Thing) (le 8 octobre 1983)
- Thriller (le 2 décembre 1983)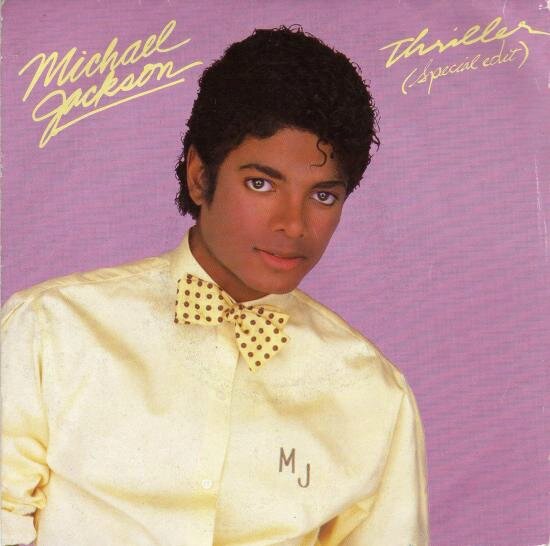 L'album obtient un nouveau record en remportant huit Grammy Awards en 1984, dans trois genres différents : pop, R&B et rock.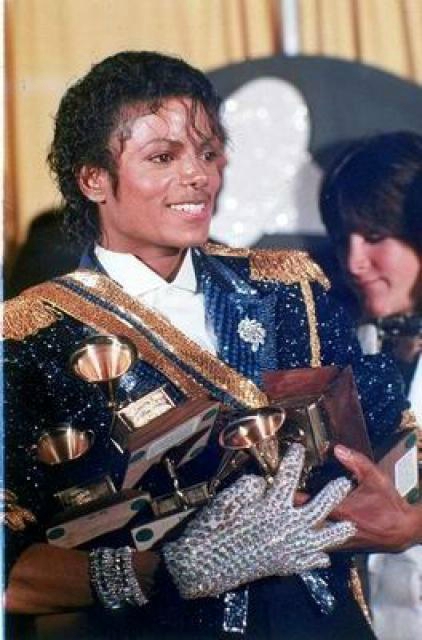 Avec Thriller, Michael Jackson acquiert un nouveau statut en devenant l'une des plus grandes stars de la fin du XXe siècle. Il lui permet notamment de briser les barrières raciales par l'intermédiaire de ses apparitions sur la chaîne musicale MTV et de ses rencontres avec le Président Ronald Reagan à la Maison-Blanche. L'album est également le premier à utiliser avec succès les clips comme moyen de promotion, ceux de Thriller, Billie Jean et Beat It passent en boucle sur MTV. Thriller est conservé par la Bibliothèque du Congrès par le biais du Registre national des enregistrements (National Recording Registry), ce qui est considéré comme une reconnaissance nationale de sa valeur culturelle.
Réédition:
« Thriller » est réédité en 2001 dans une version élargie intitulée « Thriller : Special Edition ». Les titres originaux sont remasterisés et l'album comprend un nouveau livret, des morceaux inédits, tels que « Someone In the Dark », « Carousel » et la maquette originale de « Billie Jean », ainsi que des entretiens avec Quincy Jones et Rod Temperton racontant l'enregistrement de l'album.
En février 2008, Sony BMG, en collaboration avec Epic Records, célèbre le 25ème anniversaire de Thriller en sortant l'album « Thriller 25 » et dont Jackson est le producteur exécutif. « Thriller 25 » est gravé sur CD mais également sur vinyle avec sept morceaux inédits : deux nouvelles chansons intitulées « For All Time » et « Vincent Price » ainsi que cinq remixes enregistrés par les artistes américains Fergie,, Will.I.Am, Kanye West et Akon. De plus, il contient un DVD où figurent trois clips, la performance de Michael Jackson sur « Billie Jean » lors du concert célébrant les 25 ans de la Motown ainsi qu'un livret avec un message de Jackson. Deux titres sortent en single : « The Girl Is Mine 2008 » et « Wanna Be Startin' Somethin' 2008 ». L'accueil critique de cet album est mitigé. Dans l'ensemble, les fans et les chroniqueurs musicaux trouvent que les remixes sont décevants et n'apportent strictement rien à l'original ».
Les chansons suivantes ont été enregistrées pour l'album Thriller, mais n'ont pas été retenues pour la sélection finale :
« Got The Hots »: co-écrite par Michael Jackson et Quincy Jones ;
« Starlight »;
« Nite Line »: écrite par Glen Ballard ;
« Al Capone »: co-écrite par Michael Jackson et Rod Temperton ;
« Goin' to Rio »: co-écrite par Michael Jackson et Carole Bayer Sager ;
« Sunset Driver »: co-écrite par Michael Jackson et Rod Temperton ;
« Carousel », aussi connue sous le nom de Circus Girl : composée par Michael Sembellot.
La pochette:
La pochette de l'album est confiée au photographe Dick Zimmerman, décrit par les médias comme un véritable génie. Surnommé le « Faiseur d'images », il est perçu comme le portraitiste le plus complet du XXe siècle. Nombreux sont celles et ceux qui font appel à ses services : acteurs, chanteurs, hommes politiques et autres personnalités influentes...
Zimmermann revient sur cet épisode marquant de sa carrière et livre quelques anecdotes sur cette séance légendaire. (Version originale publiée sur http://www.dickzimmerman.com/stories.html.)
La première rencontre
« Ma première rencontre avec Michael Jackson a eu lieu dans un studio d'enregistrement situé sur Beverly Boulevard à Hollywood, où il avait alors terminé les trois quarts de l'enregistrement de ce qui allait devenir l'album le plus vendu de l'histoire. La maison de disques CBS m'a fait savoir que la pochette serait réalisée soit par moi, soit par un autre photographe de renom dont l'identité ne m'a jamais été révélée.
Michael tenait à rencontrer personnellement les deux candidats avant de donner sa décision. Pour avoir travaillé sur d'autres projets avec lui depuis, je sais qu'il a besoin de s'entourer de personnes qui sont au top dans leur profession, ne sont pas égoïstes, des gens de confiance et créatifs. Mais aussi, il était important pour lui de trouver quelqu'un qui le traiterait avec délicatesse, en lui montrant de la considération.
Il ne voulait pas travailler avec quelqu'un de menaçant ou d'offensant. Lorsque je l'ai vu franchir doucement les portes du studio, ma première impression était qu'il semblait plus petit et plus mince que je ne le pensais. Sa poignée de main était très douce, à peine ferme, et j'ai bien veillé à lui retourner la même.
En discutant, Michael m'a posé des questions sur ce que j'aimais et n'aimais pas, avec sa voix qui ressemblait à un chuchotement. De sa façon de lancer ses questions, je pouvais sentir que j'étais observé de façon assez fine. C'est à ce moment-là que j'ai compris à quel point il était important pour Michael de travailler avec le type exact de personnes capables de le mettre à l'aise. Notre rencontre a duré vingt minutes et nous nous sommes quittés sur un au revoir cordial. »
Le rappel
« Trois jours plus tard j'ai reçu un appel de CBS m'informant que la première phase était terminée et que Michael souhaitait me rencontrer dans mon studio pour regarder mes travaux. À l'entrée de mon studio se trouve une grosse sonnerie, mais j'ai entendu frapper doucement à la place. Au lieu d'envoyer ma secrétaire ouvrir, je voulais répondre moi-même. Je tenais à ce que Michael sente que j'étais approchable et réel, et je voulais éviter toute situation qui pouvait le rendre mal à l'aise.
Évidemment, j'ai réussi l'examen et deux jours plus tard CBS m'a confirmé que j'étais sélectionné pour honorer cette tâche. La séance fut programmée et devait se dérouler deux semaines plus tard.
J'ai facturé ma prestation 4 000 dollars à CBS – ce qui était bien pour l'époque (et même très bien pour une pochette de disque). Pendant les deux semaines qui ont suivi, j'ai multiplié les rencontres avec les créatifs de CBS et le manager de Michael, Freddy DeMann. Le but était de créer un concept visuel qui ferait l'unanimité
pour cet album. »
Le jour du shooting
« Le jour du shooting est arrivé et j'avais engagé l'un des meilleurs stylistes de LA pour rassembler un large choix de vêtements, puis nous avons commencé à faire une dure sélection de tenues pour la pochette et son intérieur. Après plus d'une heure de recherches, Michael n'avait rien trouvé d'emballant. J'ai commencé à paniquer pendant un moment, puis j'ai remarqué que Michael regardait le costume blanc que je portais. Il m'a demandé si nous avions quelque chose de la sorte. Ce n'était pas le cas, alors je lui ai proposé d'essayer le mien. En tenant compte de ses choix, c'était exactement ce qu'il voulait. Heureusement, le costume lui allait.
Avant la séance, nous avions décidé que Michael serait pris en photo avec un bébé tigre et nous lui en avions sélectionné plusieurs. Il est tombé amoureux d'un petit de six semaines mais était un peu effrayé à l'idée de le voir s'approcher trop près de lui, de peur d'être griffé. Pendant la séance j'ai dû lui dire d'oublier cela et de se concentrer sur l'objectif.
Pendant les pauses, Michael se plaçait devant une grande glace et s'entraînait à tourner sur lui-même. Il faisait ces fameuses vrilles qui nous sont si familières. Il prenait vie devant ce miroir. C'était fascinant, car il s'était montré tellement timide et assez maniéré pendant le shooting. À l'heure du déjeuner, il s'est fait livrer un repas végétarien, commandé chez ***, son restaurant favori situé sur la 3e Avenue. En fait, quelques mois plus tard, il avait engagé le chef de ce restaurant et, à ce jour, il est resté son cuisinier personnel.
Le shooting a duré près de six heures sans aucun problème particulier. À la fin de la journée, en se disant au revoir, nous avions convenu de nous revoir pour regarder les résultats. Quatre jours plus tard environ, les photos étaient prêtes, et nous avons retrouvé Michael au studio situé sur Beverly Boulevard. Michael était en train d'achever une des chansons, et j'ai installé mon matériel afin qu'il puisse voir les diapositives une par une. »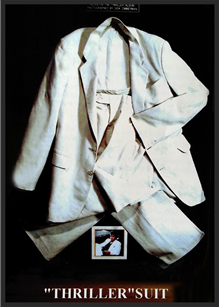 La pochette de l'album
« Michael est entré dans le studio – il était de bonne humeur. Il a regardé les photos et était ravi du résultat. Il a dit : "Il y en a de très bonnes, comment vais-je faire pour choisir ?" Il m'a demandé de patienter un instant, et est reparti vers le studio d'enregistrement. Il est revenu avec Quincy Jones. Quincy regarda les diapos, en choisit une sans hésitation, et dit : « Voilà la pochette ! »
C'est la première fois que je voyais quelqu'un choisir une photo si rapidement et c'était une bonne décision. J'étais content, Michael était content, la maison de disques était contente, et je pense que le monde entier était content ».
Richard Lecocq, Michael Jackson - King 1979-2009 : l'Œuvre, 2011.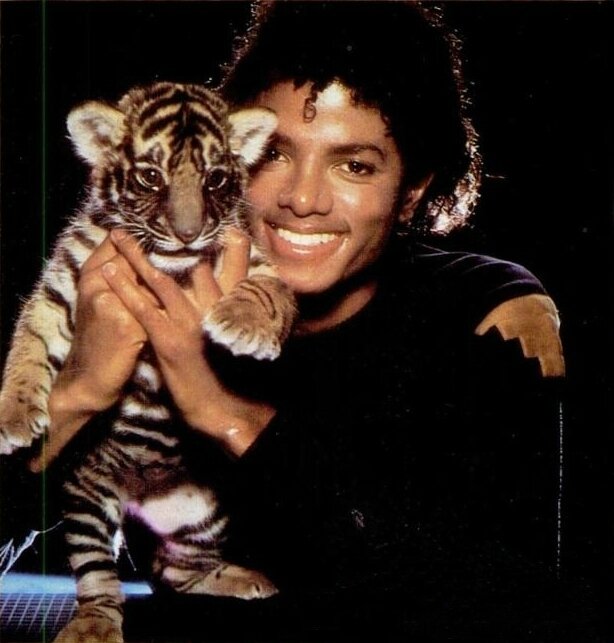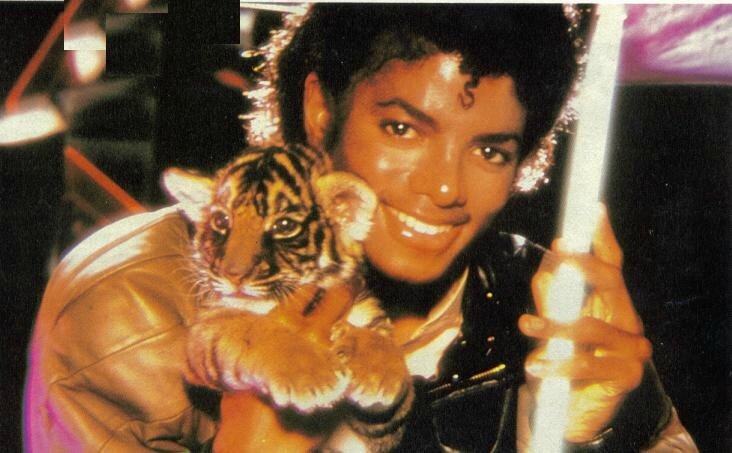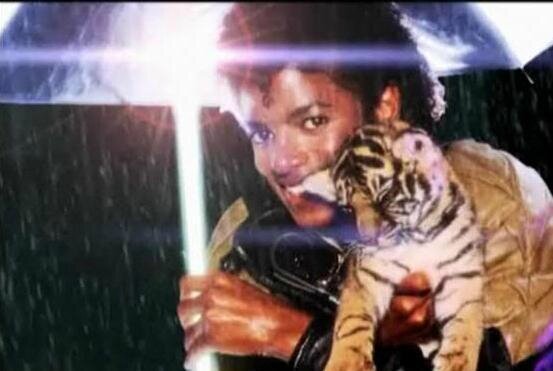 Anecdotes
- Au total, près de 300 photos ont été prises le jour de la séance photo pour la pochette de Thriller.
- Le tigre choisi par Michael Jackson était surnommé "Little William".
- Plusieurs variantes de la pochette ont été réalisées: des photos avec et sans le tigre, Michael Jackson habillé en blanc ou vêtu d'une veste en cuir, avec la veste de costume ou simplement en chemise..

Tracklist
1. Wanna Be Startin' Somethin', 6:02 Michael Jackson
2. Baby Be Mine, 4:20 Rod Temperton
3. The Girl Is Mine (avec Paul McCa¬rtney), 3:42 Michael Jackson
4. Thriller, 5:57 Rod Temperton
5. Beat It, 4:17 Michael Jackson
6. Billie Jean, 4:54 Michael Jackson
7. Human Nature, 4:05 John Bettis, Steve Porcaro
8. P. Y. T, (Pretty Young Thing), 3:58 James Ingram, Quincy Jones
9. The Lady in My Life, 4:59 Rod Temperton

Production
Brian Barns : claviers, synthétiseur, programmation
Michael Boddicker : claviers, synthétiseur
Leon Ndugu' Chancler : batterie
Paulinho da Costa : percussion
David Foster : claviers, synthétiseur
Gary Grant : trompette, bugle
Eddie Van Halen : guitare (Beat It)
Jerry Hey : trompette, bugle
Michael Jackson : co-producteur, chant, arrangements, batterie
Paul Jackson : guitare
Louis Johnson : guitare basse
Quincy Jones : producteur, arrangements
Steve Lukather : guitare, guitare basse
Anthony Marinelli : programmation synthétiseur
Paul McCartney : chant (The Girl Is Mine)
David Paich : claviers, synthétiseur, programmation
Dean Parks : guitare
Greg Phillinganes : rhodes, claviers, synthétiseur, programmation
Jeff Porcaro : batterie, cor et arrange¬ments d'instruments à cordes
Steve Porcaro : auteur, claviers, syn¬thétiseur, programmation
Vincent Price : voix (Thriller)
Bill Reichenbach : trombone
Bruce Swedien : ingénieur du son, mixage
Rod Temperton : auteur, claviers, synthétiseurs
David Williams : guitare
Larry Williams : saxophone et flute
Bill Wolfer : claviers, synthétiseurs
La Toya Jackson : choeurs (PYT)
Janet Jackson : choeurs (PYT)
Julia Waters : choeurs (Wanna Be Startin' Somethin')
Maxime Waters : choeurs (Wanna Be Startin' Somethin')
Oren Waters : choeurs (Wanna Be Startin' Somethin')
James Ingram : auteur, choeurs (Wanna Be Startin' Somethin')
Bunny Hull : choeurs (Wanna Be Startin' Somethin')
Becky Lopez : choeurs (Wanna Be Startin' Somethin') »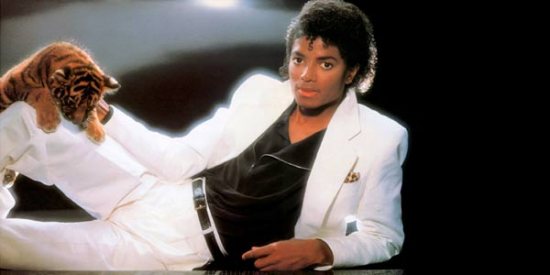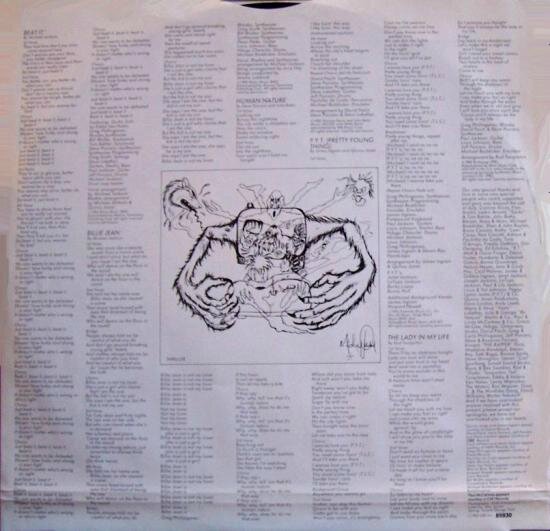 Sources: King, R. Lecocq/Elusive Shadow/Wikipédia