En octobre 1983, près d'un an après la sortie de l'album Thriller, Michael Jackson débute le tournage du short film Thriller. Il fait appel à John Landis, le réalisateur du Loup-Garou de Londres, un film qu'il a adoré.
Le metteur en scène de 33 ans a déjà cinq films à son actif, dont Les Blues Brothers.
« Michael était très impressionné par la séquence de métamorphose d'American Werewolf, raconte Landis. Il voulait devenir un monstre à son tour. Je ne voulais pas tourner une vidéo rock, car ça ressemblait trop à un spot de pub. Je me suis dit que j'allais me servir de la notoriété de Michael Jackson pour tourner un court métrage qu'on pourrait projeter en première partie au cinéma, comme ça se passait dans le temps avec Laurel & Hardy ou les Trois Stooges. Michael a été emballé par l'idée. Il a appelé Walter Yetnikoff et lui a parlé du projet. Puis Michael m'a passé le téléphone et Yetnikoff m'a hurlé dessus. En essence, il me disait que l'album était déjà un best-seller, qu'il avait passé un an à la première place des ventes et que ça se vendait toujours, donc fuck la vidéo, et va te faire foutre. J'ai rendu le combiné à Michael en me disant que le projet était déjà mort avant d'être né, mais il m'a juste dit " Oh, c'est OK, je vais payer ". Il voulait financer tout le projet qui pouvait facilement finir par coûter un million de dollars ou plus. C'était dingue. »
Landis rentre donc dans l'histoire, mais un problème se pose : la chanson « Thriller » dure six minutes.
« Or moi, je voulais que le morceau tourne pendant une douzaine de minutes, explique Landis. J'ai demandé à Quincy Jones et Bruce Swedien si je pouvais avoir les pistes du morceau original, ils ont refusé catégoriquement. J'ai dit à Michael que j'en avais besoin, on a été au studio vers deux heures du matin et on a embarqué les 39 pistes. Donc quand vous voyez la vidéo de " Thriller " le morceau est complètement remixé et redécoupé. Le mix cinéma est différent du mix audio. J'ai fait ça, mais je ne pouvais pas utiliser le " rap " de Vincent Price parce que sur la bande, ils l'avaient enregistré sur la même piste que le synthé. Alors j'ai appelé Vincent Price et je lui ai demandé de venir réenregistrer sa voix. Il est venu au studio, je lui ai redonné les textes et ils les a refaits en une seule prise. Parfait. Je lui ai même demandé s'il pouvait me faire son fameux rire, et il l'a fait aussi. Après on a été déjeuné, c'était une belle journée. »
La fille qui sort avec Michael dans le clip n'est autre qu'Ola Ray, une native du Missouri qui a été play-mate du mois dans le magazine Playboy en juin 1980. Dans l'article accompagnant la série de photos du magazine de charme, Ola citait parmi ses artistes favoris Donna Summer et Michael Jackson. Trois ans plus tard, elle partage la vedette avec son idole dans le clip le plus cher de l'histoire. (voir l'article)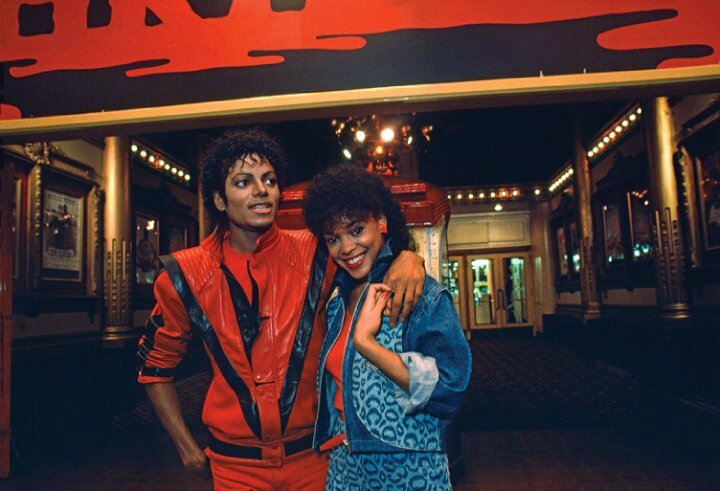 Financement
« Thriller » se voit allouer le budget pharaonique de 600 000 dollars, somme que Michael Jackson était prêt à débourser de sa propre poche. Cela représentait 24 fois le montant habituellement utilisé par un artiste pour produire un clip musical! A l'époque, c'était l'avocat John Branca qui s'occupait des affaires de la superstar. Il l'informa qu'engager une telle fortune sans garantie de succès était un pari risqué.
Michael Jackson écouta le conseil et lui suggéra de trouver des manières de financer le clip en limitant la prise de risques. Ensemble, ils décidèrent de diffuser dans le commerce une seconde vidéo, intitulée "The Making Of Thriller", qui raconterait les étapes de la création du clip. Une plongée au coeur des séances de répétitions, des heures de maquillage, des chorégraphies et de l'ambiance du tournage. C'est avec cette idée que John Branca parvint à décrocher un contrat: la société Vestron Vidéo acheta pour la somme de 500 000 dollars le droit de diffuser le making of.
Ensuite, il contacta la chaîne musicale MTV et leur fit une proposition qu'aucun artiste n'avait jusqu'ici osé faire. Nous sommes en 1983. Souvenez-vous, encore un an auparavant, en 1982, aucun artiste noir n'était diffusé sur MTV. Un musicien blanc qui parvenait à placer son clip dans la grille de programmation de la chaîne pouvait déjà s'estimer satisfait. Au début de l'année 1983, la maison de disques CBS avait dû utiliser toute sa puissance commerciale pour contraindre MTV à diffuser les clips de Michael Jackson: si la chaîne refusait, alors CBS lui interdisait de montrer tous les clips de tous ses artistes. Devant cette menace, MTV avait cédé et diffusé « Billie Jean » et « Beat It ».
Michael raconte dans « Moonwalk » : « Le prochain (clip) devait être « Thriller ». Le scénario de la chanson était suffisamment ouvert pour donner un maximum de libertés à un bon réalisateur. Aussitôt la décision prise, j'ai su qui je voulais engager. L'année précédente, j'avais vu un film d'horreur qui s'appellait « An American Werevolf In London » et je savais que le réalisateur, John Landis, serait parfait pour Thriller, puisque le même type de transformation arrivait au héros de « Thriller ».
Nous avons donc contacté John Landis et il a accepté. Ila proposé un budget et nous nous sommes mis au travail. Les détails techniques de ce film étaient tellement ahurissants que John Branca, mon avocat, et l'un de mes plus précieux conseillers, me téléphoné. Il travaillait avec moi pour « Off The Wall » et il m'avait aidé à déléguer mes pouvoirs auprès de gens très compétents depuis la sortie de « Thriller ». John paniquait parce que le budget prévu au départ pour le clip de « Thriller » avait déjà doublé. Comme je finançais ce projet moi-même, la dépense devenait préoccupante.
Mais John est arrivé avec une idée de génie. Il a suggéré qu'on fasse tourner une vidéo, séparée du tournage du clip, et de la faire produire par quelqu'un d'autre. C'était tellement évident qu'on s'est demandé pourquoi personne n'y avait pensé avant. On était sûrs que ce documentaire serait passionnant, et qu'il permettrait d'éponger une partie du dépassement du budget. John mit l'affaire sur pied en très peu de temps. Il fit produire le documentaire par la chaîne de télé MTV et par une autre station câblée, et Vestron diffusa le clip dès la sortie du disque « Thriller »
Le storyboard
C'est Dave Stevens, illustrateur de comics, créateur du célèbre Rocketeer qui dessine le storyboard du short film Thriller, en 1983. Décédé en 2008, à l'âge de 52 ans, l'artiste a ensuite collaboré avec les Jackson sur leur tournée Victory
MAJ du 11/06/2019, photos extraites du documentaire La Story de Michael Jackson, CSTAR)
Scénario du Clip
Le soleil s'est couché depuis longtemps lorsque la voiture d'un jeune couple (Ola Ray et Michael Jackson) tombe en panne d'essence sur une route déserte. La jeune femme semble très ennuyée et apeurée, son petit ami se révèle plutôt amusé par la situation et décide de profiter du moment pour lui déclarer sa flamme. Ils abandonnent la voiture et commencent à marcher le long de la route.
- Je peux te demander quelque chose ? interroge Michael Jackson
- Quoi ?
- Tu sais que je t'aime bien, n'est-ce pas ?
- Oui.
- J'espère que tu m'apprécies comme je t'apprécie ?
- Oui.
- Je me demandais si tu voudrais bien sortir avec moi ?
La jeune fille l'enlace tendrement et lui embrasse la joue.
Ola Ray se souvient : « Je devais l'embrasser dans le clip et...j'avais pensé que c'était plus correct de l'embrasser simplement sur la joue. Mais je crois que si c'était à refaire, je l'embrasserais sur les lèvres. Il était tellement mignon à l'époque. ».
Michael Jackson lui offre une bague et sourit « Maintenant, c'est officiel ».
- Je dois te dire quelque chose.
- Oui, Michael ?
- Je ne suis pas comme les autres mecs.
- Bien sûr que non, c'est pour ça que je t'aime !
- Non... Je veux dire que je suis différent...
- Qu'est-ce que tu veux dire par là ?
Pas de réponse mais dans le ciel, les nuages dévoilent la pleine lune, le charmant jeune homme semble soudain habité par une force intérieure démoniaque, éclate d'un rire satanique.
- Est-ce que ça va ? s'inquiète sa fiancée.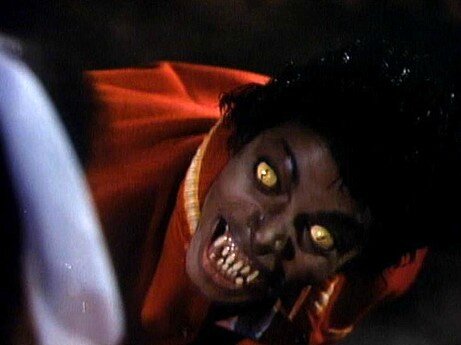 C'est un visage monstrueux qui se tourne vers elle et lui répond dans un grognement « Va-t-en ! ». Hurlante, terrorisée, elle s'enfuit, course poursuite dans un bois sur fond de musique angoissante, la bête griffue finit par la rattraper. Au moment où elle se penche sur la jeune fille sans défense, on découvre que tout ceci n'est qu'un film. Michael Jackson, assis aux côtés d'Ola Ray dans une salle de cinéma, visionne avec elle le dernier film d'horreur à la mode en s'empiffrant de pop-corn. Malgré la présence de son compagnon, elle n'est pas rassurée et sort du cinéma. Galant, il la rejoint et la taquine un peu. C'est à ce moment qu'est lancée la bande-son de la chanson « Thriller », soit environ 4 minutes après le début du clip.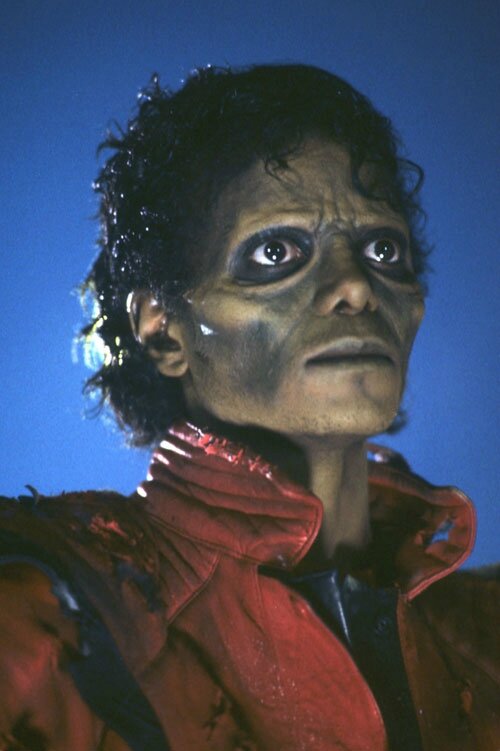 Le jeune homme danse autour de sa compagne et, alors qu'ils longent ensemble un cimetière, une armée de morts-vivants émerge des tombes, de la terre meuble, des bouches d'égout ; des corps en décomposition sortent des caveaux et se dirigent vers le couple qui se retrouve prisonnier des zombies. La caméra zoome sur le visage terrifié d'Ola Ray et soudain, alors qu'elle fait volte-face, elle s'aperçoit que Michael Jackson s'est transformé en mort-vivant, le teint verdâtre et le regard vitreux. La manière de filmer cette séquence est extraordinaire : en jouant sur le travelling et les brutaux changements de la cible filmée, on donne au spectateur l'impression d'entrer dans la scène, ce qui accentue l'impact des images.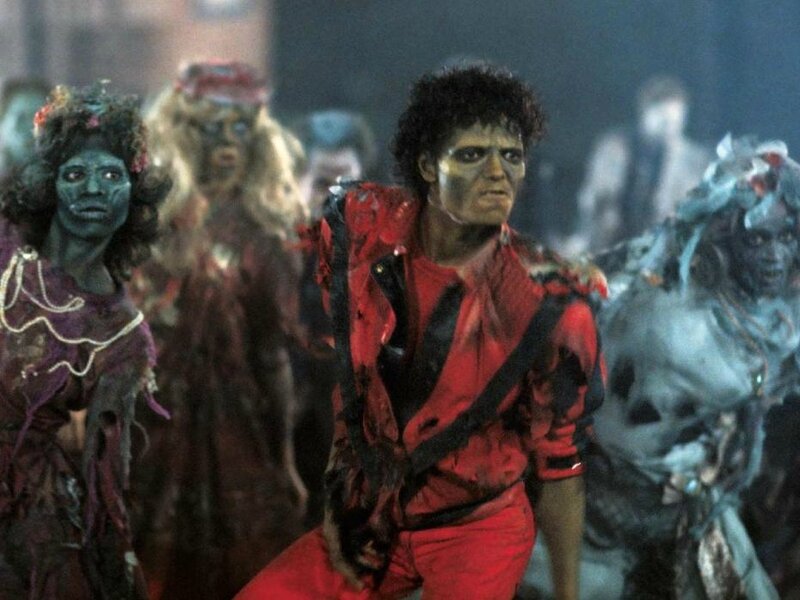 La chorégraphie qui s'ensuit est réglée au millimètre près et suit exactement la mesure de la musique. Chaque geste est calqué sur les évolutions de la mélodie. Ola Ray court s'enfermer dans une vieille maison abandonnée où elle est bientôt rattrapée par ses poursuivants. Menaçants, ils brisent la porte et s'avancent vers elle. Michael Jackson, devenu le général de cette armée macabre, tend la main vers elle, elle pousse un hurlement strident qui la réveille.
- Qu'est-ce qu'il t'arrive ?
Michael Jackson, son petit ami séduisant, est penché sur elle et l'enlace d'un bras protecteur.
- Allez, viens, je vais te raccompagner chez toi.
Le spectateur croit que tout ceci n'était qu'un cauchemar, que le clip s'achève ainsi, en happy end... et soudain, le chanteur se tourne une ultime fois vers la caméra. Au milieu de ce visage juvénile, deux yeux jaunes, les yeux d'une créature qui n'a rien d'humain, laissent deviner que le cauchemar d'Ola Ray pourrait bien se révéler prémonitoire.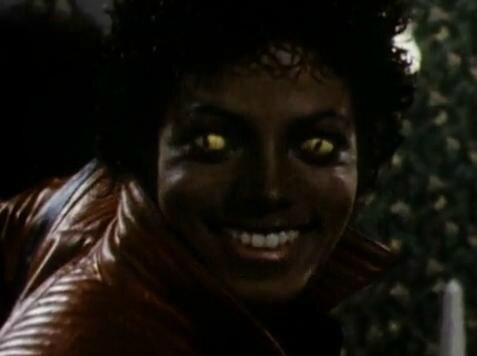 Lieux de tournage
« Thriller » a été tourné aux studios EFX ainsi qu'à différents endroits facilement identifiables, à Los Angeles et devenus cultes :
- le cinéma d'où sortent Michael et sa petite amie Ola Ray s'appelle le Palace Theatre. Il est situé au 630 South Broadway (Downtown Los Angeles). (voir ici)
- La maison où se réfugie Ola Ray à la fin du court-métrage se trouve dans les hauteurs d'Angeleno à Los Angeles, au 1345 Carroll Avenue. (voir ici)
- Le ballet des zombies a été filmé au croisement d'Union Pacific Avenue et de Calzona Street à Los Angeles ».
« Thriller » et les Témoins de Jéhovah
Michael Jackson a été élevé selon les préceptes des Témoins de Jéhovah. En effet, sa mère a été baptisée par la congrégation en 1963 (il avait donc 5 ans), dans la piscine du lycée Roosevelt de Gary. Chaque dimanche, elle conduisait ses enfants à la salle du Royaume (lieu de culte des Témoins de Jéhovah). Elle leur inculqua le respect et la crainte de Dieu. Parmi les Jackson, tous ne réagirent pas de la même manière à la religion: les plus réceptifs furent LaToya, Rebbie et Michael Jackson qui devinrent de fervents croyants.
En 1981, le chanteur reçut à son tour le baptême des Témoins de Jéhovah. Il respectait sa religion de façon stricte. En dépit de sa célébrité, il continuait à faire du porte à porte (ce devoir de missionnaire doit être accompli par tous les fidèles), à prier, à méditer, ne fêtait ni Noël ni son anniversaire comme le lui imposait sa religion. Mais lorsque les responsables de la confrérie apprirent la nature macabre du vidéo-clip de Thriller, ils lui envoyèrent un avertissement et menaçèrent de l'expulser des Témoins de Jéhovah. John Branca raconta plus tard que cette nouvelle avait tellement bouleversé le jeune chanteur qu'il lui avait téléphoné. En larmes, éprouvant des difficultés pour respirer, il avait été incapable de prononcer un seul mot. Pendant plusieurs jours, il tenta ainsi d'appeler pour exposer la situation à Branca. Finalement, il retrouva ses esprits et lui ordonna de détruire toute copie de la vidéo de « Thriller ».
Après maintes discussions infructueuses, Branca parvint à le convaincre de changer d'avis. Il lui expliqua que ce qu'une personne faisait en tant qu'acteur était indépendant de ce qu'elle était en tant que personne. Même si Michael Jackson incarnait un zombie dans le clip, cela ne signifiait pas qu'il croyait en l'occultisme. Le chanteur demanda cependant à ce qu'un avertissement apparaisse au début de la vidéo. C'est pourquoi on peut lire ces mots « Due to my strong personal convictions, I wish to stress that this film in no way endorses a belief in the occult » (« en raison de mes fortes convictions personnelles, je tiens à insister sur le fait que ce film ne s'appuie en aucun cas sur une croyance en l'occultisme »). Malgré ce message, les Témoins de Jéhovah firent paraître, dans une de leurs publications, un article exhortant les fidèles à se détourner de lui.
Diffusion
Lorsqu'il est diffusé pour la première fois sur MTV le 2 décembre 1983, « Thriller » surprend le public qui découvre un short film bien plus long que les clips vus jusque-là. Jackson et Landis ont élaboré un véritable court-métrage. Les quatorze minutes de « Thriller » correspondent à la durée de deux bobines de cartoons. La vision de John Landis, conjuguée à celle de Michael Jackson, donne naissance à un petit film qui, aujourd'hui, reste encore la référence du genre, comme le précise si bien Quincy Jones : « Michael a défini les standards et les règles du vidéoclip. Depuis, toutes les autres stars ont suivi son modèle, que ce soit Christina Aguilera ou Madonna : c'est la même chose, il s'agit de clips avec des lignes de danseurs assemblés autour d'une chorégraphie. « Thriller » est tout bonnement un minifilm. C'était un événement dès sa sortie. MTV et « Thriller » se sont soutenus mutuellement sur la route du succès. Michael a réalisé quelque chose d'inédit : on écoutait la musique à la radio et on la vivait en concert, mais personne n'avait jusqu'alors pensé à faire vivre une chanson de cette façon. » (Thriller Special Edition, CD, Epic/Sony Music, 2001).

Récompenses remportées par Thriller (Clip et Making Of)
1999 : MTV : Meilleure vidéo de tous les temps (Thriller).
1999 : Entertainment Weekly Poll : Meilleure vidéo musicale - #1. «Thriller » - Michael Jackson (25.11% des votes).
1999 : CNN Internet Poll : Meilleure vidéo musicale de tous les temps - Thriller.
1999 : 80 Classics of the 80's Poll - Chaîne TMF : Chanson #1- Thriller.
1998 : VH1 poll : Meilleure vidéo de tous les temps – Thriller.
1991 : Music Video Producers' Hall Of Fame : introduction de la vidéo "Thriller".
1989 : MTV Video Music Awards : Video Vanguard Award (Thriller- The Greatest Video In The History Of The World).
1989 : Rolling Stone Magazine : Vidéo de la décennie (Thriller).
1985 : Grammy Awards : Meilleure vidéo (Making of Thriller).
1984 : MTV Video Music Awards : Meilleure vidéo (Thriller) ; Meilleure chorégraphie (Thriller) ; Viewers Choice Award= choix des téléspectateurs (Thriller).
1984 : People's Choice Awards : Meilleure vidéo de l'année (Thriller).
1984 : American Video Awards : Meilleure vidéo de longue durée (Thriller).
1984 : National Association Of Recording Merchandisers : Meilleure vidéo (The Making Of Thriller).
Durée du clip : version longue : 13'40, version courte : 6'10
Equipe Technique :
Directeur : John Landis.
Producteurs : Michael Jackson, George Folsey Junior et John Landis.
Scénario : Michael Jackson et John Landis.
Chorégraphie : Michael Jackson et Michael Peters.
Directeur de la photographie : Robert Paynter, B.S.C.
Maquillage imaginé par : Rick Baker et EFX, INC.
Editeurs : Malcolm Campbell et George Folsey Junior.
Directeur artistique : Charles Hughes.
Costumes : Kelly Kimball et Deborah Nadoolman.
Musique effrayante par : Elmer Bernstein.
Manager Production : Dan Allingham.
Directeur adjoint : David Sosna.
Le Making Of
Source: Elusive Shadow/King de R. Lecocq/Pop Life de O. Cachin/Moonwalk de M. Jackson