Cynthia Horner est une journaliste noire américaine.
Née dans l'Indiana, elle a emménagé très jeune en Californie où elle est, à 11 ans, l'éditrice de son journal d'école. Lycéenne, elle devient journaliste professionnelle en écrivant des papiers pour le journal du lycée et des journaux locaux. Elle est admise au Seaver College of Pepperdine University de Malibu où elle reçoit des bourses de Scripps-Howard Publishers, et du Seaver College Department of Communications.
La jeune fille diplomée devient , en 1971, la plus jeune rédactrice en chef d'un magazine national, le célèbre Right On !. Ce qui lui permettra de rencontrer et d'interviewer nombre d'artistes afro-américains et notamment Michael Jackson, The Jacksons, Prince, Janet Jackson, … Dès son arrivée au magazine , tous les numéros de Right on !, pendant 3 ans, auront les J5 en couverture !!!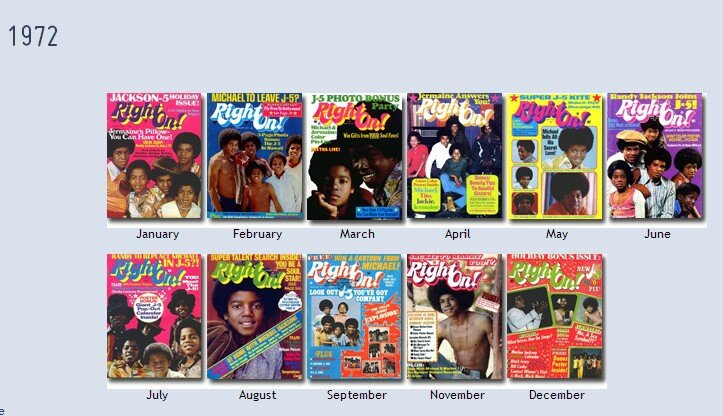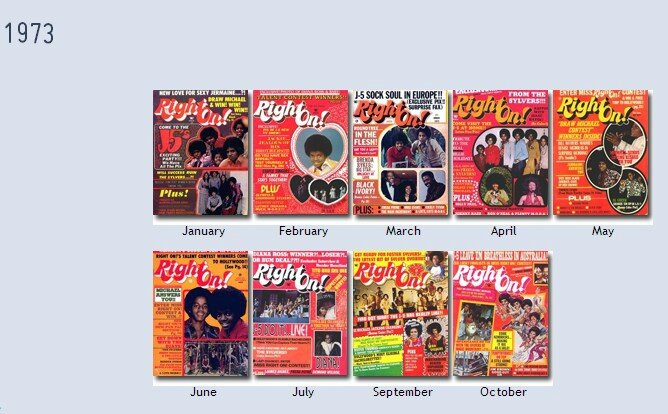 La jeune femme signe la préface du livre Papa Joe's Boys: The Jacksons Story en 1983 (voir ici)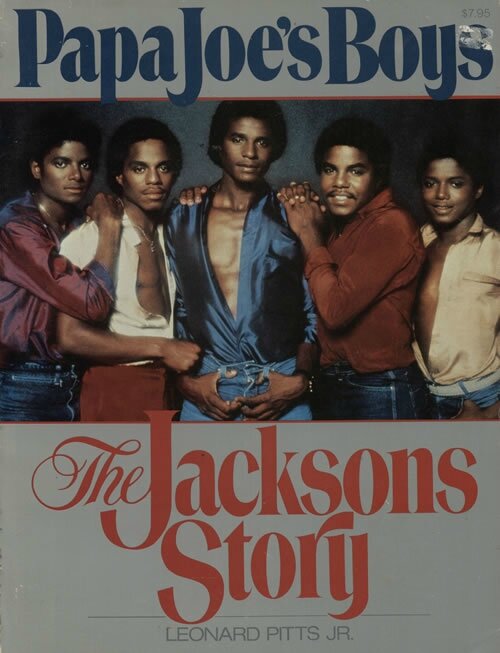 Cynthia Horner a participé également à l'édition du livre « The Magic Of Michael Jackson », "A Giant Collection Of Facts, Photos, And Interviews.", en 1984. Il s'agit d'un livre de 63 pages avec des photos couleurs et en noir et blanc.
Les chapitres du livre: "A Shining Star , Presenting Michael Jackson, Beat It, The Making Of Thriller, Michael Peters- Choreographer, Fact Vs Fiction, The Private Michael."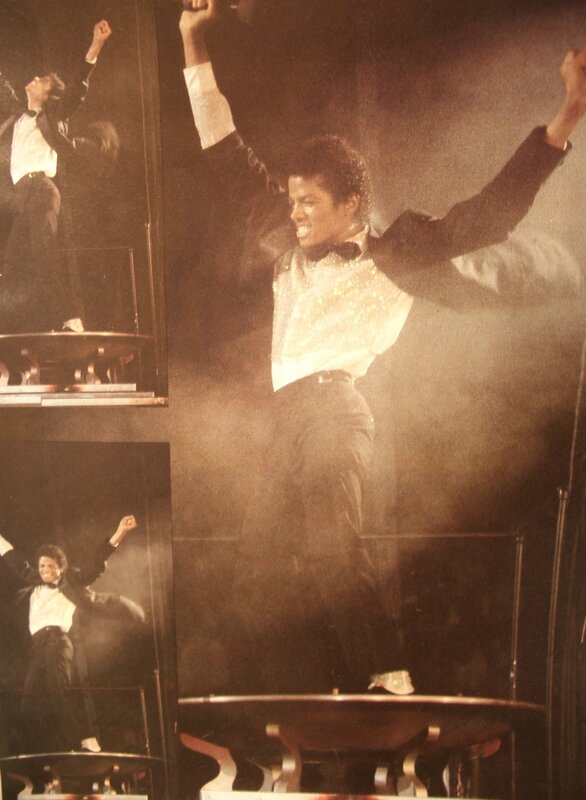 Cynthia Horner est actuellement l'éditrice en chef du magazine Hip Hop Weekly, un magazine, créé en 2006 qui aborde les news des célébrités, le sport, la mode, le cinéma et la musique du point de vue du hip hop.
http://cynthiahorner.com/?hg=0
Joe Jackson dans son livre The Jacksons se souvient bien de la journaliste: « Une autre personne avec qui j'ai travaillé, était Cynthia Horner du magazine Right on ! lequel était lu essentiellement par tous les adolescents. Cynthia nous donné un grand appui et je lui suis encore maintenant reconnaissant pour les nombreuses campagnes de presse qu'elle a menées pour les Jackson 5. »
Cynthia évoque sa rencontre avec Michael : J'ai rencontré Michael en 1976 et il a été l'une des personnes les plus timides à qui j'ai jamais eu à faire. C'était un peu difficile de s'entretenir avec lui parce que même si en tant qu'artiste professionnel, il savait qu'il avait besoin de la presse, il n'était pas quelqu'un qui savait comment se comporter avec les médias, il n'était pas très ouvert et prêt à donner des informations. Il était tout simplement super timide, sauf avec sa famille. Mais il réalisé que j'étais aussi timide que lui, donc il m'a en quelque sorte embrassé et nous sommes devenus amis."
Dans un numéro de Right On ! au printemps 1982, elle rentre plus en détail dans sa rencontre et sa relation avec Michael.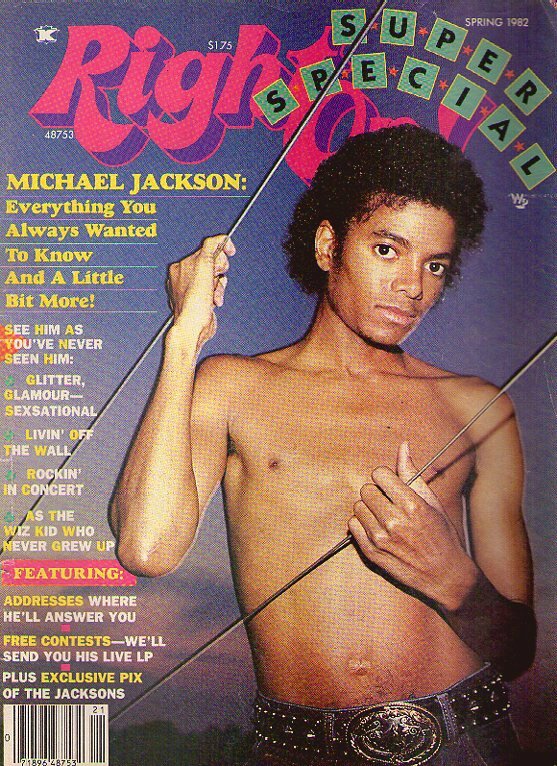 Le mensuel français pour ado Podium reprend l'article en 1984 :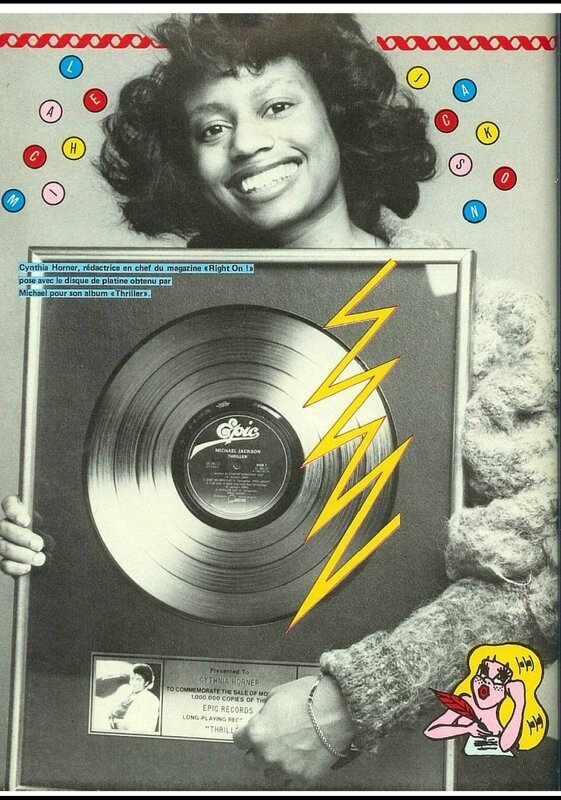 En 1977, Cynthia aura également l'occasion d'interviewer Michael juste avant son départ pour New York pour le tournage de The Wiz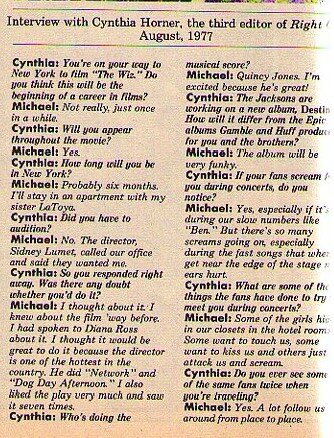 Voir la traduction de l'interview ici
En juillet 1988, lors du passage du Bad tour à Wembley (Angleterre), Cynthia Horner a été la première et la seule représentante des médias à être invitée par Michael dans son hôtel. Le groupe et la plupart de ses collaborateurs logeaient dans un autre hôtel, quelques rues plus loin. Elle raconte «Une fois que nous sommes arrivés au stade de Wembley, j'ai été immédiatement escortée dans la loge de Michael où un Michael frissonnant m'a accueillie en souriant et en me taquinant pendant que nous attendions les gagnants d'un concours. Contrairement à d'autres artistes, Michael n'aime pas avoir beaucoup de gens autour de lui avant un spectacle. Il passe le plus clair de son temps à se préparer et répondre à des invités ".
Horner, qui a souvent eu l'occasion d'observer son comportement avec d'autres personnes, a déclaré: «Il est généralement calme et plutôt humble. Cependant, cela peut sembler étrange à dire, mais les gens sentent l'énergie qui émane de lui, presque comme si il était doté de pouvoirs surhumains. Les gens sont habituellement si émerveillés par lui qu'ils ne peuvent même pas parler. C'est comme si Michael jetait un sort magique sur ses fans. Michael semble être plus ouvert et à l'aise avec les enfants, en particulier ceux qu'il connaît bien ".
Sur la performance scénique de Michael, elle déclare: "Michael Jackson sur scène est tellement bon »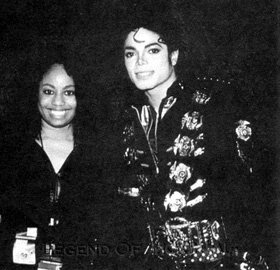 A partir des années 90, elle côtoie Michael beaucoup moins : Elle explique : J'avais l'habitude de voir Michael et de beaucoup lui parler, mais il a commencé à changer. Je n'avais plus beaucoup de contact avec lui, je côtoyais beaucoup plus ses proches. Michael avait tous ces gens qui l'entouraient et qui l'empêchaient d'avoir des contacts avec ses anciens amis et collaborateurs parce qu'ils voulaient contrôler tout ce qui se passait avec lui. Sa propre famille n'a plus vraiment beaucoup de contacts avec lui non plus ».
Lors du tapis rouge d'un évènement, en août 2013, Cynthia Horner a été repéré par Young Jack Thriller du site ThisIs50.com, lui-même fan de Michael (il a un tatouage de MJ sur le bras), qui lui a demandé d'évoquer ses souvenirs avec Michael.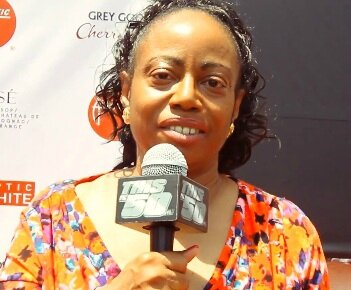 Elle a évoqué la façon dont elle a travaillé avec lui depuis qu'il était enfant, a indiqué que Michael adorait les glaces et la nourriture mexicaine. Ils passaient beaucoup de temps à se promener en voiture d'un glacier à un autre pour tester les parfums des glaces. Elle parle également de la nature très humble de la famille Jackson. Selon la journaliste, son entente immédiate avec la famille Jackson était simplement due au fait qu'elle n'en connaissait pas autant sur eux que d'autres.
Elle a également parlé des relations entre Michael et le chanteur Prince, qu'elle connait bien aussi. Michael lui a tout de suite demandé qui il était quand il l'a vu, qu'il n'était pas encore connu du grand public.
Le magazine Vibe, en juin 2010, fait une synthèse des relations entre Prince et Michael, l'occasion pour Cynthia Horner d'évoquer sa rencontre avec Prince et la façon dont Michael l'a découvert.
« Je remettais à Michael des numéros des magazines (Right On !) et il voyait certaines personnes et me poseait beaucoup de questions sur les artistes qui l'intéressait. Et c'est ainsi qu'il a découvert Prince. Après cela, j'ai commencé à lui faire écouter de la musique de Prince que j'avais et il a été intrigué. J'ai réalisé alors qu'une certaine rivalité se développait. Michael était dans le métier depuis longtemps et naturellement, il ne voulait pas se faire remplacer par un nouveau venu. »
http://www.vibe.com/article/michael-jackson-vs-prince-oral-history