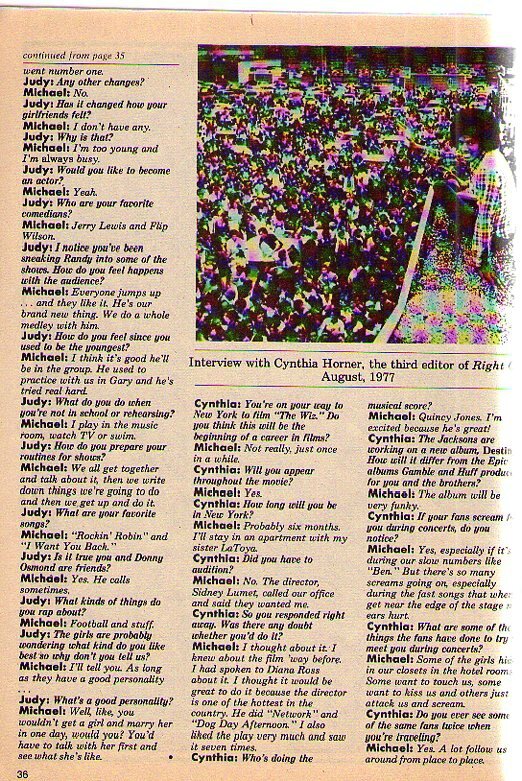 Traduction de l'interview
C : Tu es sur le point de partir pour New York pour le film The Wiz. Penses que cela va être le début d'une carrière au cinéma ?
M : Pas vraiment, peut être un film de temps en temps
C : Vas-tu apparaître dans tout le film
M : Oui
C : Combien de temps resteras-tu à New York ?
M : Certainement pendant 6 mois. J'aurai un appartement avec ma sœur La Toya
C : Est-ce que tu as du auditionné ?
M : Non, Le réalisateur Sydney Lumet a appelé notre bureau et il a dit qu'il me voulait
C : Et tu as répondu tout de suite ? Tu n'as eu aucun doute ?
M : J'y ai réfléchi. Je connaissais déjà le film. J'en ai parlé à Diana Ross. Je me suis dis que ce serait génial de le faire car le réalisateur est un des plus grand du pays. Il a fait « Network » et « Dog Day Afternoon ». J'ai aussi aimé la pièce que j'ai vue plusieurs fois.
C : Qui s'occupe de la musique du film?
M : Quincy Jones. Je suis impatient, il est génial.
C : Les Jacksons travaillent sur un nouvel album, Destiny. En quoi sera-t-il différent des productions Gamble and Huff pour toi et tes frères ?
M : L'album sera plus funky
C : Est-ce que tu remarques quand tes fans crient durant les concerts ?
M : Oui surtout lorsque c'est durant les slows comme « Ben ». Mais il y a tellement de cris, même sur les autres chansons, que quand on vient on bord de la scène, cela nous fait mal aux oreilles
C : Qu'est-ce que les fans font pour essayer de vous rencontrer durant les concerts ?
M : Quelques filles se cachent dans nos placards de nos chambres d'hôtels. Elles veulent nous toucher, nous embrasser et certaines se contentent de nous approcher et de crier.
C : As- tu déjà vu plusieurs fois les mêmes fans au cours de tes voyages?
M : Oui, beaucoup nous suivent au cours d'un endroit à un autre