Blame It On The Boogie est un des titres phares de l'album Destiny des Jacksons, sorti chez Epic en décembre 1978, le seul de l'album à ne pas avoir été écrit par les frères Jackson.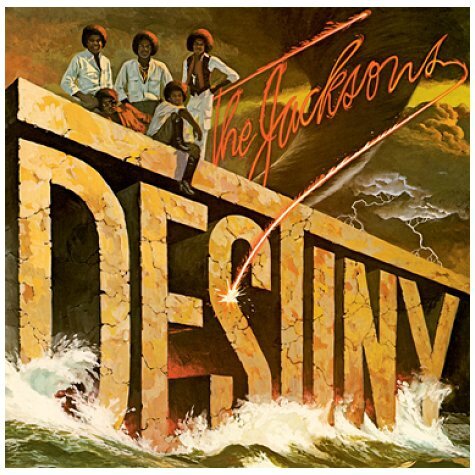 L a chanson est signée Mick Jackson, Dave Jackson et Elmar Krohn.
Mick Jackson ...de son vrai nom Michael George Jackson (!!!) un chanteur, compositeur et producteur, né en Angleterre mais qui a vécu en Allemagne.
En 1977, Mick devient une des figures de la scène Munich Disco, alors en pleine essor, et sort son premier single en tant qu'artiste solo, You Turn Me On, ce qui lui ouvre les portes en tant qu'interprète et compositeur en Europe.
A la même époque, Mick et son frère David écrivent une chanson intitulée Blame It On The Boogie, avec leur batteur Elmar Krohn, dans l'espoir qu'elle soit chantée par Stevie Wonder, leur artiste préféré.
La chanson est présentée au Midem Music Festival en 1978 où, selon Mick Jackson, « Le manager des Jacksons entend le titre, prend l'enregistrement et le ramène aux Etats-Unis où les Jacksons l'enregistrent rapidement".
Une autre version de l'histoire (racontée sur le site de Mick Jackson) veut que, à l'insu de Mick, son éditeur ait offert le titre aux Jacksons, qui après avoir quittés la Motown, étaient convaincus que ce serait la chanson qui marquerait la prochaine étape de leur carrière.
Le single sort en août 1978 (avec Do What You Wanna en face B) pour annoncer le futur album du groupe. Bien qu'il réconcilie effectivement le groupe avec le classement du Billboard Hot 100, le titre n'est cependant pas le succès escompté (il atteint tout de même la troisième place du R&B single chart) . Celui-ci (re)viendra avec "Shake Your Body (Down to the Ground)"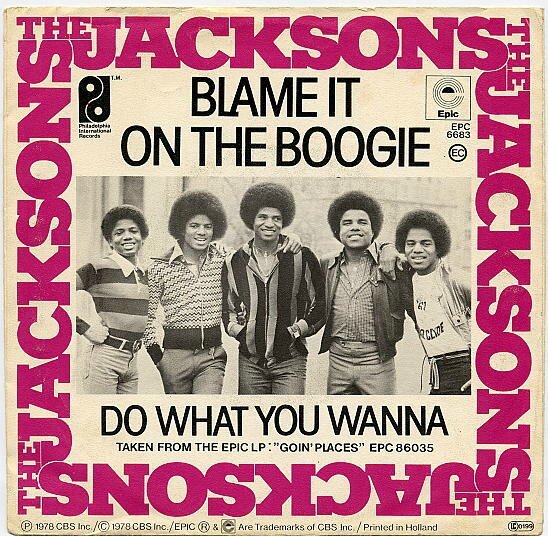 Michael raconte dans son livre Moonwalk : « Bobby (Bobby Colomby, le producteur) est arrivé avec une chanson qui s'appelait « Blame It On The Boogie ». C'était une bonne approche pour ce que notre groupe essayait de cultiver : un ryhtme « up-tempo », des claquements de doigts, et j'adorais le chorus « Blame It On The Boogie », parce que je pouvais le chanter d'un seul trait sans respirer et sans serrer les lèvres une seule fois. Une petite surprise amusante quand on a découvert l'intérieur de la pochette de l'album : on a lu que la chanson « Blame It On The Boogie » avait été écrite par trois types d'Angleterre dont l'un deux s'appelait Michael Jackson. Coïncidence sidérante ! »
Le titre est accompagné du premier clip vidéo des Jacksons. Un clip purement disco, où les frères dansent sur un fond noir, avec des effets de trainées de couleur électronique, des effets spéciaux importants pour l'époque.
Ayant appris la reprise du titre par les Jacksons, Mick Jackson, l'auteur de la chanson, sort également, en septembre 1978, sa propre version, en 45 tours.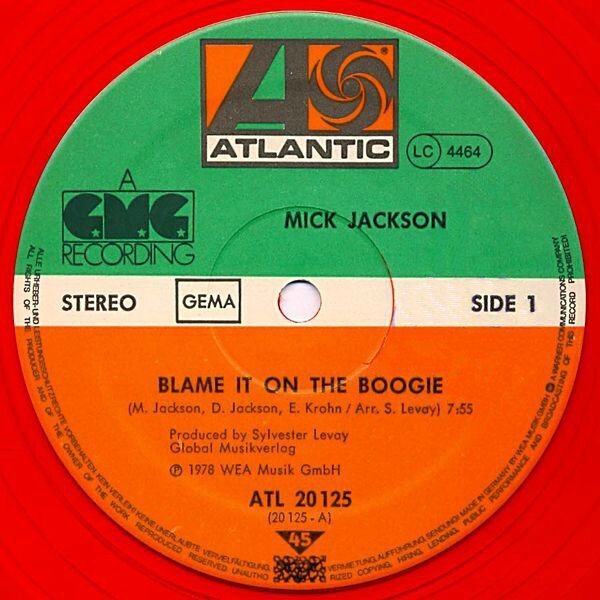 Les deux titres, sortis à quelques jours d'intervalle, se retrouvent alors dans les charts anglais. Deux titres du même nom, chantés par un chanteur du même nom !! De quoi semé la confusion chez les acheteurs de disques, notamment en Grande Bretagne où finalement le titre de Mick Jackson atteindra la 15ème place des charts alors que les Jacksons auront une 8ème place.
La presse britannique, étonné epar la sortie « rivale » de ces deux versions, déclarera une « Battle Of The Boogie » (La Bataille du Boogie), ce que Mick Jackson se souviendra comme « d'une grande publicité ... Il y avait un juste équilibre de l'intérêt de la part des médias sur les deux versions. Un bon exemple est que ma version a été interprétée en premier à Top Of The Pops ... la version des Jacksons est arrivée la deuxième semaine ... Radio One a joué la version de Jackson et Capital Radio a joué seulement la mienne, c'était juste »
Cette « Battle Of The Boogie » sera fortement suivie des deux côtés de l'Atlantique, par les médias et le public. La version de Mick Jackson obtiendra la 61ème place du Billboard Hot 100
Les Jacksons ont eu l'occasion de rencontrer l'auteur de leur titre, lors de la participation des frères à l'émission britannique Top of The Pops, alors qu'ils sont en tournée à Londres avec leur Destiny tour, en janvier 1979.
Une première rencontre furtive a lieu dans l'ascenseur du Montcalm Hotel où logent les artistes avec un salut rapide.
Lors de l'émission, Mick Jackson vient interpréter son nouveau titre Weekend (issu de l'album du même nom où se trouve également le titre Blame It On The Boogie) et les Jacksons leur titre du moment, Destiny. Michael aurait demandé à Mick Jackson de lui vendre le costume qu'il avait pour sa prestation et il aurait refusé.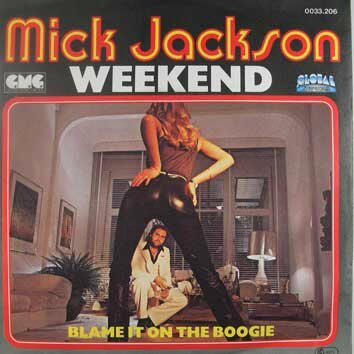 En 2010, Sam Peter Jackson, le fils de Mick Jackson, a réalisé un documentaire, The Other Michael Jackson : Battle Of The Boogie, qui relate l'histoire de la chanson et de cette compétition entre les deux titres. Le documentaire a été diffusé à la télé anglaise, sur Channel 4, le 26 février 2010.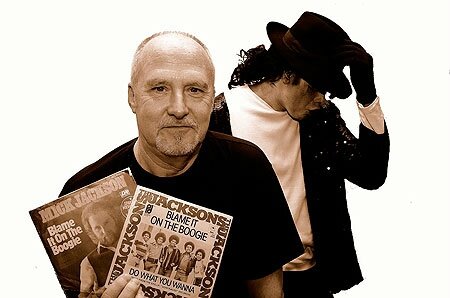 Mick et son fils ont été les invités de l'émission BBC Breakfast News en février 2010, pour évoquer ce documentaire