Après Itinéraire d'un Passionné , ouvrage consacré à la carrière solo de Michael Jackson à partir de Off The Wall, Brice Najar récidive ! Avec The Jacksons : Musicographie 1976-1989, Brice reprend la plume pour remonter le temps et s'attaquer, comme l'indique le nom du livre, à l'œuvre des Jacksons.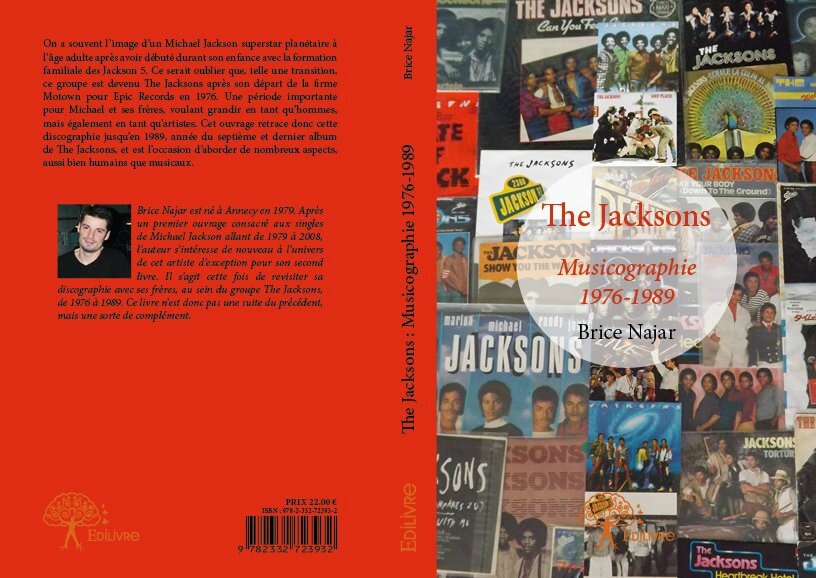 Le groupe constitué des frères Jacksons (moins Jermaine resté chez Motown) entame comme une nouvelle carrière chez Epic Records, qui démarre en mars 1976. Une carrière que le public a souvent tendance à négliger tant elle est précédée et suivie par des périodes fortes. La période Jackson 5 a vu naître le groupe qui deviendra une des légendes de la musique noire américaine des années 70 et, à partir des années 80, Michael devient, en solo, la légende …tout simplement. C'était oublier qu'entre deux, le groupe réclame son autonomie et parvient à s'imposer en tant qu'auteur, compositeur, producteur et bien sur interprète, pour retrouver le chemin des charts !
Les mots de l'éditeur
« On a souvent l'image d'un Michael Jackson superstar planétaire à l'âge adulte après avoir débuté durant son enfance avec la formation familiale des Jackson 5. Ce serait oublier que, telle une transition, ce groupe est devenu The Jacksons après son départ de la firme Motown pour Epic Records en 1976. Une période importante pour Michael et ses frères, voulant grandir en tant qu'hommes, mais également en tant qu'artistes. Cet ouvrage retrace donc cette discographie jusqu'en 1989, année du septième et dernier album de The Jacksons, et est l'occasion d'aborder de nombreux aspects, aussi bien humains que musicaux. »
Le livre de 258 pages est donc une rétrospective de la carrière discographique des frères sous le nom The Jacksons. Sept albums….7 parties et 14 chapitres. En effet chaque album est abordé systématiquement sous deux angles : un chapitre consacré à l'histoire, le contexte et la genèse du travail des frères et un autre dédié à l'analyse et au ressenti personnel de Brice sur chaque titre de l'album.
Ce qui m'a amené à faire deux lectures du livre : une première où j'ai lu les parties sur la genèse des albums et survolé l'analyse de l'auteur et la deuxième lecture, avec les albums en écoute, tout en m'imprégnant des impressions de Brice. Un procédé tout à fait personnel, permis en outre par l'organisation de l'ouvrage. J'ai d'ailleurs pu redécouvrir des titres que je n'avais pas écoutés depuis longtemps, comme « Strengh Of One Man » ou « Man Of War » ou retrouver des chansons que j'avais l'habitude d'entendre en regardant des prestations télévisées, telles que "Dreamer" ou "Push Me away"
Le livre commence timidement…et ce terme n'a rien de péjoratif (Brice si tu me lis ;) ) car je dirai qu'il est à l'image de la nouvelle carrière des Jacksons. En effet lors de leurs premiers albums sous leur nouveau nom, le groupe prend ses marques dans ses nouveaux rôles. Et j'ai comme l'impression que c'est également le cas pour Brice. Si on sentait le fan maître de son travail dans Itinéraire, tant la carrière de Michael est riche, et liée à un vécu personnel de fan, on a l'impression que, durant les premiers chapitres de ce livre, il est encore difficile pour l'auteur de se placer, un peu comme s'il se sentait démuni face à la carrière (re)naissante des frères. Les chapitres et l'analyse des titres sont assez courts, sans pour autant que l'on ressente un manque. Mais ce n'est que provisoire. Avec le troisième album, Destiny, les choses s'accélèrent, tant dans la carrière du groupe que dans la lecture du livre. Les frères « prennent leur carrière en main », et Brice s'épanouit dans la rédaction. Le contenu s'étoffe car la carrière des Jacksons monte crescendo jusqu'à l'album Victory où l'auteur retrouve, à ce moment du livre, la trame d'écriture qu'il avait adopté pour son premier ouvrage. On n'a alors plus à faire à un pur ressenti des titres mais bien à l'évocation des collaborations (Brice retrouve alors son cheval de bataille en évoquant les membres du groupe Toto notamment !), plus importantes, avec les différents musiciens, et bien sûr celle des clips.
L'énergie redescend avec le dernier album du groupe, 2300 Jackson Street, qui n'est d'ailleurs plus réellement le groupe tel qu'on l'a connu, et où l'auteur reprend son schéma d'écriture. Un retour à la normal qui évoque la fin du succès pour le groupe, la fin du groupe tout simplement. Malgré quelques grands noms sur ce dernier album, celui-ci ne laissera pas beaucoup de traces (personnellement c'est celui que je connais le moins) et le groupe n'y survivra pas. La boucle est bouclée pourrait-on dire avec ce titre.
La carrière des Jacksons telle qu'elle est abordée dans le livre ressemble à un concert : des débuts timides, une montée en puissance et même un rappel, avec les shows au Madison Square Garden, en septembre 2001. Une simple image de ma part, ressentie à la lecture de ce livre.
Cette carrière est bien entendu mise en parallèle avec celle de Michael, qui cherche à prendre son envol en solo. Les relations entre les frères, avec leur père contribuent à développer l'aspect humain d'un groupe qui reste « one big family » et qui sous les aspects artistiques rencontre autant de problèmes que n'importe quelle grande famille.
The Jacksons : Musicographie 1976-1989 montre qu'il n'a pas été facile pour Michael de se séparer de sa famille pour évoluer au niveau artistique. L'image évoquée par Brice lors d'une interview à MJFrance (voir ci-dessous) de la chrysalide est magnifique et reflète tout à fait cette époque de transition, nécessaire pour devenir la star légendaire que l'on connait. Alors oui effectivement, le comparatif avec le premier ouvrage de Brice nous vient nécessairement à l'esprit. Mais même si on est tenté de le faire, je pense qu'il vaut mieux l'éviter car le contexte artistique est loin d'être le même.
Les fans de la première heure de Michael, qui ont vécu la Thriller Mania, comme moi, trouveront quand même leur compte. Des souvenirs me sont revenus en réécoutant ces albums que j'ai cherchés en vinyle dans les puces de Paris, parce que déjà à cette époque, je voulais en savoir plus sur la carrière de Michael. Les écoutes dans ma chambre d'ado, et la confirmation que ce Live du groupe en 1981 que j'ai repassé maintes fois sur ma platine restera mon préféré. La voix de Michael en concert me faisait déjà rêver !!! Et une faiblesse également pour Goin' Places, qui malgré son faible succès, ne m'a jamais laissé insensible.
Pour les autres, ce livre est tout simplement l'occasion de réaliser un formidable voyage musical dans une période plus méconnue mais tout aussi intéressante.
Le voyage dans le temps continuera-t-il, avec un tome 3 qui nous ramènerait aux débuts de la fratrie à Gary et l'ascension fulgurante chez Motown ? Cela semble inévitable, en tout cas, c'est à espérer…et je serai curieuse de voir sous quel angle Brice l'aborderait ! Si cela arrive, je répondrai encore présente !
Le livre est dès à présent disponible chez Edilivre, à la Fnac et sur Amazon.
Brice a répondu à une interview sur le site MJFrance:
Bonjour Brice et bienvenu à nouveau sur MJFrance après l'interview que tu nous avais accordée il y a pratiquement tout juste 1 an suite à la sortie de ton livre "Michael Jackson : Itinéraire d'un passionné". Est-ce que tu peux nous résumer l'année qui vient de s'écouler et le chemin parcouru autour de ton livre, l'accueil des fans, sa réussite ?
Tout d'abord, merci de m'accueillir à nouveau pour une autre interview. En ce qui concerne le bilan de cette première année pour "Itinéraire d'un passionné", il est globalement positif. J'ai toujours cette satisfaction d'être allé au bout du projet, tout en voulant toujours revendiquer ce statut de fan qui se fait plaisir en évoquant sa passion sous forme de loisir. Le livre fait partie des meilleures ventes chez mon éditeur, et j'ai gagné la confiance de ce dernier au point d'être présent cette année dans les plus grands salons du livre comme Bruxelles et Paris. D'ailleurs, l'un de mes voisins de stand sera Lilian Thuram lorsque je monterai dans la capitale le 21 mars (A cette occasion, je pourrai dédicacer mes deux livres).
J'ai également dédicacé mon 1er livre à la Fnac de Genève en novembre dernier, et ils m'avaient concocté de superbes affiches qui resteront des souvenirs que j'ai pu ramener à la maison, telles des archives d'une grande valeur sentimentale.
J'ai également rencontré et pu présenter mon livre (avec des extraits traduits) à certains musiciens de Michael, comme Siedah Garrett, John Robinson, Steve Lukather, Steve Porcaro et David Paich. Quand ces gens-là viennent vous féliciter pour le contenu, ce sont vraiment des moments à savourer, forcéments inoubliables.
Bien entendu, j'ai également pu échanger avec les fans sur le livre, et dans l'ensemble j'ai eu de bons retours. Cela reste ma plus belle satisfaction car si les fans sont satisfaits, c'est que j'ai réussi à rendre hommage à Michael dans la mesure de mes possibilités. C'est une personne qui m'a tellement apporté dans mon vécu que j'aimerais pouvoir lui rendre tout cela comme il le mérite, même si je suis conscient que c'est impossible.
L'objet de l'interview d'aujourd'hui est cette annonce de la sortie de ton nouveau livre sur le groupe The Jacksons et sa période chez Epic Sony. Pourrais-tu nous le présenter et donner la raison de son existence ?
Cette première expérience avec "Itinéraire" m'a encouragé à continuer l'aventure, et j'avais eu l'impression de n'avoir pas complètement tout abordé au sujet de Michael dans ce premier livre. J'ai donc réfléchi au moyen de pouvoir écrire une sorte de complément du premier livre, et le sujet des Jacksons m'a paru la solution la plus adéquate. C'était également l'occasion d'écrire un ouvrage sur ce groupe, chose assez rare il faut l'avouer.
Chez MJFrance, je suis personnellement ravi de voir la sortie d'un tel ouvrage consacré à ce groupe dont on a souvent l'impression qu'il passe après celui des Jackson 5 et naturellement après la carrière solo de Michael Jackson qui restera à jamais la passion que nous avons tous en commun. Si l'on peut faire la parallèle entre une chenille et un papillon, les Jackson 5 et Michael Jackson, ou se situe vraiment cette période du groupe The Jacksons ?
Entre la chenille et le papillon, il y a la chrysalide et c'est justement l'image que peuvent nous renvoyer les Jacksons. Quand les Jackson 5 deviennent The Jacksons, Michael n'est plus un enfant mais pas encore tout à fait un adulte. C'est à travers ce groupe qu'on le sent mûrir, devenir un homme pour pouvoir enfin se défaire de l'emprise de son père, un peu comme chacun de nous qui, en grandissant, s'est émancipé de ses parents. Chaque lecteur peut donc se retrouver dans cette image.
C'est donc un sujet où l'aspect humain et psychologique est tout aussi important que l'aspect musical. Je n'avais pas pu développer sur cette relation père-fils dans "Itinéraire" car c'est en creusant avec les Jacksons qu'on peut vraiment cerner les aspects de ce sujet complexe. En voulant être totalement objectif, je tente de répondre à cette question, et c'est l'un des attraits de mon second livre.
On sent vraiment une montée en puissance dans les albums des Jacksons et cela se traduit pas la réussite de ceux-ci, The Jacksons n°36 aux USA, Destiny n°11, Triumph n°10 et Victory n°4 malgré le peu d'implication de Michael et bien que Thriller et le Victory Tour aient joué un role important dans la promo de l'album. Vu cette progression, on sent bien que la logique aurait voulu qu'un album des Jacksons avec Michael aurait forcément terminé n° 1 des ventes. Doit-on avoir forcément des regrets ?
Tu occultes volontairement Goin' Places*... (Rires). Plus sérieusement, je pense qu'il ne faut jamais vivre avec des regrets, c'est ma façon de voir les choses en général et les Jacksons ne seront pas l'exception à la règle. C'est le choix de Michael d'avoir pris ses distances avec le groupe, et on peut le comprendre. Autant d'années depuis l'enfance à faire passer cette formation avant tout le reste, ce départ devait finir par arriver de toute façon. Et puis si Mike avait continué à être autant présent dans le groupe, il n'aurait jamais eu la possibilité d'accomplir cette carrière solo. Ce qui serait juste dommage, c'est de ne pas prendre le temps de savourer autant cette discographie des frères que celle en solo de Michael. J'ai mis tellement d'années à pouvoir découvrir intégralement les chansons de MJ (J5, Jacksons, solo) que je reste persuadé que des jeunes sont obnubilés par des inédits sans vraiment avoir fait le tour de ce qui existe déjà.
Le groupe a voulu continuer son chemin malgré le départ de Michael Jackson et l'album 2300 Jackson Street avait de quoi se défendre. Les frères Jackson allèrent même jusqu'à montrer du doigt la maison de disque qui selon eux n'avait pas fait la promo qu'il fallait. En 1989, est-ce que l'on pouvait encore croire au groupe The Jacksons sans Michael ?
Les chiffres sont là, et sont sans appel. Sans Michael, l'album a été un échec et d'un point de vue commercial, c'est assez délicat à défendre. D'un aspect musical, c'est assez injuste car les frères ont offert un travail honnête et conséquent, en se basant sur leurs qualités sans chercher à surfer sur le fait d'être les frères de MJ. C'est une très bonne question, car dans ma phase d'écriture, elle était omniprésente dans mon esprit. J'ai souhaité être lucide en rappelant que ce disque n'a pas marché tout en voulant démontrer tous ses points forts (et parfois ses faiblesses), en expliquant que le quatuor (avec Randy, Tito, Marlon et Jermaine) avait les moyens d'offrir une musique de qualité, et que l'absence de Mike ne devait pas être un frein pour l'écouter de façon objective.
On annonce depuis quelques temps, longtemps même, un nouvel album pour The Jacksons encore confirmé il y a peu par Jackie au site Billboard. Peut-on vraiment croire que les frères Jackson sont arrivés à s'entendre et faire une retour musical digne de ce nom ?
Je pense que c'est ce qu'ils veulent depuis 1989, sauf que le dernier échec de 2300 Jackson Street a du refroidir plus d'une maison de disques. A mon avis, ces dernières pensaient que sans Michael c'était mission impossible. Les frères ont donc souhaité voir revenir leur chanteur, et ce n'est pas passé loin en 1998 avec ce projet d'album J5. Aujourd'hui, ils ont la possibilité de pouvoir refaire un disque, et même si l'absence de Michael sera un élément de tristesse, il faut apprécier ce retour car chaque membre aura bientôt la soixantaine. Ces gens ont l'âge de mes parents, et ne seront pas toujours en mesure de faire des concerts et des disques. Ce retour musical sera-t-il de qualité ? Je n'ai pas les moyens de connaître la réponse, mais je le souhaite en tout cas.
Revenons à ton livre, The Jacksons Musicographie 1976-1989. Est-ce que comme pour ton livre précédent tu nous parles de chaque chanson du groupe, des clips, des anecdotes, des musiciens et toutes les personnes qui ont travaillés avec le groupe ou est-ce que la matrice est différente ?
La trame est un peu différente de celle d'Itinéraire. Je traite tous les albums des Jacksons de 1976 à 1989. Chaque album est partagé en deux chapitres distincts : le premier évoque le contexte de l'époque, le déroulement des promotions et les choix artistiques avec certains aspects humains ; le second se déroule durant une écoute au casque de l'album. Je fais donc une revue du disque, chanson par chanson, en évoquant ce que ça m'inspire, tout en développant sur le thème des compositions. J'invite chaque lecteur à faire de même, et à me lire tout en écoutant. C'est l'occasion de revivre pleinement cette discographie.
Merci pour cette interview, aurais-tu quelque chose à dire à nos lecteurs qui j'en suis certain liront et apprécieront ton nouveau livre ?
C'est moi qui te remercie. J'en profite pour dire que j'ai écouté les lecteurs qui regrettaient l'absence de photos dans le premier livre.
J'ai fait ajouter quelques clichés dans cet ouvrage des Jacksons. Je trouve le résultat plaisant et j'espère que vous serez du même avis.
J'ai envie de partager tout cela avec vous et j'essaierai d'être un maximum disponible pour échanger avec chaque lecteur.
Le partage, c'est mon moteur : c'est pour cela que j'aime écrire avant tout.
*L'album Goin' Places n'a été classé que 63ème aux USA avec tout de même une honorable 11ème place au classement Black albums.