En ce mois de février 1976, Les Jackson 5 arrivent à Manille (Philippines) pour une série de concerts appelée Love Jive.
Le groupe est déjà connu mondialement et leur arrivée à l'aéroport de Manille à 6 heures du matin n'empêche pas les nombreux fans d'être présents. Les hôtesses de l'air et le promoteur de la tournée dans le pays, Vicor Music Distributors accueillent les frères et Papa Joe avec le traditionnel collier Lei.
Les J5 donnent six concerts dans la capital des Philippines, six jours consécutifs : au Folk Arts Theater (les 13, 14 et 15 février) puis au Araneta Coliseum (les 17, 18 et 19 février).
Cette venue est un véritable « tremblement de terre », selon les médias.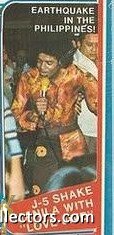 Les concerts se jouent à guichets fermés. 150 000 Philippins voient le groupe sur scène, en « standing room only » (uniquement debout), qui joue pour la dernière fois sous le nom des Jackson 5. Le contrat du groupe avec la Motown prendra fin quelques semaines plus tard, en mars 1976.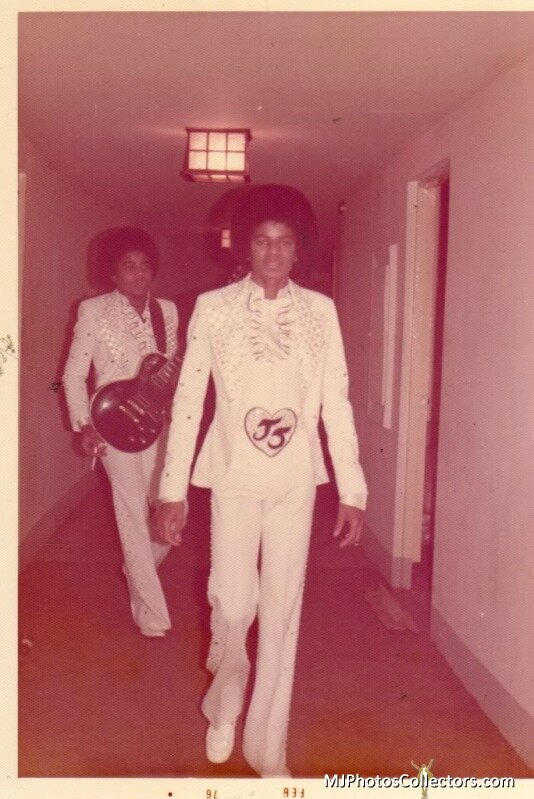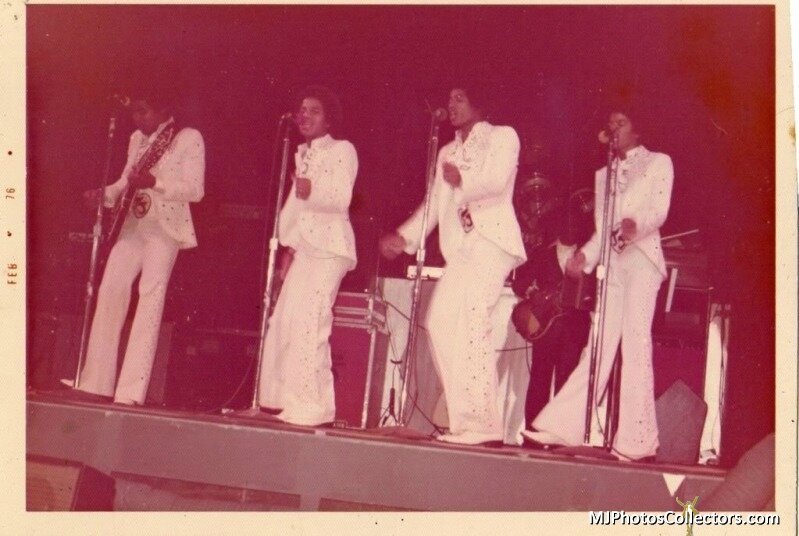 Ceux qui ne peuvent entrer ne manquent cependant pas d'avoir un autographe de Michael.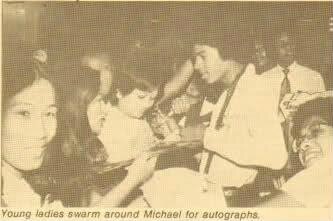 La setlist des concerts au Folk Arts Theater :
1. (You Were Made) Especially for Me
2. It's Too Late to Change the Time
3. Never Can Say Goodbye
4. Papa Was a Rollin' Stone
5. I Am Love
6. Randy Presents the Band
7. Rockin' Robin
8. The Life of the Party/Forever Came Today
9. Medley: I Want You Back/ ABC/The Love You Save
10. I'll Be There
11. Tito's Guitar Solo
12. Happy (Love Theme from "Lady Sings the Blues")
13. Music and Me
14. One Day in Your Life
15. Dancing Machine
16. Body Language (Do the Love Dance)
La setlist des concerts au Araneta Coliseum: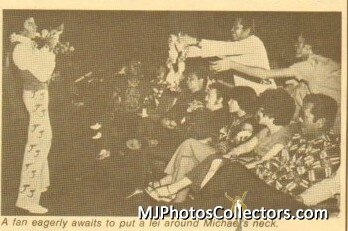 1. (You Were Made) Especially for Me
2. Hum Along and Dance
3. Never Can Say Goodbye
4. Just a Little Bit of You
5. Papa Was a Rollin' Stone
6. Breezy
7. Randy Introduces the Band
8. Rockin' Robin
9. The Life of the Party
10. Forever Came Today
11. Medley: I Want You Back/ ABC/The Love You Save
12. I'll Be There
13. Tito's Guitar Solo
14. What You Don't Know
15. Goin' Back to Indiana
16. Sugar Daddy
17. Dancing Machine
18. Body Language (Do the Love Dance)
Les promoteurs de la tournée, Hope une marque de cigarette de luxe , Vicor Records et Philippine Airlines, n'ont pas manqué de faire une belle publicité pour ces concerts.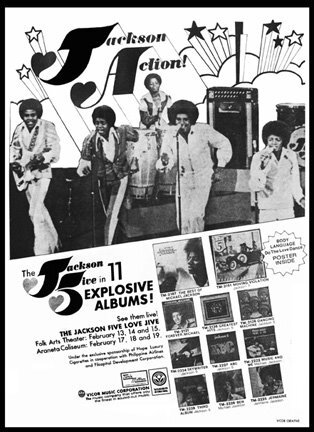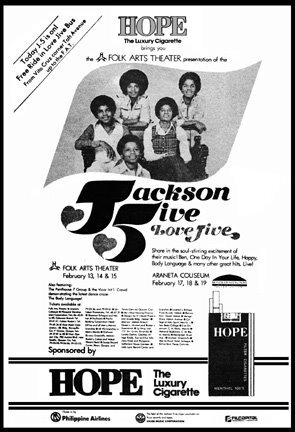 Selon l'article du Philippines Daily express ci-dessous, il semble que ce soit Mohamed Ali, ami avec les frères Jackson à l'époque, qui les ait incités à venir se produire dans le pays. Le même article qui précise que Germaine (!), malade, est remplacé par Randy dans le groupe !!!!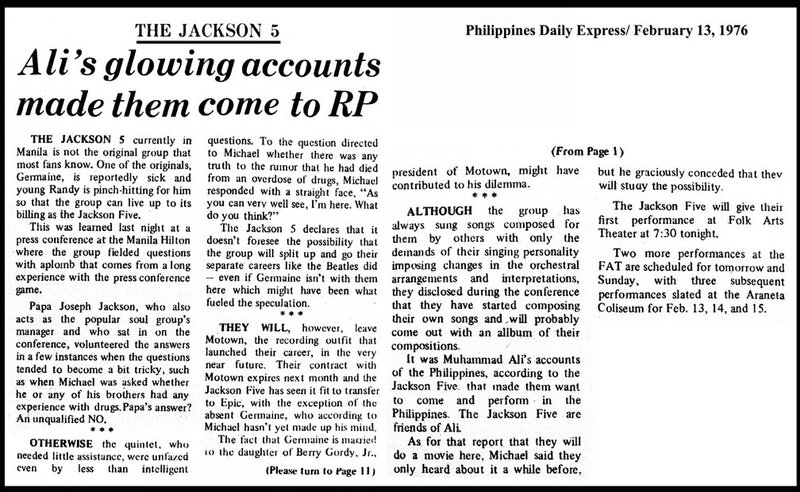 Les frères Jackson logent au Manilla Hilton Hotel. Une des employées se souvient : "Je travaillais au Manilla Hilton en 1976 quand les Jackson 5 y ont séjourné pour leurs concerts aux Philippines. C'était des gentils garçons, farçeurs parfois, mais rien de méchant. Leur père, Papa Joe était aussi un homme gentil. Ils ont pris des photos et nous ont donné des autographes à tous."
Pour promouvoir leurs concerts, ils sont apparus dans l'émission de télévision appelée Student Canteen présentée, sur Channel 7, le midi, par Eddie Ilarde, Bobby Ledesma et Coney Reyes.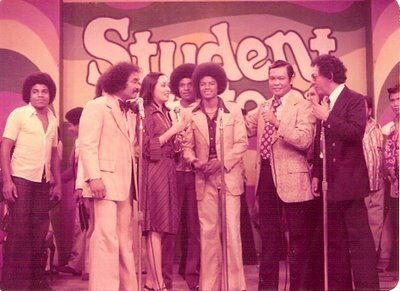 Lors de leur passage dans cette émission, un concours de chant "à la manière de Michael Jackson" a été lancé et Michael était là pour désigner le vainqueur. "Apparemment, Michael avait l'air très à l'aise avec l'idée d'avoir à sélectionner un gagnant et, le moment venu, il a levé les mains des deux finalistes! » Tout Michael ça !
Un des fans de Michael se souvient : "Les plus âgés d'entre nous ont eu la chance de voir Michael quand il est apparu avec les Jackson 5 dans l'émission du midi Student Canteen. J'avais environ six ou sept ans à l'époque. Un Philippin chanceux a pu donner une chaleureuse accolade à Michael quand il a remporté le concours MJ Philippines. Que j'aimerais que quelqu'un ait gardé une copie de la toute première apparition de MJ aux Philippines ".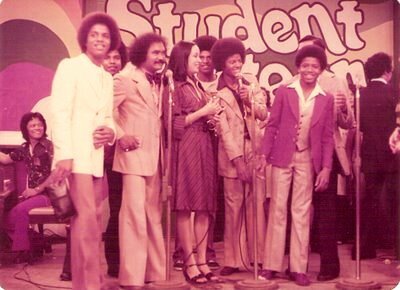 Un autre raconte : "Le gagnant du concours Michael Jackson des Philippines de Student Canteen que MJ a (finalement) personnellement choisi était Bobby Montojo. J'espère que c'est le bon nom. Il a chanté une version rock d'une chanson de Michael "(Rockin' Robin).
Michael a interprété son titre Ben au cours de l'émission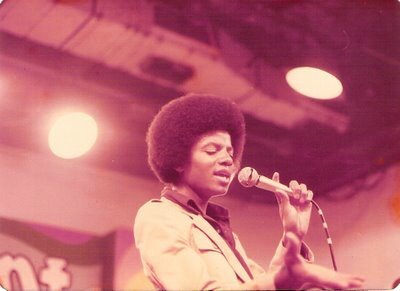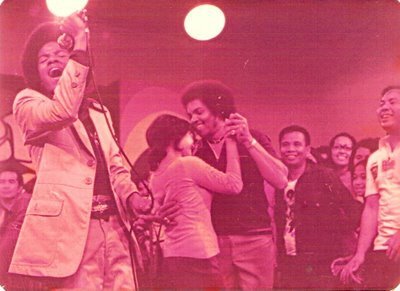 Eddie Ilarde s'est souvenu de ce passage à la disparition de Michael et a montré les quelques photos qu'il possède. Il se souvient de Michael « comme le plus amical des frères Jackson »
Au cours de son séjour, Michael rencontre deux actrices très connues aux Philippines, ce qui ne manquera pas de faire la une des magazines du pays.
- Vilma Santos, surnommée également à l'époque "Queen of Philippine Movies"," "Queenstar" ou "Star for All Seasons. Elle est entrée depuis quelques années dans la politique et est notamment devenue en 2007 Gouverneur du Batangas, une région des Philippines.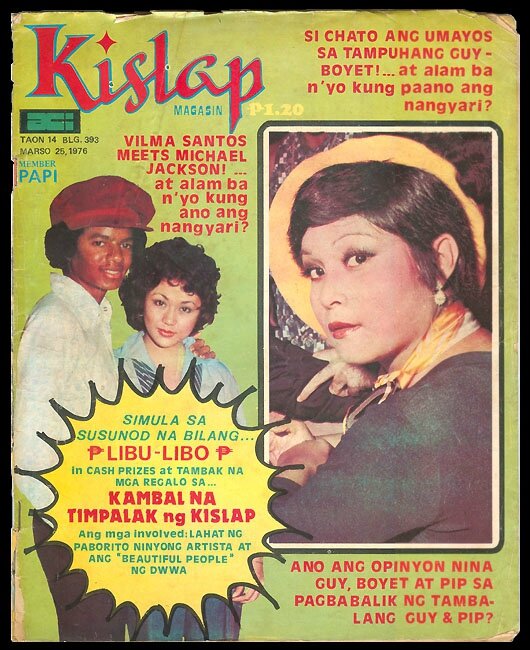 La jeune actrice d'alors est une grande fan de Michael qui lui de la connait pas. Vilma « Vi » Santos assiste à un des concerts du Araneta Coliseum et rencontre son idole pour le photoshoot des magazines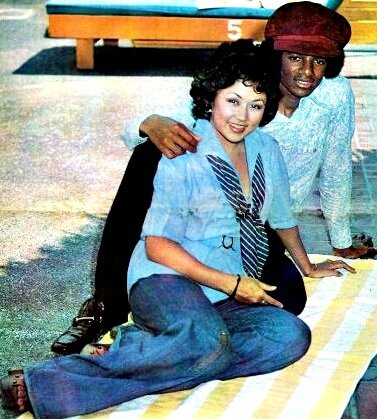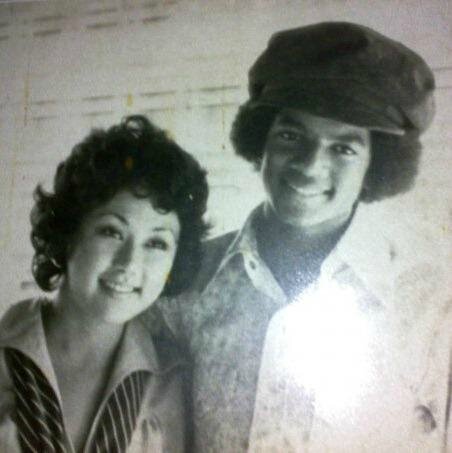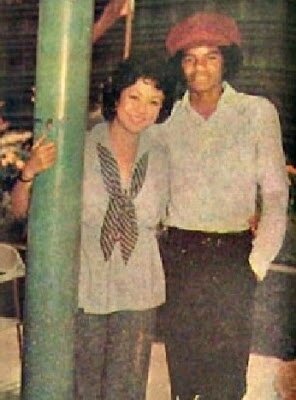 - L' actrice Nora Aunor.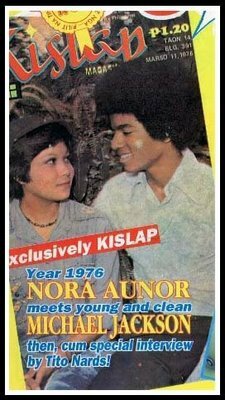 Des producteurs Philippins ont même proposé au groupe de réaliser un film avec cette dernière. « Si le script est bien écrit et que les choses peuvent se faire, j'aimerais beaucoup que le groupe fasse un film aux Philippines » dira Joe, leur père-manager. Rien ne se fera finalement.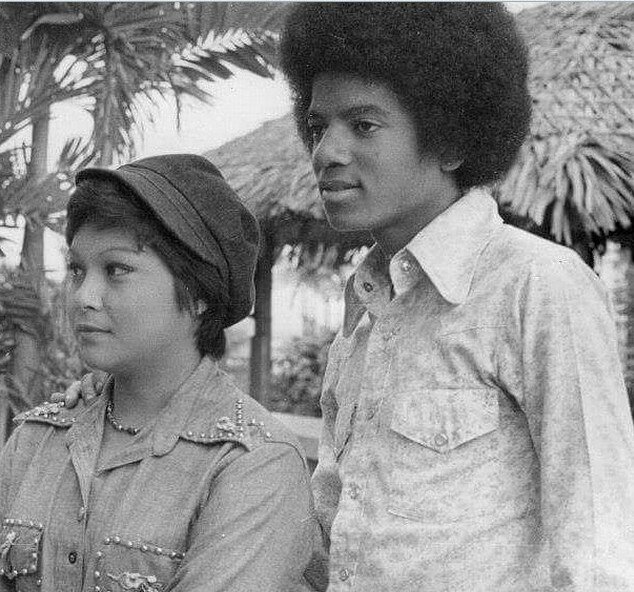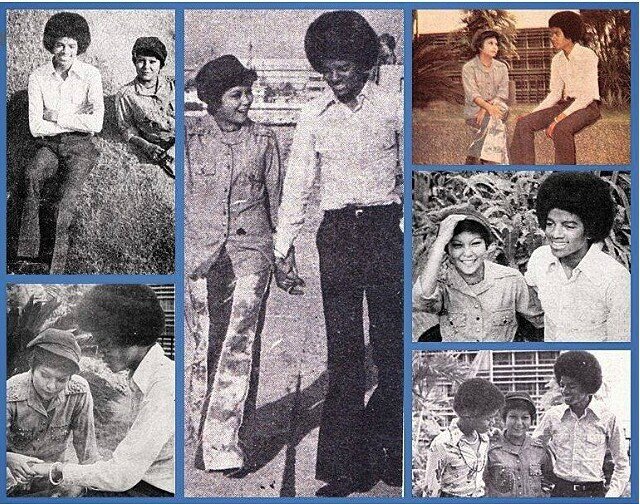 (merci à jackson.rare, instagram, pour la photo ci-dessus)
Michael avait 17 ans en février 1976. Selon les personnes qui l'ont rencontré alors « Il était grand et mince, il était très timide et semblait se cacher sous sa coiffure afro ».
Il trouve tout de même le temps de visiter Laguna et Pagsanjan afin d'avoir quelque chose de nouveau à soumettre à son enseignante (Mrs Rose Fine)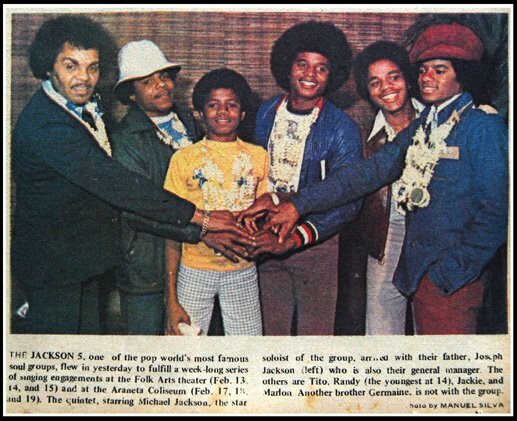 Sources : philstar.com/the-michael-jackson-archives.com/ instagram.com (thanks Наталья Агальцова de facebook)
Plus de photos dans l'album photos