Pour la deuxième fois de sa carrière, Michael est honoré par le fameux musée américain du Rock'N Roll Hall Of Fame. Il devient alors l'artiste solo vivant le plus jeune à être intronisé....un autre record!
Le Rock and Roll Hall of Fame est un musée, conçu par l'architecte Ieoh Ming Pei. C'est une institution, située à Cleveland (Ohio) qui honore, conserve et archive les moments les plus significatifs des plus grands artistes de Rock N' Roll, qu'ils soient chanteurs, musiciens ou producteurs. Les artistes sélectionnés doivent être encore en activité 25 ans après leur premier enregistrement et surtout, avoir eu une influence notable sur l'histoire du Rock. Ils sont classés selon quatre catégories:
- "Performers": artistes sur scène
- "Non-Performers": artistes hors scène
- "Early Influences": pionniers
- Sidemen (artistes d'« appui »).

Une annexe du musée a ouvert le 8 décembre 2008 dans le quartier de SoHo à New York.
Récompensé au Panthéon du rock, en mai 1997, avec ses frères les Jackson 5, Michael voit son nom apparaître une seconde fois dans la liste prestigieuse des membres intronisés au "Rock And Roll Hall Of Fame" en tant qu'artiste solo, pour sa contribution et son influence sur le monde de la musique.
Depuis l'hôtel Waldorf Astoria à New-York où a lieu la 16e cérémonie annuelle du Temple de la Renommée, Michael monte sur scène en béquilles (il s'est fracturé le pied quelques jours auparavant) sous l'ovation du public. Il reçoit la fameuse statuette des mains du groupe N'Sync, invité sur scène à lui remettre cette récompense unique...
"There ain't no stoppin', there ain't no enough, he's the King of Pop, the one, the only, Michael Jackson," (rien ne l'arrêtera, on n'en aura jamais assez, il est le King Of Pop, le seul, l'unique, Michael Jackson) dit Justin Timberlake pour l'annoncer.
Michael prononce le discours suivant:
"Hum pouvez-vous m'entendre ? Ok. Merci beaucoup. Merci N'Sync, je suis très fier de vous appeler mes amis, vous êtes tous merveilleux. Merci.
C'est un très grand honneur et je suis très heureux d'être ici. Comme vous pouvez le voir (en pointant son pied cassé), il n'y aura pas de moonwalk ce soir parce que je me suis fracturé le pied. Je suis tombé dans les escaliers en Californie et j'ai brisé mon pied à deux endroits. Je dois garder ce plâtre 6 semaines alors il sera bientôt enlevé.
Je suis honoré d'être intronisé une deuxième fois au Temple de la renommée du Rock And Roll. C'est une grande bénédiction. Pour moi, le don de la musique a été un bienfait de Dieu lorsque j'étais un enfant. Ainsi avant tout, je voudrais remercier mes parents qui m'ont transmis ce don. À ma mère Katherine et à mon père Joseph Jackson, je vous aime tous les deux.
À mes frères et à mes soeurs : merci, vous êtes tous merveilleux. Rabbin Shmuley, je t'aime et merci de m'aider à lancer "Heal The Kids".
Berry Gordy, Berry Gordy, Berry Gordy, Berry Gordy ! Comme c'était le début de bon nombre d'entre nous, je veux juste te dire merci. Il a été tellement important dans nos vies. Il est réellement ma véritable inspiration et je lui dois beaucoup.
Quincy Jones, merci. Voila un vrai 'thriller'. Quincy tu es incroyable. Je t'aime Quincy. C'est un grand homme.
La séduisante et talentueuse et magnifique Diana Ross qui est ma seconde mère. Merci.
Tommy Mottola, Sony. Je t'aime.
Merci aux fans. Merci. Bye."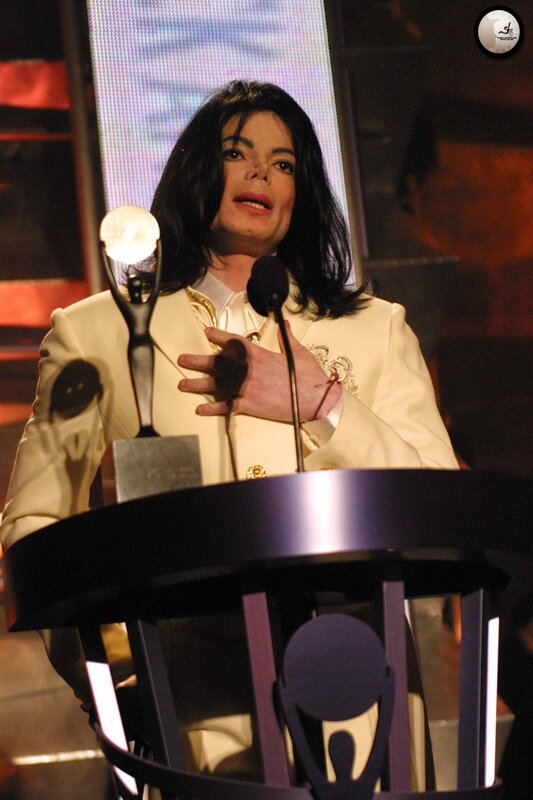 Quelques photos de l'exposition concsacrée à Michael au musée Rock' N Roll Hall Of Fame de Cleveland