Les Jackson 5 sont en tournée au Japon du 27 Avril au 2 mai à 1973. Ce voyage est l'occasion pour les frères ,et Michael en particulier, de découvrir un public qui ne fera que grandir avec les années.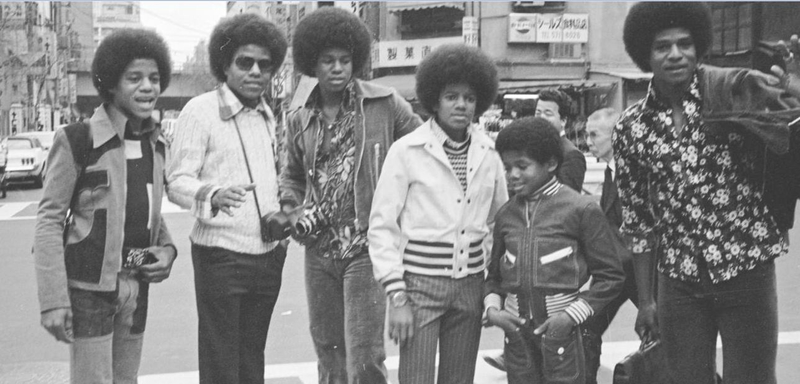 The J5 Make Love In Japan
Le dimanche 22 avril 1973, après 13 heures de vol et une escale à Honolulu (Hawaï), les Jackson 5 débarquent à 17h30 à l'aéroport du Tokyo, pour une série de cinq concerts au Japon. Les reporters et photographes attendent le groupe et immortalisent leur arrivée au Pays du Soleil levant.
Les fans attendent également le groupe à l'extérieur de l'aéroport. La notoriété des frères Jackson les a précédés. Ils se voient remettre chacun un bouquet de fleurs devant les nombreuses bannières d'accueil. Le groupe (avec Randy) voyage avec ses parents, Katherine et Joe, Ronnie Rancifer (le pianiste) et Johnny Jackson (le batteur du groupe), et toute une armée d'organisateurs, d'avocats, de photographe, de garde du corps et Bob Jones (déjà !). Des interprètes les accompagneront également tout le long de leur séjour.
Miss Rose Fine, la préceptrice des garçons les suit aussi. Bien qu'ils soient à des milliers de kilomètres de chez eux, les leçons particulières ne s'interrompent pas !
A leur arrivée à l'hôtel, une foule de fans est à nouveau présente. Il faut dire que l'arrivée en limousine est loin d'être discrète, celle-ci ayant le logo du groupe. Les Jackson découvrent un hôtel entouré d'un jardin magnifique avec de grands arbres, des fleurs colorées, des petites maisons en bois et un grand étang au milieu du jardin rempli de poissons de tailles, de formes et de couleurs diverses.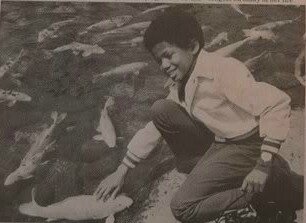 Randy avec les poissons
Le premier concert n'est prévu que le 25 avril. Les frères Jackson ont cependant un emploi du temps très occupé: des interviewes pour la télévision et la radio, des conférences de presse et puis bien sûr du tourisme et la découverte de la culture Japonaise.
Suivons-les dans leurs aventures nippones
Du shopping
Le Japon, pays de la technologie. Les Jackson 5 achètent donc quelques équipements made in Japan : caméras, lecteur de cassettes, et autres accessoires divers. Michael achète également une montre indiquant l'heure dans différents pays, une veste de sport, et un kimono bleu entre autres souvenirs.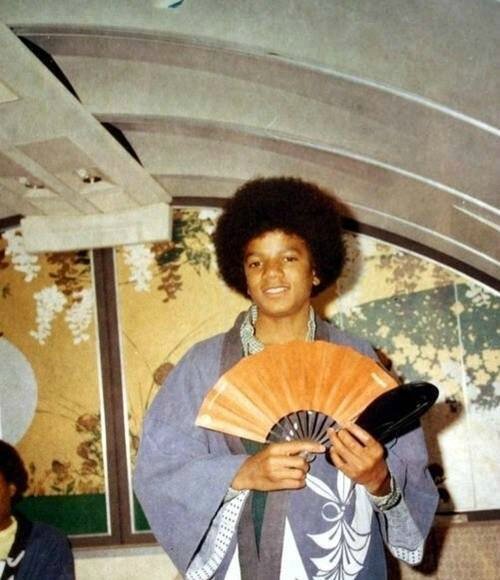 La découverte de la culture
Et oui, manger avec des baguettes n'est pas si évident, les frères l'ont compris. Michael n'hésite pas à s'entraîner. Quand à Randy, il préfère que Jermaine lui fasse manger les pâtes !!! La plupart du temps, le groupe fait monter à dîner dans sa chambre.
On les retrouve aussi dans un restaurant …..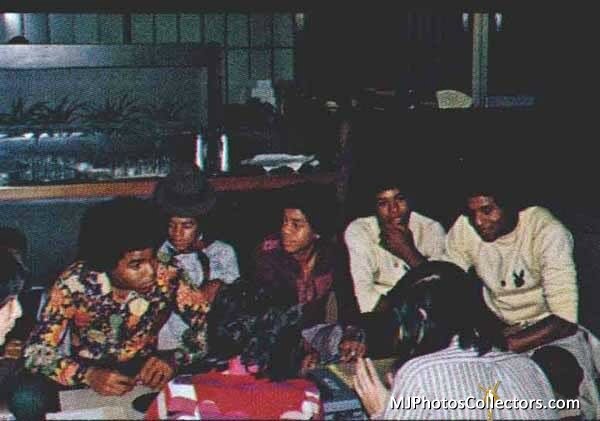 …. mais en tant que bons américains, les frères ne peuvent résister à un bon hamburger et à un soda!
Du tourisme
Les frères profitent bien sur de ce séjour pour découvrir des lieux typiques, appareil photo à la main.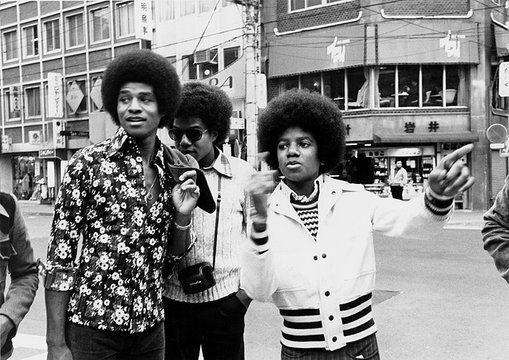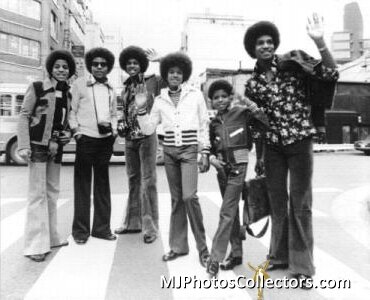 Michael et Randy participent à une cérémonie du thé dans un jardin de la ville d'Hiroshima. Ils sont invités à boire du thé vert et à déguster un petit gâteau avec des femmes vêtues du costume traditionnel. La réaction de Michael en buvant son thé : « Mais il n'y a pas de sucre dedans !!! »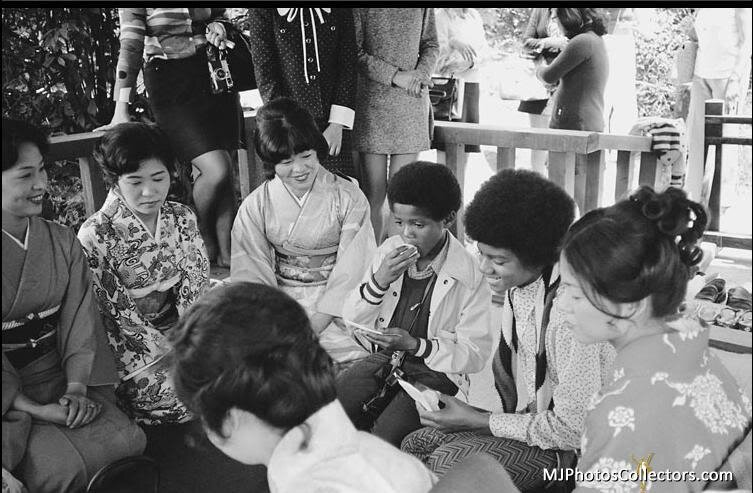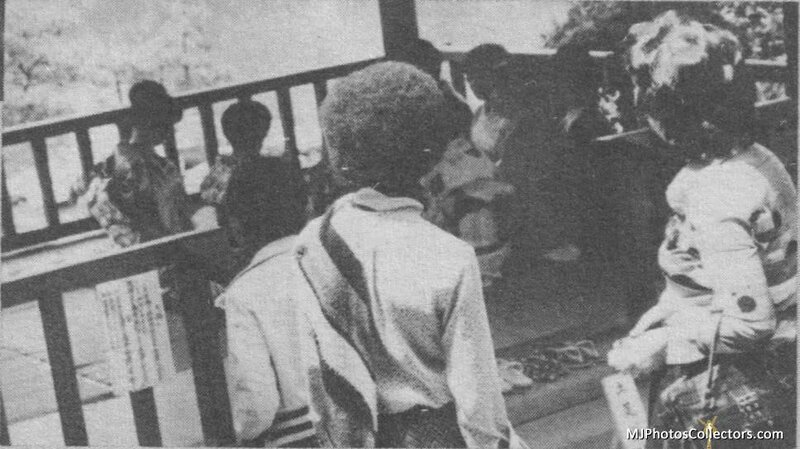 Temples boudhistes, musées d'art, jardins (les jardins orientaux du Takanawa Prince Hotel) et découverte des villes sont au programme.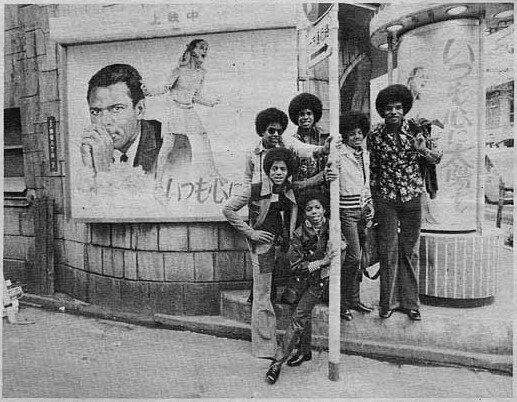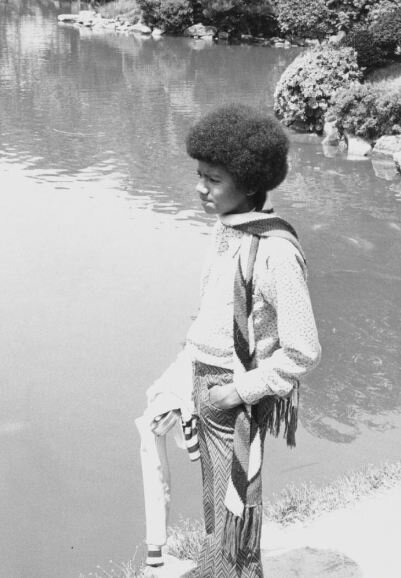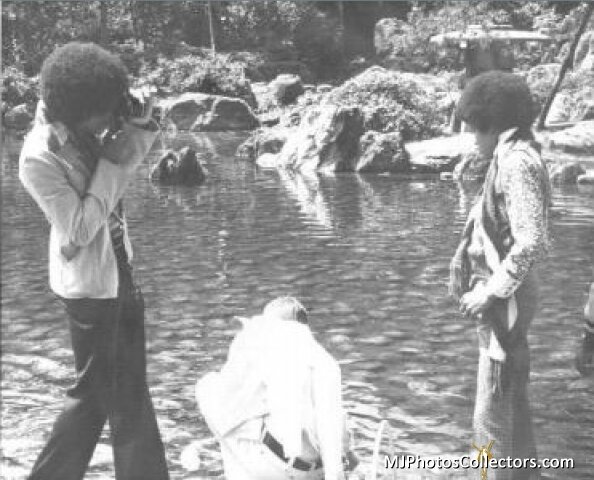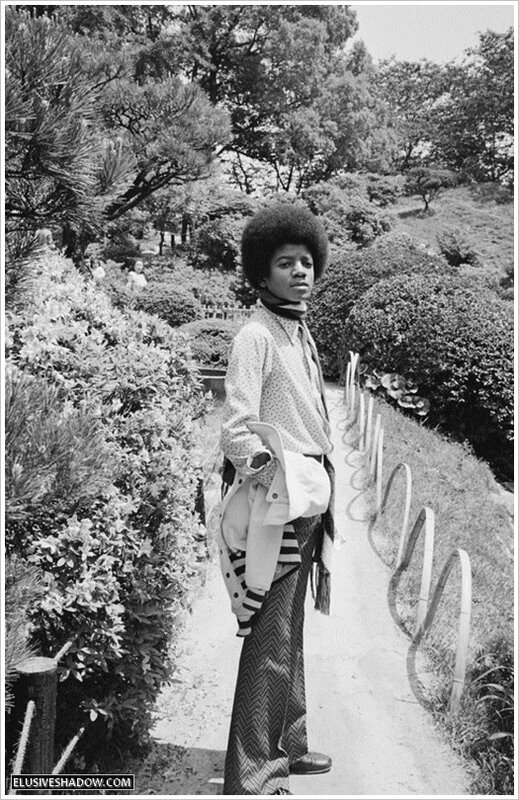 Chaque fois, les fans sont là, demandant un autographe, une photo et les garçons ne se font pas prier !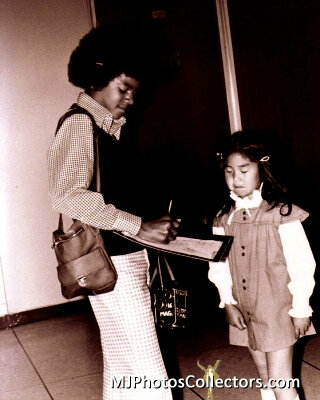 Michael ne résiste pas à un bébé Japonais.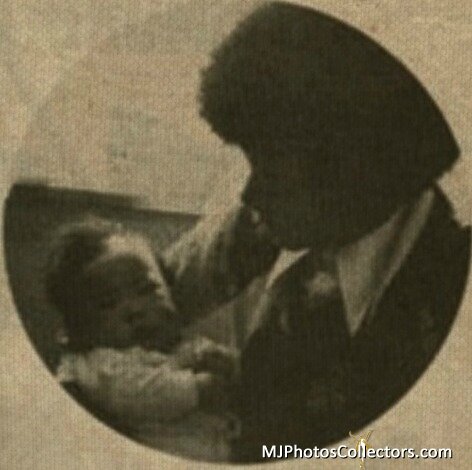 Et pour ce jeune Japonais qui a suivi Michael partout dans Tokyo (le traducteur?) Michael lui laissera son bracelet en souvenir !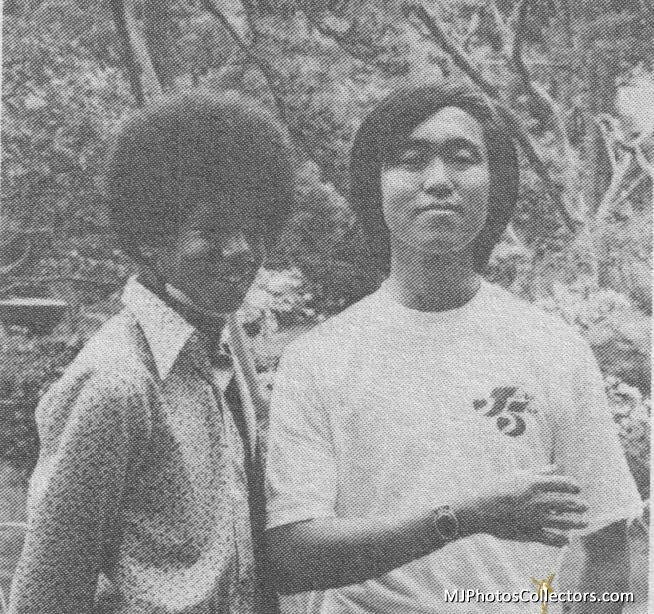 Les J5 sont également les invités de l'ambassadeur américain au Japon.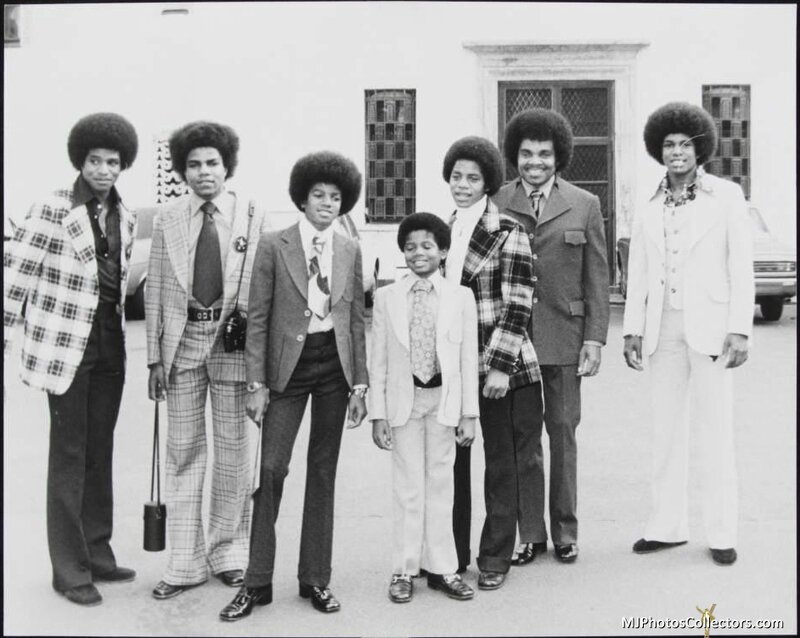 Des Interviewes et des concerts
Le 24 avril, une conférence de presse a lieu à Tokyo, concernant le Tokyo Music Festival qui aura lieu quelques jours plus tard. Toutes les questions et réponses sont traduites par l'homme de gauche sur la photo ci dessous.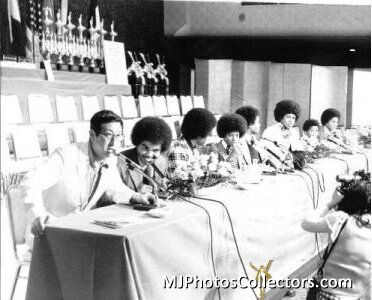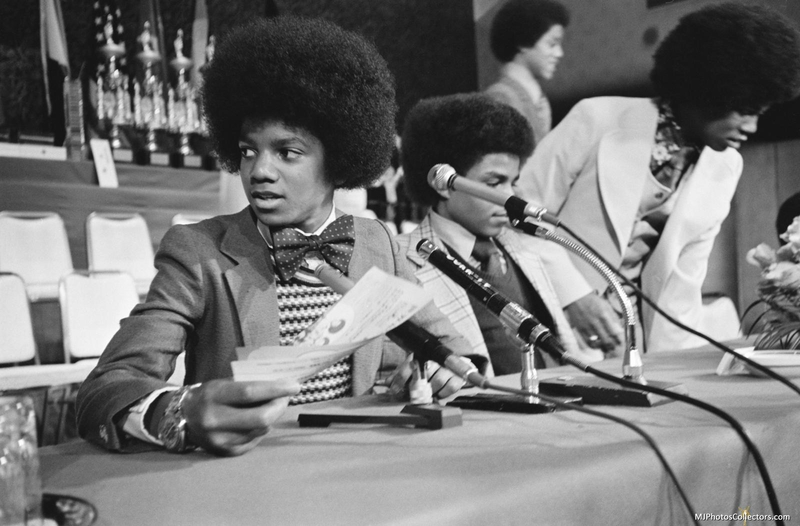 Ils sont également les invités de show télévisés où Michael, toujours aussi curieux, passe derrière la caméra pour savoir comment cela fonctionne.

Les répétitions pour une émission télévisée:
Le groupe donne cinq concerts sur le sol japonais : le 27 avril à l'Imperial Theater de Tokyo, le 28 avril au Yubin Chokin Hall d'Hiroshima, le 30 avril au Koseinankin Hall d'Osaka, le 1er mai au Festival Hall d'Osaka et le 2 mai au Budokan de Tokyo, tous à guichets fermés.
Le ticket de concert du 2 mai
Randy est présent, aux congos. La foule est décrite comme sauvage par certains témoins, surtout quand les Jackson 5 disent quelques mots en japonais, appris de leur interprète. Les gardes de la sécurité sont souvent obligés de contenir les jeunes gens qui veulent envahir la scène.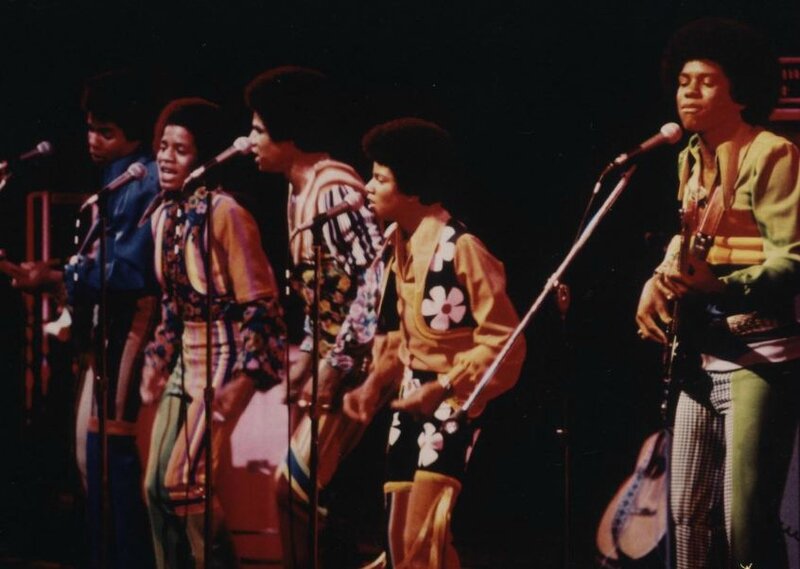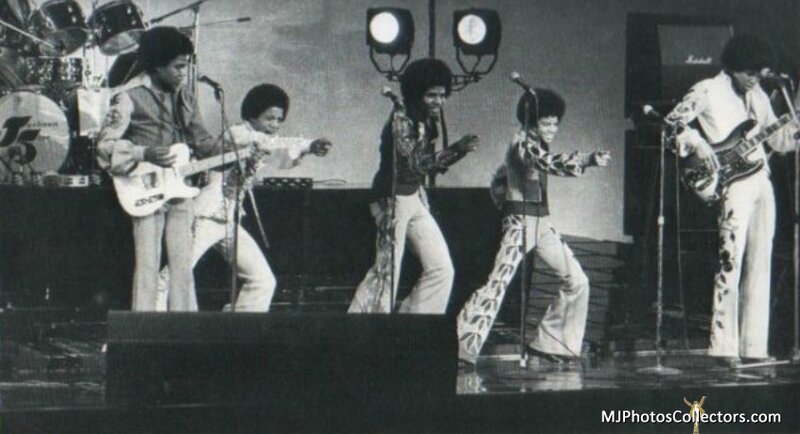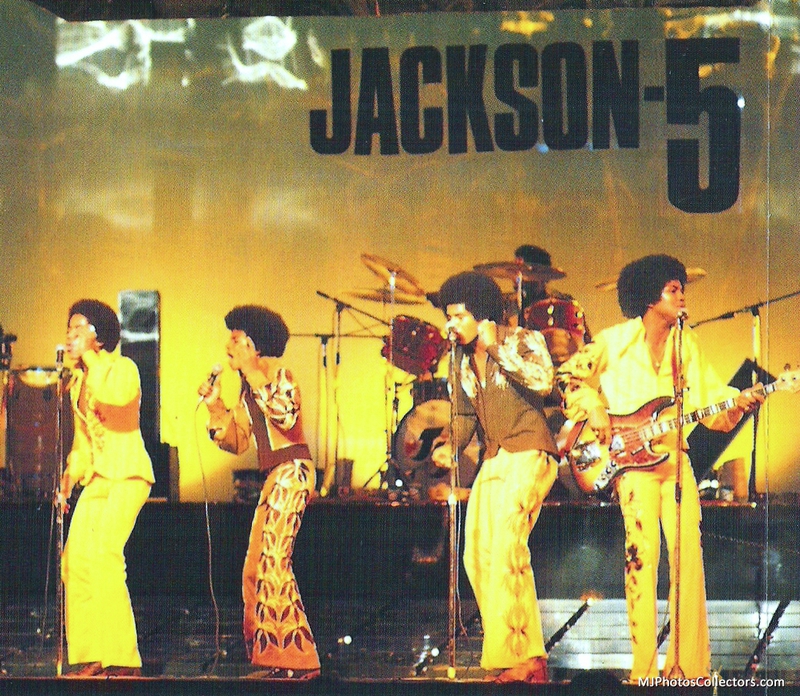 Parmi les cinq concerts donnés, seuls deux d'entre eux sont connus. Le plus célèbre show est celui du 30 avril au Koseinenkin Hall de Osaka. Le groupe a été satisfait du résultat et le spectacle est sorti en vinyle seulement au Japon le 31 octobre 1973. Le célèbre album In Japan!
Il est finalement ressorti aux États-Unis par Hip-O Select en 2004. Le Live In Japan a cependant été limité à 5000 exemplaires.
Un autre spectacle a été enregistré, le concert du 27 avril à l'Imperial Theatre de Tokyo. Il circule également parmi les fans. Il dispose d'une setlist identique et est souvent confondu avec la version officielle.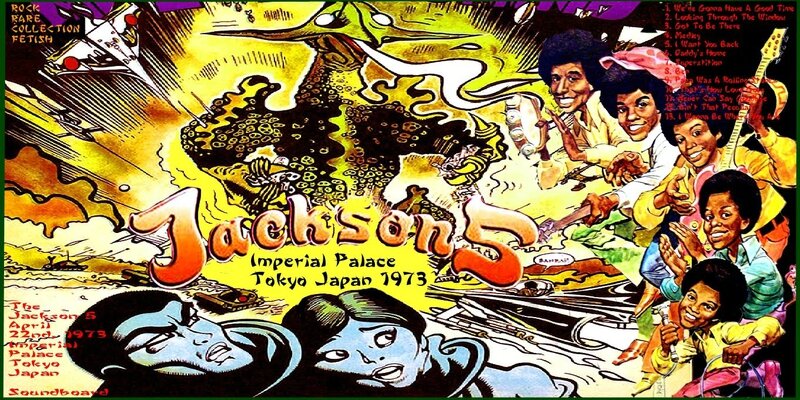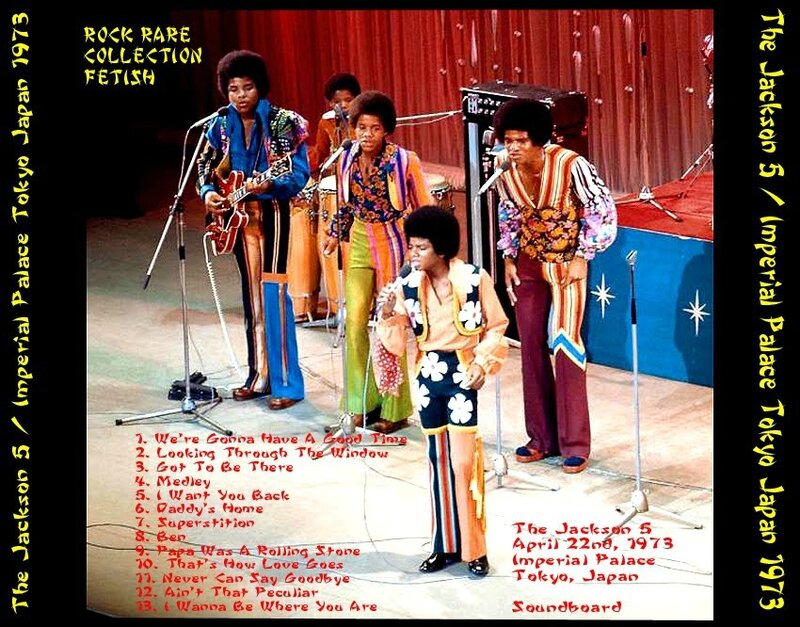 - Introduction / We're Gonna Have A Good Time
- Lookin' Through The Windows
- Got To Be There
- Medley: I Want You Back / ABC / The Love You Save
- Superstition
Reprise de Stevie Wonder
- Daddy's Home
Tiré de l'album "Jermaine" de Jermaine Jackson (1972)
- Ben
- Papa Was a Rolling Stone
- That's How Love Goes
Tirée de l'album "Jermaine" de Jermaine Jackson (1972)
- Never Can Say Goodbye
- Ain't That Peculiar
Tirée de l'album "Jermaine" de Jermaine Jackson (1972) et reprise de Marvin Gaye (tirée de l'album "Moods of Marvin Gaye" - 1966)
- I Wanna Be Where You Are
Selon les concerts, le titre Hallelujah Day est présent également.
Le 29 avril, les J5 participent à la 2ème journée du Tokyo Music Festival au Théatre Impérial de Tokyo, au cours de laquelle ils partagent la scène avec Sammy Davis Jr et Georges Moustaki.
Une fête a lieu après le festival où les frères rencontrent Sammy Davis et sa femme.
Et le départ
Et oui, même pour les Jackson 5, toutes les bonnes choses ont une fin. Il est temps de dire « Sayonara ». Le 04 mai, le groupe, sa famille et son entourage quittent le Japon. A l'aéroport, des fans japonais sont là pour leur dire au revoir, avec des cadeaux et des fleurs.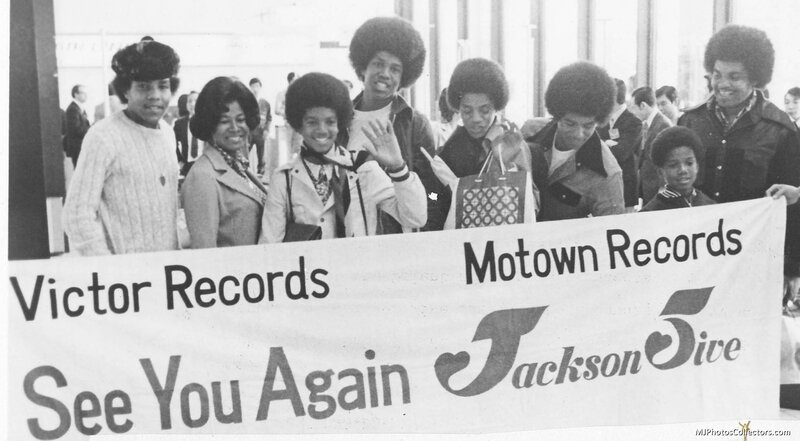 Dans l'avion du retour, à 37 000 pieds au dessus de l'Océan Pacifique, Jackie souffle ses 22 bougies sur un gâteau surprise. C'est une double célébration puisque Katherine est née le même jour.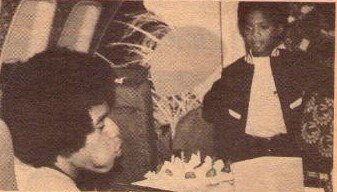 Retrouvez plus de photos dans l'album photos, le programme de la tournée japonaise et des articles d'époques ici, ici et ici