En juin 1972, Michael est l'invité d'un jeu télévisé, The Dating Game (diffusé en septembre 1972 à la télévision), dont le concept sera repris en France dans les années 80 sous le nom de Tournez Manège.
The Dating Game, créé par Chuck Barris met en vedette des célibataires. L'émission a été diffusée pendant huit saisons, de 1965 à 1973 sur le réseau ABC.
Le principe : une jeune femme célibataire pose des questions à trois hommes qu'elle ne voit pas. Au terme de cette période de questions, elle en choisit un qu'elle accompagnera à un rendez-vous galant aux frais des producteurs de l'émission. À l'occasion, les rôles sont inversés, avec un homme et trois femmes; une autre variante mettait en scène une personnalité questionnant trois participants avec à la clé, un rendez-vous pour la personnalité elle-même.
Plusieurs personnalités du monde du spectacle se sont prêtées au jeu afin de trouver l'âme sœur pour eux-mêmes. Certains participants, inconnus lors de leur passage à l'émission, sont devenus des célébrités : Suzanne Somers, Farrah Fawcett, Andy Kaufman, Burt Reynolds, Sally Field, John Ritter, Arnold Schwarzenegger et Tom Selleck — qui a paradoxalement perdu lors de ses deux présences.
L'émission était animée par Jim Lange, un disc jockey de San Francisco durant les années 1960 et 1970. Il est décédé d'une crise cardiaque il y quelques semaines, à la fin du mois de février 2014.
En Juin 1972, Michael Jackson n'est pas encore le King of pop, mais il est déjà star. A 14 ans, il connait le succès depuis quelques années avec ses frères et leur groupe The jackson 5 et son premier album solo, Got to be There, est sorti quelques mois auparavant.
Les Jackson 5 sont sur le point de reprendre leur tournée nationale durant laquelle ils se produiront pour plus de 45 dates à travers le pays.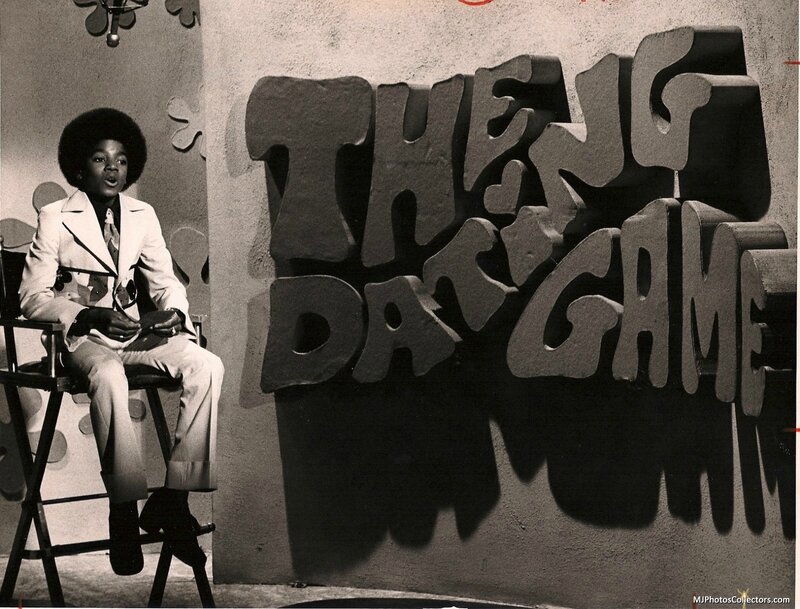 Michael se prête donc au jeu du tournez manège américain avant de reprendre la route. La jeune fille qui réussira à séduire Michael avec ses réponses aura la chance de gagner un diner avec la jeune star et un billet pour le concert au Madison Square Garden que les frères doivent donner le 30 juin 1972.
Michael interprète d'abord son titre solo Rockin Robin sur le plateau de l'émission.
S'il semble à l'aise en chantant, il l'a été beaucoup moins lors du jeu.
Jim Lange annonce Michael Jackson : "Il est le chanteur principal et le plus jeune membre des Jackson 5. Il aime le dessin, jouer au basket-ball, les bonbons et les chewing-gums."
Michael, habillé d'un costume jaune, doit maintenant poser des questions à ses trois prétendantes, Latonya Simmons (candidate n°1), Venus Franklin (candidate n°2) et Demetra McHenry (candidate n°3), âgées d'une dizaine d'années et cachées de l'autre côté de la scène.
La première question est déjà singulière : "Je n'ai jamais eu de rendez-vous galant. Peux-tu me dire que font deux ados comme nous lors d'un rendez-vous ?" Réponse des deux candidates : « On dine ensemble, on se fait de calins et des bisous », « On va chez toi ! »
La suite des questions du futur King of pop fait plutôt sourire : "Si j'emmène mon animal de compagnie, un serpent, à notre premier rendez-vous, avec qui viendrais-tu et pourquoi ?" La réponse de la candidate est étonnante : "Je viendrais avec un escargot, pour que ton serpent puisse le manger !"

Michael continue : "À chaque fois que je sors, je suis poursuivi par des filles. Si tu es avec moi, que leur dirais-tu pour qu'elles me laissent tranquille ?" Réponse de la candidate n°1 : « Il est à moi, pas à vous » et de la candidate n°2 « Vous feriez mieux de déguerpir tout de suite »
Michael poursuit avec cette question : « Que dirais-tu à ta meilleure amie de notre rendez-vous si tu lui téléphonais le lendemain » Réponse de la candidate numéro 1 : « On s'est amusé et on est allé à l'hôtel » et de la candidate numéro 2 : « On a passé un super moment. On est allé au cinéma, on a mangé des pop corn et il m'a embrassée »
Ensuite Michael demande à la candidate n°3 : « Comment serait notre premier baiser ». Réponse : « Il serait merveilleux »
Et la meilleure question :) : "J'adore les bandes dessinées. Pouvez-vous me dire à quel personnage de bandes dessinées ressemble la candidate à côté de vous ?" Réponse : "Mickey Mouse"
Question suivante à la candidate n°2 : « Qu'est-ce qui fait que vous êtes jolie ? » Réponse « Je suis belle, je porte le nom de la déesse de l'amour »
Au final, le jeune homme choisira la candidate la plus timide, Latonya Simmons. La jeune fille aime danser, fait partie d'une équipe de basket ball, elle aime les maths et veut être enseignante.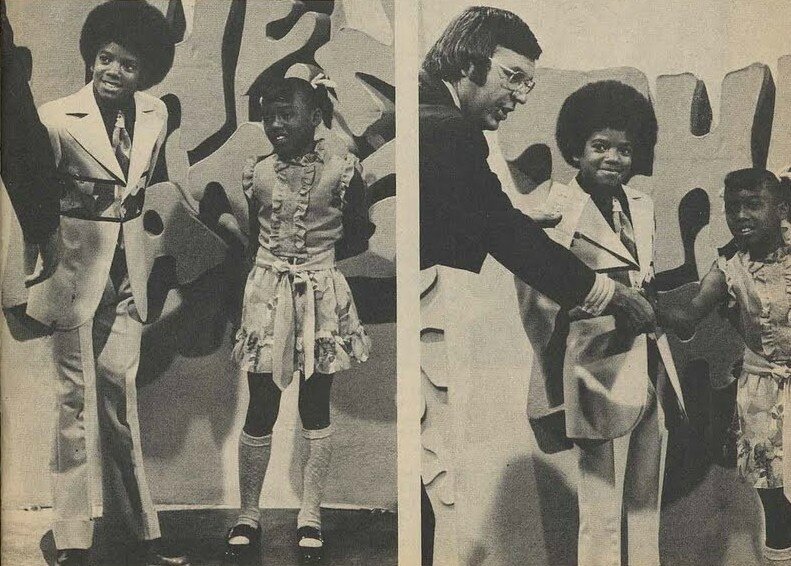 « J'ai aimé ses réponses » dira Michael.
«Quand il m'a choisi….oh mon Dieu! Si vous avez vu les autres filles, elles étaient très en colère ", raconte Latonya. "Je priais ….s'il vous plaît, Dieu, laissez-moi sortir avec Michael Jackson, et puis tout d'un coup c'est arrivé."
Latonya (et sa mère) a donc retrouvé Michael à New York pour la tournée des Jackson 5 et pour un diner en tête à tête, chez Sardi, la veille du concert.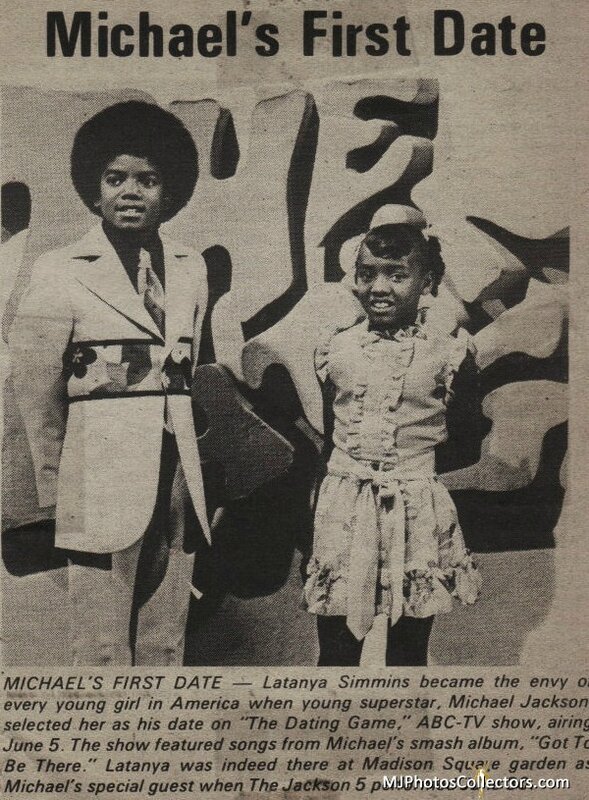 Michael raconte dans le Los Angeles Time en 1972 : "Nous sommes allés au restaurant à New York. Le soir suivant, nous avions eu notre concert et elle est venue. Elle était au premier rang et tout le monde l'a reconnue du jeu télévisé. Ils ont commencé à vouloir la toucher, à lui demander un autographe. Elle a été obligée d'aller en coulisses ".
En 2003, Inside Edition a parlé à Latonya. Devenue non pas enseignante mais administratrice d'un hôpital, la jeune fille devenue femme s'est souvenue être sortie avec Michael durant quatre ou cinq rendez-vous innocents, avec rien de plus qu'un baiser sur la joue. «C'était juste des trucs d'enfants, nous étions des mômes," dit-elle.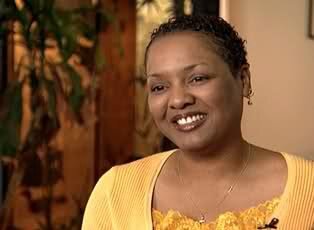 Michael, de son côté, indiquera lors d'une interview à Andy Warhol en 1977 qu'il n'avait jamais eu alors de rendez-vous avec une fille en dehors du Dating Game…. « Mais c'était pour le boulot »
Le numéro d'octobre 1972 du magazine 16 consacrera une double page à la participation de Michael à ce jeu