12 avril 2014, Chicago.
C'est le point de départ d'un projet né 18 mois auparavant : partir sur les traces de Michael entre deux amies. Un projet fou, de deux semaines, entièrement dédié à celui qui partage notre vie et la mienne plus particulièrement depuis maintenant plus de 30 ans.
Munie d'un carnet d'adresses, assez conséquent, me voilà donc arrivée, avec Isabelle, mon amie rencontrée sur un forum Jacksonien, peu après la disparition de Michael, sur le lieu de notre première étape de ce fabuleux voyage. Nous sommes toutes les deux très excitées par ce séjour que nous avons prévu et préparé dans ses moindres détails.
Le temps à Chicago est très accueillant (cela ne durera pas !) et après avoir récupéré la voiture de location, nous filons en direction de l'hôtel, légèrement éloigné de Chicago, à Burbank, mais qui nous rapproche de la ville pour laquelle nous sommes là et que personnellement j'ai envie de visiter depuis des années : Gary, Indiana, le lieu de naissance de Michael.
Le temps de déballer quelques affaires, de nous détendre de ce long voyage en avion avec un petit tour par la piscine chauffée de l'hôtel, nous décidons de nous coucher tôt : nous avons quelques heures de sommeil à récupérer avant notre grosse journée du lendemain.
Dès 6h le dimanche 13 avril, nous sommes sur le pied de guerre !!! Le petit déjeuner avalé, nous voilà donc parties pour la découverte de cette ville qui représente tant dans la vie des Jackson.
Gary, dans l'état de l'Indiana, est situé à une cinquantaine de kilomètres au sud de Chicago. Située sur les bords du lac Michigan, considérée comme la banlieue de Chicago, la ville compte près de 80 000 habitants et est réputée pour ses problèmes économiques et de sécurité.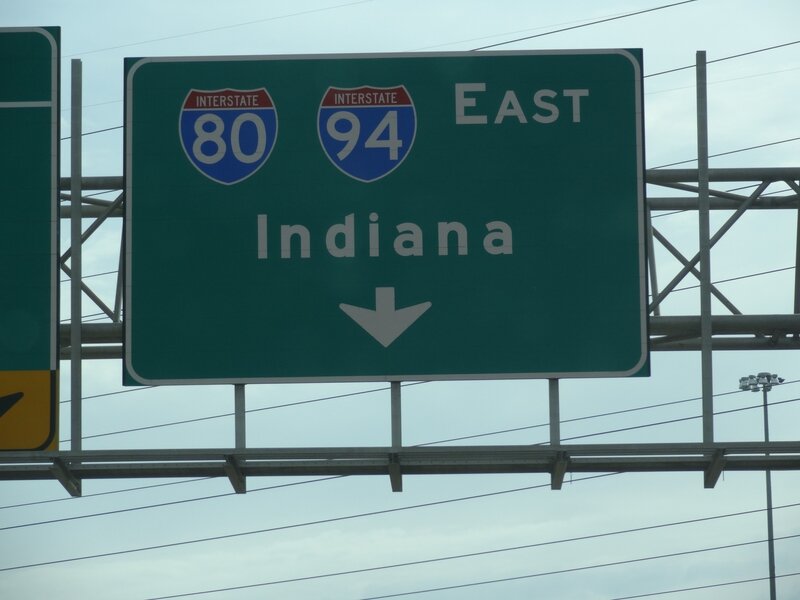 En 40 minutes, nous nous retrouvons devant la première adresse que nous avons rentrée dans le GPS : le 2300 Jackson Street.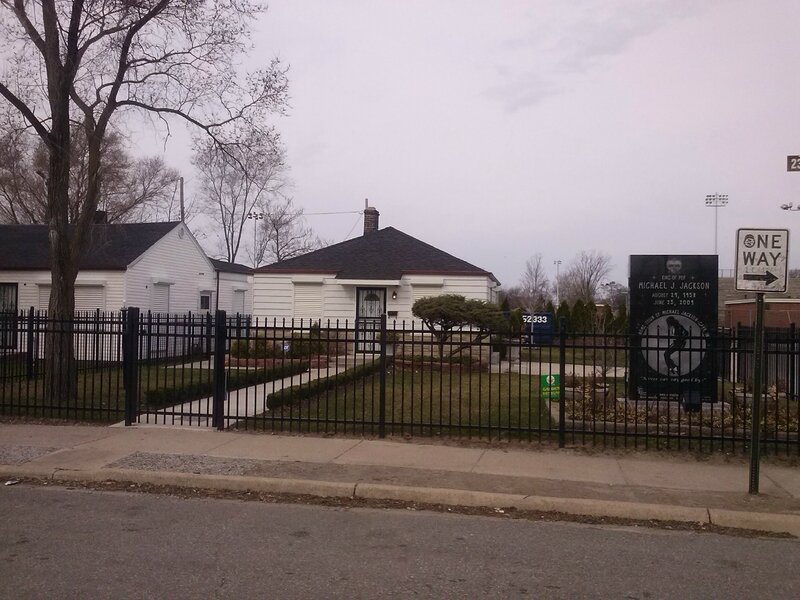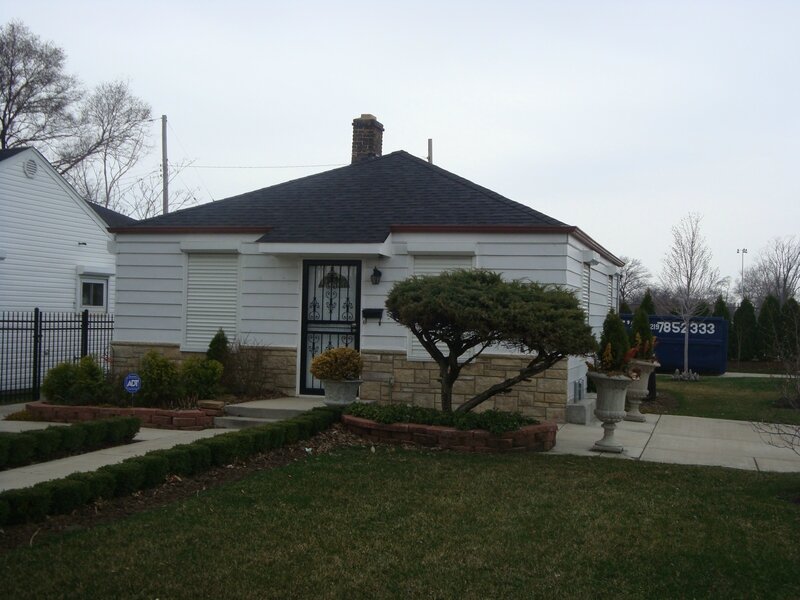 La petite maison que j'ai si souvent vue en photo est désormais là, devant mes yeux. Quelques endroits sont à mes yeux très représentatifs de la vie de Michael : Encino, Neverland ….et bien sur cette petite maison de Gary.
Tandis qu'Isabelle descend de la voiture et se retrouve déjà devant les grilles qui entourent désormais la maison, je reste un instant dans la voiture, seule, envahie par l'émotion. Je regarde longuement cette maison où Michael a vu le jour, il y a plus de 55 ans, où les Jackson 5 ont débuté leur carrière. Tout ce que j'ai pu lire sur l'enfance de Michael me revient en mémoire…et je suis là désormais devant cette si petite maison. Je descends et m'approche lentement de la grille, voulant profiter de ce moment privilégié. La maison est située tout au bout de la Jackson Street, à l'angle de la 23ème avenue, mais rebaptisée le Jackson Family Boulevard.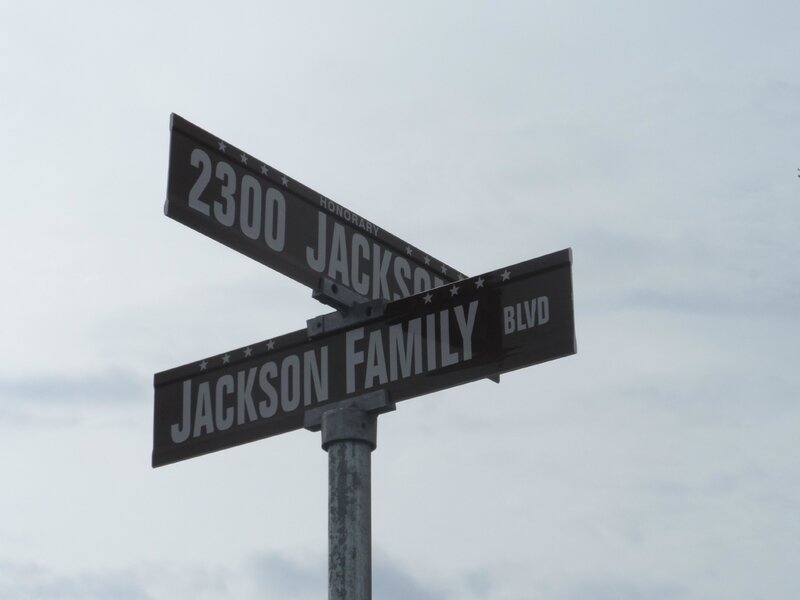 La maison a été rénovée et dépareille légèrement avec les autres maisons du quartier, qui n'est cependant pas le pire quartier de la ville. La rue est pavillonaire mais déserte en ce dimanche. La maison est entourée de grilles noires, afin d'empêcher les fans d'approcher. Une petite allée mène à la porte, elle-même protégée par une porte avec une grille. Les volets sont fermés, la maison est inhabitée.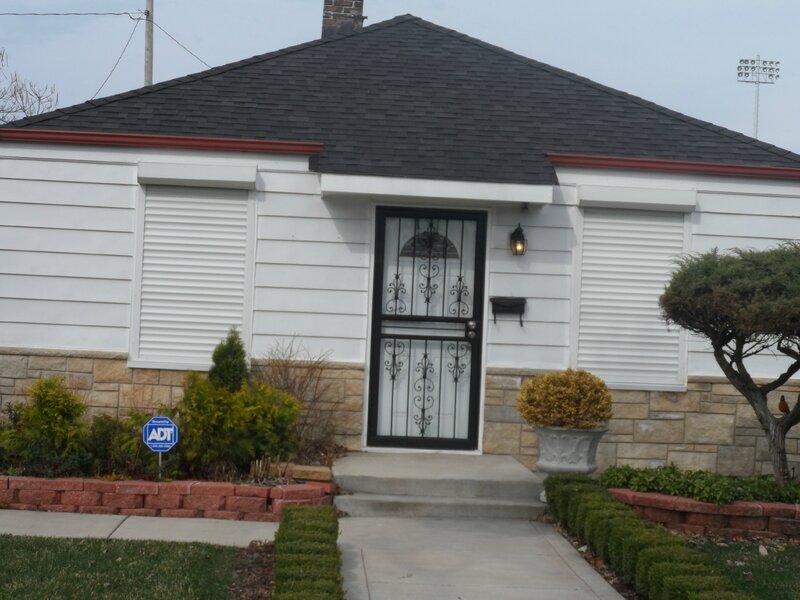 Le jardin est bien entretenu, même si en cette fin d'hiver dans la région, il est bien triste. Une stèle en marbre noir, ornée de photos de Michael (dont un sosie !!!) trône devant la grille de devant. Des plaques incrustées dans le ciment des allées rappellent également que le King Of Pop a grandi ici.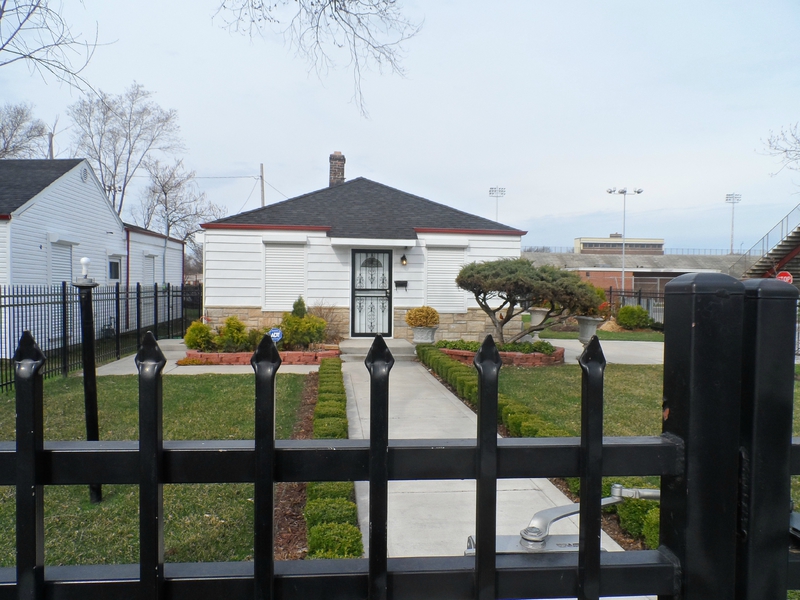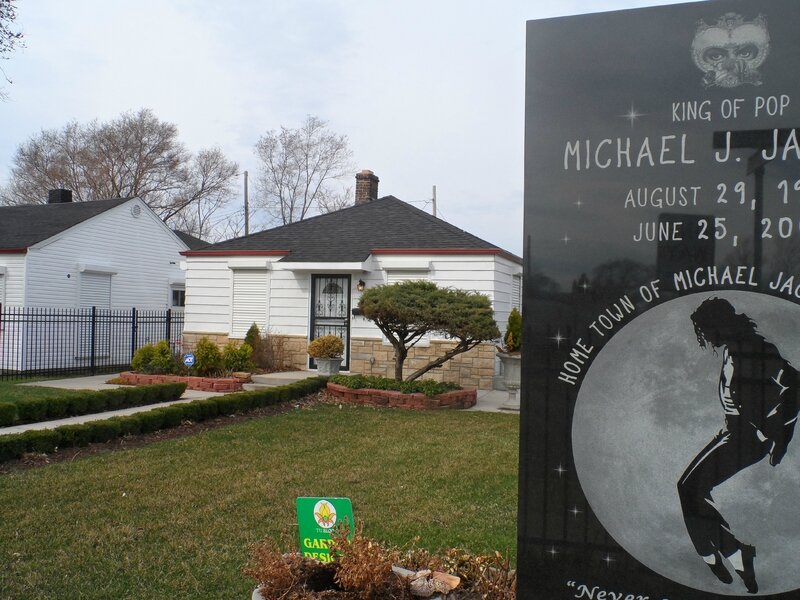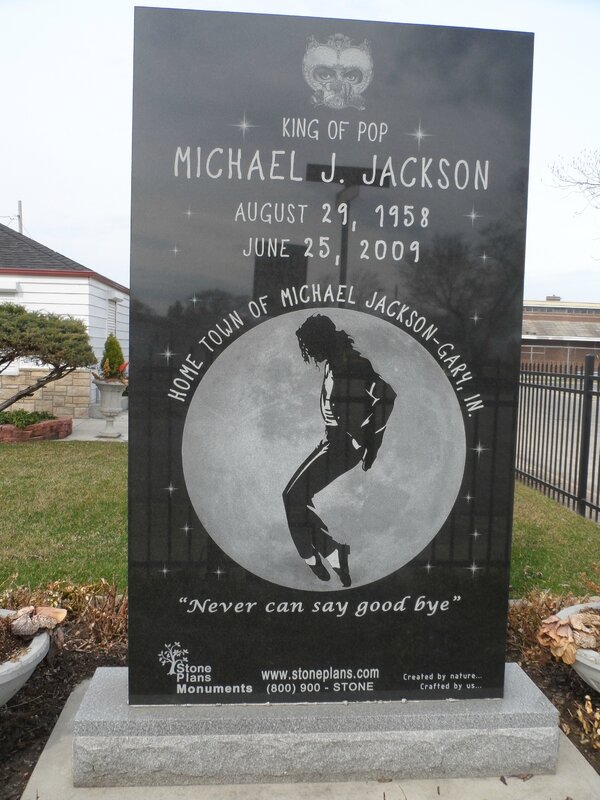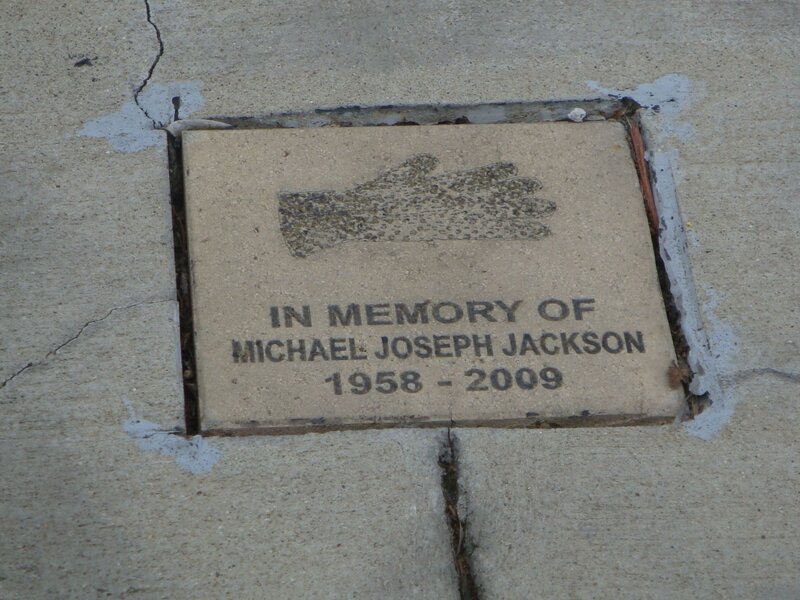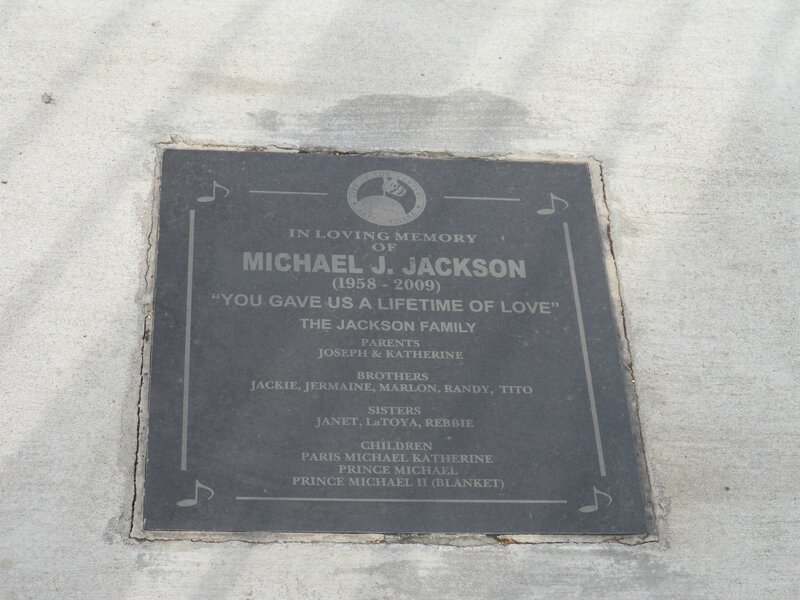 Sur le côté, à l'extérieur du jardin, sur le trottoir, a été placé un panneau où les fans peuvent signer et marquer leur passage devant ce lieu symbolique. Isabelle et moi bien sûr trouveront un petit endroit pour laisser notre petit message. J'ai également apporté une petite carte que je laisse dans l'herbe, près du panneau.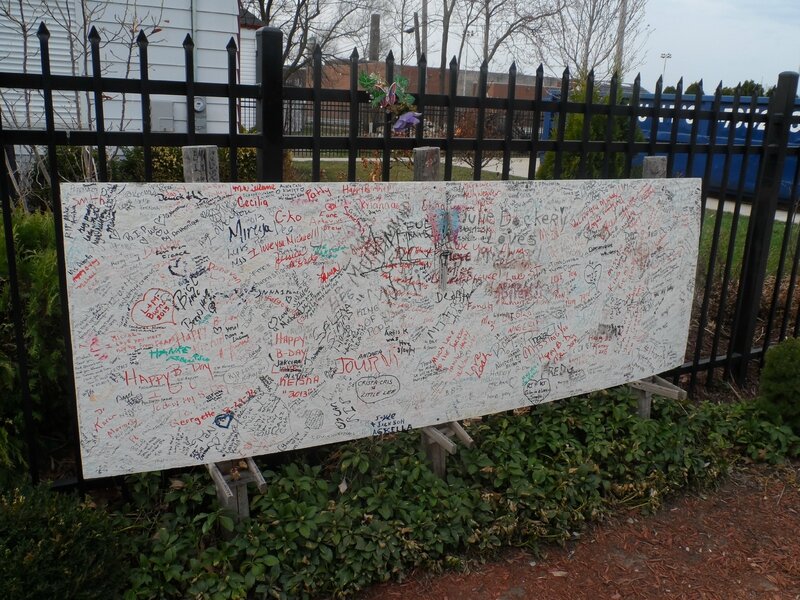 Pendant que nous prenons des photos de la maison, deux couples viendront se joindre à nous. Tous deux nous diront avoir connu la famille Jackson, les parents surtout. Le premier couple, qui vit désormais en Alabama, vivait à Gary lorsque la famille Jackson y était et me dit avoir connu Michael petit, alors qu'il n'était pas encore célèbre. Le second couple, originaire du Wisconsin, nous parle également de leur relation de connaissance avec Katherine et Joe. Ils sont impressionnés par le fait que nous arrivions de Paris pour voir cette maison.
Cette maison justement, si petite. Comment une famille de 11 membres a-t-elle pu tenir à l'intérieur ? Nous n'en revenons pas. On en fait le tour, prenons des photos. En regardant les fenêtres, je repense aux anecdotes décrites dans les livres de Michael, Katherine et Jermaine et j'essaie de m'imaginer la vie vécue derrière ces murs. C'est là que tout a commencé et l'émotion m'envahit encore plus.
A l'arrière de la maison se trouve la fenêtre de la chambre des garçons. Comme le dit Jermaine dans son livre, elle donne directement sur la 23éme avenue.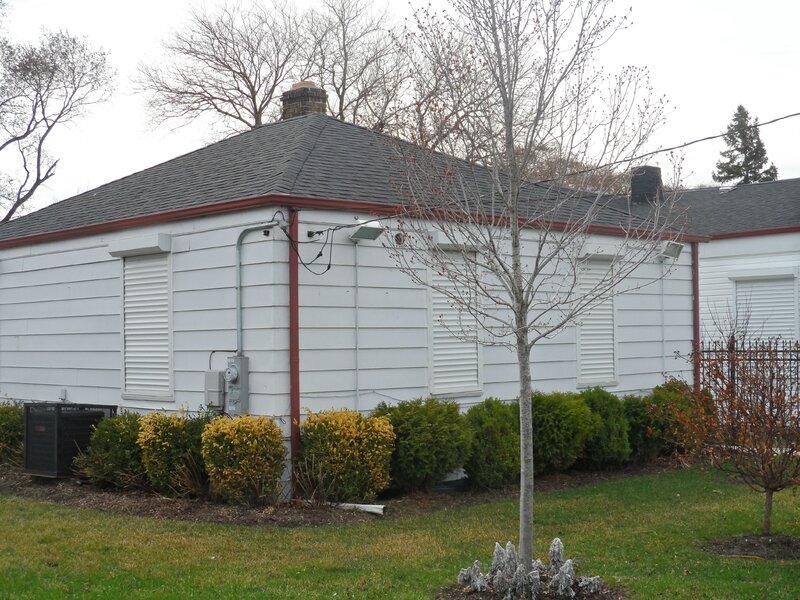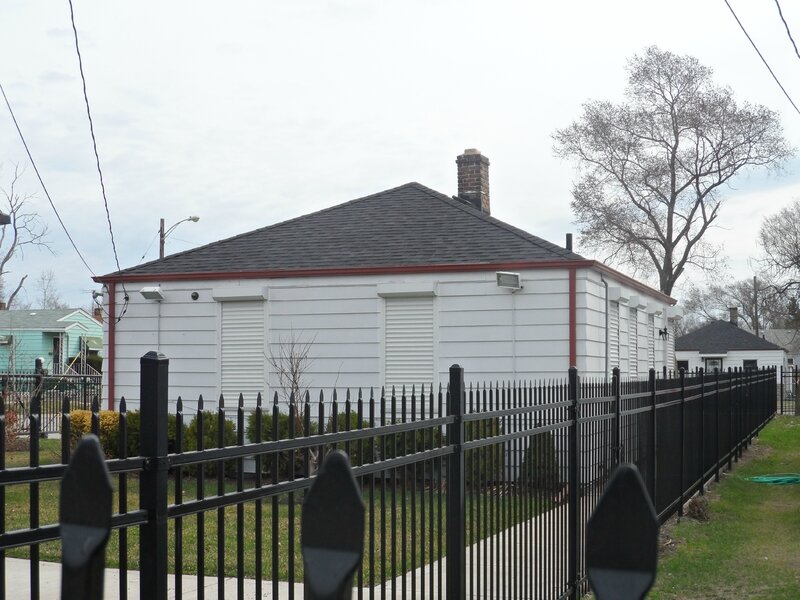 De l'autre côté de la rue, se trouve le terrain de sport de la Roosevelt High School, avec ses gradins.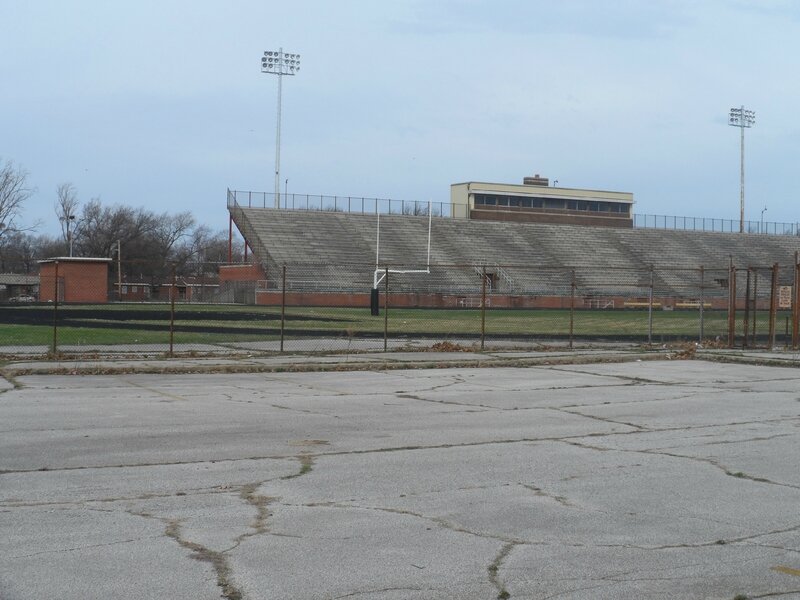 Michael n'a pas fréquenté cet établissement (à l'instar de Jackie, Rebbie et Tito) mais c'est ici, qu'en 1966, le groupe tout juste naissant, appelé alors The Jackson Brothers, remporte leur premier concours de talent en interprétant My Girl. Dans son autobiographie, Moonwalk, Michael parle de ce concours : "On a gagné le concours de la ville, quand j'avais huit ans, avec notre version d'une chanson des Temptations qui s'appelait " My Girl ". Le spectacle avait lieu tout près de chez nous, à Roosevelt High. Les gens sont restés collés à leur siège en l'entendant. Jermaine jouait de la basse comme un fou, et Tito était magnifique à la guitare, sans parler de nos chorus à cinq voix et de mon duo avec Jermaine, tandis que Marlon et Jackie faisaient tourner la chanson comme des pros. Quand on s'est tous passé le trophée de main en main, c'était du délire. Pendant notre trajet de retour, on l'a posé sur le siège avant de la voiture, comme un bébé. Papa nous complimentait : " Quand vous vous donnez à fond comme vous l'avez fait ce soir, ils ne peuvent pas NE PAS vous donner le prix. "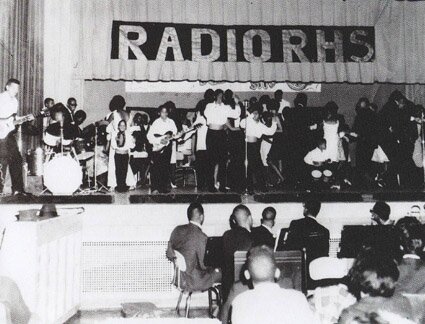 Michael y est également revenu lors de son retour médiatisé en juin 2003.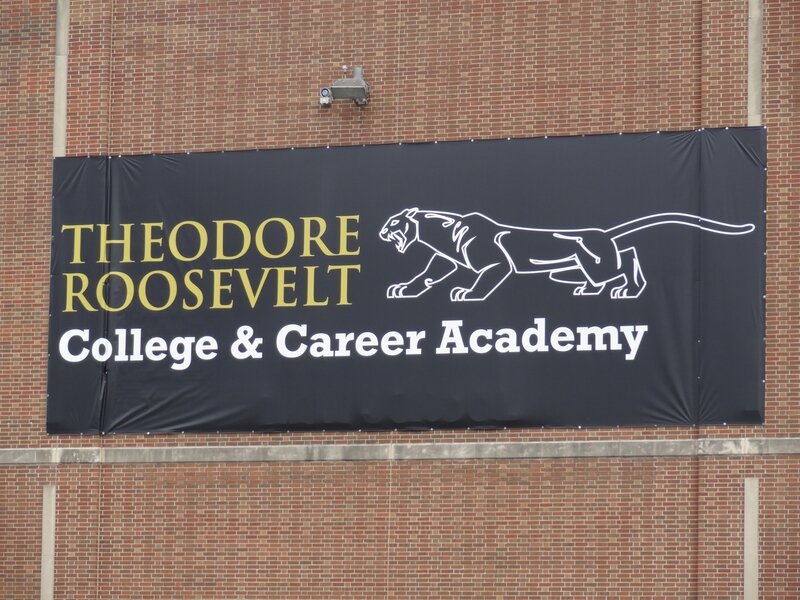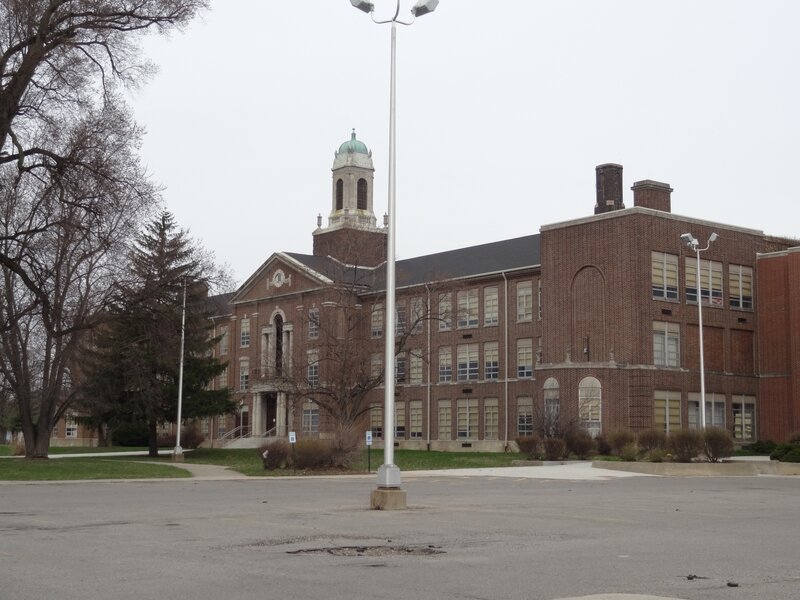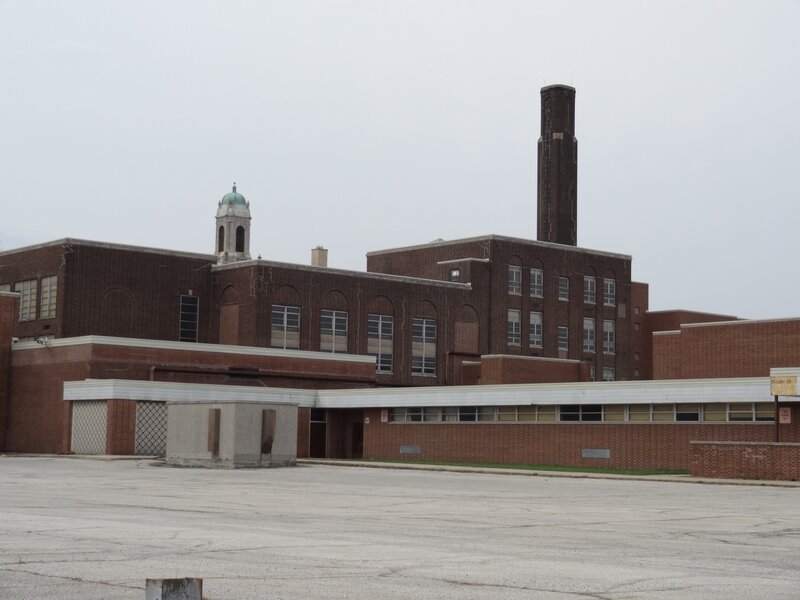 Il est temps de laisser quitter la maison du 2300 Jackson Street et de poursuivre notre route dans Gary. Nous n'allons pas très loin car seuls quelques centaines de mètres séparent la maison de ce qui fut la première école de Michael, la Garnett Elementary School, au 2131 Jackson Street.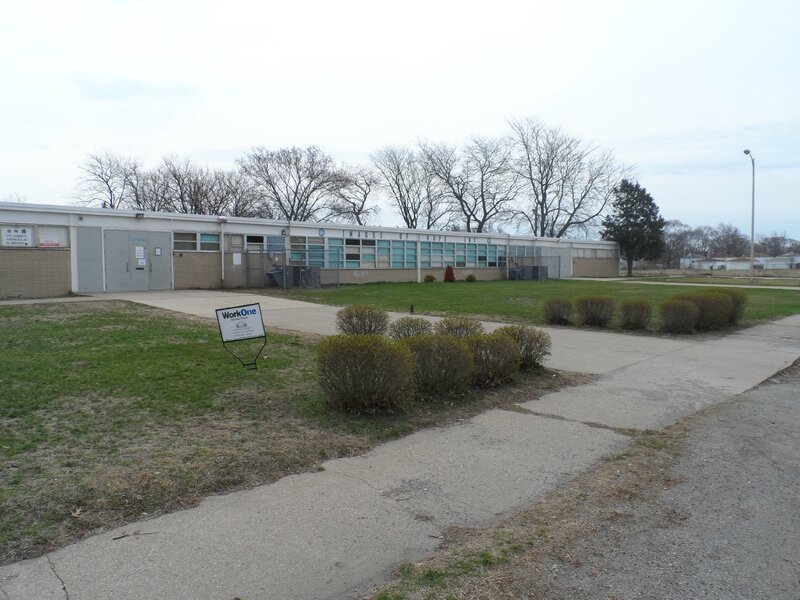 En 1963, Michael y fait sa première interprétation sur scène en interprétant Climb Eve'ry Mountain, lors d'un spectacle. L'école a fermé et est désormais un centre pour adultes appelé Images of Hope, Inc. Cependant, on se demande, devant l'état délabré de l'établissement, si celui-ci est encore en fonction.
En face de l'ancienne école se tient la Little League Park, un terrain de sport modeste où les frères Jackson avaient l'habitude de jouer au baseball et qui semble d'ailleurs être encore utilisé par les habitants du quartier.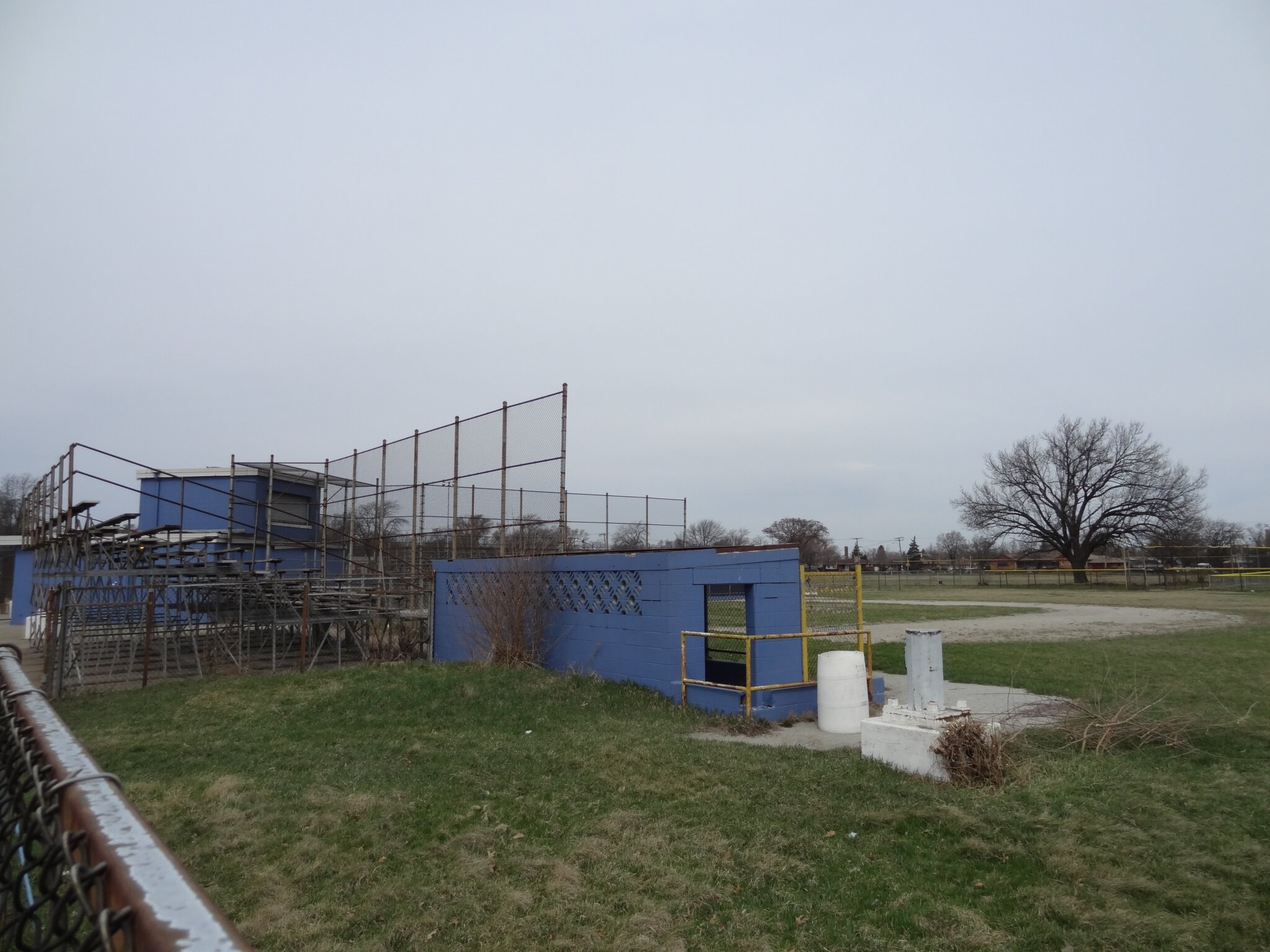 Nous n'aurons pas trop le temps de nous attarder ici. Garée devant l'école (juste devant un panneau d'interdiction de stationnement !!!), nous entendons une sirène se déclencher et dans le doute…nous filons !!
Direction le Mr Lucky's Lounge au 1100 Grant Street. Le premier établissement où les Jackson 5 se sont produits, un bar restaurant. Aujourd'hui à l'abandon (il aurait subi un incendie), les murs extérieurs en brique du bar ne manquent cependant pas de rappeler que c'est ici que le groupe a commencé sa carrière. Michael raconte dans Moonwalk: "En travaillant au Lucky's, nous avions pour la première fois un contrat pour cinq sets chaque soir, six jours par semaine. Il s'agissait d'un vrai show. Et si papa nous trouvait encore un engagement pour notre journée libre, il ne s'en privait pas. On travaillait dur, mais les clients des bars que nous animions étaient gentils avec nous. Ils aimaient James Brown autant que nous. On était comme un cadeau en plus de leur consommation. On plaisantait et on faisait même des gags avec eux. Je me souviens en particulier quand nous chantions " Skinny legs and all " de Joe Tex, je me faufilais dans le public, je rampais sous les tables et je relevais les jupes des filles pour regarder en dessous. Les gens me lançaient de l'argent, et quand je commençais à danser, je jonglais avec les pièces et les dollars avant de les mettre dans la poche de ma veste."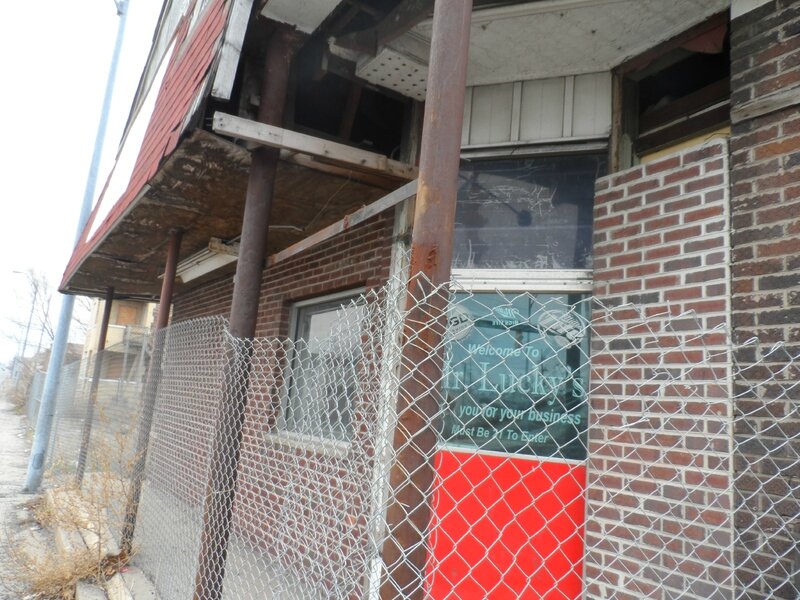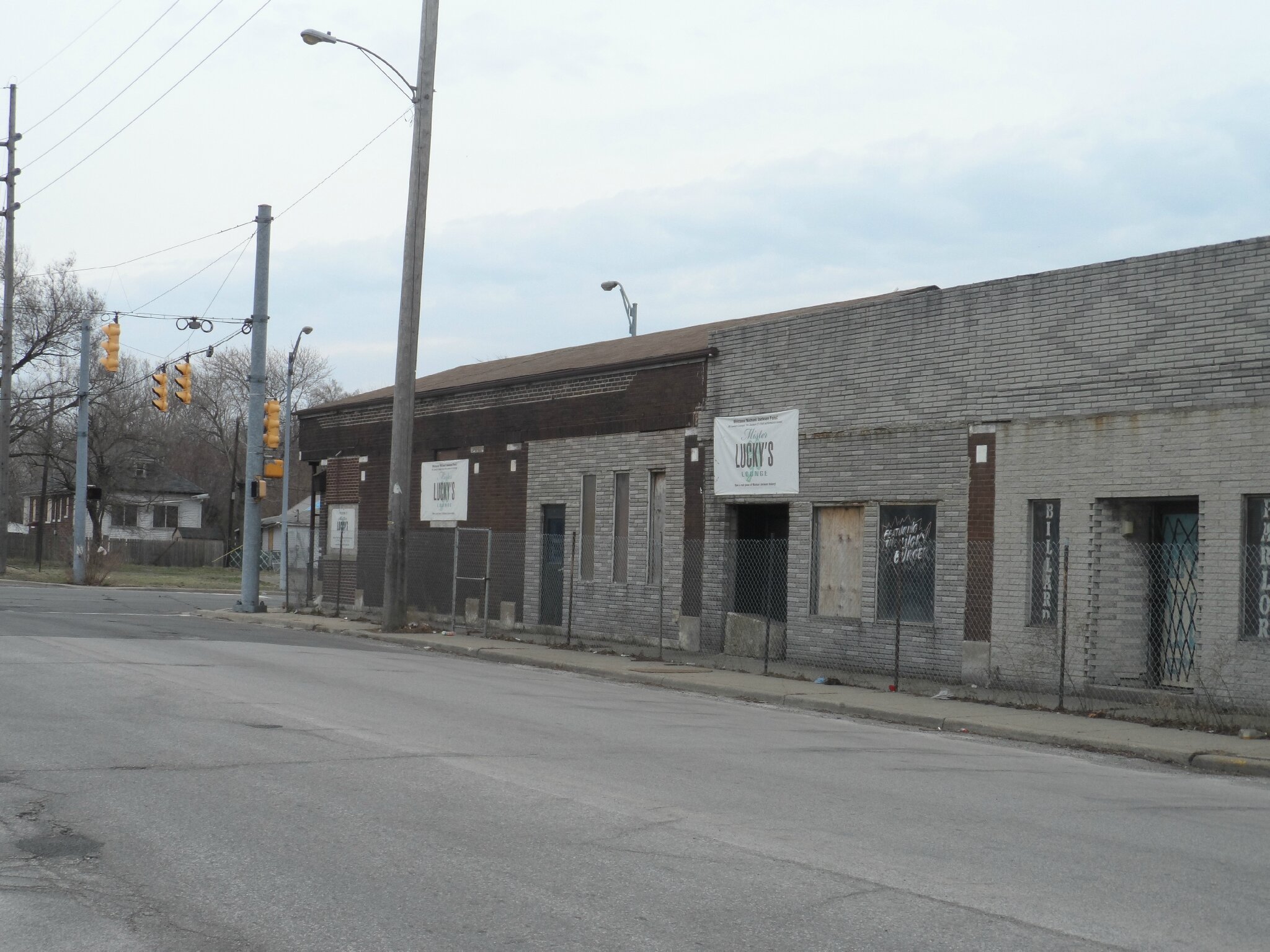 La ville est déserte, le temps est triste. En sillonnant les rues on s'aperçoit que Gary n'est plus que l'ombre d'elle-même. Des bâtiments abandonnés, des maisons et établissements délabrés, un centre ville qui n'existe plus. On m'avait parlé d'une ville fantôme, c'est exactement ça. C'est sinistre et pourtant, je m'aperçois que j'apprécie d'être là et de voir tous ces lieux qui ont été le théâtre des débuts de Michael.
Notre prochaine adresse est le 1025 Taney Street. Une maison qui, il y a 47 ans, a hébergé un petit label, Steeltown Records. C'est à cet endroit, sous la direction de Keith Gordon, le directeur du label, que les frères ont enregistré leur premier 45 tours, Big Boy.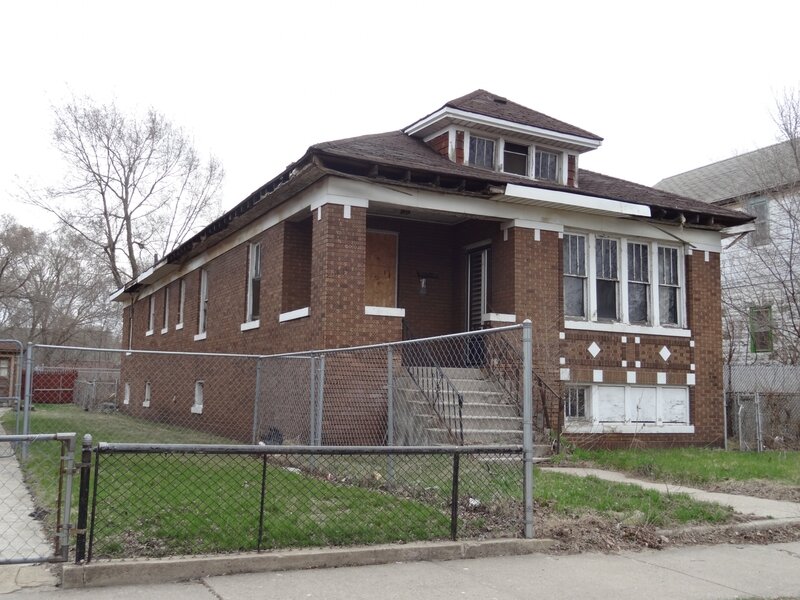 La maison comme beaucoup d'autres aux alentours est dans un état de délabrement avancé. Elle serait toujours la propriété de Keith Gordon, pourtant il ne semble pas y avoir grand monde. Le quartier n'est pas très sûr. Le peu d'habitants qui se trouvent dehors nous regardent avec interrogation : que font deux femmes blanches dans ce genre de quartier ? Un certain malaise s'installe et nous ne traînons pas !!!
J'avais entendu parler d'une fresque à l'effigie du groupe. En cherchant sur internet, j'ai fini par en trouver l'adresse, le 511 Ralston Street. Réalisée sur un bâtiment, l'œuvre est très sympa et comme on dit, elle vaut le détour !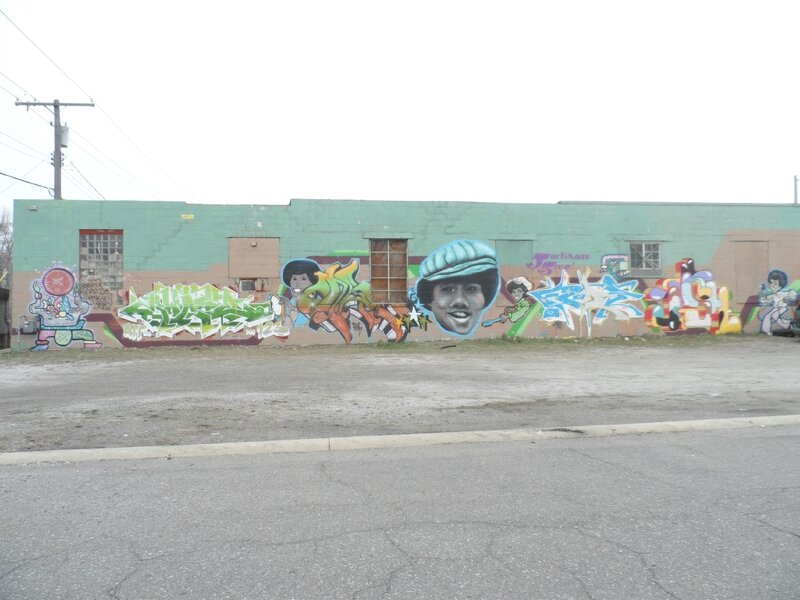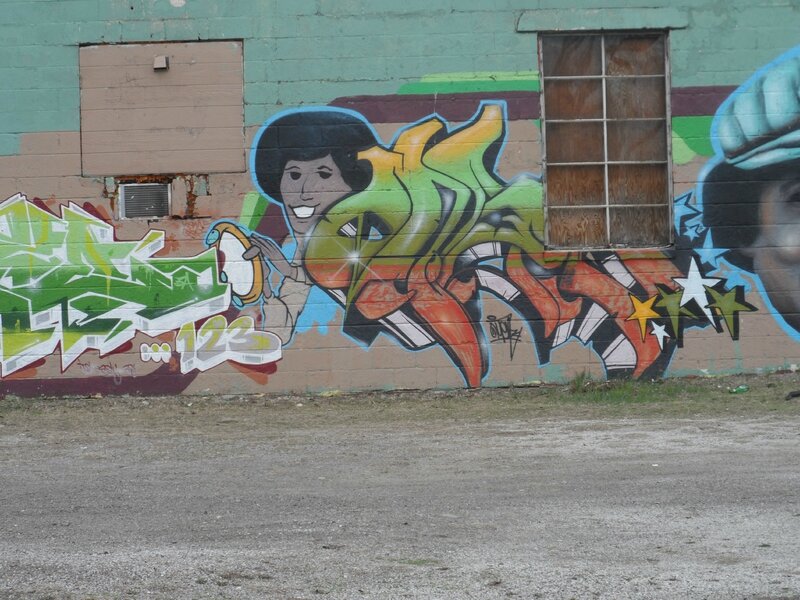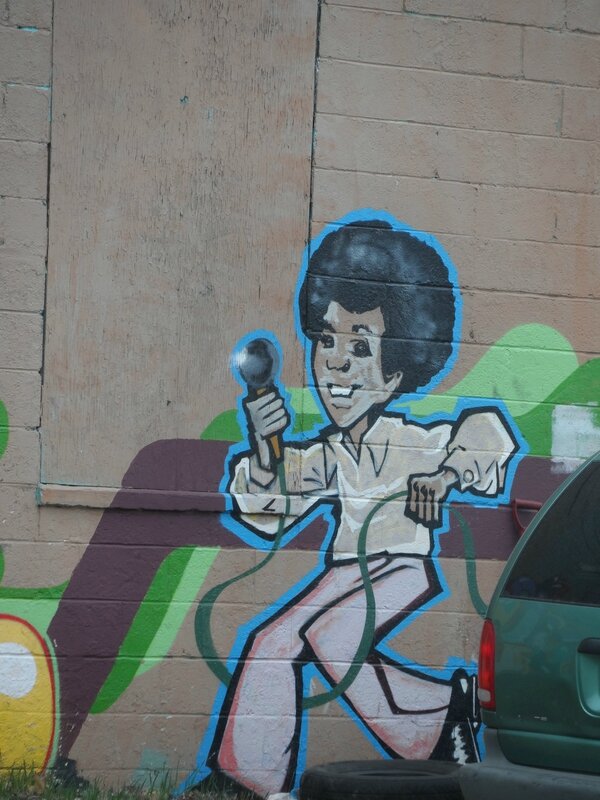 Nos prochaines étapes concernent les différents lycées où les Jackson 5 se sont produits : au 524 Garfield Street, le Horace Mann High School. C'est à cet endroit, en 1966, que le groupe perd un concours de talents. L'anecdote veut qu'il n'arrive que deuxième et gagne un téléviseur couleurs….téléviseur que Joe refusera de prendre au grand dam de ses fils !!!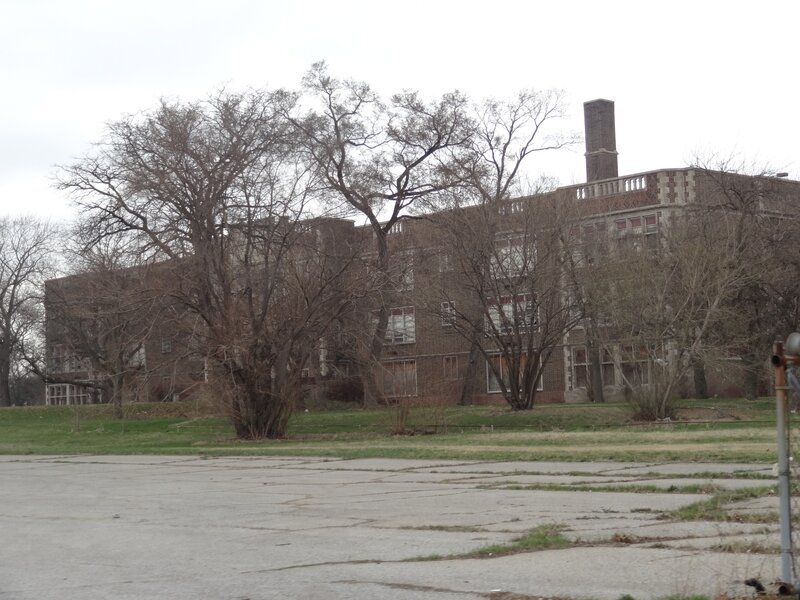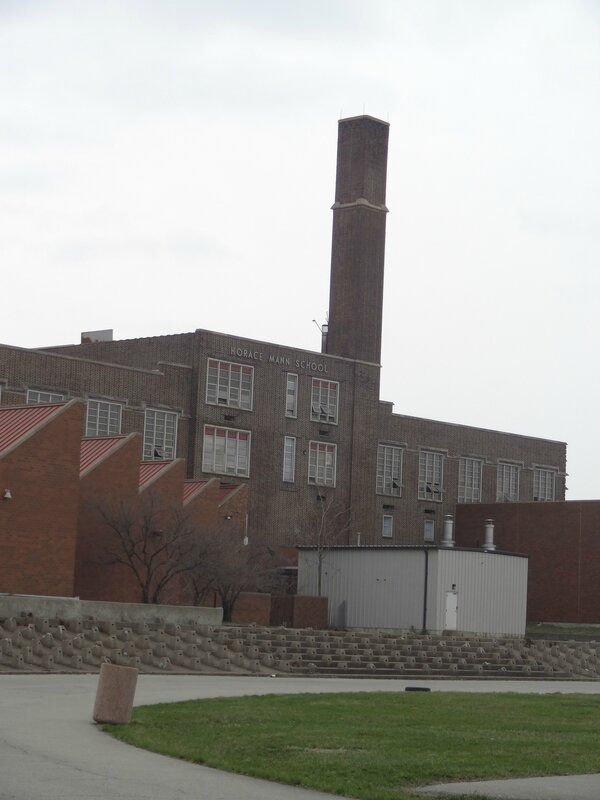 En 1967, les frères Jackson remportent un concours de talents au Beckman Junior High. Nous nous rendons donc devant l'établissement au 1430W 23rd Avenue. Malheureusement celui-ci est également à l'abandon. Si on discerne les casiers des élèves à l'intérieur, preuves d'une vie scolaire passée, l'établissement tombe en ruine et fait peine à voir.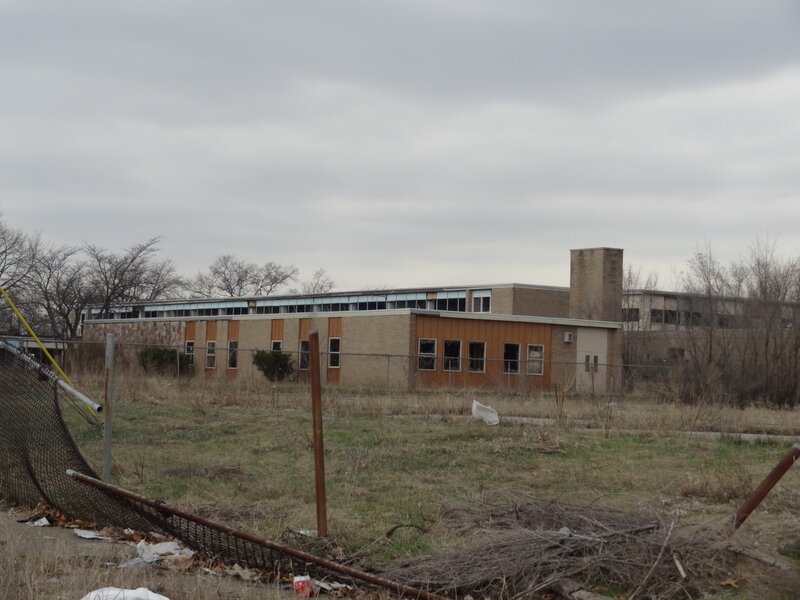 Avant de nous diriger vers le troisième établissement, nous tentons de trouver le Gilroy Stadium, où le groupe a également gagné un concours de talents. Peine perdue. Le stade est rempli d'herbes hautes et est inaccessible. Le quartier, qui plus est, est loin d'être sûr.
Demi tour et direction le West Side High School, à l'angle de West 9th et Gerry Street, où les Jackson 5 ont donné deux concerts en janvier 1971, lors de leur grand retour à Gary. Parmi les nombreux établissements que nous avons pu voir ici, en voici un enfin en état et toujours utilisé. Nous sommes dimanche, l'endroit est donc désert mais cela nous permet de faire le tour en toute tranquilité de ce lycée appelé désormais West Side Leadership Academy.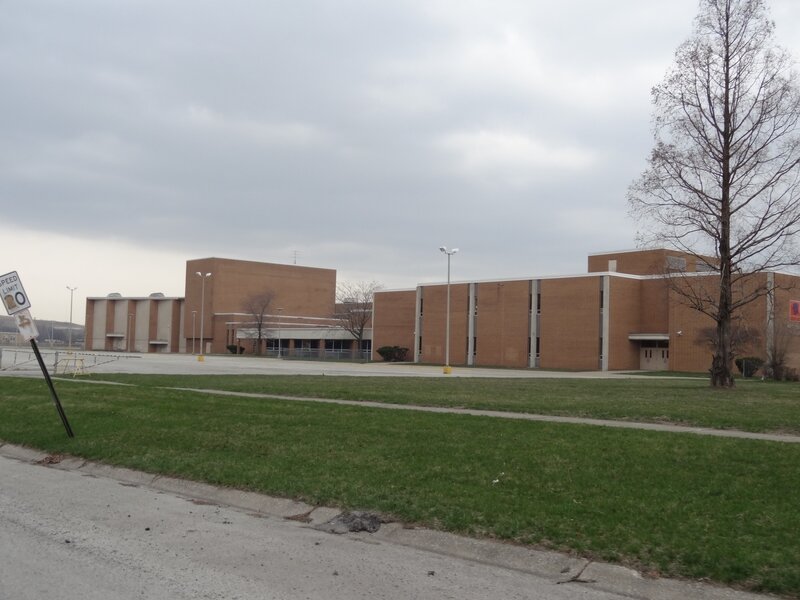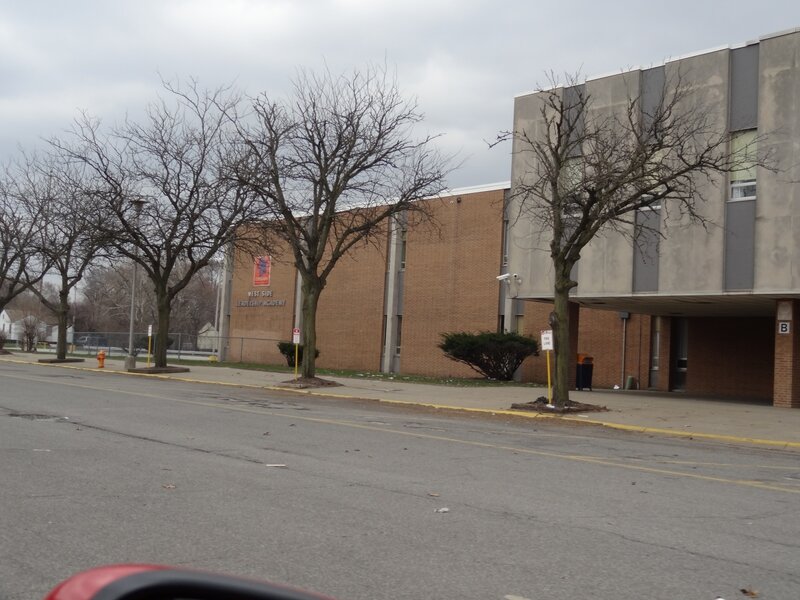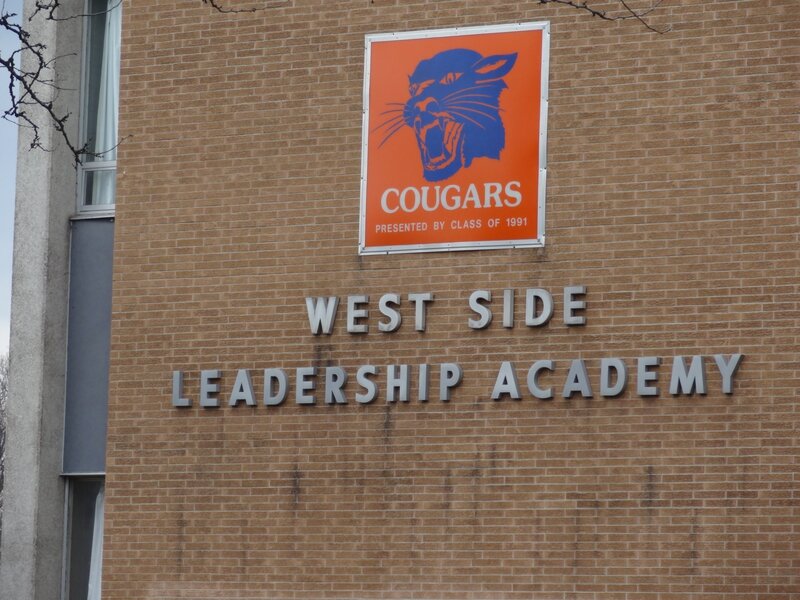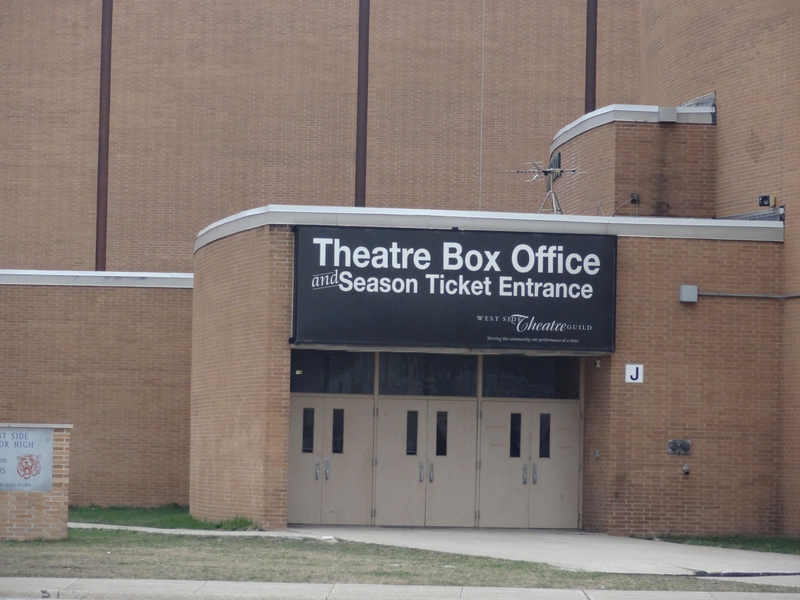 Nous nous rendons ensuite vers ce qui a autrefois été le centre ville de Gary. Arrêt au 555 Polk Street. C'est à cet endroit, le St Mary's Mercy Hospital que Michael a vu le jour le 29 août 1958. Et une fois de plus nous trouvons un établissement délabré. Difficile cependant de ne pas s'attarder ici…..dans ce lieu si triste désormais mais qui a été frappé par la lumière 55 ans auparavant. Un endroit qui reste symbolique malgré sa vétusté.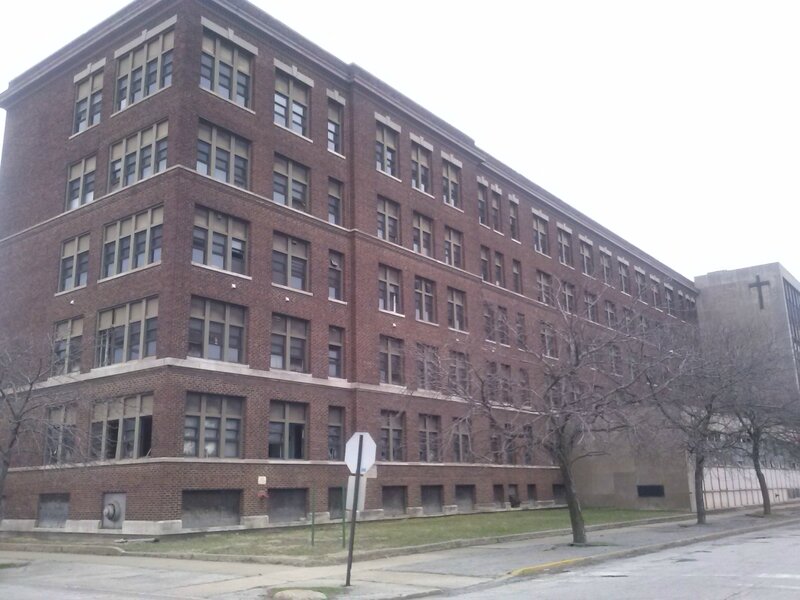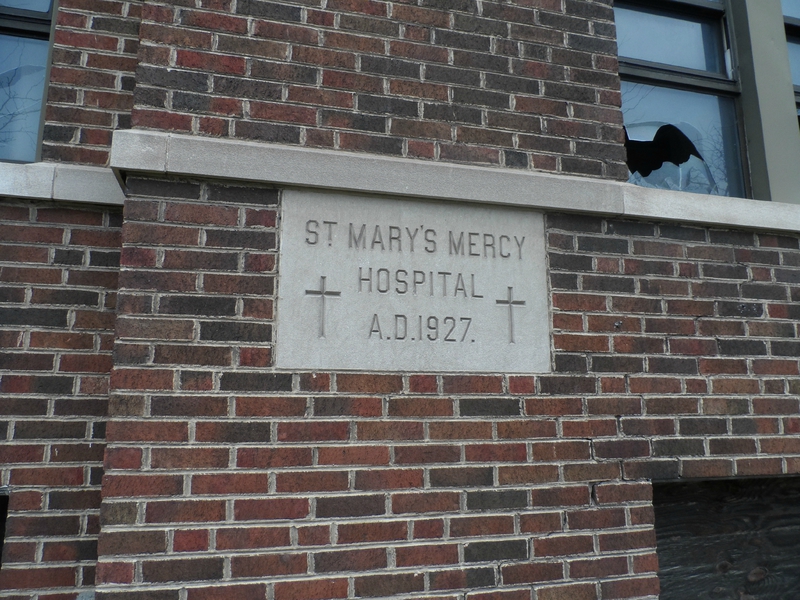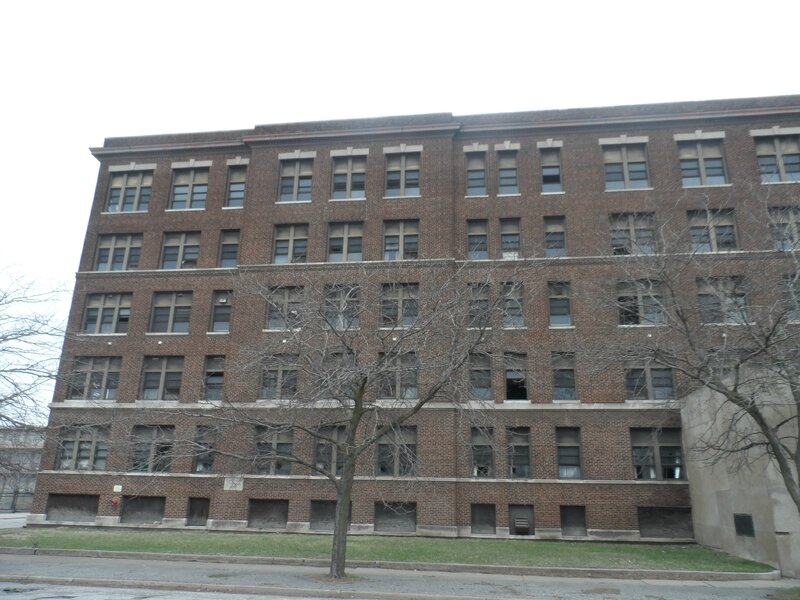 Le temps venteux et glacial qui s'abat sur la ville nous oblige cependant à remonter en voiture et à poursuivre vers le Palace Theater, au 791 Broadway. Un théâtre, fermé et délabré (encore !) où les Jackson 5 ne se sont pas produits mais on se souviendra qu'il a longtemps honoré le groupe en gardant son nom dessus. Il n'y a désormais plus rien.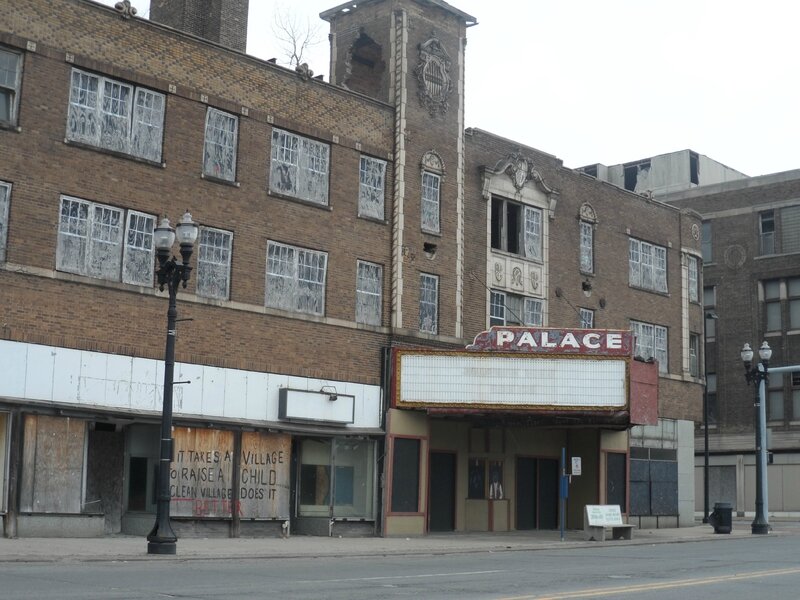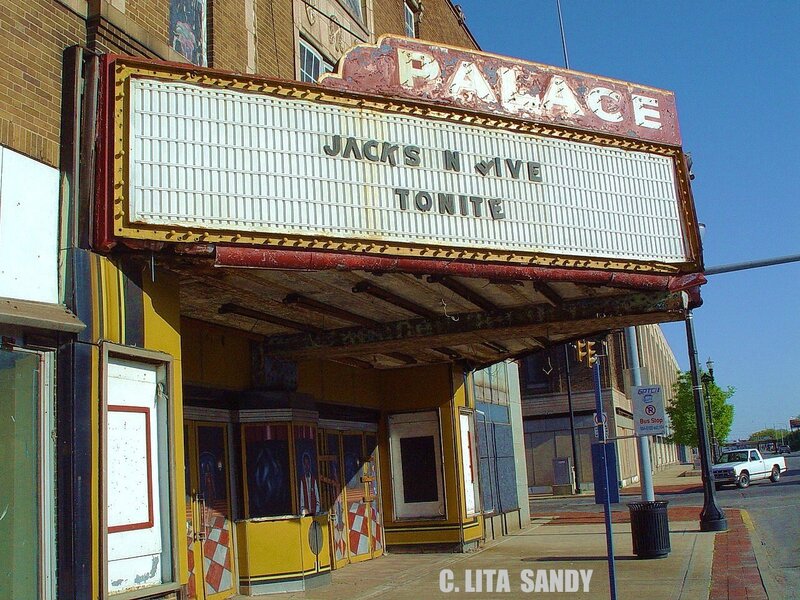 Le palace Theater au temps où il honorait les J5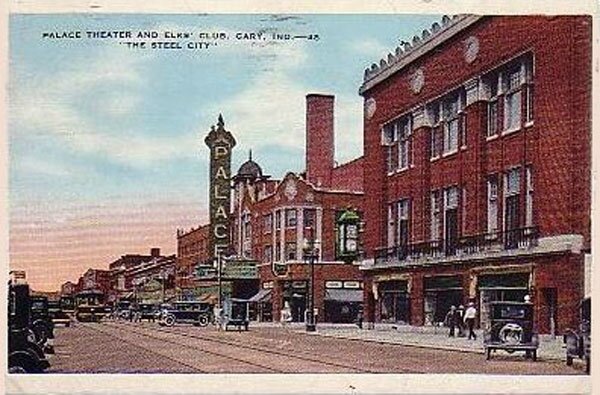 Broadway Avenue et le Palace Theater en 1920
Sur le même trottoir, à quelques mètres, au 813 Broadway, se trouve le bâtiment qui abritait le grand magasin Sears où Katherine a travaillé durant quelques années, mais qui n'existe plus.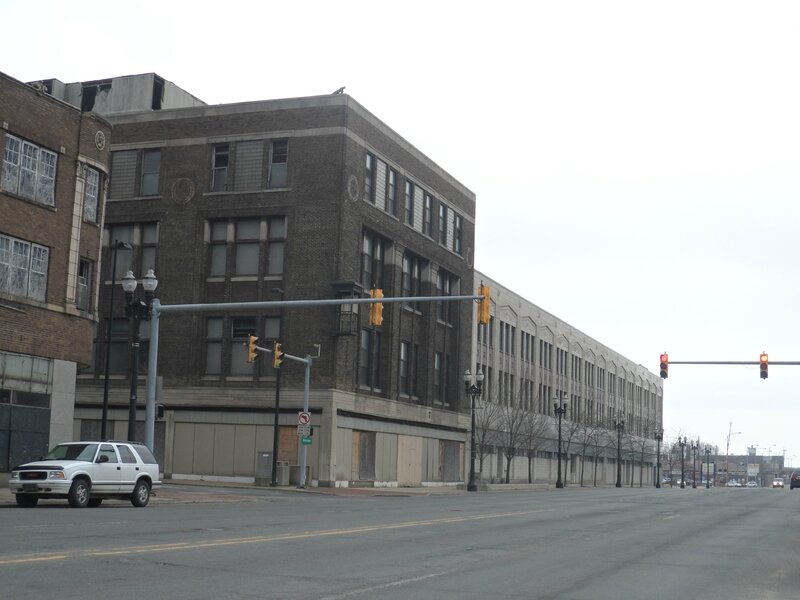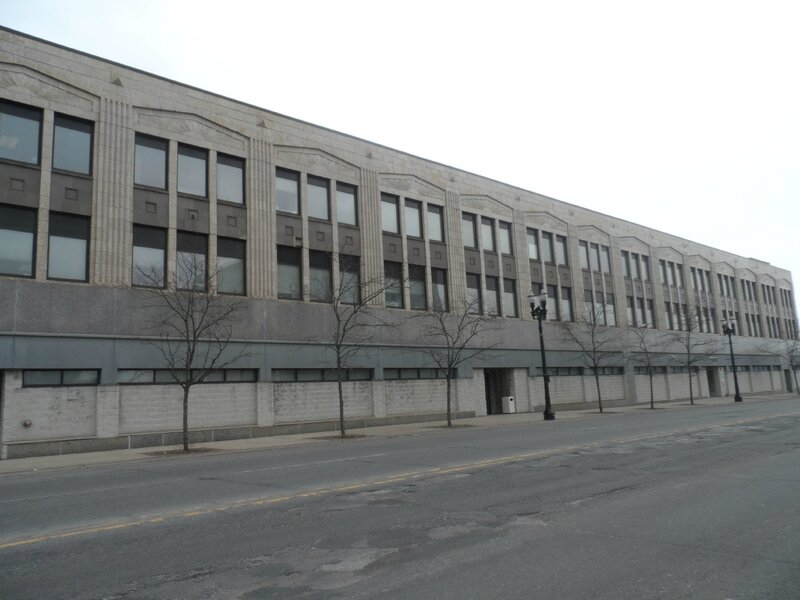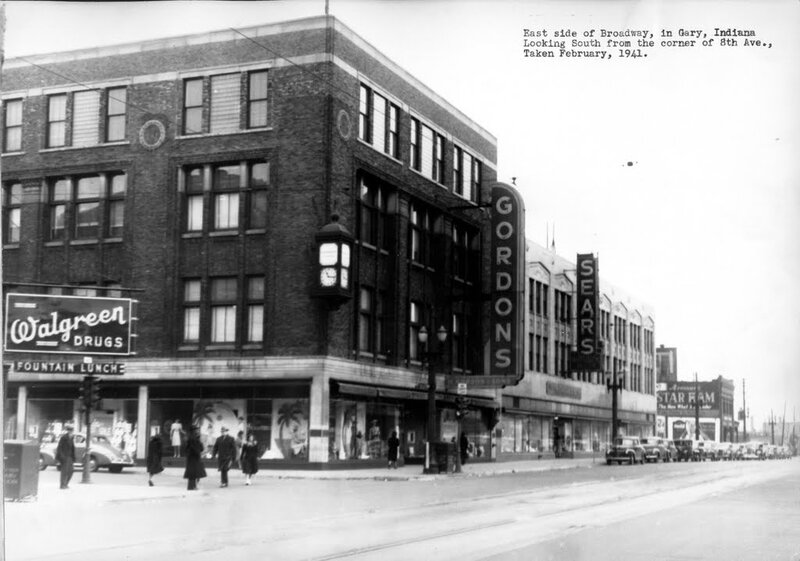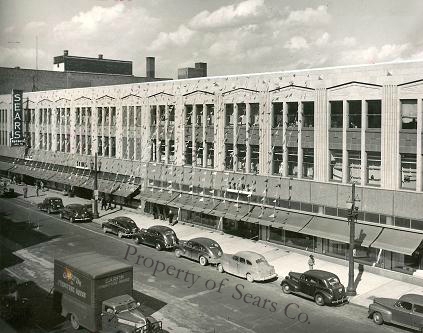 Le magasin Sears tel qu'il était au début des années 50
Sur 401 Broadway, nous trouvons le City Hall de la ville. On se souviendra de l'arrivée de Michael en 2003, ici pour se voir remettre par le maire, les clés de la ville. Une statue du fondateur de la ville, Elbbert H. Gary, trone devant le bâtiment.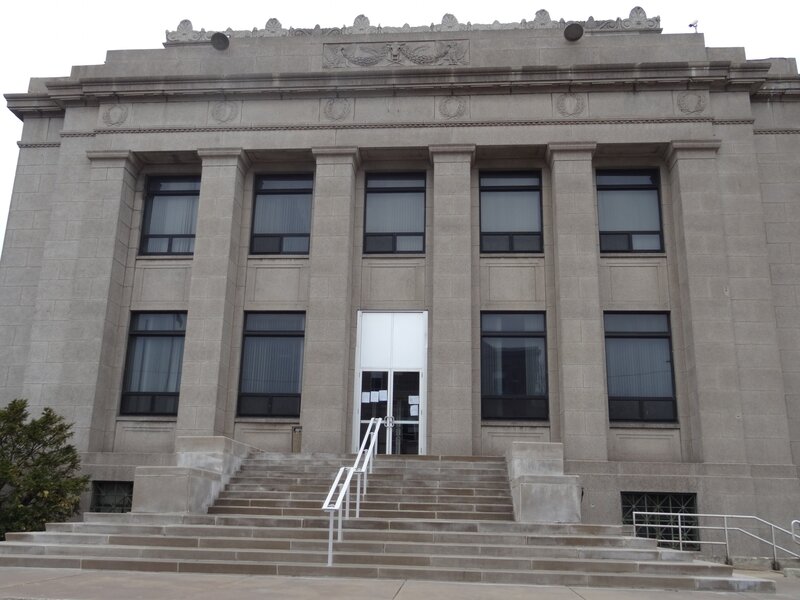 Non loin de là, se situe le New Baseball Stadium, où, toujours en 2003, Michael s'est rendu afin de rendre hommage aux militaires. Nous pénétrons dans le stade où un match de Baseball a lieu. Malheureusement il n'y a pas grand monde !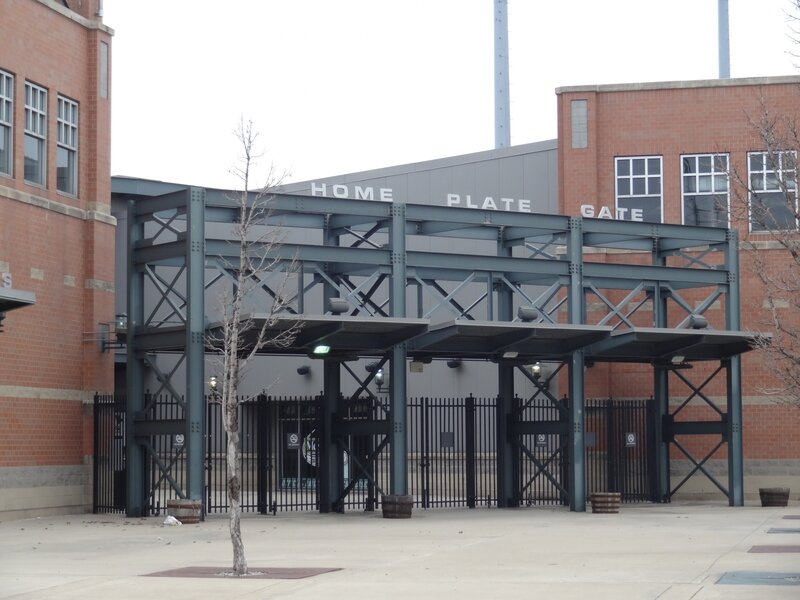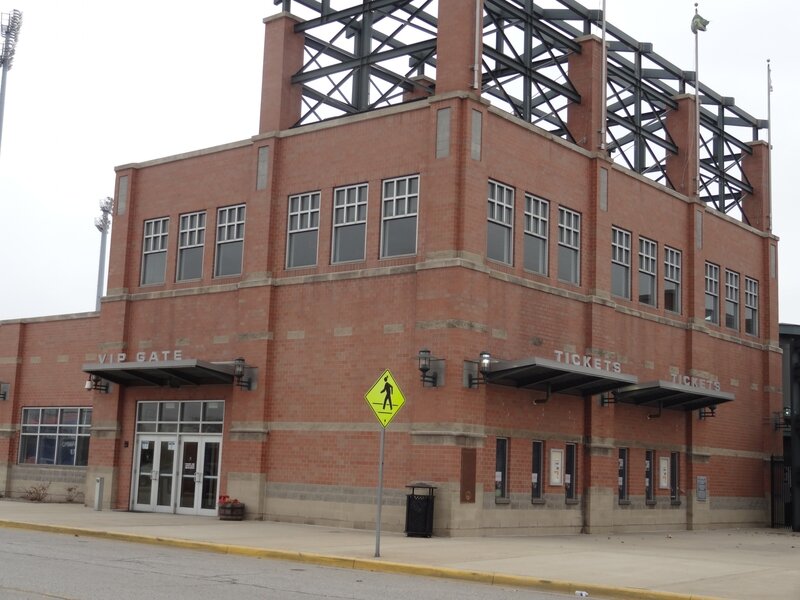 Quelques photos plus tard et un choc évité avec une balle de baseball ( !!) , nous essayons de trouvé l'ancien lieu de travail de Joe.
US Steel, au 1 North Broadway est cependant inaccessible et surveillé. Quelques photos et voici notre périple presque terminé.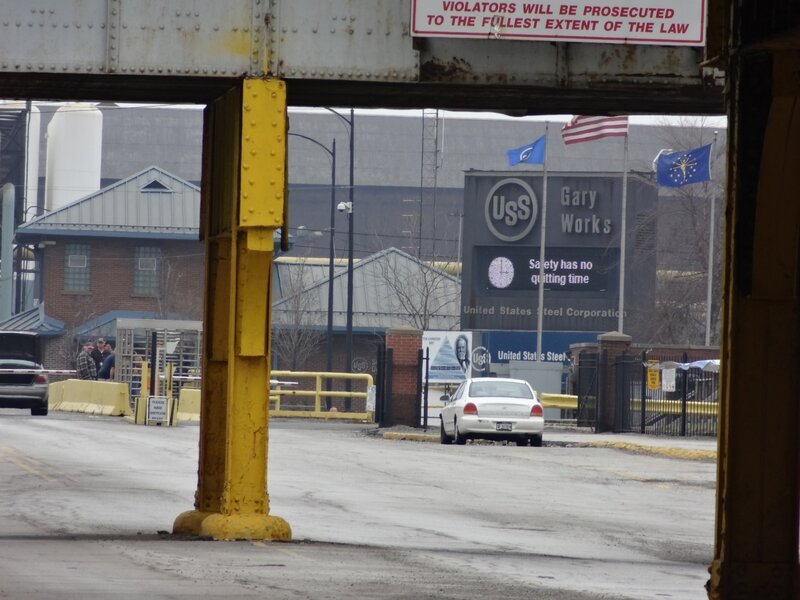 Il nous reste une adresse : le 2156 Locust Street à Portage. Une petite ville, tout près de Gary, à une quinzaine de minutes en voiture. A cet endroit se tenait un magasin Star Uniform Shop, où Michael s'est rendu en juin 2003, lors de son grand retour à Gary, pour acheter des uniformes d'officier de police. Aujourd'hui le magasin n'existe plus (il a été transféré à une autre adresse), c'est une propriété privée. Cependant, le numéro de la maison, devant lequel Michael se tenait en 2003, est visible de la rue. Une photo devant les habitants un peu étonnés et nous repartons.
Il est environ 15 heures. Nous avons fait le tour des adresses que j'avais repérées. Personnellement, je n'ai pas envie de rentrer tout de suite, même si le temps s'annonce menaçant. Je propose à Isabelle de retourner au 2300 Jackson Street et elle accepte. Cette maison m'a tellement émue que je ne veux pas quitter Gary sans la revoir. Je sais que je ne reviendrai sans doute pas ici et je veux en garder un souvenir intact.
Nous nous retrouvons donc à nouveau devant la petite maison à observer et graver dans notre mémoire les moindres détails.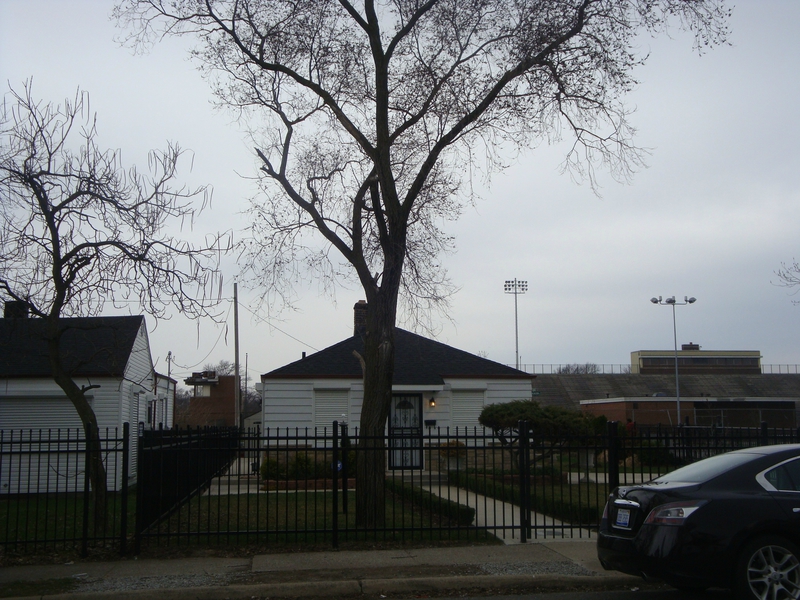 Que ce soit le matin ou l'après midi, je remarque qu'il y a du passage. Des fans ou curieux s'arrêtent. Des sourires échangés avec une fan venue allumée une bougie, des photos faites pour deux jeunes filles venues comme nous sans doute devant la première maison de leur idole, un couple de cinquantenaire qui s'arrête et observe, un groupe d'ados qui vient prendre quelques photos…. toute génération confondue, cette maison attire. Rien dans la ville n'indique que le plus grand artiste a vécu et débuté ici et pourtant l'endroit reçoit de la visite.
Malgré la criminalité importante de cette ville, son taux de chômage élevé, sa décadence, il est un endroit dans Gary, ville fantôme, où certains arrivent à se retrouver pour une même passion et honorer celui qui a changé le visage de la musique. Je suis sûre que Michael aurait aimé cela.
Notre voyage n'en est qu'à ses débuts, mais je sais déjà que cette journée à Gary gardera une empreinte indélébile en moi.
Plus de photos dans l'album photos sur Gary