Lundi 14 avril. Encore sous le coup du décalage horaire, nous voici de nouveau debout très tôt…
Aujourd'hui, la visite de Chicago est au programme. Une journée un peu moins chargée en adresses liées à Michael car même si les Jackson 5 ont beaucoup cotoyé la ville, malheureusement beaucoup de lieux n'existent plus tels que le Chicago High Chaparral Club (où le groupe se produit en 1968), le Peppermint Lounge (un club de strip tease où les frères ont joué) ou encore le Guys' and Gals' Cocktail Lounge, qui a vu les Jackson 5 participer au All Star Floor Show en avril et mai 1968. A la place, des parkings où même tout simplement des endroits en friche… les bâtiments ont été détruits…selon ce qu'Internet indique !
Le temps doux qui nous avait accueillies à l'aéroport a laissé place depuis la veille au soir à la pluie et au froid. La neige est même annoncée en fin de journée.
C'est donc sous une pluie battante que nous prenons la route en direction du sud de Chicago. La banlieue sud de la ville n'est pas réputée pour être très sûre et effectivement nous traversons des quartiers très pauvres. Nous arrivons enfin devant le Regal Theater, au 1641E 79th Street.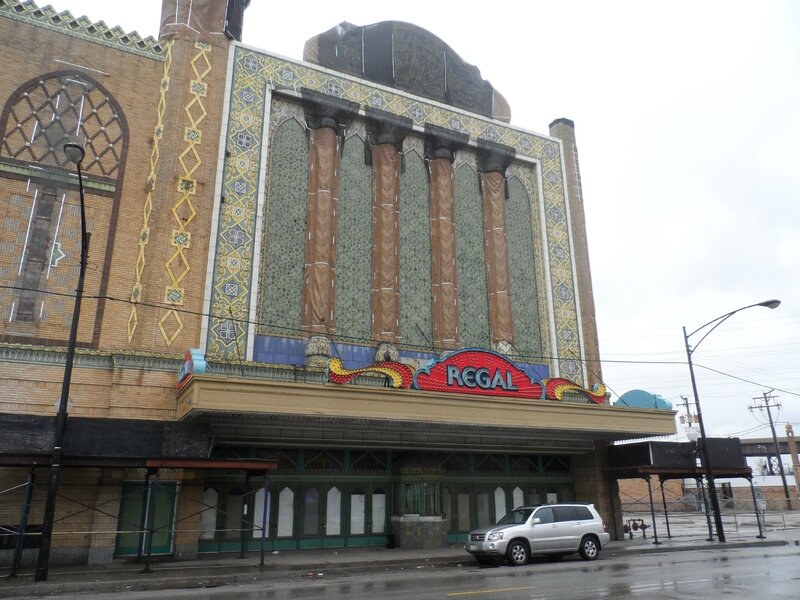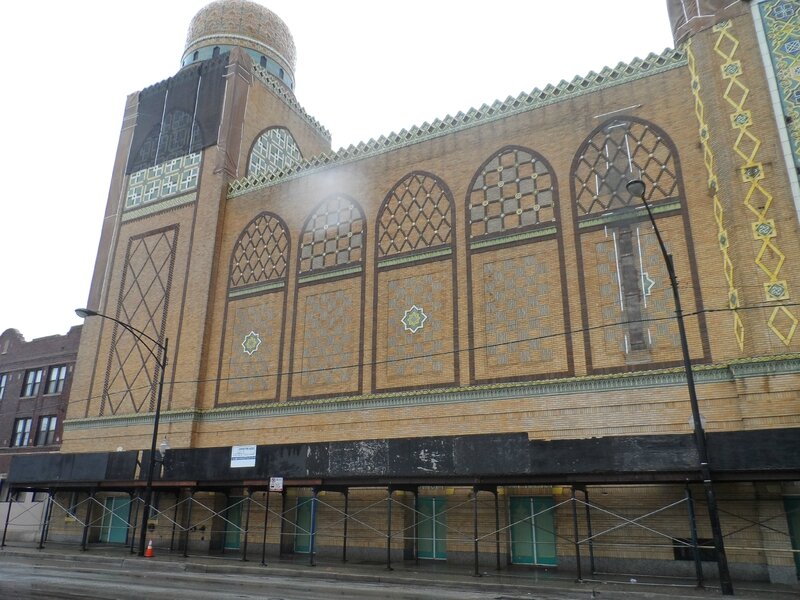 Il semblerait que ce soit là que les Jackson 5 remportent, en juillet 1968, le concours Battle of The Groups, avant de signer chez Motown. Le bâtiment qui se situe face à nous est grandiose et magnifique. Une très belle fresque rappelant que de nombreux artistes noirs américains ont performé en ce lieu recouvre le côté du théâtre.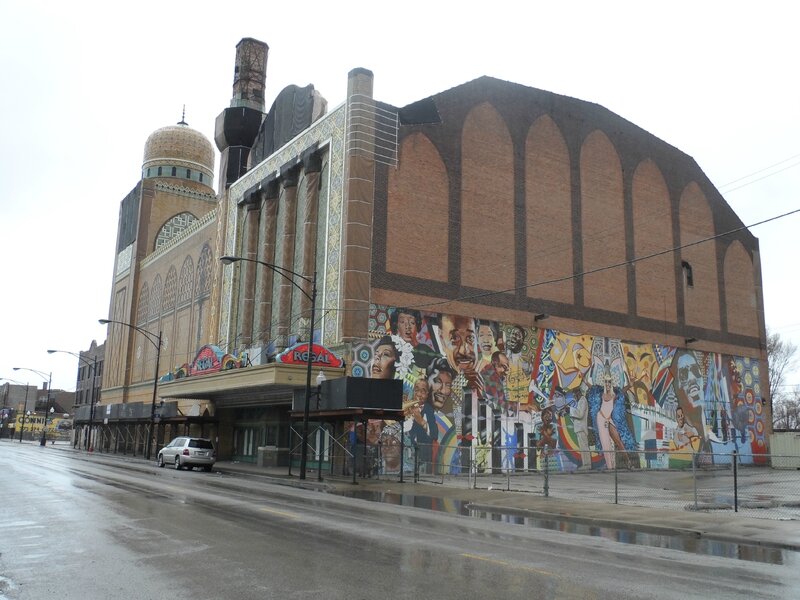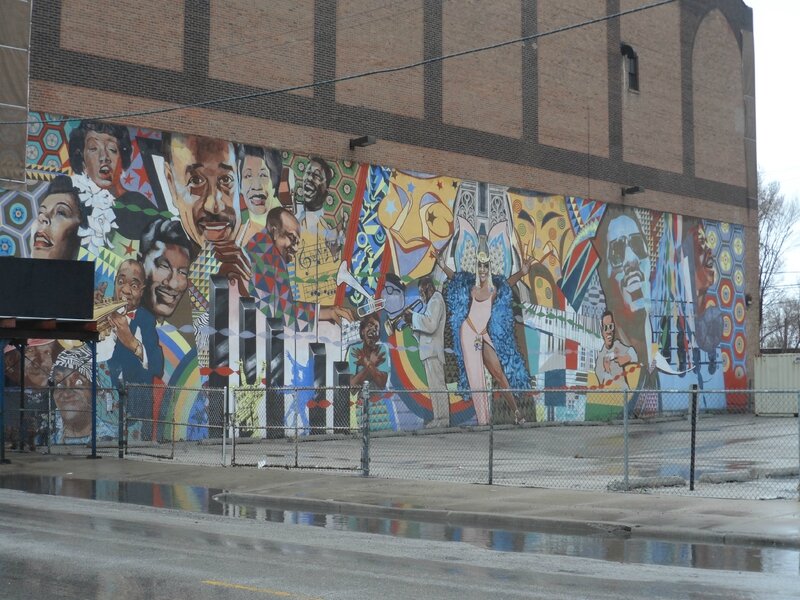 J'ai cependant un doute sur le lieu. En faisant mes recherches d'adresse lors de la préparation de ce voyage, j'ai appris que ce Regal Theater n'est pas le théâtre original. En effet, le regal Theater se situait au départ au 4719S King Dr, à Chicago. Il a fermé en 1968 et aurait été démoli en 1973, suite à un incendie (http://cinematreasures.org/theaters/992) Par ailleurs, l'adresse du théâtre sur le « flyer « de l'époque, où se sont produits les J5 est le 47S Parkway Boulevard qui correspond au nom actuel de la rue….c'est à dire King Drive !!!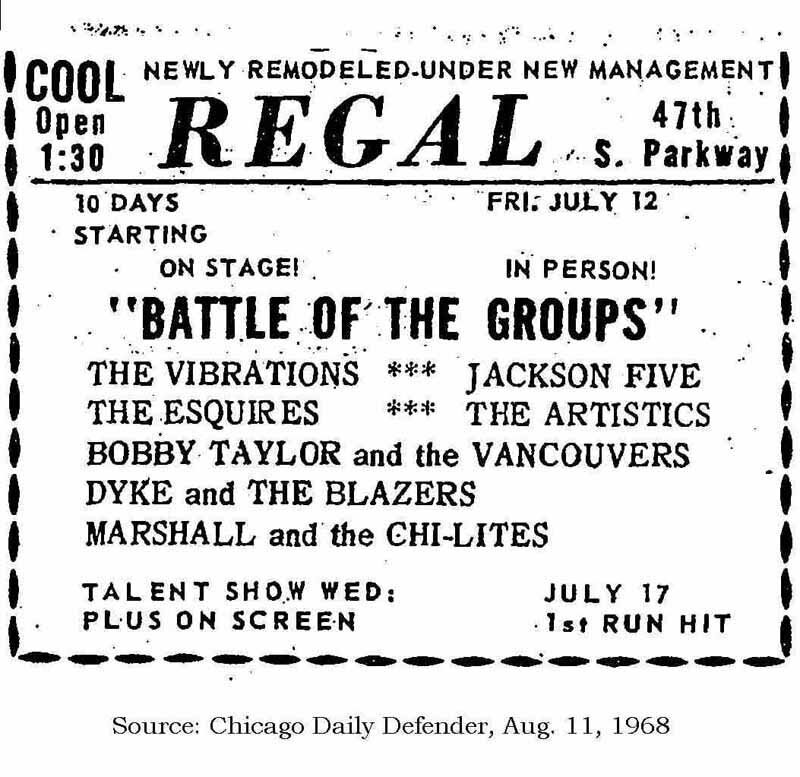 Je pense donc que ce théâtre n'est pas celui où se sont déroulées les performances des Jackson 5. Nous faisons cependant quelques photos.
Il fait froid, il pleut, nous sommes dans un quartier peu sûr alors vite, retour en voiture et direction le 3631 S Prairie Avenue. Une maison abandonnée dans une rue pavillonnaire où les maisons se ressemblent toutes. Cette maison n'a rien à voir avec Michael mais comme nous n'étions pas très loin, j'avais envie de voir à quoi ressemblait l'endroit où le producteur de l'album le plus vendu au monde avait grandi ressemblait. Eh oui, nous nous trouvons désormais devant la maison d'enfance de Quincy Jones. Et comme dans beaucoup d'autres endroits, rien qui ne rappelle le grand monsieur…. Dommage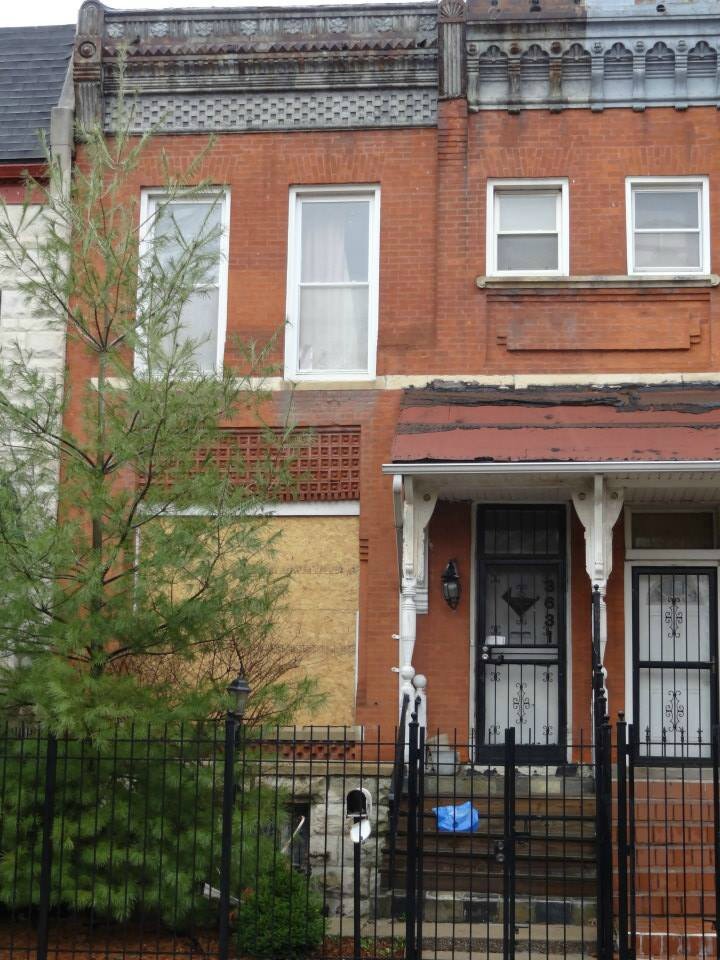 Notre prochaine étape est un cabinet de dentiste, au 1827 S Michigan Avenue….étrange me direz-vous. Mais à ce même endroit, plus de 45 ans auparavant, se tenait un label, One-Derful Records. (merci au guide Sur les Pas de Michael Jackson pour le renseignement ;) ). C'est à cet endroit que les Jackson 5 enregistrent, durant l'été 1967, la toute première version de Big Boy, les droits de la chanson ayant été par la suite revendus à Steeltown Records.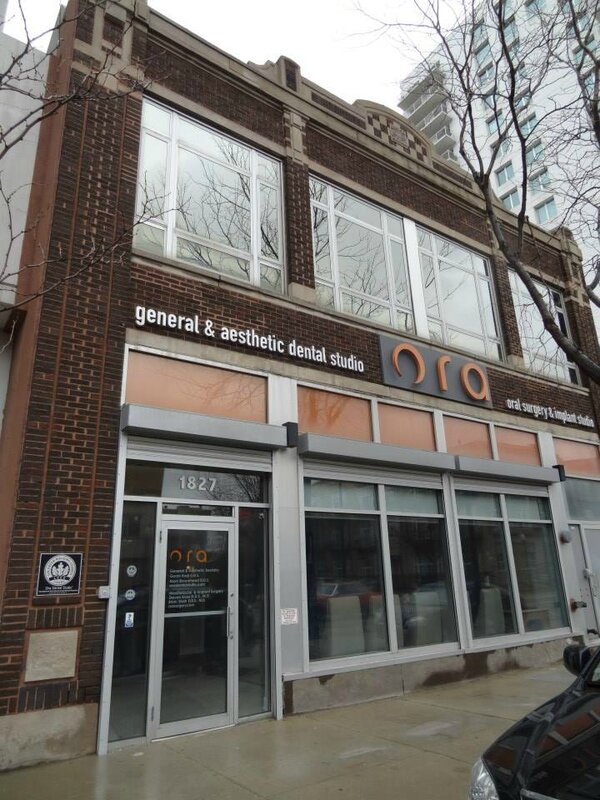 Après nous être un peu perdues dans Chicago et devant la difficulté à se garer, nous décidons de ne pas nous rendre à Mc Cormick Place, un centre où Michael s'était rendu en 2003, pour accompagner Marlon, son frère, lors du lancement de sa chaîne télé.
C'est donc l'heure de faire un peu de tourisme et nous avons prévu de monter en haut du John Hancock Observatory, l'un des plus hauts buildings de la ville. En une trentaine de secondes, nous nous retrouvons au 94ème étage. L'ascenseur s'ouvre sur un étage entièrement vitré où une vue magnifique de la ville à 180 degrés nous attend. Malgré le vertige, la vue est simplement époustouflante. Je ne résiste pas à vous mettre quelques photos…bien que cela n'ait rien à voir avec Michael.


En milieu d'après midi, après une séance shopping :), nous reprenons la voiture pour nous retrouver dans le quartier des théâtres où on lieu les différents spectacles et comédies musicales. Nous trouvons particulièrement le Chicago Theater, un lieu imposant et remarquable, situé au 175N State Street. Les Jackson 5 y ont donné des shows à trois reprises, en octobre 1970, en juillet et en octobre 1971. Diana Ross y sera d'ailleurs en concert les 29 et 30 avril.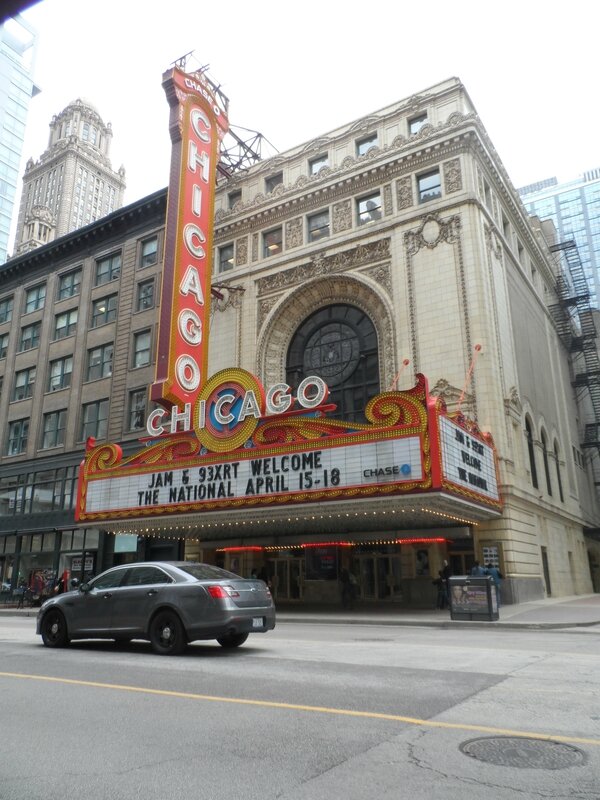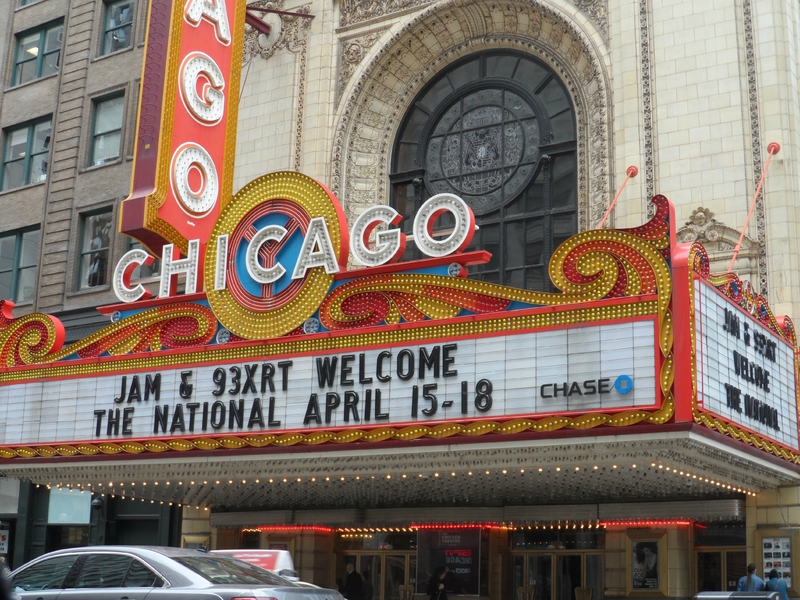 En parcourant les rues, on tombe également sur l'Oriental Theater, qui à partir du 22 avril, accueillera la comédie musicale, Motown. Nous sommes tout simplement dans le Broadway de Chicago.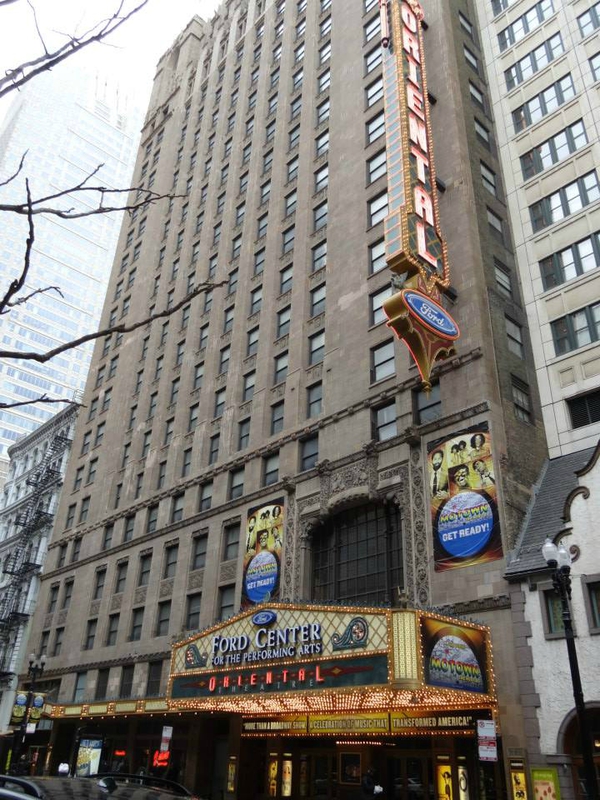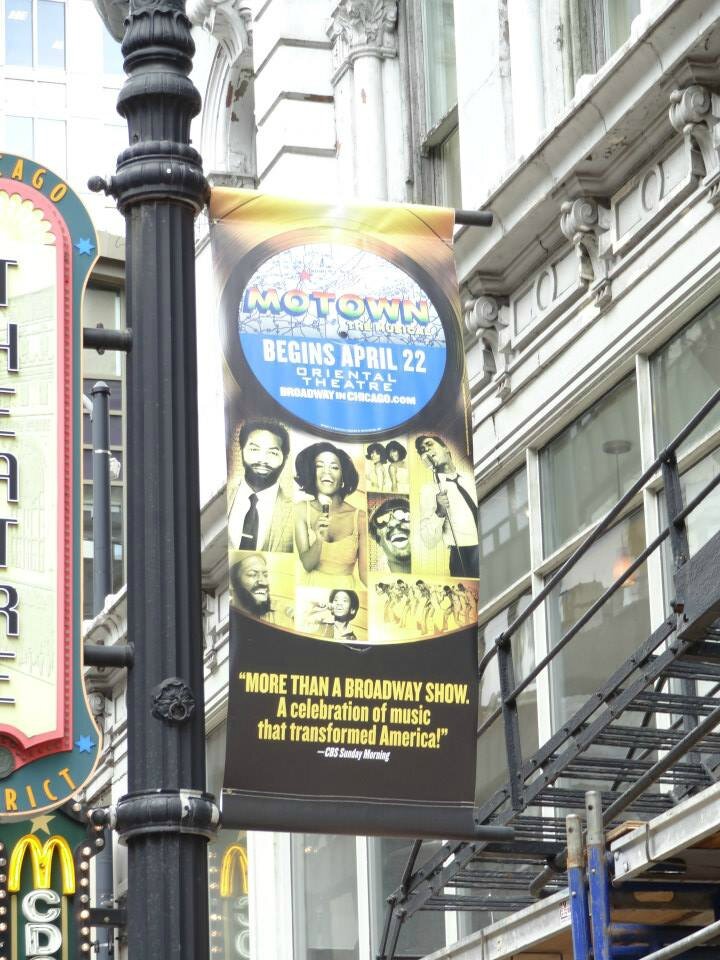 Nous voilà en fin d'après midi, le temps est de plus en plus froid et nous décidons donc de rentrer. Heureusement. Sitôt arrivées, la neige se met à tomber. Vivement la chaleur de Las Vegas le lendemain !!!