Il n'est pas loin de 20h, ce mercredi 16 avril, lorsque nous quittons notre hôtel et repartons en direction du Mandalay Bay.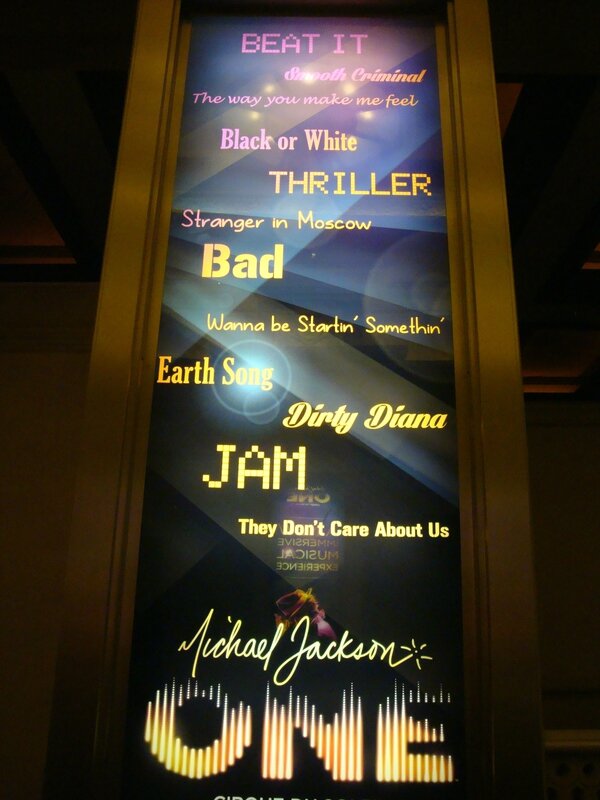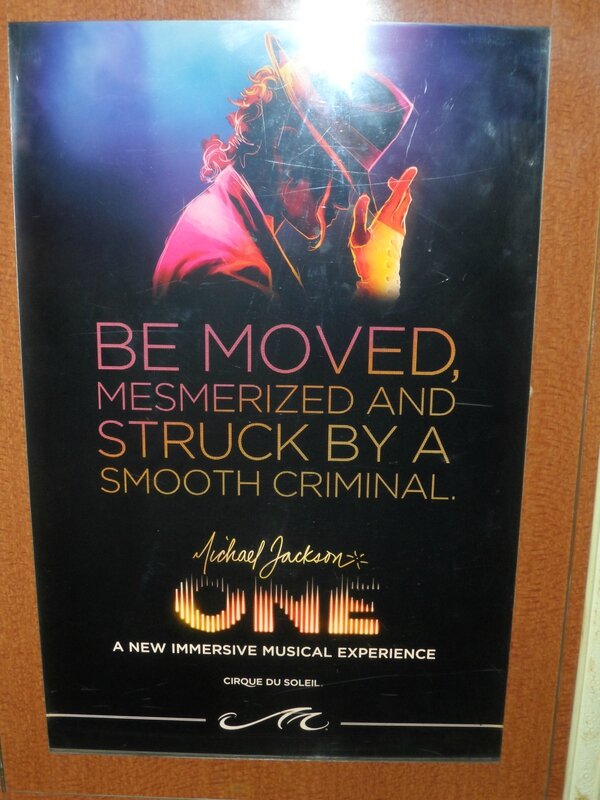 Un autre petit tour dans la boutique déjà vue la veille, juste pour le plaisir des yeux, quelques photos, un passage par la billetterie pour obtenir de vrais tickets et dès 21h les portes de la salle, à l'effigie d'une veste jacksonienne, s'ouvrent.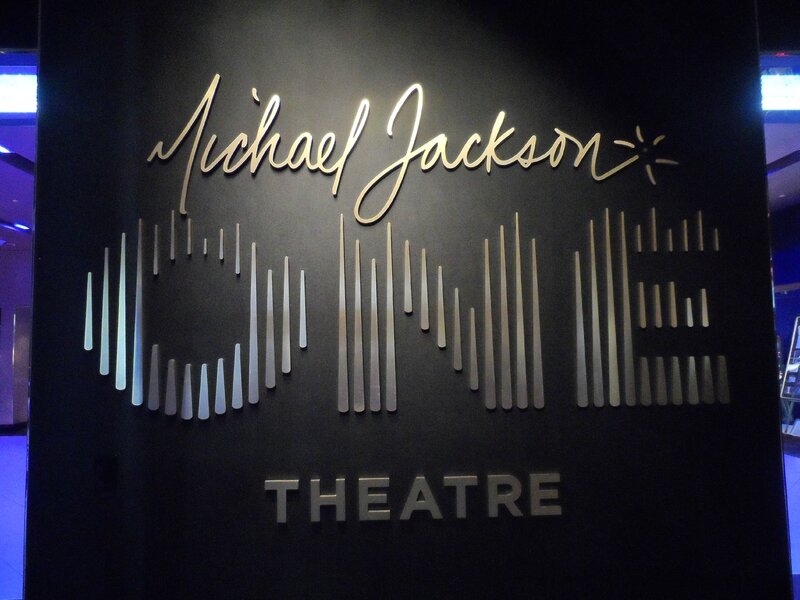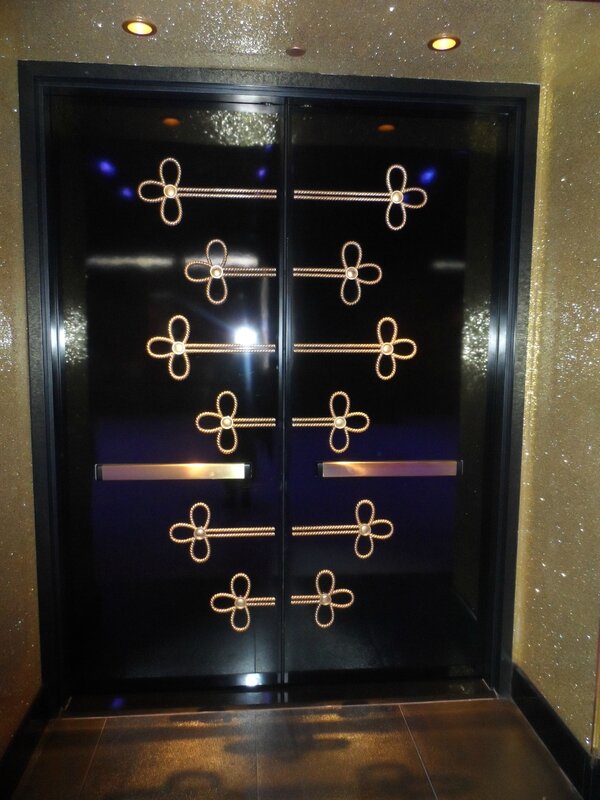 Le spectacle est prévu à 21h30. Isabelle en profite pour acheter une boisson dans un verre à l'effigie de MJ One pendant que j'observe le hall de la salle, décoré à l'image de Michael, dans les tons rouge et or. Ses initiales et son ombre sont partout: sur les rideaux, sur le bar ... Il y a même du papier peint avec les titres des chansons!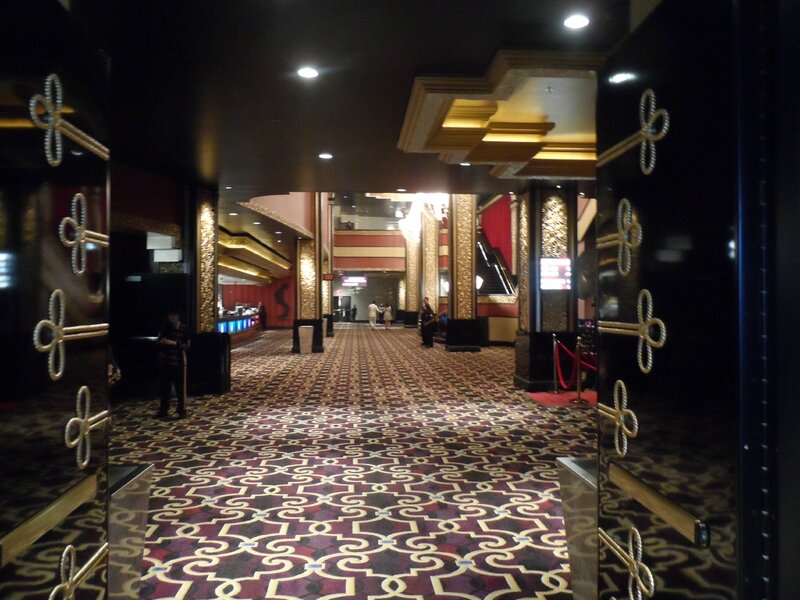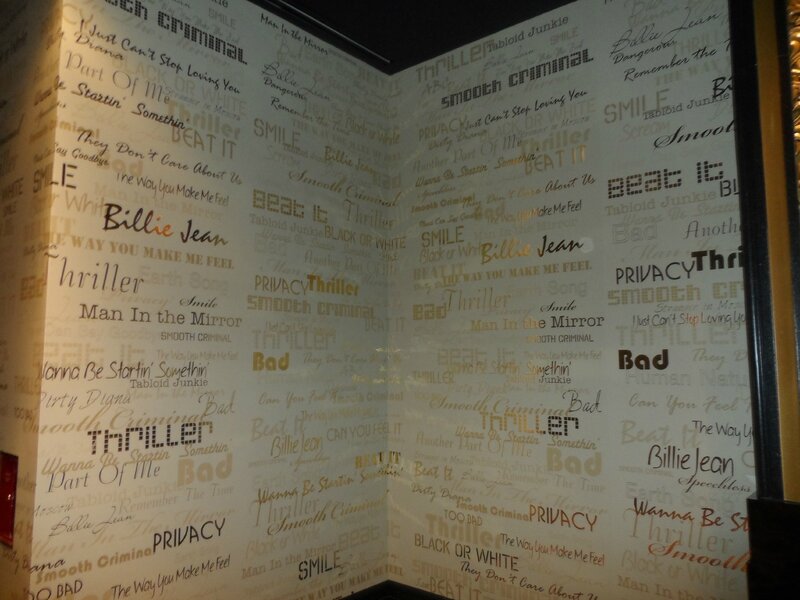 Puis nous gagnons nos places. Nous avons réservé des pillets pour le dernier rang, mais comme la salle n'est pas très grande, nous ne sommes pas si éloignées de la scène. Nous allons avoir en tout cas une bonne vue d'ensemble. La scène est entourée d'écrans géants de chaque côté qui donnent un côté intimiste à la salle.
Dans cette salle qui se remplit peu à peu, avec en fond sonore Privacy, j'observe la scène et le rideau, sur lequel sont projetés les symboles qui caractérisent Michael : ses mocassins, son gant, son fedora, ses lunettes…un peu de nostalgie m'envahit…voilà ce qu'il nous reste :(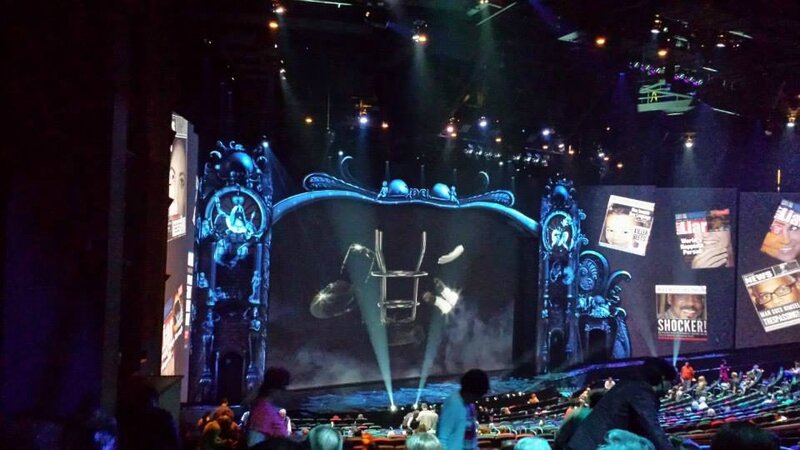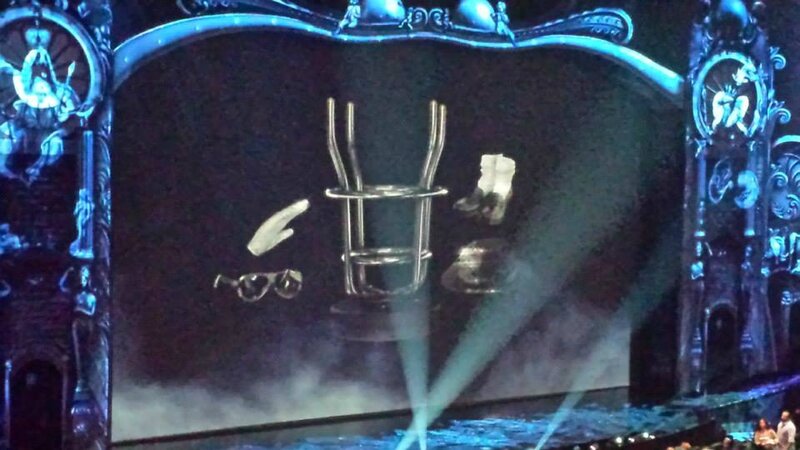 Même si j'ai eu de bons échos du show, j'espère que ce ne sera pas un deuxième Immortal où l'absence de Michael s'était faite cruellement ressentir.
A 21h30, les lumières s'éteignent et le spectacle commence : la voix de Michael et son rire envahissent la salle…des frissons me parcourent le corps … ça commence fort.
Les numéros vont s'enchainer à une vitesse impressionnante. Des numéros à couper le souffle, des acrobaties surprenantes, qui parfois nous font échapper un « Oh là là » ou un « waouh » (Bad et Smooth Criminal). Des jeux d'ombres chinoises simplement … magnifiques (sur Earth Song) et des jeux de lumières, des mises en scène, de l'illusion, de l'humour…tout y est. Michael est très présent derrière les danseurs, en vidéo, à tel point que parfois mon regard est rivé sur lui et pas sur les danseurs. La salle réagit vivement: elle est impressionnée également. Les moments d'émotions quant à eux se traduisent par des passages plus calmes dans le public ....on se rend compte à quel point le génie de Michael nous manque, même s'il est capable de produire de beaux hommages.
Les titres les plus célèbres de Michael sont bien sûr joués mais j'apprécie encore plus d'entendre des chansons un peu moins connues du grand public : 2 Bad, Privacy, Smile,Tabloïd Junkie et surtout Speechless que j'adore !!. Quel plaisir également d'entendre Planet Earth, le poème écrit et récité par Michael.
Les chorégraphies sont respectées pour Beat It, The Way You Make Me Feel, Thriller, …les danseurs sont parfaits, dynamiques et le show est désormais rodé. Le spectacle est partout : sur la scène, bien sûr, dans la salle, parmi les spectateurs, dans les airs sur I Just Can't Stop Loving You (superbe, j'en ai la chaire de poule) sur Stranger in Moscow et Dirty Diana…..
J'ai beaucoup apprécié Billie Jean : le numéro commence avec des images d'archives, notamment de la prestation de Michael au Motown 25. Pendant près de 2 minutes, il n'y a que la vidéo sur scène, comme si personne ne pouvait remplacer Michael sur ce titre mythique. Billie Jean c'est Michael et le Cirque du Soleil l'a compris. Les danseurs arrivent ensuite avec un numéro de jeux de lumière sur leur costume LED ….c'est juste superbe.
Gros moment d'émotion sur I'll Be There et Never Can Say GoodBye/Human Nature….un mashup de ces deux titres très bien fait qui me fait craquer, d'autant plus que sur les écrans, des images d'un Michael jeune se mêlent à des extraits du Bad Tour. Les larmes coulent.
Et puis enfin, peu avant le final, Man In The Mirror et l'apparition du hologramme de Michael….Que dire ? Que Man In The Mirror qui m'a toujours fait vibrer me prend encore plus aux tripes en voyant Michael apparaître, disparaître en poussière dorée et revenir pour danser avec les 4 personnages, fils conducteurs du spectacle……….. J'ai du mal à voir ce qui se passe tant les larmes voilent ma vue. Je veux pourtant voir la suite mais je ne peux m'empêcher de pleurer….D'habitude si pudique, je me laisse aller à mes émotions car je sais que je ne dois pas être la seule dans cet état.
J'avais peur d'assister à ce passage avec le hologramme. Je savais que ce serait difficile à supporter…cette impression qu'il est devant moi, de retour sur scène, tout en sachant que ce n'est pas lui. Une sensation que je n'ai pas aimée…..
Le final avec Black or White arrive, un peu trop vite. J'aurais voulu, nous aurions tous voulu, je crois, que cela dure encore. Les larmes passées, le final se veut joyeux et avec le message que Michael chérissait tant, we are ONE.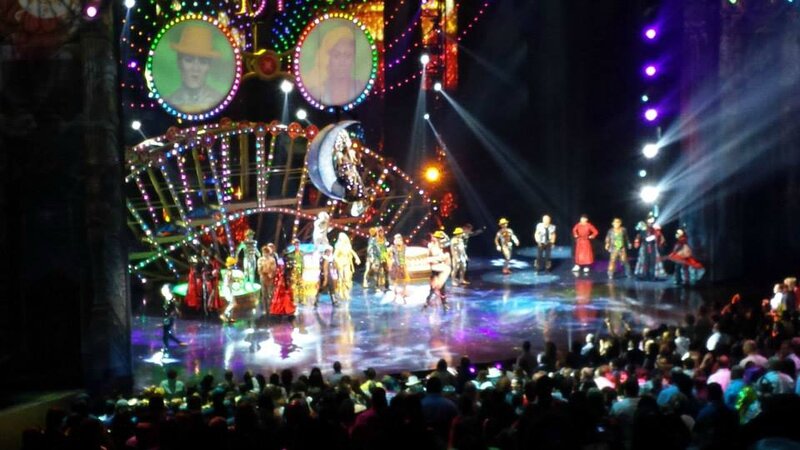 La salle est debout, applaudissant et ovationnant, ravie de ce qu'elle vient de voir. Un spectacle hommage à l'image de l'homme et de l'artiste, respectant son art et ses messages, un spectacle que Michael aurait sans doute aimé.
Difficile de faire ressentir toute les émotions qui m'ont traversée durant ce show que j'ai adoré. Des moyens et des numéros bien meilleurs qu'Immortal, qui étaient déjà à grande échelle. Un show qu'on a simplement envie de revoir tellement il y a de choses à apprécier. Fan ou pas de Michael Jackson, on aime. Et la salle est comble tous les soirs.
Dommage que Las Vegas soit si loin !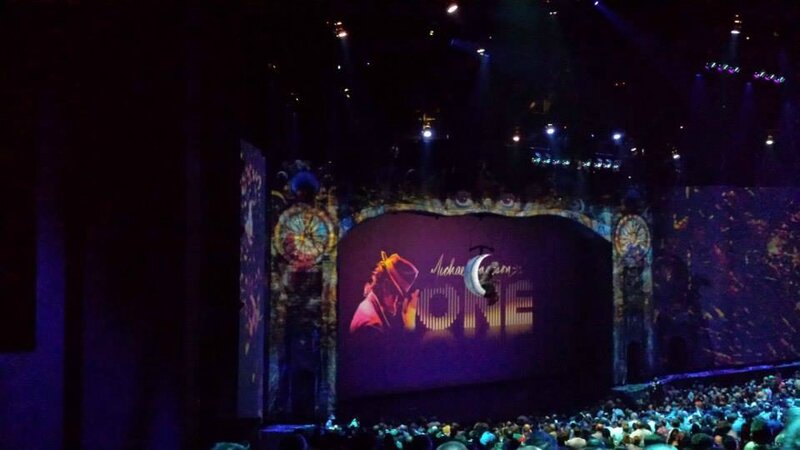 Ainsi se termine notre périple dans la ville qui ne dort jamais. Des tas d'images se bousculent dans ma tête au moment de m'endormir. Des images de ce show que je ne veux pas oublier mais également des images de ce qui nous attend le lendemain. Car le voyage se poursuit ....... en direction de Neverland .
Voir l'album photos
Les vidéos ne sont pas de moi mais trouvées sur internet