Vendredi 18 avril, il est environ 6h30 quand j'ouvre les yeux. Je viens de passer la nuit dans le lit de la chambre Say Say Say, à Los Alamos….une nuit calme et reposante dans un lieu mythique pour tout fan de Michael Jackson, et une nouvelle belle journée se prépare.
Nous descendons prendre notre petit déjeuner dans la salle restaurant de l'hôtel et pendant qu'Isabelle se dirige vers la table préparée à notre intention (nous sommes les seuls clients de l'hôtel !), sur le passage j'aperçois un vieux meuble avec des souvenirs à l'intérieur parmi lesquels un magazine Rolling Stone, le numéro du 8 décembre 1983 avec Michael et Paul McCartney en couverture, ainsi que quelques veilles cartes Panini de l'année 1984. De beaux objets, qui manquent justement à ma collection !!!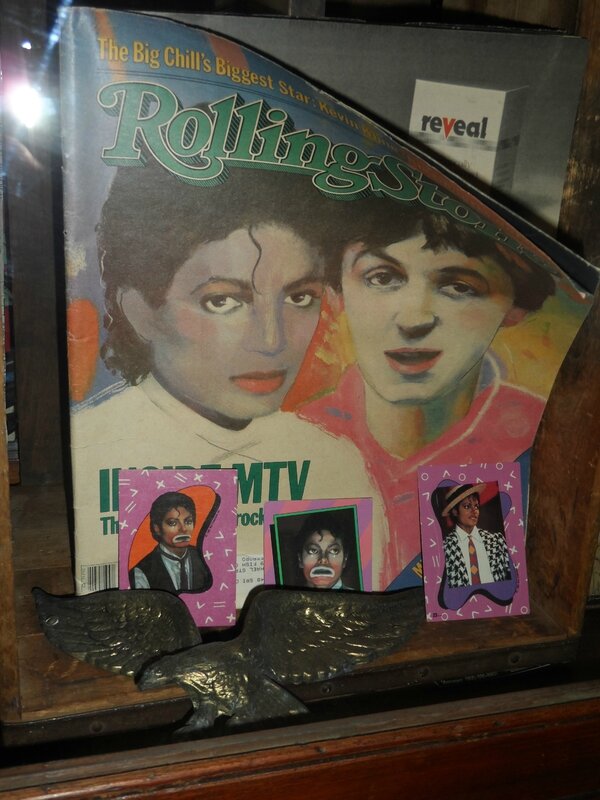 Je rejoins Isabelle et avant de commencer à déjeuner, je regarde le jardin par la fenêtre. Il a plu dans la nuit et il est tout humide mais nous demandons quand même à la jeune fille de la veille s'il est possible d'y faire un tour après. Elle nous répond par l'affirmative en nous disant que nous pourrons voir l'escalier qui apparait dans la vidéo de Say Say Say (à 4 :27 dans la vidéo).
Une fois le petit déjeuner englouti, nous sortons pour trouver un jardin avec une pelouse verdoyante d'un côté et un échiquier géant, un coin terrasse et ce fameux escalier de l'autre.
C'est bien entendu ce dernier qui attire toute notre attention. Il semble ne pas avoir changé depuis le tournage du clip.
J'ai également en tête une photo de Michael, sa sœur La Toya et Paul lors du tournage du clip. Je suis presque sûre qu'elle a du être prise ici. Et lorsque je vois la palissade en bois qui entoure le jardin et les briquettes des murs extérieurs, je n'ai plus de doute. Je n'ai pas trouvé l'endroit exact car les lieux ont sans doute été rénovés (on aperçoit notamment au sol les traces d'une ancienne piscine) mais l'endroit le plus probable semble être ce qui abrite actuellement cette cuisine extérieure, au fond, à droite de la photo.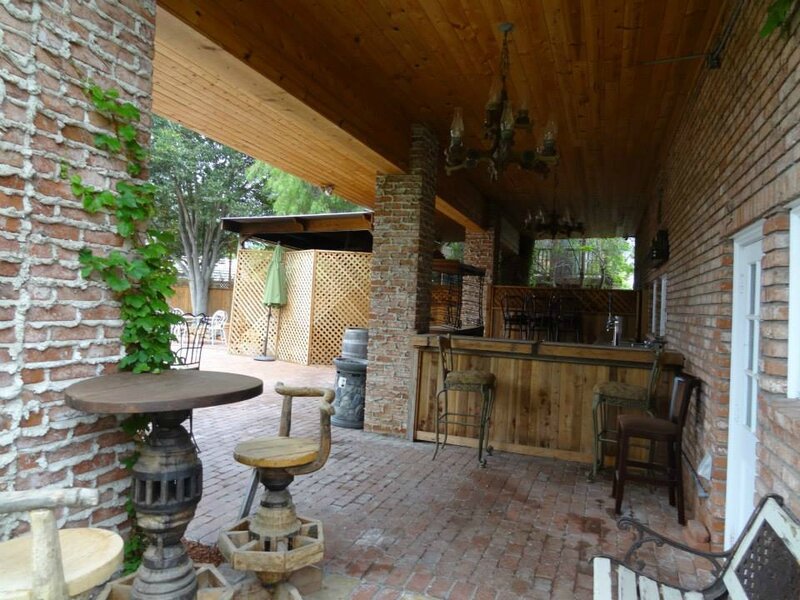 Après ce petit moment dans la fraîcheur du matin, il est temps de remonter préparer les valises. Isabelle a cependant une dernière requête auprès de la gérante. Elle souhaiterait voir le bar, qui se situe juste à côté de l'hôtel et qui est fermé. Je l'ai visité deux ans auparavant et je lui en avais parlé. C'est dans ce bar qu'une des scènes du clip, celle où Michael rencontre une jeune fille (jouée par sa sœur La Toya, à 3 :24 dans la vidéo) a également été tournée.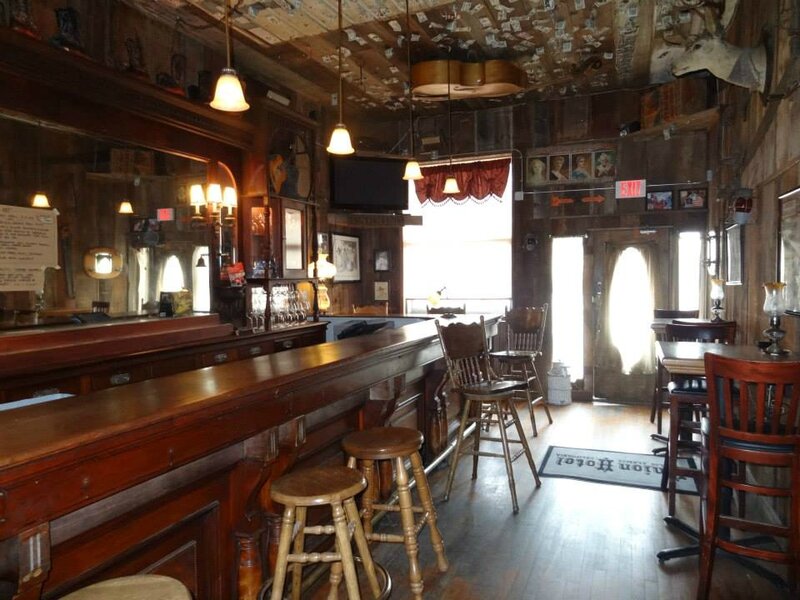 La porte battante, qui sépare le bar du hall de l'hôtel est d'ailleurs toujours la même (à 3 :32).
La jeune fille nous ouvre donc le bar. Les dollars sont toujours accrochés au plafond, comme il y a deux ans !! Je lui demande si elle peut nous passer la vidéo qui se cache derrière un cadre. En 2012, le patron me l'avait fièrement montrée. Nous nous plaçons toutes les trois devant la télé comme si c'était la première fois que nous voyions ce clip !!! Je lui explique que certaines scènes ont été tournées à Neverland, qui ne s'appelait pas comme ça alors, et que c'est ainsi que Michael a découvert l'endroit. Une information qu'elle ignorait.
En ressortant du bar, nous passons dans une salle de billard et j'aperçois, accrochée à un mur, ce qui devait être le panneau orignal, et la gérante me le confirmera, de la Figueroa Mountain Road à Los Olivos.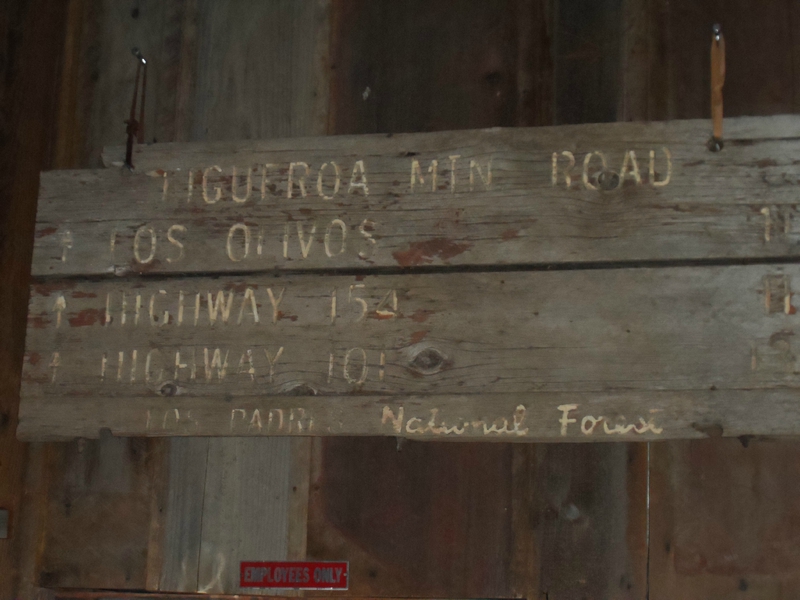 Loger une nuit dans cette chambre a été une fabuleuse expérience mais c'est maintenant l'heure du départ pour Los Angeles. En sortant de l'hotel, je me retourne sur le seuil, là même où Michael et La Toya s'enfuient dans le clip (à 4 :39).
On ne peut pas partir de la région sans dire au revoir à Neverland alors nous repartons en direction de la Figueroa Mountain Road, sous la grisaille. Nous n'aurons pas eu trop de chance concernant la météo durant nos passages au ranch !
L'endroit est toujours aussi calme et reposant. Un jeune homme arrive avec son père peu après nous. Il souhaite laisser un message sur la pierre et me demande un feutre. Nous en profitons pour discuter. Il est suédois et fait ses études à Santa Barbara. Il me demande d'où je viens et j'en profite pour lui expliquer les étapes de notre voyage. Il est impressionné notamment quand je lui parle de Gary.
L'activité reprend à l'entrée du ranch. Le portail s'ouvre à nouveau pour laisser passer une grosse voiture noire tandis que les employés entreprennent de laver les leurs.
Nous restons là à profiter des derniers instants devant le portail en rêvant qu'un jour peut être l'occasion nous sera donnée d'y entrer…..c'est beau les rêves !!!. Même si ce n'est qu'un portail, c'est pour moi difficile d'en partir. C'est un peu comme si je quittais Michael. Cela semble idiot mais on sent tellement son âme dans ce lieu que seuls les fans peuvent comprendre ce sentiment.
On repousse le moment que l'on redoute mais au bout d'une heure, il faut bien se résigner. Pourtant, même si c'est dur et que je remonte en voiture sans lâcher du regard Neverland, et avec une énorme boule à l'estomac, je m'en vais moins triste qu'il y a deux ans car je me dis que dans quelques heures, je verrai ce lieu magique d'en haut. Ce n'est qu'un au revoir !
Pour rejoindre notre prochaine étape, Solvang, nous devons repasser par Los Olivos. Lorsque nous arrivons au niveau du magasin Jedlicka's, nous nous apercevons qu'il est ouvert. Nous sommes sur les traces de Michael, donc nous descendons de la voiture et allons voir ce qui l'a attiré ici (il y avait acheté un tricycle pour ses enfants)… Il s'agit d'un magasin avec un petit rayon jouets et jeux et le reste des rayons est surtout dédié aux vêtements, chapeaux et bottes, façon cow boy…un magasin très typique de la région sans doute mais peu commun pour les deux françaises que nous sommes.
Solvang est une ville de la vallée de Santa Ynes fondée par les danois au début du 20ème siècle et elle en a conservé une certaine influence. De nombreux restaurants, boulangeries et des marchandises diverses donnent un avant-goût du Danemark en Californie.

Michael avait quelques habitudes ici, notamment dans le magasin d'Antiquités et un magasin de cartes et objet de collection de sport, TJ's Sport.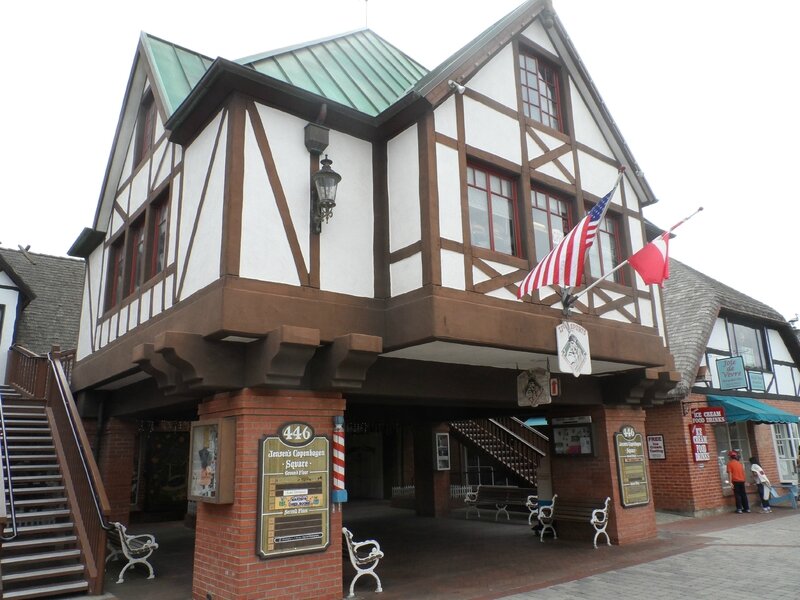 Il a également logé dans cet hôtel, The Wine Valley Inn, au 1564 Copenhagen Way, en 1983, lors du tournage du clip Say Say Say. A l'époque, l'hôtel s'appelait The Chimney Sweep.
Un petit tour dans la ville et nous repartons en direction de Sant Ynes. Nous souhaitons repérer l'aéroport où nous devons être pour 13h30 avant d'aller déjeuner. Ce sera un repas sur le pouce car l'excitation de ce qui nous attend commence à monter. Nous allons survoler Neverland !!!!
Dès 13h, nous sommes à l'aéroport et nous devons donc patienter avant que l'hélicoptère n'arrive. J'observe le ciel, très gris et même brumeux en souhaitant que cela ne nous gêne pas pour voir le ranch du ciel. J'en serai tellement déçue.
Ce vol en hélicoptère c'est je crois, ce qui nous tenait le plus à cœur dans l'organisation de ce voyage. Voir Neverland, au-delà des portes du ranch, c'est un rêve que j'aurais tellement voulu réaliser. Le rêve aurait bien sûr été complet si cela avait été au temps du bonheur de Michael mais quand a germé l'idée de faire ce vol, je ne pouvais pas la laisser passer. Et là, dans une heure je serai au dessus du ranch, je pourrai voir de mes yeux ce que Michael a mis tant de cœur à bâtir.
L'attente semble tellement longue mais j'entends enfin l'hélicoptère arriver. Notre pilote, Alex, se dirige vers nous et après quelques présentations, nous mène à notre taxi volant et nous explique les consignes de sécurité.
Je monte enfin à l'avant de l'hélicoptère, près du pilote. Isabelle est derrière moi. Alex nous tend les casques et nous explique comment ils fonctionnent…bon c'est assez simple, on devrait s'en sortir.
Le moteur démarre et quelques minutes après, le temps de chauffer l'hélicoptère, nous voilà dans les airs. J'avais un peu d'appréhension de ce moment, car j'ai le vertige. Mais la sensation est assez plaisante. Malgré le temps couvert, on voit très bien….ouf on pourra voir Neverland sans problème.
L'hélicoptère effectue un demi-tour et se dirige vers notre but. Le pilote nous explique que nous y serons en quelques minutes. Nous profitons du paysage verdoyant en attendant et discutons avec Alex. Selon lui, les enfants seraient en pourparlers avec Colony Capital pour leur racheter les parts du ranch. Une bonne nouvelle si elle est vraie.
Et tout à coup, devant nous, apparaissent les premiers mètres carrés de Neverland. Notre pilote nous précise que nous y sommes mais nous avons déjà reconnu ce qui était l'emplacement des attractions du ranch.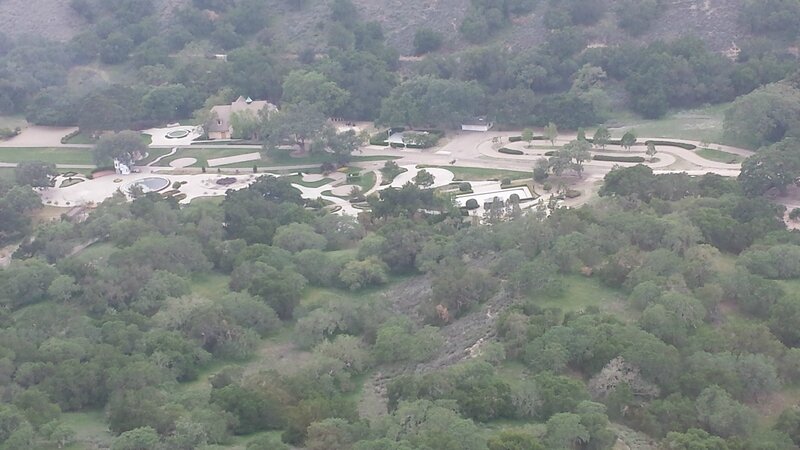 L'hélicoptère poursuit son chemin et je vois apparaître ce que l'on pourrait appeler LE lieu de reconnaissance de Neverland : la gare. On la voit très bien et je réalise alors que Neverland est juste là, sous moi et des tas de frissons me parcourent le corps.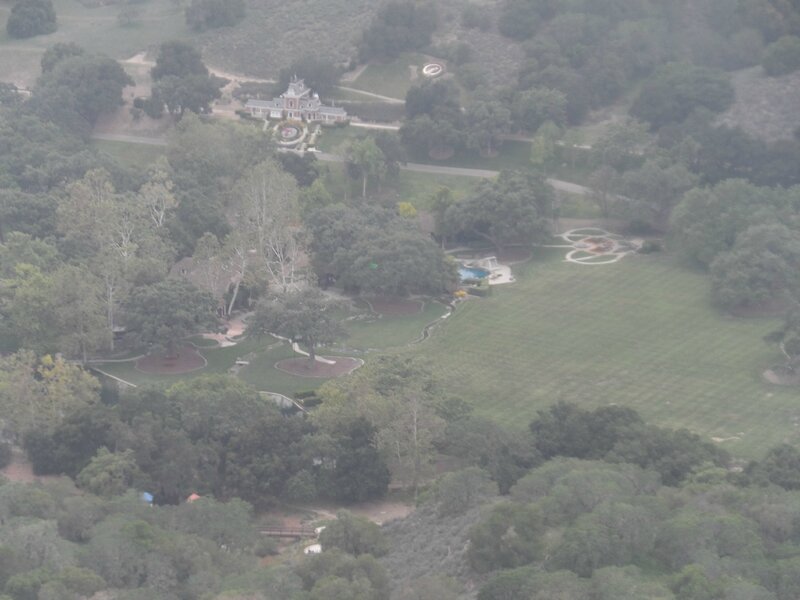 Tous les endroits que j'ai si souvent vus en photo sont sous mes yeux : le cinéma, le zoo, certes vides, mais les cabanes des animaux sont toujours là, le circuit de karting, les rails du train, les aires de jeux pour enfants et puis la maison aussi bien sûr avec la piscine, le lac et le terrain de tennis. On aperçoit également le fameux pont, celui sur lequel Michael est photographié avec Ryan White pour la pochette du single Gone Too Soon. Même les camions de pompiers sont toujours là ainsi qu'un bus. Serait-ce le bus de Michael ?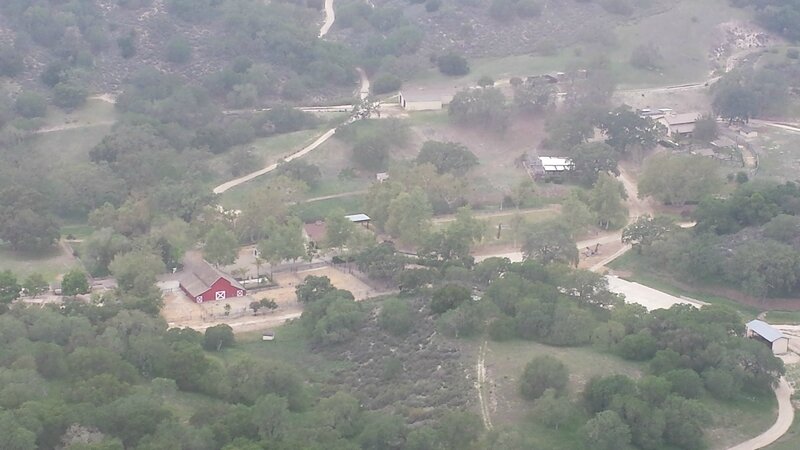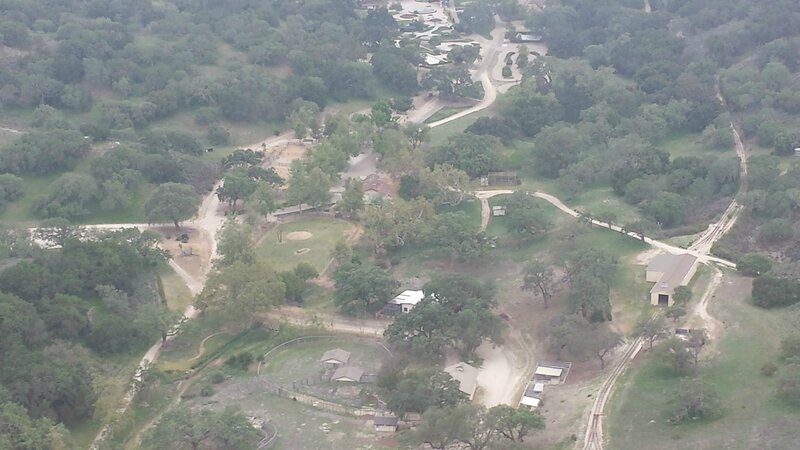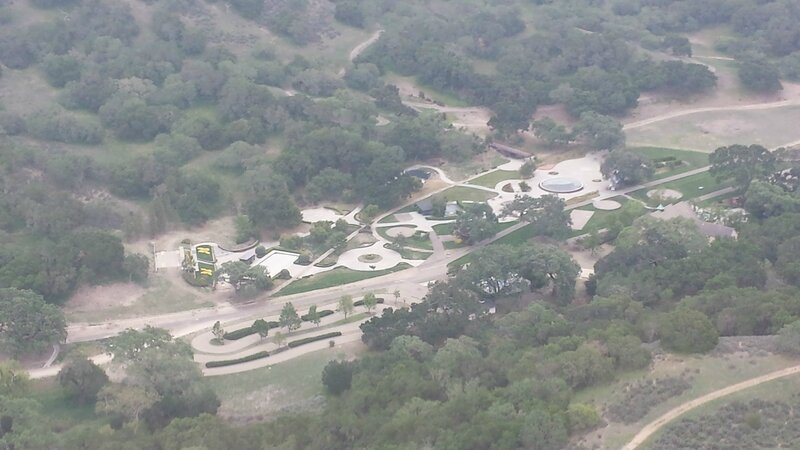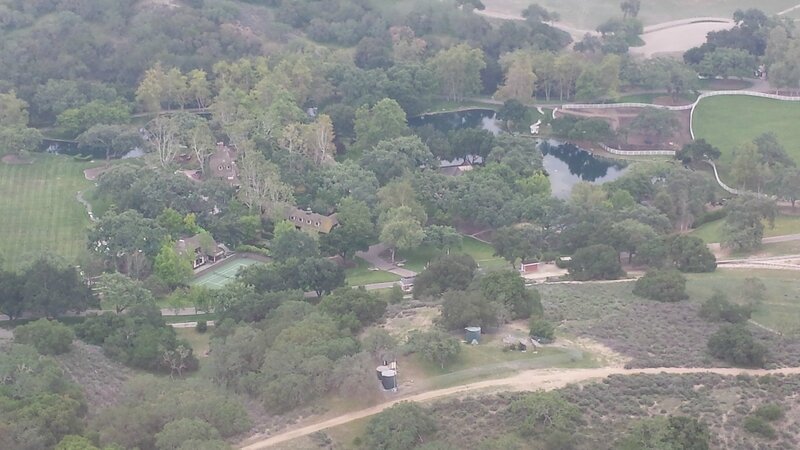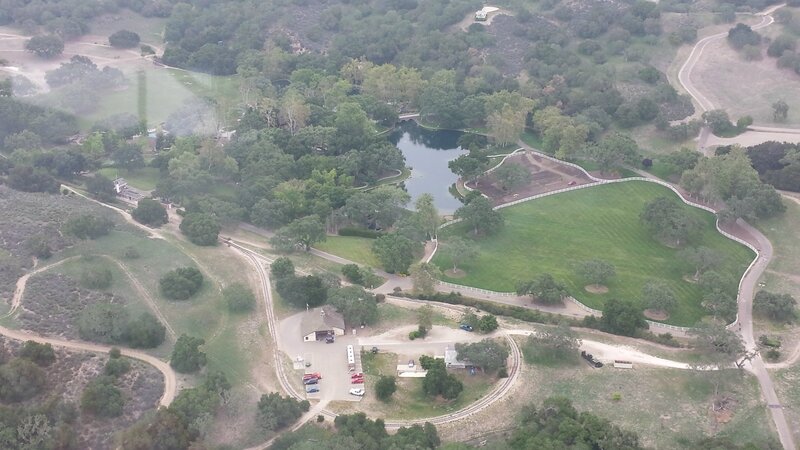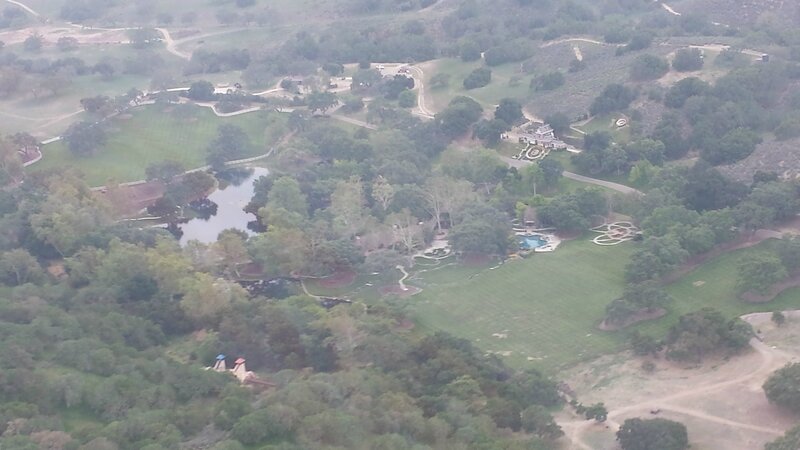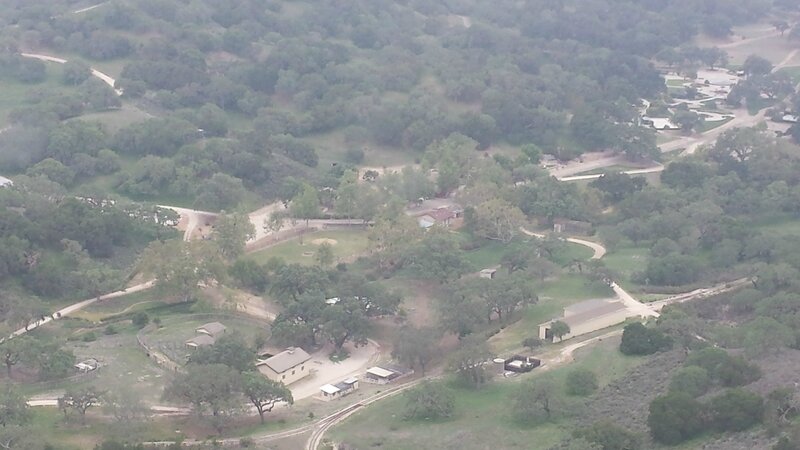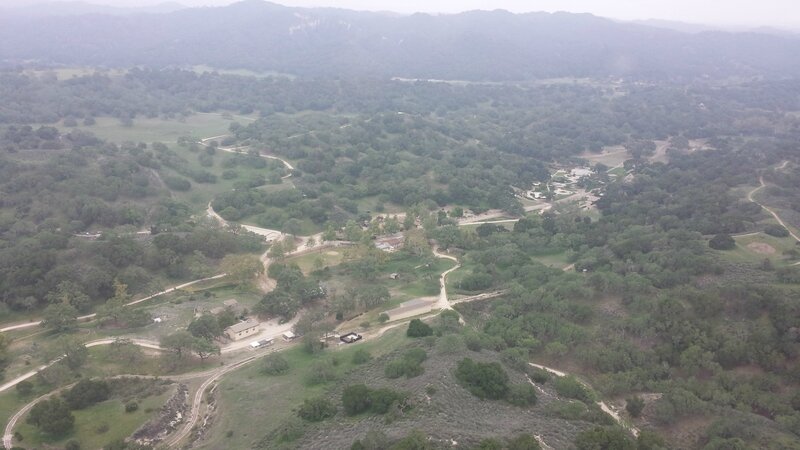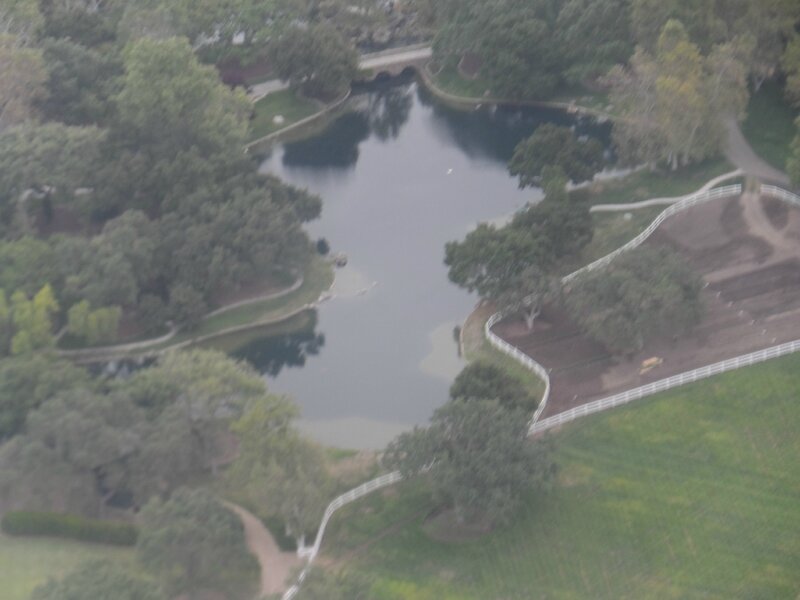 Lorsque je vois cette fameuse maison orange, une cabane du zoo, je pense immédiatement à une photo de Michael et Bubbles prise par Harry Benson
Le silence dans l'hélicoptère traduit notre émotion. De temps en temps un « oh mon dieu » ou un « wouah » nous échappent, exprimant la beauté de ce qu'on voit !
L'appareil photo fonctionne tout azimut et d'un seul coup je me rends compte que je suis en train de vivre un moment unique que je ne revivrai sans doute jamais et je me dis qu'au lieu de prendre des tas de photos, il faudrait peut être que mes yeux en profitent au maximum. Je veux garder ces images dans ma tête, dans mon cœur et ne pas me souvenir d'elles uniquement à travers des photos et je décide de me calmer un peu. Je baisse l'appareil photos et pendant que l'hélicoptère continue de tourner au dessus de Neverland, j'admire les différentes parties du ranch. C'est magnifique …tout simplement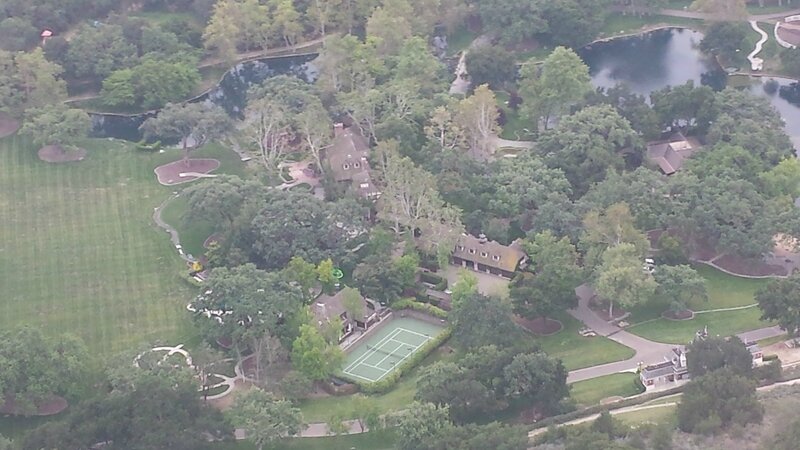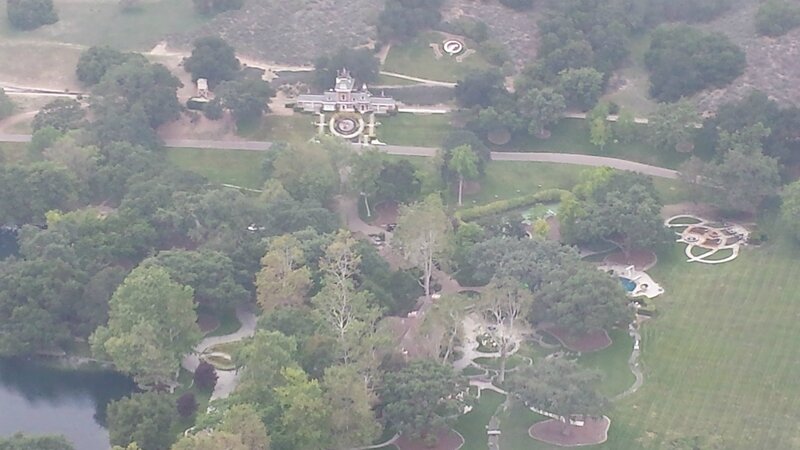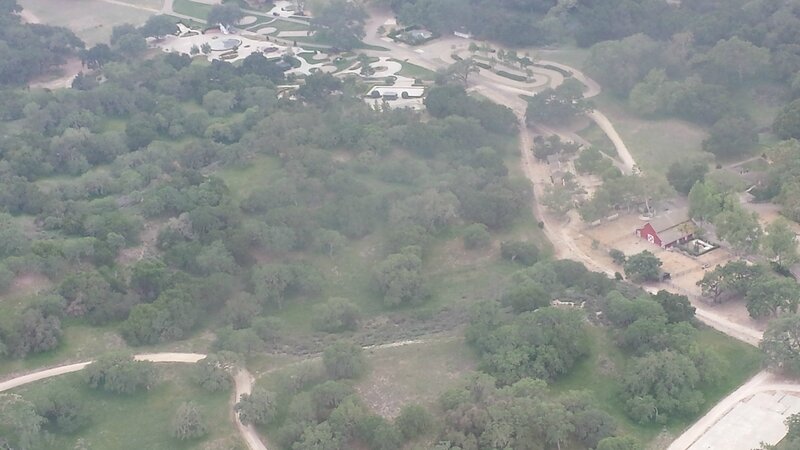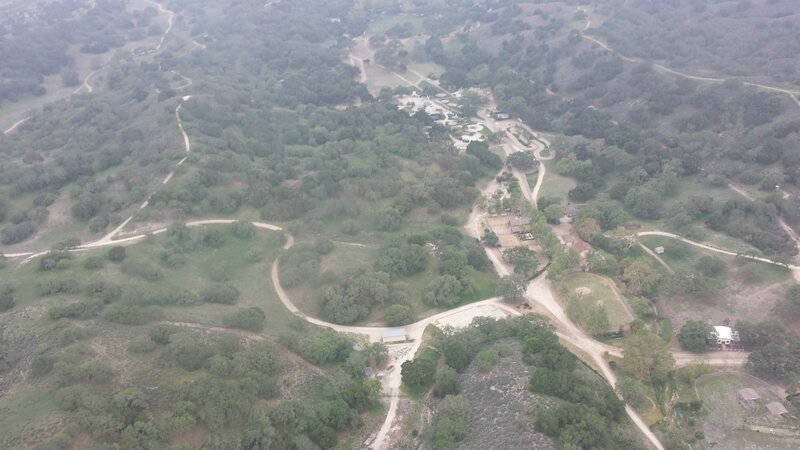 Alex nous montre une petite cabane et nous explique que c'est là que Michael entreposait les différentes récompenses qu'il a gagnées au cours de sa carrière. Je lui demande de m'indiquer l'entrée du ranch. Il me montre celle où nous étions quelques heures plus tôt mais ce que je cherche à voir c'est le deuxième portail. Je sais qu'il n'existe plus mais je voulais voir où il se situait.
On aimerait bien descendre un peu plus bas mais le pilote nous dit que c'est impossible. Il y a une hauteur à respecter. Il nous emmène un peu plus loin, dans les collines du ranch afin que j'y dépose une rose. C'est impressionnant de constater à quel point s'étend la propriété de Michael.
D'une manière générale le ranch semble être bien entretenu. Les allées et venues que nous avons constatées lorsque nous étions devant le portail montrent que du monde y travaille. Bien sûr certaines parties ne reflètent plus du tout la même magie, je pense notamment au parc d'attraction. Cette partie là et le zoo sont sans vie et c'est si triste de les voir ainsi quand on sait tout le bonheur que cela a pu apporter aux enfants qui visitaient le domaine et à Michael. Mais la partie privée, la maison et ses alentours restent verdoyantes. La pelouse est tondue, les arbres et arbustes taillés et les accès dégagés.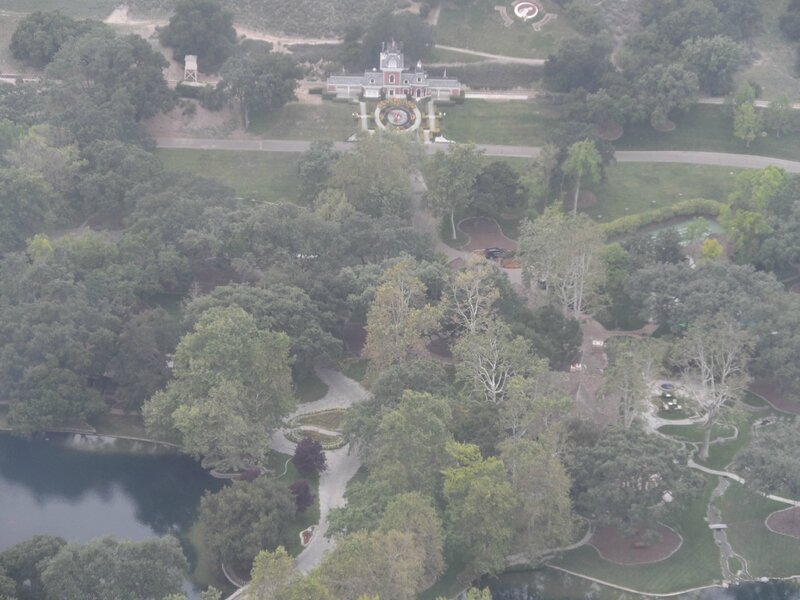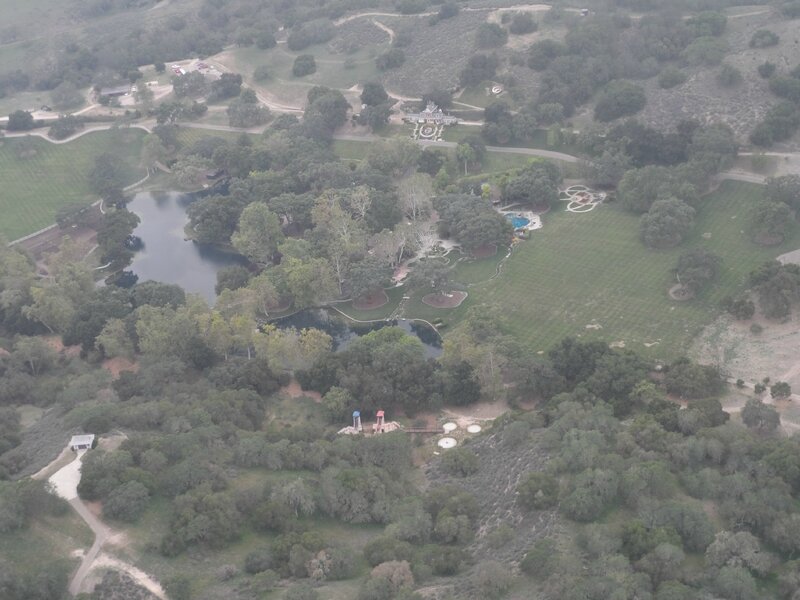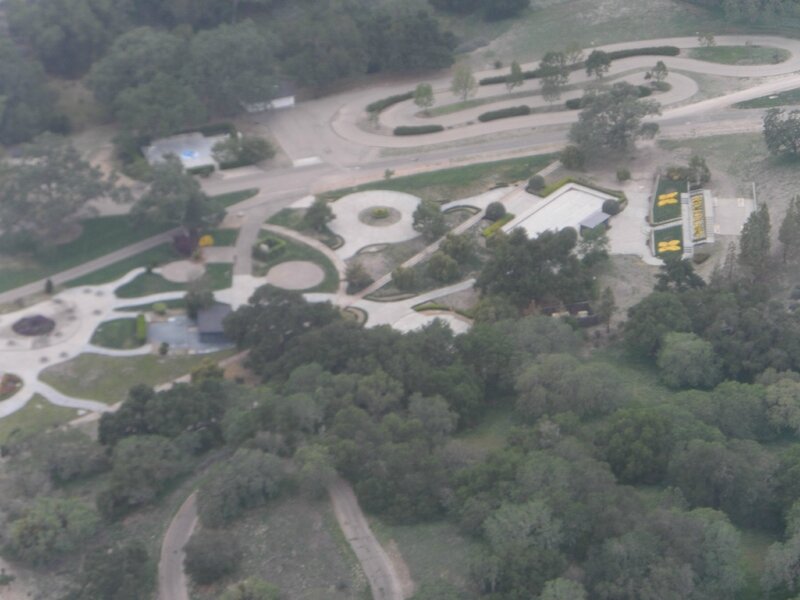 Après plusieurs tours du ranch, le pilote nous annonce que nous allons devoir rentrer. Ce sera le dernier passage. Nonnnnn pas déjà !!! Je veux rester !! J'essaie de lui soutirer quelques minutes mais c'est impossible !! Je regarde partout, je veux garder ces images en moi pour toujours !
L'hélicoptère reprend le chemin de l'aéroport. Je ne lâche pas le ranch des yeux, jusqu'au dernier moment. Voilà, c'est déjà fini !
Le pilote nous demande si nous avons apprécié. Bien sur que oui, c'était formidable…mais trop court ! Perdue dans mes pensées, je me rends à peine compte que nous atterrissons. J'atterris moi aussi de mon petit nuage ! Je viens de vivre, et je sais que pour Isabelle c'est la même chose, un moment magique et nous trouvons encore peu de mots pour le qualifier, mais il est certain qu'il restera inoubliable.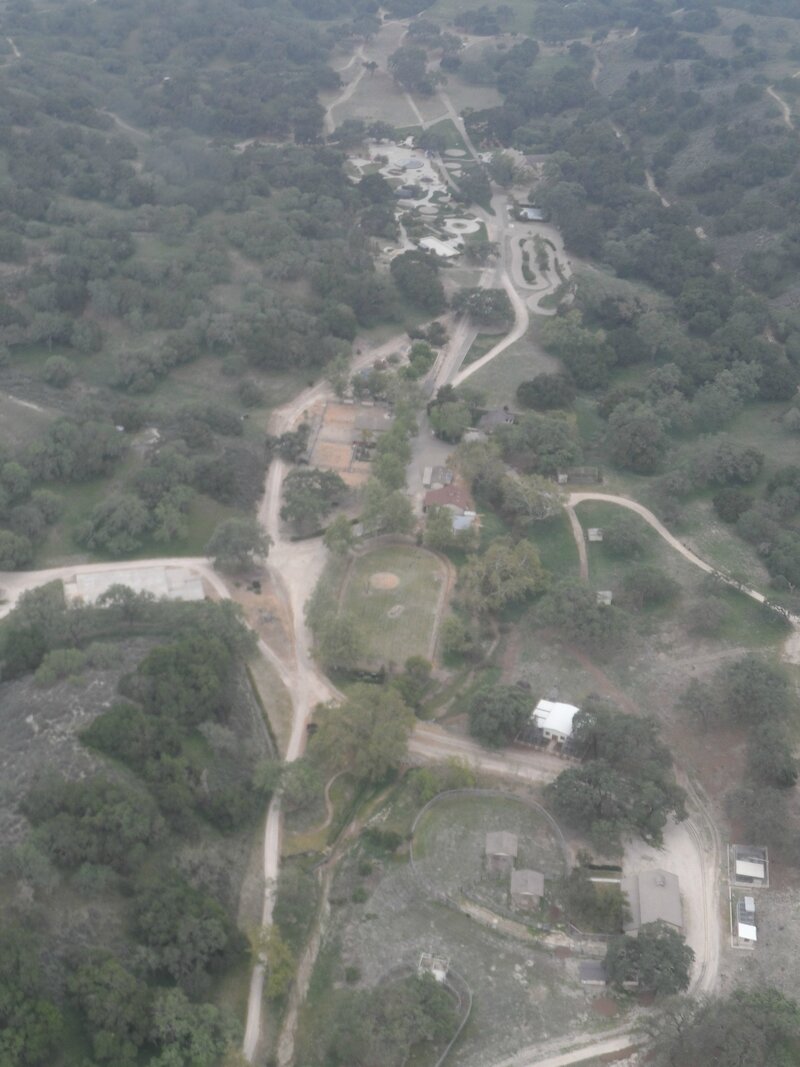 Il nous faut un peu de temps une fois dans la voiture pour reprendre la route. Le temps de faire sortir quelques émotions, quelques moments marquants, de réaliser ce que nous venons de vivre. Tellement de mois d'attente pour vivre ça et c'est déjà fini....gros coup de blues. Et surtout c'est maintenant qu'il fait dire au revoir. :( :( :(
La voiture reprend la route pour Santa Barbara où nous finissons l'après-midi à nous balader sur le Pier sous un soleil qui a enfin fait son apparition. Un peu de tourisme après ce grand moment et avant une autre émotion pour la soirée. En effet, un petit accident de voiture viendra ternir cette belle journée. Sans gravité, il nous a cependant fait perdre deux heures, le temps de faire le constat et le temps pour Isabelle de découvrir l'arrière d'une voiture de police américaine !!! Et oui pendant que je stressais face à cette nouvelle montée d'adrénaline, elle a demandé au policier si elle pouvait monter dans sa voiture…ce qui a beaucoup amusé ce dernier.
Il est environ 21h30 quand nous arrivons (enfin) à Los Angeles. Notre hôtel est situé sur Hollywood Boulevard, à environ cinq minutes en voiture du Walk of Fame. Nous découvrons notre modeste chambre qui sera notre repère pour la semaine à venir. Un grand nombre de lieux où Michael est passé sont prévus et ça commence dès le lendemain matin.
Los Angeles, nous voilà !!!
D'autres photos de Neverland sont disponibles dans l'album photos.
Merci à mon amie Isabelle de m'avoir permise d'utiliser ses photos qui sont de bien mailleures qualités que les miennes.