Samedi 19 avril, premier réveil dans la cité des anges. Une ville que j'adore et dont je ne me lasse pas. La ville de Michael, où il a vécu, et tant de lieux où il est passé. Nous avons une semaine pour tout faire … ou presque !
Sitôt le petit déjeuner avalé, nous partons pour l'agence de location de voitures. Après notre accrochage de la veille, il faut changer de voiture. L'agence est située près de l'aéroport de Los Angeles, alors une fois la nouvelle voiture prise en main, nous décidons d'en profiter pour faire la tournée des lieux où Michael a été vu dans le quartier.
Le forum de Los Angeles est situé dans le quartier d'Inglewood, au 3900W Manchester Blvd. C'est là notamment, que les Jackson 5 ont donné, à plusieurs reprises, des concerts, dans les années 1970. C'est également dans cette salle de concert qu'on eu lieu les premières répétitions de This Is It. Un évènement semble se préparer pour la soirée. Le bâtiment étant également une salle de sport, il s'agit peut être d'une rencontre sportive.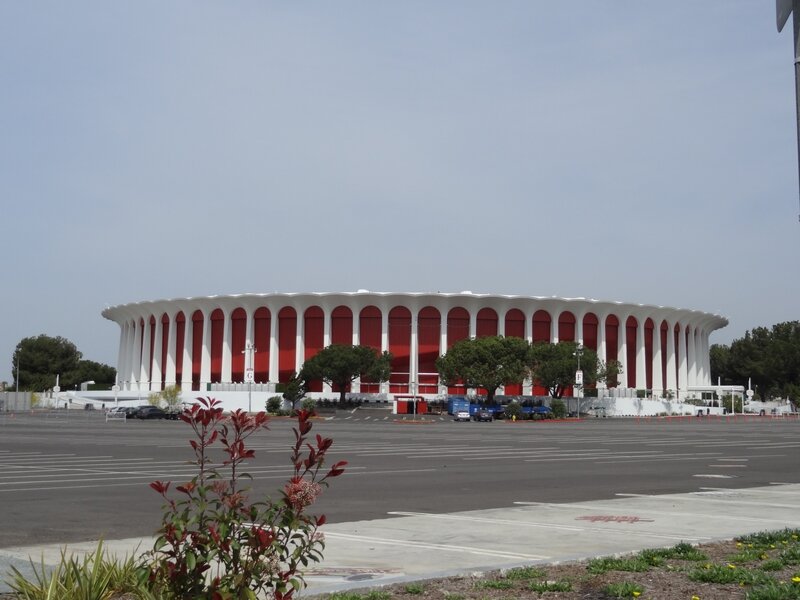 Le Brotman Medical Center, est situé au 3828 Delmas Terrace, dans le quartier de Culver City. En route pour les Culver Studios, nous passons devant cet hôpital tristement célèbre dans la vie de Michael pour l'avoir accueilli après son terrible accident lors du tournage de la publicité Pepsi en 1984. Michael y a également financé une unité pour grands brûlés, The Michael Jackson Burn Center qui a fermé, en raison de problèmes financiers, trois ans plus tard.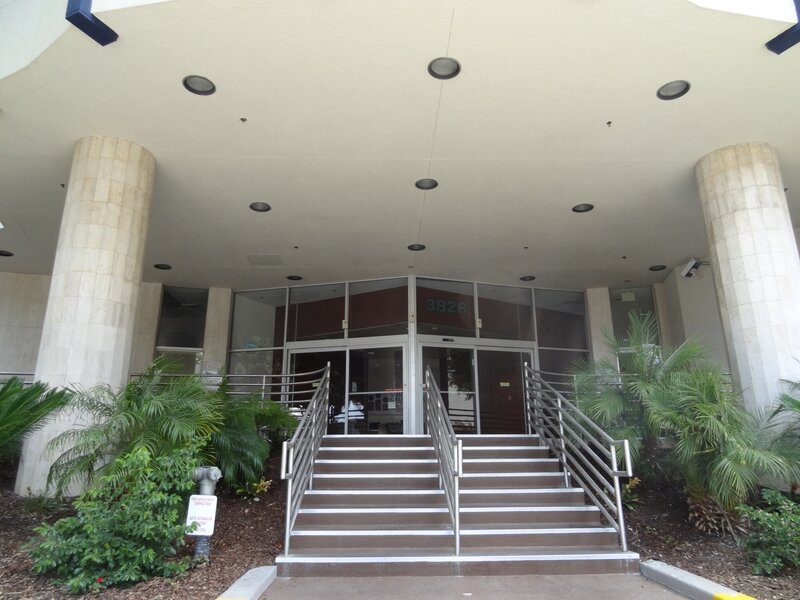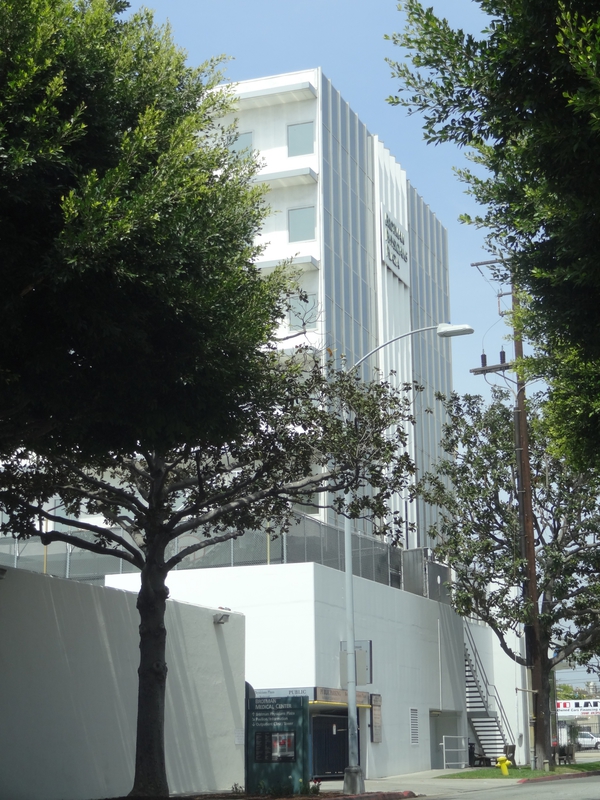 Nous poursuivons en direction des Culver Studios, où bien sur nous ne pourrons pas entrer ! C'est ici que Michael a tourné notamment Smooth Criminal et Moonwalker. Situés au 9336 Washington Blvd, l'extérieur des studios est digne d'une propriété coloniale du Sud, ce qui du coup, attire encore plus les passants ! Et nous ne ferons pas exception à la règle. Il est cependant difficile de se garer, alors Isabelle joue les photographes pendant que j'admire les lieux de la voiture mal stationnée.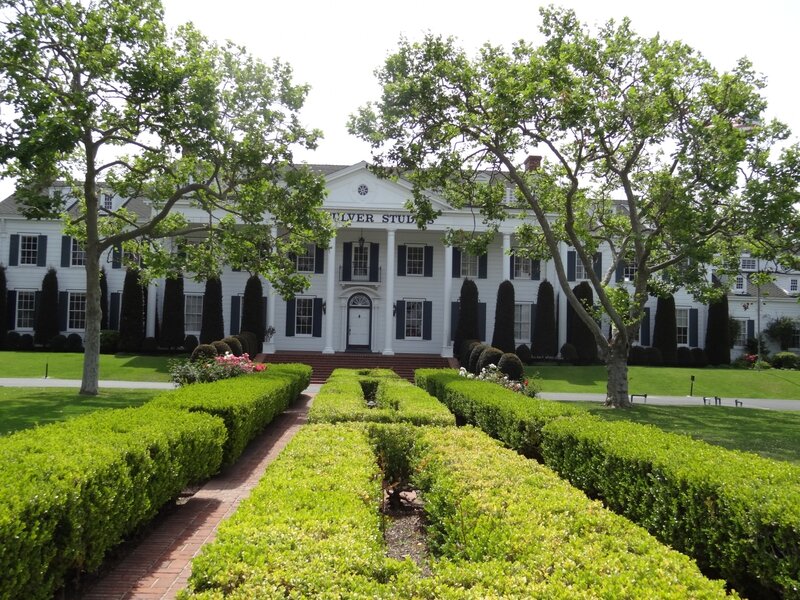 Le Restaurant Akasha, un des préférés de Michael à Los Angeles, est situé non loin de là, au 9543 Culver Blvd.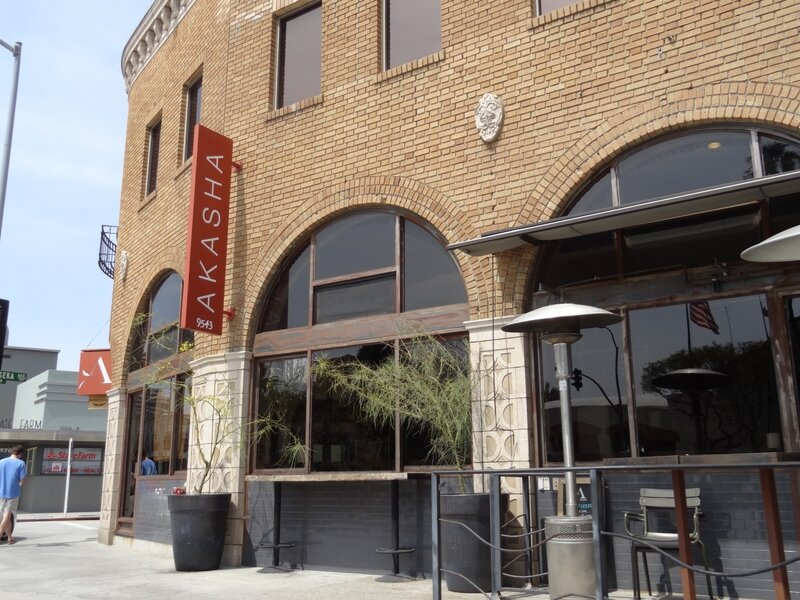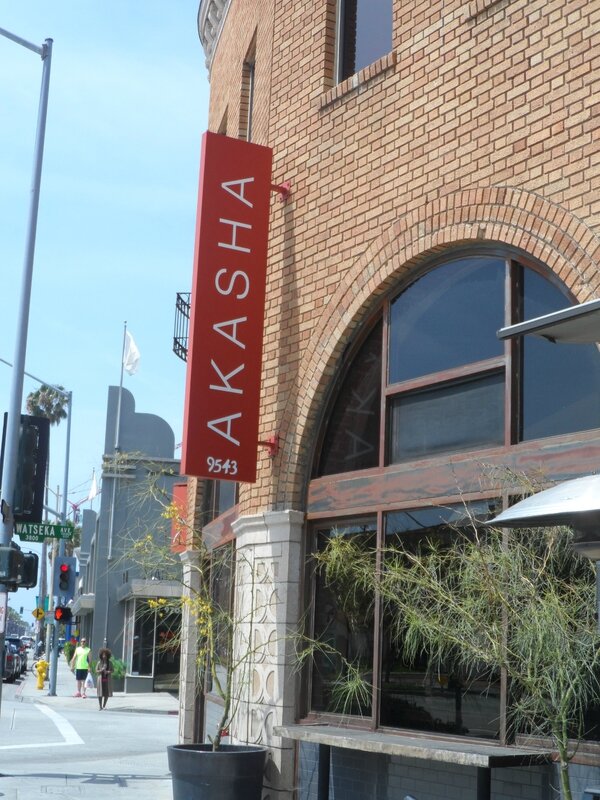 Nous garons la voiture et arrivons jusque devant la porte. Il n'y a pas grand monde à l'intérieur alors nous entrons et expliquons à la jeune fille qui nous accueille que « nous sommes des fans françaises de Michael Jackson» (cette phrase, prononcée avec un grand sourire, nous ouvrira quelques portes durant cette semaine dans la ville) et que nous avons entendu parler d'une reproduction d'un disque d'or HIStory offerte au restaurant. La jeune fille nous mène directement vers un couloir qui mène aux cuisines où se trouve ce que nous cherchons. Il aurait été assez difficile de la trouver par nous-mêmes sans passer inaperçues !!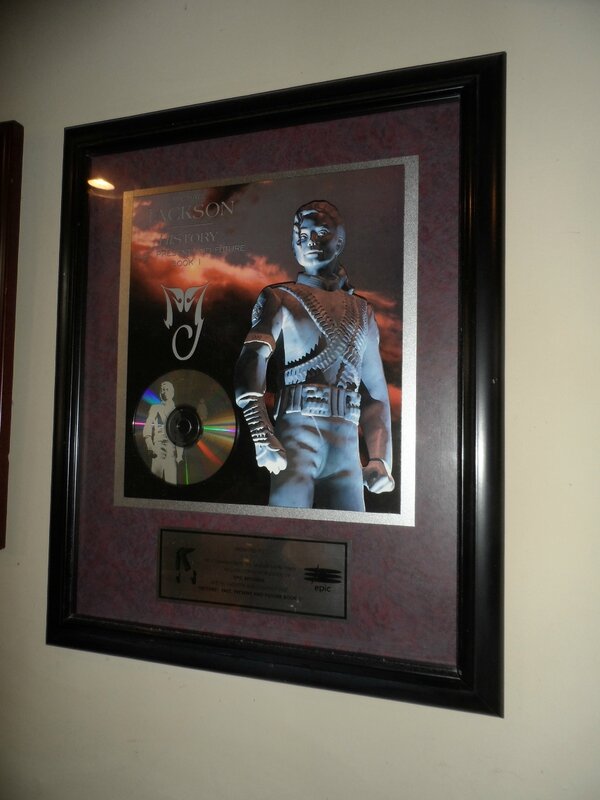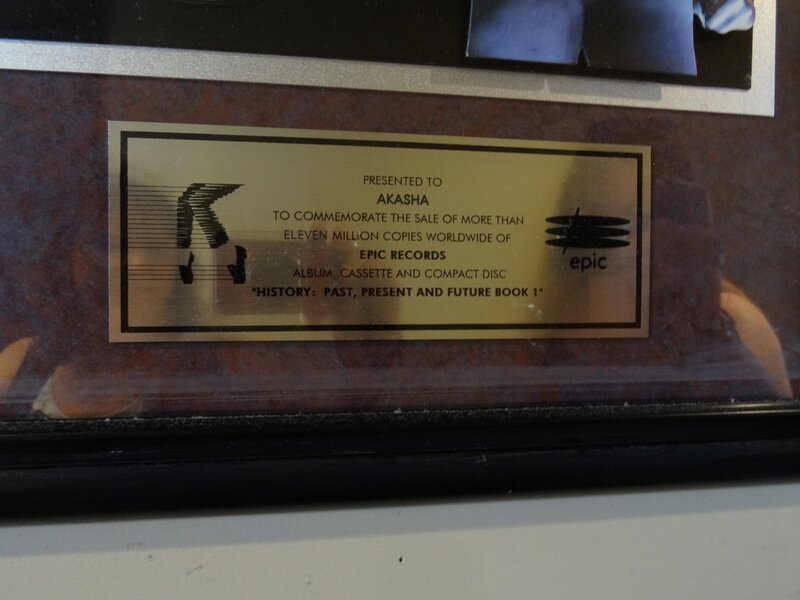 Je lui demande si Michael venait souvent manger ici. Elle me dit qu'il venait de temps en temps mais que c'est surtout la chef cuisinière du restaurant, Akasha Richmond, qui a cuisiné pour Michael. Elle a été sa cuisinière personnelle pendant plusieurs années et elle a cuisiné pour lui à Neverland (Michael avait rencontré Akasha, alors jeune débutante, durant les années Thriller, lorsqu'il se rendait au Golden Temple Restaurant, un des premiers restaurants végétariens, où la jeune femme travaillait, avant d'être embauchée par Michael puis d'ouvrir ce restaurant).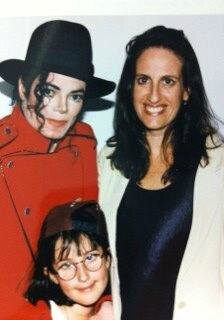 Michael, Akasha Richmon et sa fille
La jeune fille nous laisse libre de prendre autant de photos que nous le souhaitons de la plaque HIStory et du restaurant. Nous la remercions et repartons.
Nous sommes déjà à la mi-journée et décidons de faire notre première visite à Forest Lawn. Le temps de remonter vers le cimetière majestueux de Glendale où repose Michael, et il est presque 13h30. Nous ne nous garons pas devant Holly Terrace, mais un peu plus bas et remontons à pied.
Holly Terrace apparait alors devant moi et, tout comme deux ans auparavant, je trouve un endroit calme et désert. Quelques fleurs ornent le coin désormais réservé à cet effet et nous aurons l'agréable surprise de voir que la composition florale d'une fan française passée environ une semaine avant nous est toujours là. Nous déposons également chacune une petite carte et je trouve un emplacement pour les deux (faux) tournesols que j'ai apportés.
Je suis quand même assez surprise du peu de marque d'amour laissé sur place. Mais y a-t-il vraiment autant de passage que cela ici ?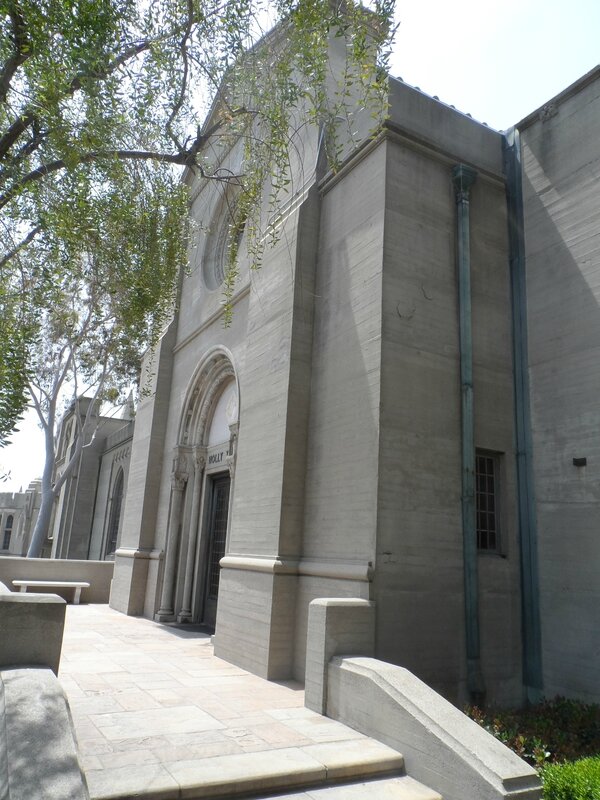 Je m'approche doucement de la porte. L'émotion m'envahit mais je m'aperçois tout de même qu'elle est moins grande que lors de mon premier passage deux ans auparavant. Je suis attirée par cette porte et bien sur je m'approche au plus près afin de pouvoir voir à l'intérieur. Mais il est trop tôt, le soleil est encore trop haut dans le ciel pour pouvoir discerner quoi que ce soit. (vers 16h, le soleil donne directement sur le vitrail à l'opposé de la porte de Holly Terrace et il est possible d'apercevoir la tombe de Michael). Je n'insiste pas car de toute façon je ne suis pas sûre d'avoir envie de voir. Des tas de sentiments contradictoires m'envahissent mais je n'arrive pas à les exprimer en cet instant. Je m'assied sur le banc en pierre près de la porte, Isabelle étant assise plus loin, ou allant et venant pour prendre quelques photos. C'est un moment particulier et nous avons besoin de nous isoler pour le vivre, chacune à notre manière. Et puis surtout, nous avons besoin de laisser sortir la tristesse qui est en nous, à être là. Nous restons donc chacune de notre côté pendant un long moment.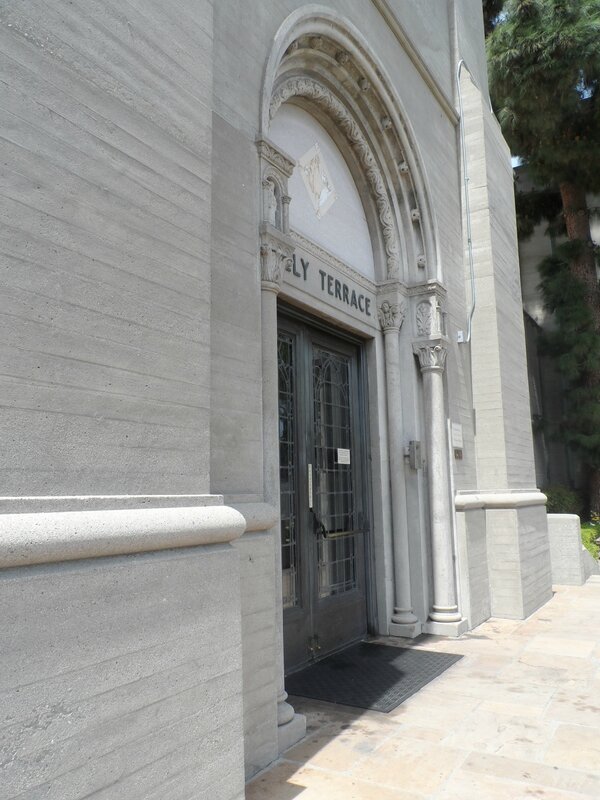 Pour moi c'est assez dur de se retrouver ici, l'endroit où repose officiellement Michael et où nous pouvons nous recueillir. Je suis très déçue de voir qu'il y a très peu de passage et je me dis que, encore une fois Michael est vraiment seul. Le paysage est beau certes et malgré le temps radieux qui règne sur Los Angeles, j'ai l'impression qu'il fait froid en ce lieu précis. Oui, Holly Terrace, pour la première fois m'apparait comme un lieu froid, où Michael ne devrait pas être. D'ailleurs y est-il vraiment ? Je sais que certains n'apprécieront peut être pas ce que je vais dire, mais depuis très longtemps, je me dis que Michael n'est peut être pas ici. Je ne sais pas où il peut avoir été inhumé (mon dieu que ce mot est terrible à dire), ce n'est d'ailleurs qu'une impression, mais plus le temps passe, et plus j'en suis persuadée. Un homme qui a soulevé des foules, aimé par des millions de gens ne peut pas se retrouver ici, oublié de tous, y compris de sa famille, sans aucune marque d'amour ou de reconnaissance.
Tout cela est un peu confus dans ma tête et je me confierai après à Isabelle. Je sais que je n'aurai sans doute jamais la réponse à mes questions. C'est donc à la fois remplie de doutes et de tristesse que je me fais tout de même violence pour partir d'ici. Ce n'est qu'un simple au revoir, nous avons prévu de revenir deux autres fois au cours de la semaine.
Nous redescendons vers The Great Mausoleum et entrons dans le bâtiment. Elisabeth Taylor, la grande amie de Michael est enterrée ici et dès l'entrée, nous apercevons la statue qui symbolise sa tombe (les photos étant interdites, je vous mets des photos trouvées sur le net).
Non loin de celle-ci, sur la gauche, se trouve un superbe vitrail, The Last Supper, une reproduction du célèbre dernier souper du Christ de Leonard De Vinci.
En milieu d'après midi, nous quittons Forest Lawn et nous nous rendons au Autry National Center, au 4700 Western Heritage Way, un musée sur l'histoire de L'Ouest Américain.
Une petite expo est consacrée à Michael sous le nom « How The West Was Born By Michael Jackson". Etrange de trouver Michael Jackson ici me direz-vous ? Et bien non car l'exposition montre que les tenues vestimentaires de Michael sont largement inspirées des modèles de l'ère western et que Michael a su adapter ce style à travers les années.
Une vitrine renferme deux costumes de Michael dont justement la tenue de cow boy, ornée de strass, et à franges, qu'il portait lors du show télévisé « The Jacksons » du 2 mars 1977, lorsqu'il a interprété The Cisco Kid et I Shot The Sheriff. (on peut visionner la vidéo de la performance sur place)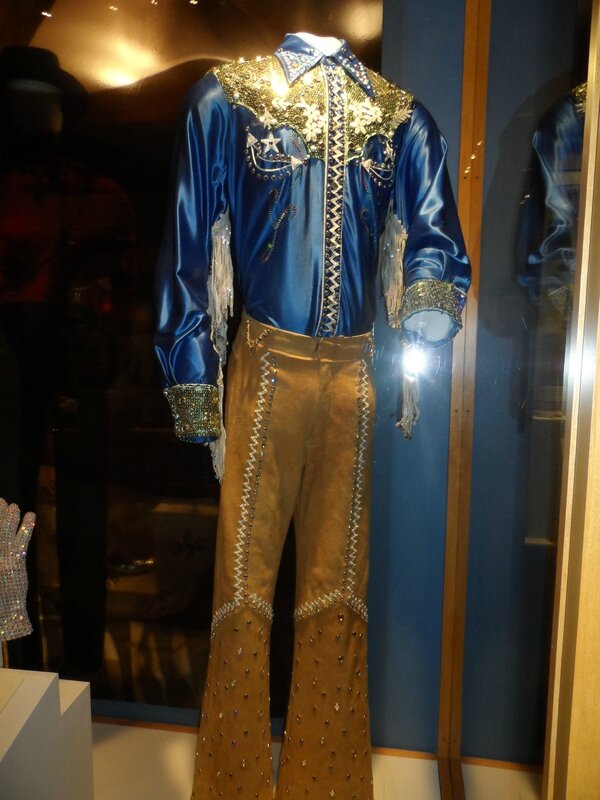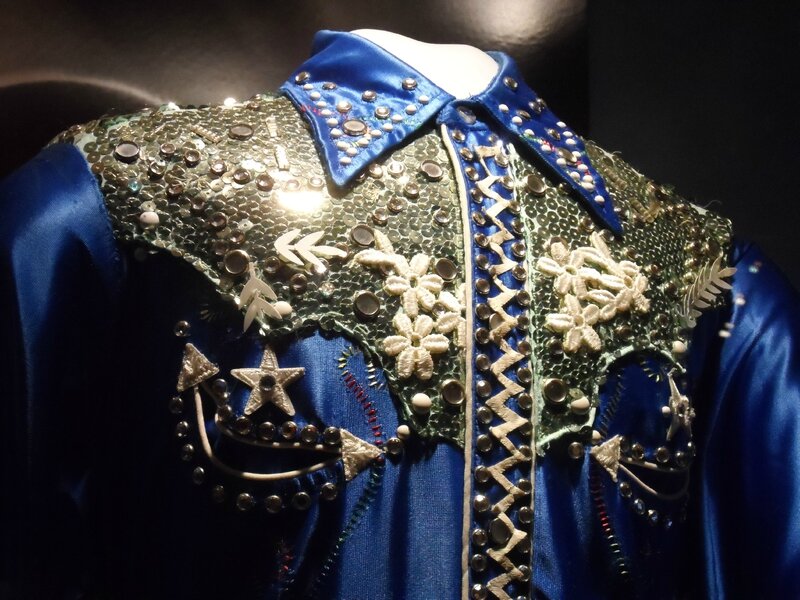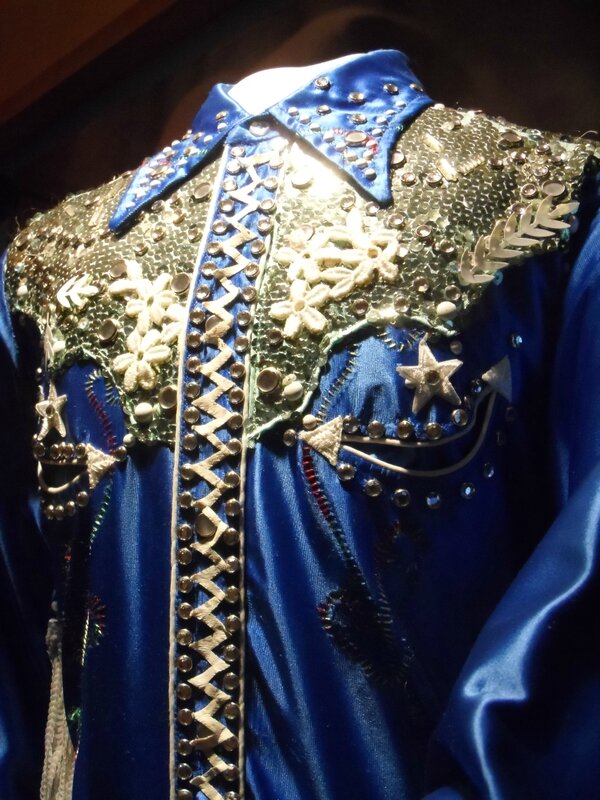 L'autre costume est un pantalon noir et une chemise rouge et noire, créés par Michael Bush, le costumier de Michael. Michael portait cet ensemble lors de son passage à Sidney (Australie) pour le HIStory World Tour, le 17 novembre 1996. Le mannequin porte aussi un fedora noir et des lunettes d'aviateur.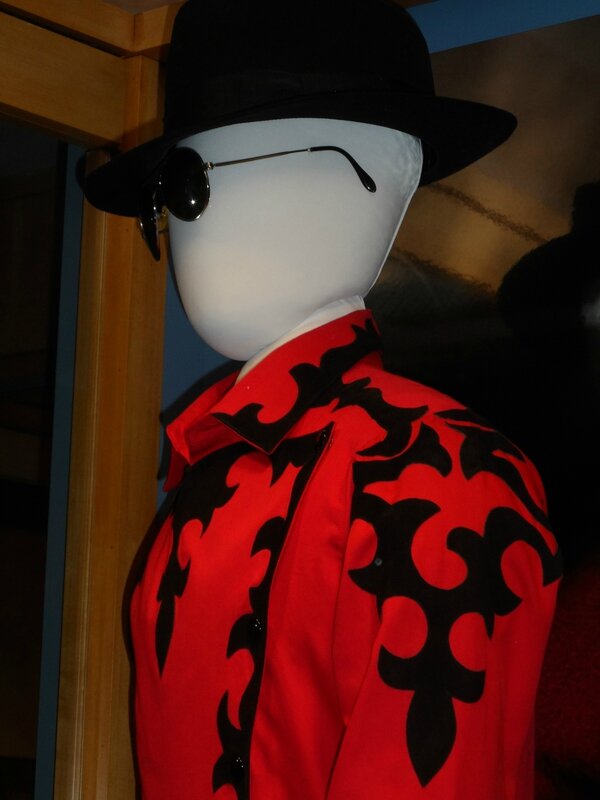 Un croquis du costume signé de Michael est également présent.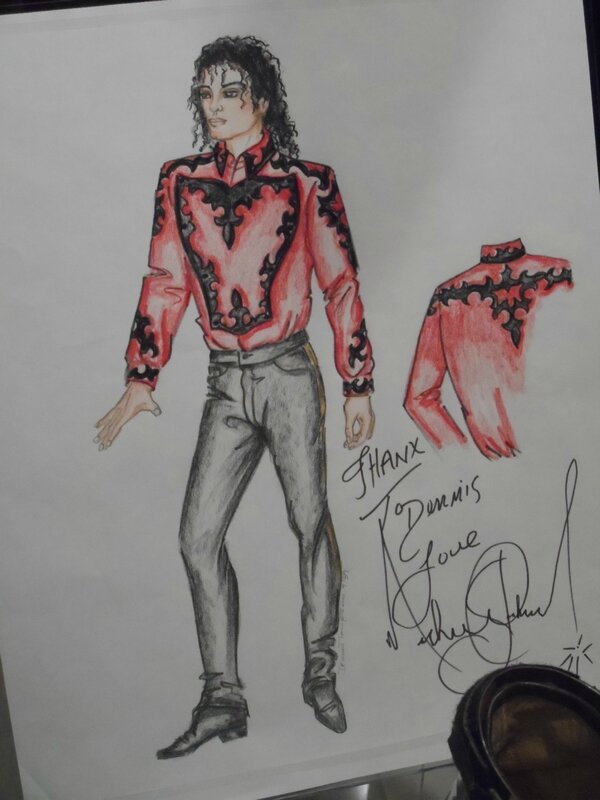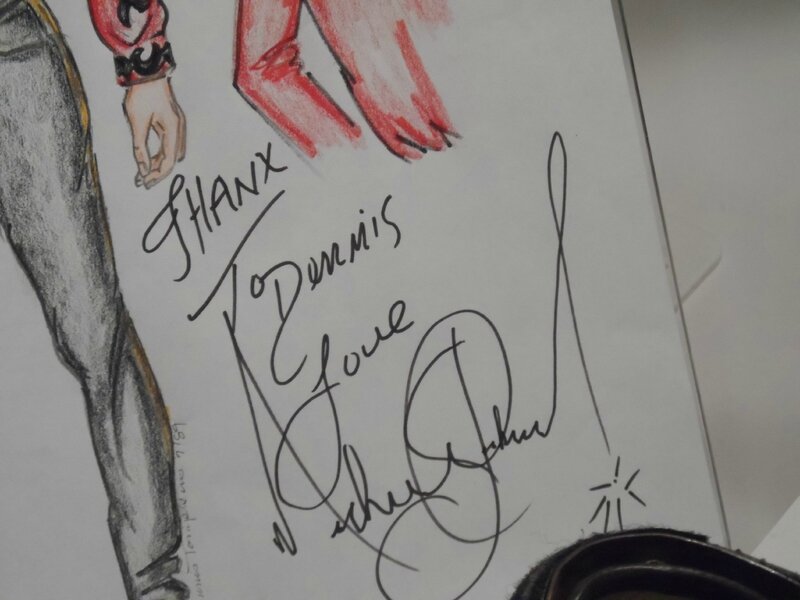 Cette inspiration cow boy se retrouve également dans les boots que pouvait porter Michael et notamment la paire argentée qu'il avait en avril 1990, lorsqu'il a reçu le prix de l'Artiste de la Décennie des mains du président Bush, à la Maison Blanche. La paire en métal (il s'agit en fait d'un solleret, une pièce d'armure protégeant le pied), créée par Tompkins et Bush, est exposée dans la vitrine.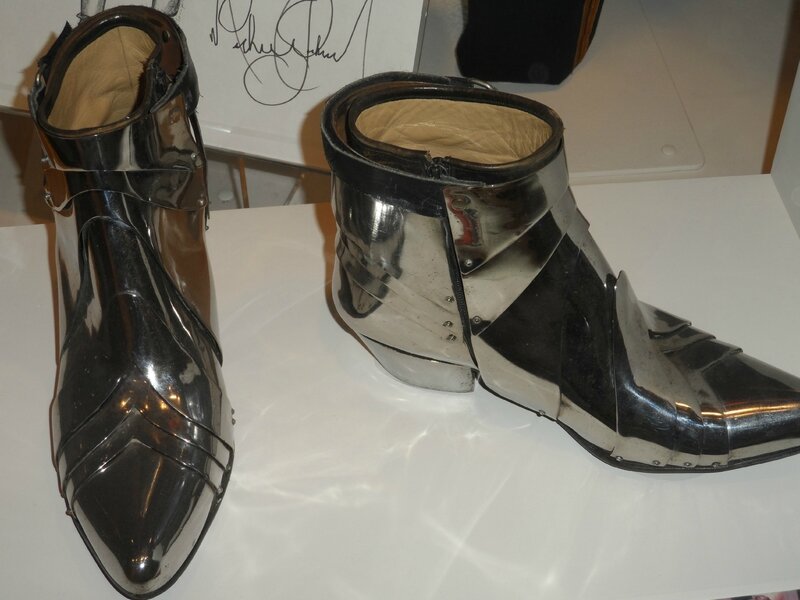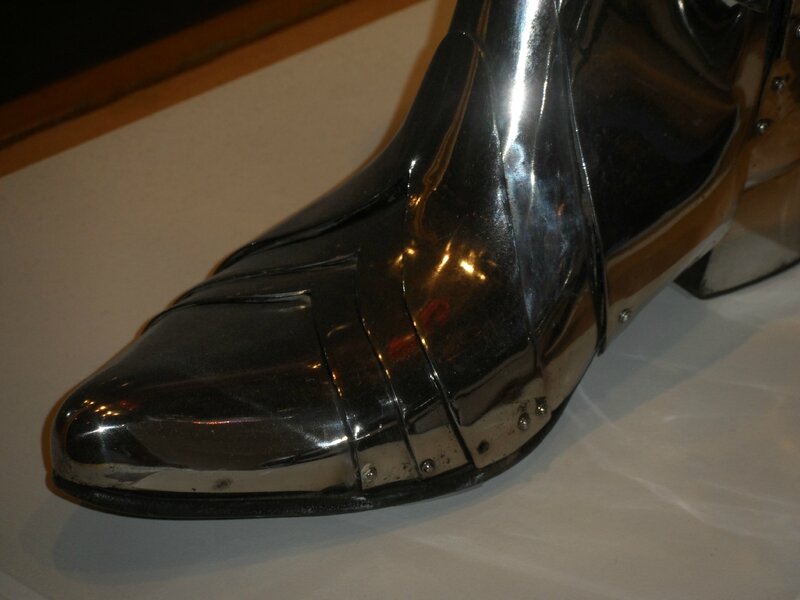 Au centre de la vitrine, le fameux gant blanc à paillettes, que Michael portait sur la couverture du magazine Vibe de mars 2002. C'est la dernière fois que Michael a été photographié portant son célèbre accessoire.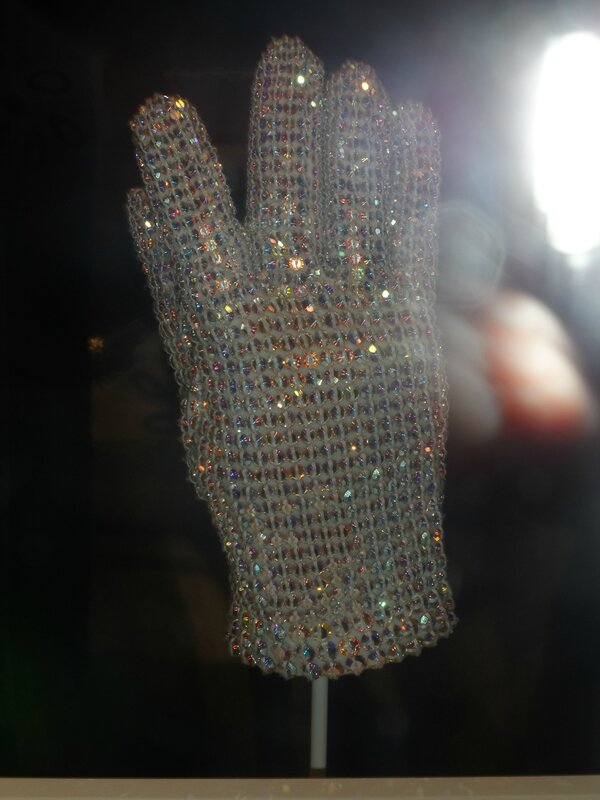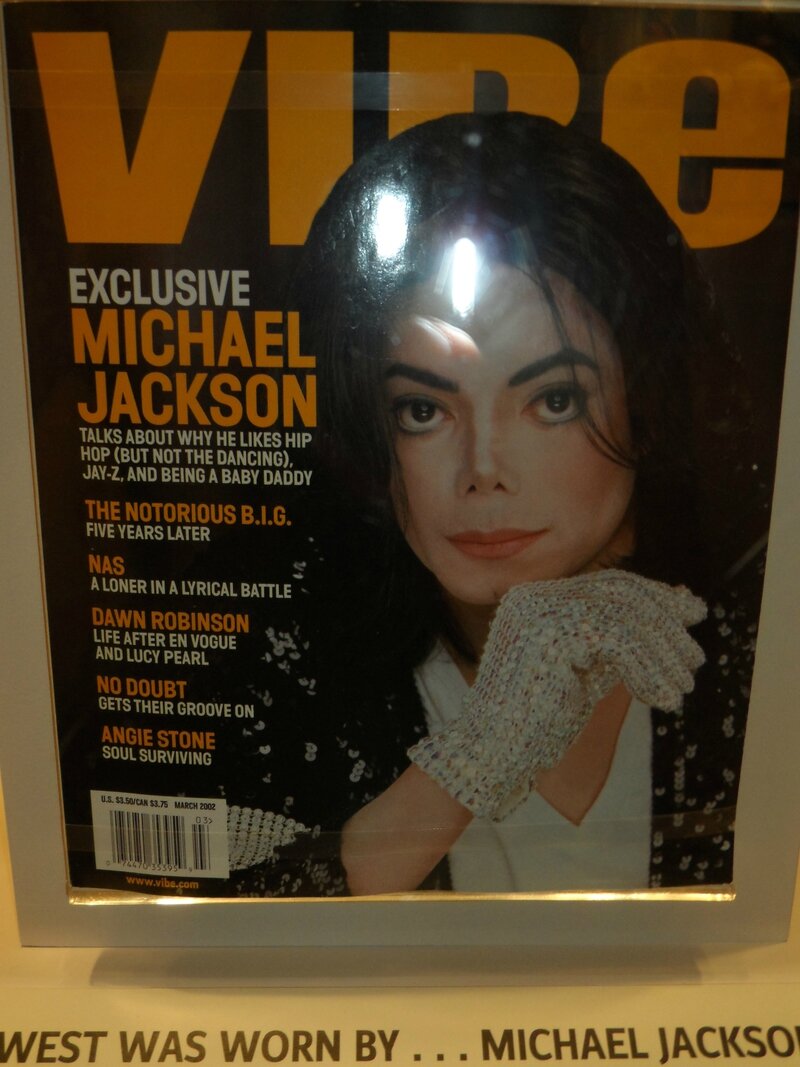 On trouve également une ceinture style western avec une boucle en forme de guitare que Michael a portée en diverses occasions, notamment en 1983 lorsqu'il s'est vu remettre une récompense pour le million d'albums vendus pour Thriller. Il s'agit de la même ceinture que l'on aperçoit sur le 45 tours de Beat It.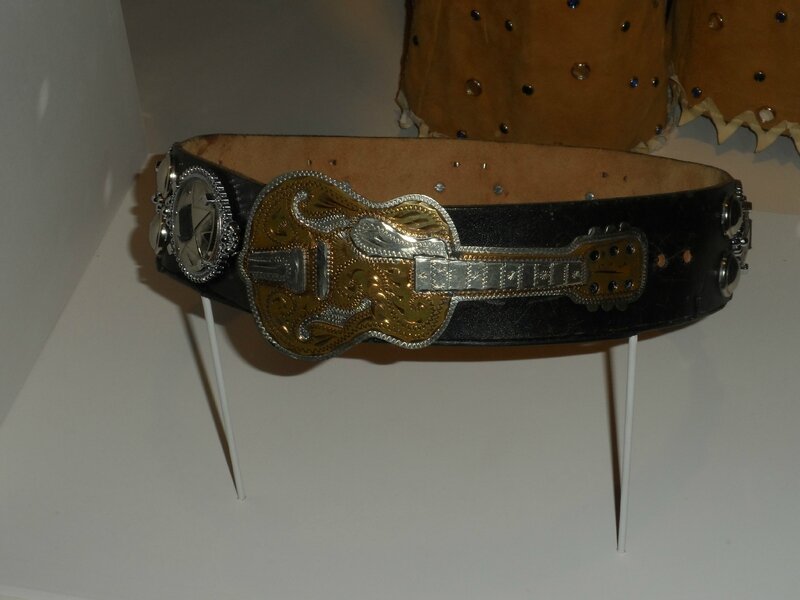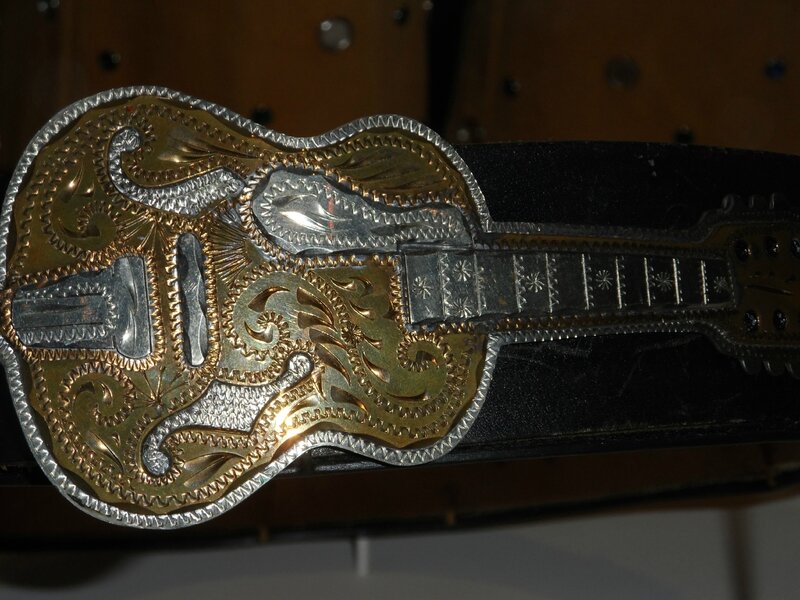 En dehors de cette vitrine spéciale Michael Jackson, le musée renferme des pièces magnifiques de l'histoire américaine et vaut vraiment le détour. Tous ceux qui aiment la période western se régaleront tant la manière de l'aborder est très diverses : sculptures, peintures, cinéma, animations pour enfants, mises en scène, ….
En ressortant du musée, juste en face, se trouve l'entrée du zoo de Los Angeles. Un zoo que Michael aimait fréquenter, surtout dans les années 80 avec Emmanuel Lewis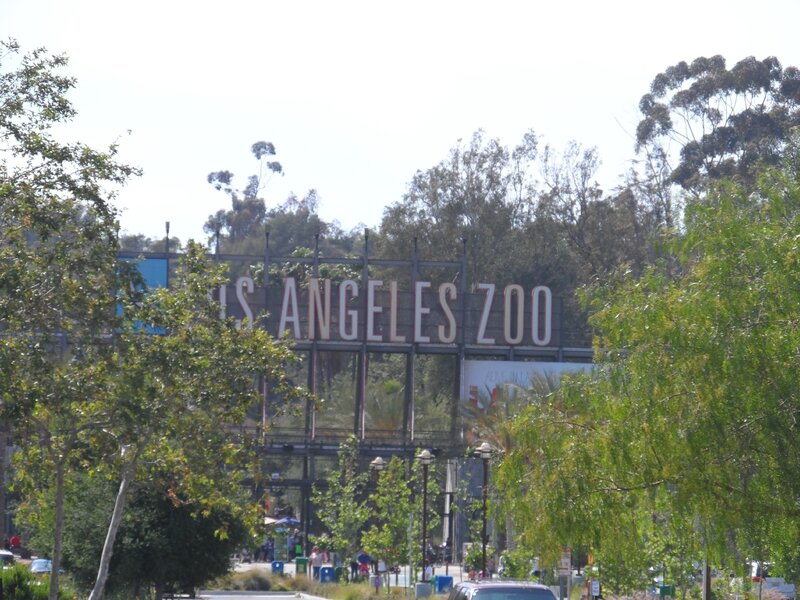 La journée touche à sa fin et nous décidons de rentrer. Peu avant d'arriver à l'hôtel, nous passons devant un motel où j'aperçois des fresques de stars sur la devanture. Je reconnais l'hôtel que j'avais vu sur internet, juste avant de partir, où les chambres portent les noms des stars. Michael y a la sienne. Le motel est sans prétention mais juste pour la photo, nous nous arrêtons.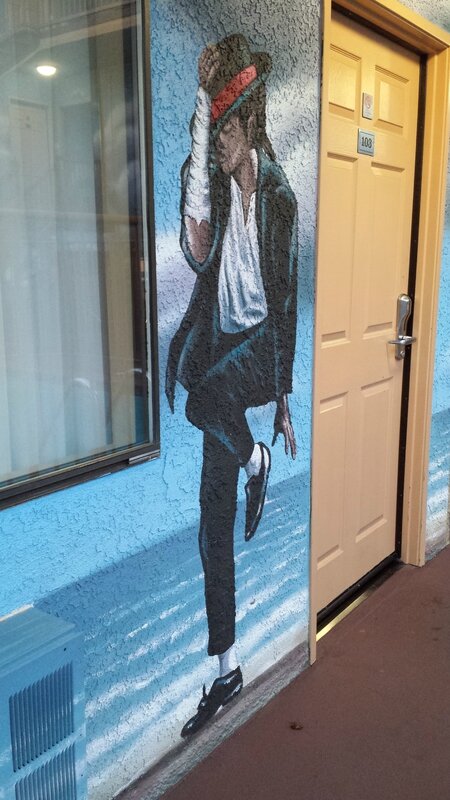 Un peu plus loin, sur Hollywood Boulevard, un autre hôtel avec une porte peinte à l'effigie de Michael attire également mon attention. Comme c'est tout près de notre hôtel, nous garons la voiture et en profitons pour y aller à pied et découvrir le quartier.
Notre première journée à L.A. est déjà terminée et demain direction le Walk of Fame !
Voir également l'album photos sur Forest Lawn et le Autry Museum