Dimanche 20 avril, une grosse journée nous attend….Nous avons prévu de passer une partie de ce dimanche sur le Hollywood Walk Of Fame, le célèbre boulevard étoilé de Los Angeles. Musées, shopping et balades au programme.
Dès 8h30 nous sommes sur le pied de guerre. Nous sommes à quelques minutes en voiture mais nous faisons un premier arrêt au Pantages Theater, au 6233 Hollywood Blvd, qui n'est pas très loin de notre hôtel. Michael y a tourné certaines scènes du clip You Are Not Alone, celles où il chante seul sur scène.
Un peu plus loin, nous trouvons un parking public pour garer la voiture que nous ne reprendrons que quelques heures plus tard. Le boulevard de la renommée se fait à pied !! Nous sommes dimanche, il est un peu plus de 9h du matin et il n'y a personne….c'est un vrai plaisir de pouvoir se promener sans être bousculer.
La première chose que nous trouvons ce sont les empreintes de Michael devant le Grauman's Chinese Theater…La Broken Heart Stone est là, juste à côté des empreintes laissées par les enfants de Michael en janvier 2012. Personnellement, je suis beaucoup plus intéressée par la plaque originale, faite par Michael en 1984, oubliée pendant plusieurs années, et qui a été placée là en janvier 2012, avec celle faite par les enfants.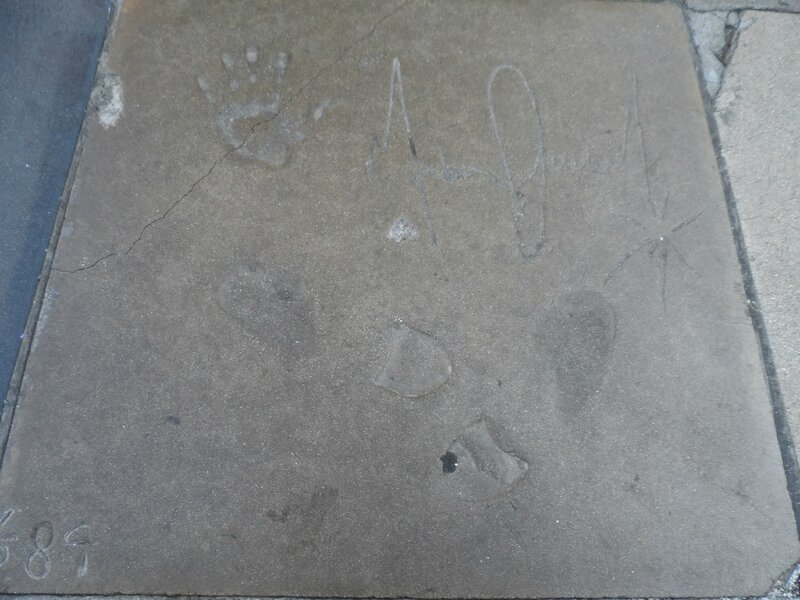 Cependant, je constate que la plaque s'abîme. Les empreintes et la signature de Michael disparaissent peu à peu, à cause du passage dessus. Que c'est triste ! Que va devenir cette pierre ? J'espère qu'elle sera entretenue ….. Nous prenons plusieurs photos, et je profite même de faire la leçon aux passants qui s'arrêtent systématiquement sur la plaque, certes plus visible, des enfants et qui passent complètement à côté de l'originale ! Comme dit Isabelle, mes fonctions d'enseignante me rattrapent, même en vacances.
L'étoile de Michael n'est qu'à quelques pas des empreintes, au 6927 Hollywood Blvd. La deuxième étoile de Michael, après celle obtenue avec ses frères, a été inaugurée le 20 novembre 1984. Quelle déception de constater qu'elle est sale !!! Je suis très déçue même si je sais qu'il y a énormément de passage ici.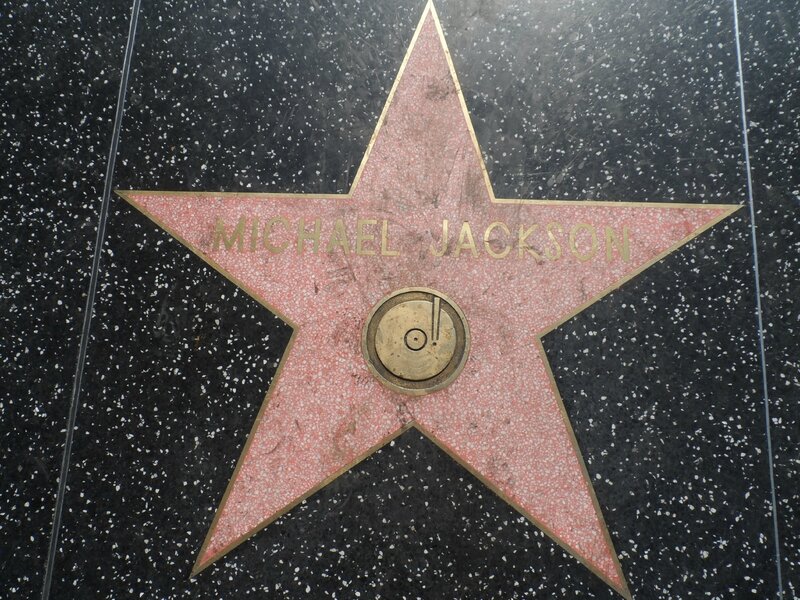 Comme le musée de Mme Tussaud n'est pas encore ouvert, nous profitons de l'attente pour arpenter les magasins de souvenirs, qui eux ne chôment pas !!
Nous sommes dans les premières à pénétrer dans le célèbre musée de cire à 10h. Avec les tickets achetés en ligne, nous entrons directement, non sans passer devant le photographe pour un montage souvenir digne d'Hollywood !
Les stars de cire défilent sous nos yeux et l'appareil photos s'agite dans tous les sens. Comme de vrais touristes que nous sommes, nous prenons des photos avec tout le monde … ou presque : Beyonce, Maryline Monroe, Madonna, Britney Spears, Charlie Chaplin, John Travolta, Barack Obama, et bien d'autres encore.
Et puis arrive enfin la statue que nous attendons toutes les deux ……..Michaellllllll (voir d'autres photos sur la page facebook)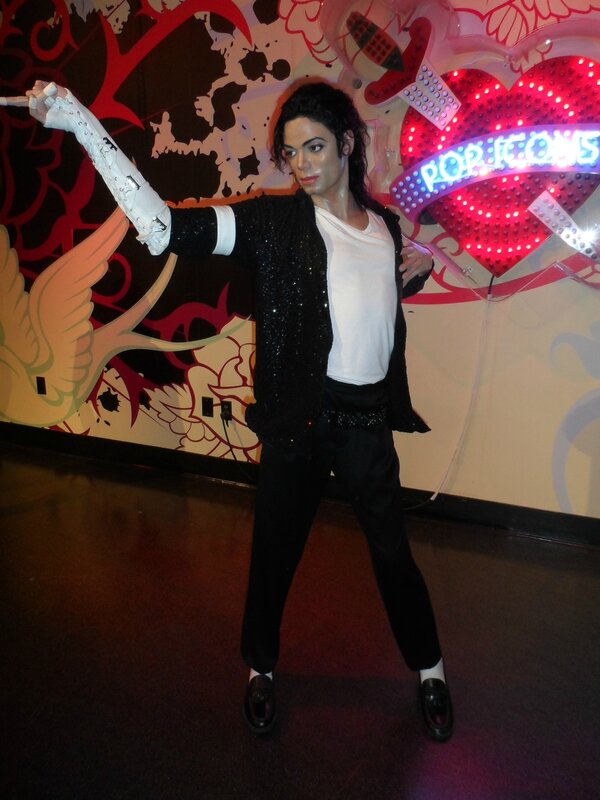 L'arrêt est un peu plus long que les autres, bien sûr, et nous faisons des photos de la statue sous tous les angles. Certains touristes nous regardent d'ailleurs parfois d'une drôle de manière !!
A la sortie du musée, je retrouve, comme il y a deux ans, l'empreinte de la main de Michael et celle de Janet, faites exprès pour le musée.
Après le passage par le magasin de souvenirs, nous repartons en direction du Hard Rock Café. La foule a commencé à envahir le trottoir ou chacun recherche une étoile particulière ou se promène, tout simplement.
Nous ne ferons qu'un arrêt de quelques minutes dans le Hard Rock Café, histoire de prendre des photos des quelques objets liés à Michael qui sont à l'entrée.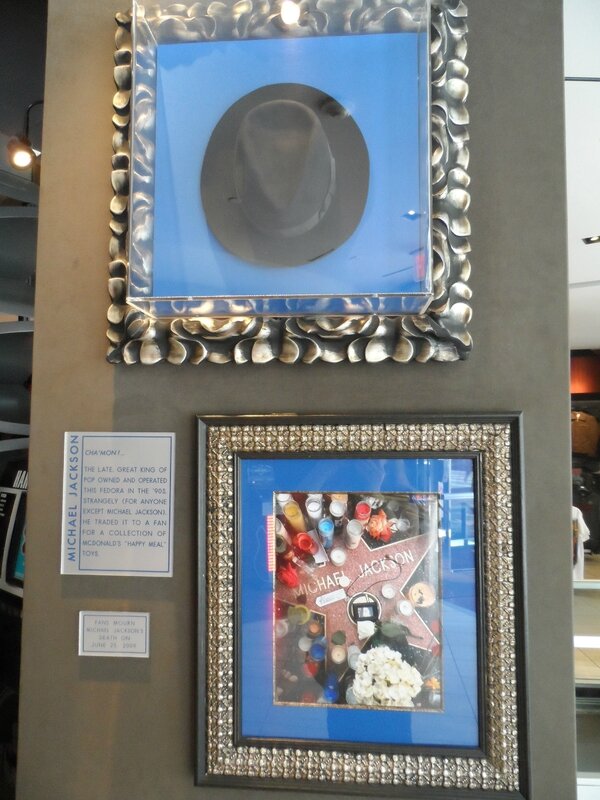 Comme il est encore tôt, nous décidons d'enchaîner avec le Hollywood Museum, qui est à quelques dizaines de mètres de là, au 1660N Highland Avenue. La visite n'était prévue qu'en milieu de semaine mais nous avons le temps et surtout il n'y a pas beaucoup de monde à l'intérieur.
Le Hollywood Museum (à ne pas confondre avec le Hollywood Heritage Museum qui est lui situé au 2100N Highland Avenue) est un petit musée discret mais qu'il faut absolument voir car il renferme des pièces de collection très belles sur l'histoire du cinéma hollywoodien. Les amoureux du cinéma, des années 30 à nos jours y trouveront leur compte avec des expos consacrées à Maryline Monroe, aux acteurs des années 50, aux séries télévisées, aux films qui ont marqué l'histoire du cinéma et une vitrine est consacrée à Michael Jackson.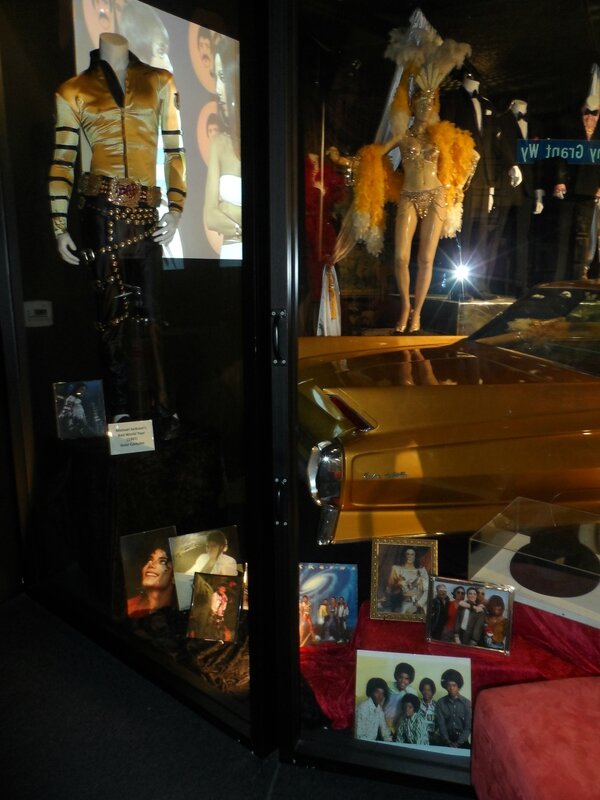 Michael ayant tourné avec les plus grands, et ayant révolutionné l'histoire du vidéo clip, il était un peu normal que le musée lui réserve un hommage. Mais quelle n'est pas ma surprise quand j'arrive devant l'exposition que j'avais vue deux ans auparavant !!! Là où il y avait une belle vitrine avec des objets rares signés de Michael (voir l'album photos), je ne trouve que quelques objets, dans un coin d'une expo, près d'une porte de secours !!! Le costume couleur or du Bad Tour est toujours là, certes, mais seulement entouré de quelques photos et vinyles et d'un fedora. Quelle déception, pour moi, mais surtout pour Isabelle à qui j'avais parlé de cette expo en lui disant qu'il fallait absolument la voir.
Heureusement que le musée est intéressant sinon nous aurions rapidement fait demi-tour !! A la sortie, nous demandons au personnel, qui nous avait accueillies, nous les frenchies, peu de temps auparavant avec cette chaleur humaine typique des américains, ce que sont devenues les pièces. On nous répond que l'Estate, qui les avait prêtées au musée, les a reprises (pour quoi ? on ne le saura pas) mais que comme c'est une expo permanente, elles peuvent très bien être à nouveau reprêtées au musée d'ici quelques mois !
Nous terminons la visite qui nous aura toutefois permis de découvrir de beaux objets et de belles photos des idoles de Michael et retrouvons, au bout d'une bonne heure, le soleil radieux et les trottoirs désormais encombrés de touristes et sosies en tout genre du Walk Of Fame.
Avant de poursuivre notre séance shopping entamée en tout début de matinée, nous trouvons l'Oriental Bistro. En effet, sur Highland Avenue, au 1710 N, un peu plus haut que le musée, après le carrefour avec Hollywood Blvd, se trouve un petit restaurant chinois que Michael, semble-t-il, fréquentait à l'occasion. Nous n'en saurons pas plus, malheureusement, car il était fermé lors de notre passage.
Après avoir pu voir au loin les signes Hollywood et flâné dans les magasins, il est plus de midi lorsque nous reprenons la voiture pour partir à la recherche de l'étoile des Jacksons. En route, nous tombons nez à nez avec le magasin Amoeba, LE magasin de disques de Los Angeles. Arrêt obligé dans ce temple de la musique en tout genre, où nous n'achèterons rien de particulier mais rien que déambuler dans les rayons vaut le coup d'œil….et Michael est là bien sûr !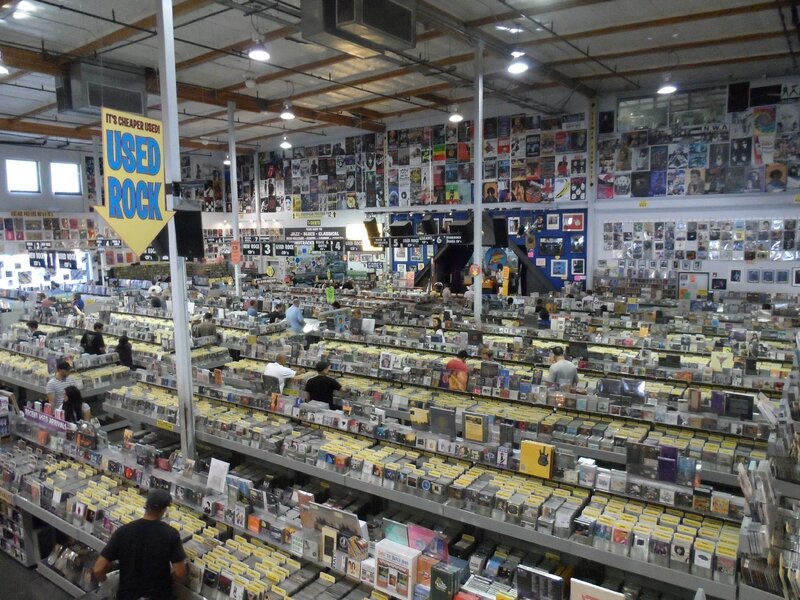 Nous repartons, à pied, en direction du 1500N Vine Street, où est censée se trouver l'étoile que les Jacksons ont obtenue sur le Walk Of Fame en septembre 1980. Je n'avais pas réussi à la trouver en 2012, nous n'aurons pas plus de chance cette fois-ci !! Mais où est donc passée cette étoile ?!
Nous remontons Vine Street en voiture et au 1735, nous nous arrêtons pour voir l'ancien bâtiment où a eu lieu la première émission télévisée des Jackson 5, avec Diana Ross, Hollywood Palace, le 18 octobre 1969. Le théâtre s'appelle désormais The Avalon.
A quelques minutes en voiture, dans une rue parallèle à Vine Street, au 1716 N Cahuenga Boulevard, nous trouvons une fresque murale de Michael, désormais bien connue des fans. Elle représente Michael lors du Superbowl de 1993 et a été réalisée, peu après sa disparition, en septembre 2009.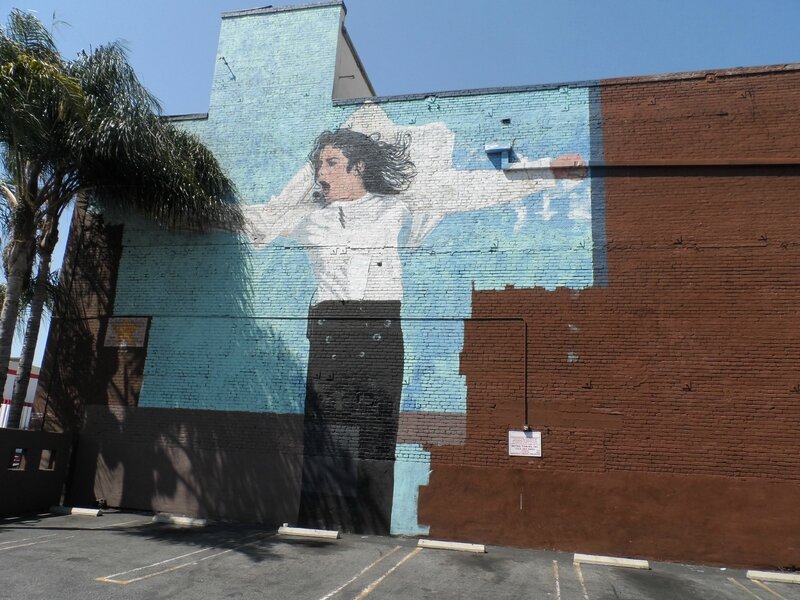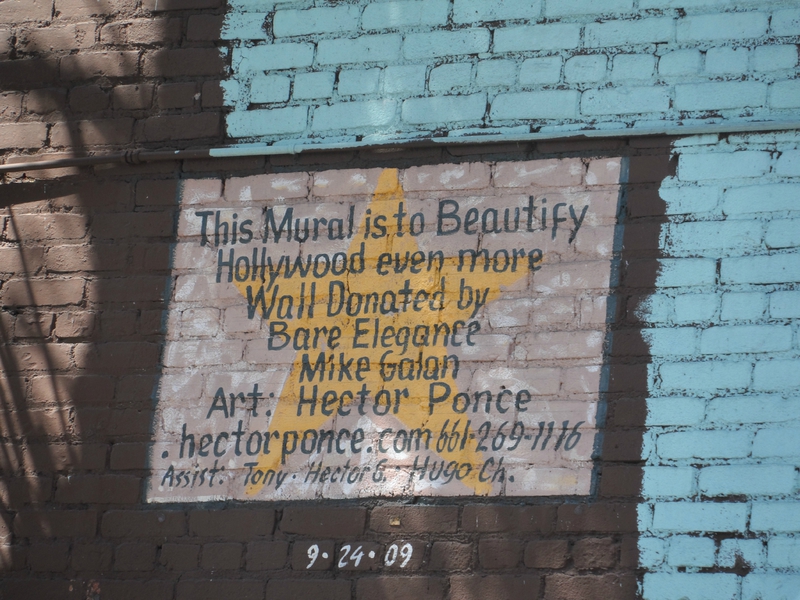 Pour finir cette ballade sur Hollywood Boulevard, au 6665, il nous reste le magasin Starworld à voir. Un petit magasin discret qui possède quelques collectors pour toutes les bourses.
En milieu d'après midi, nous prenons une toute autre direction, un tout autre quartier….Encino.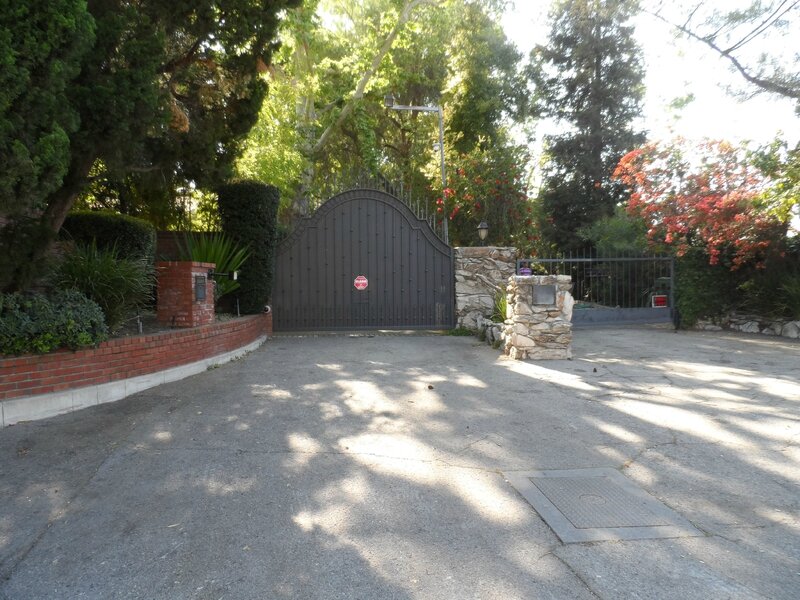 La maison familiale d'Hayvenhurst se trouve au nord ouest d'Hollywood. Le quartier est plus calme que celui que nous venons de quitter. La famille Jackson a emménagé ici peu après son arrivée en Californie, au tout début des années 70 et même si Katherine l'a définitivement quitté après la disparition de Michael, une partie de la famille l'occupe toujours.
Le portail du 4641 Hayvenhurst Avenue à Encino est, pour les fans, presque aussi reconnaissable que celui de Neverland.
Il n'y a personne et nous en profitons pour jouer les paparazzi en prenant des photos par-dessus et par-dessous le portail. Je savais qu'on pouvait voir le fameux Welcome, au fond de l'allée qui mène aux garages de la propriété et avec un bon appareil photo, il apparait clairement !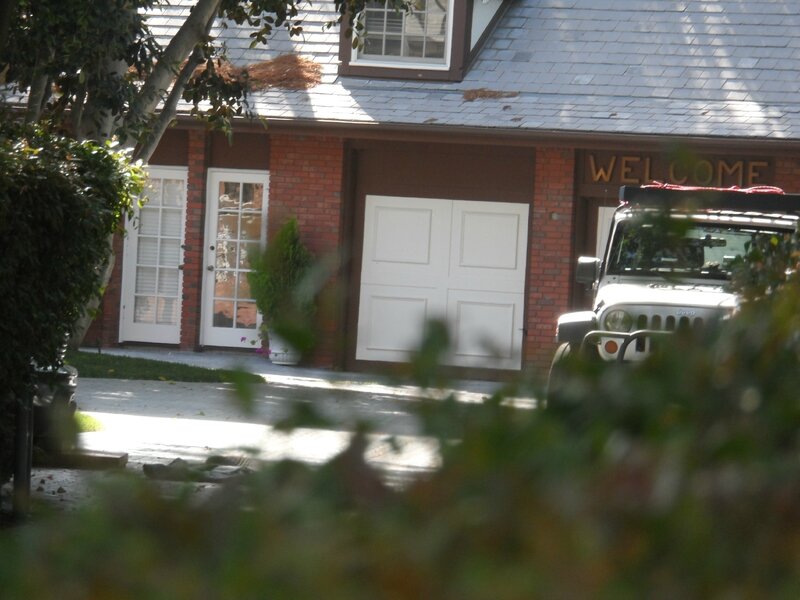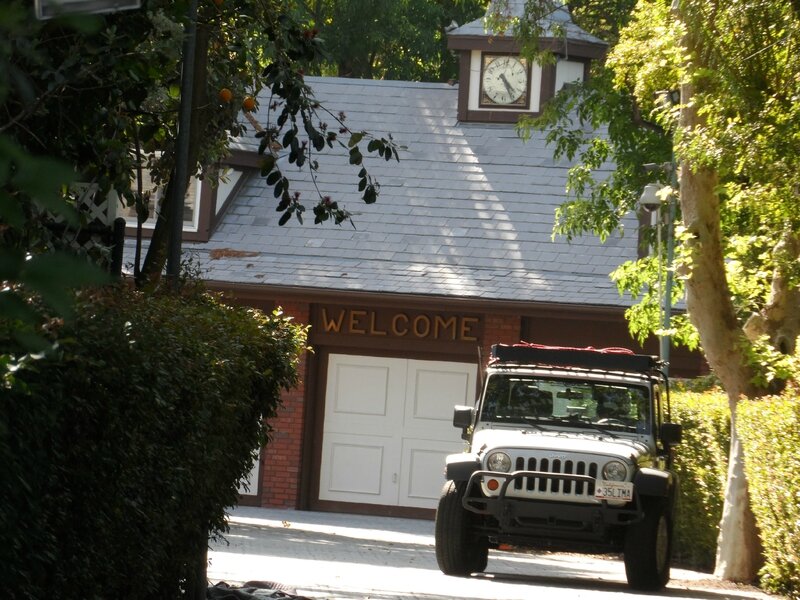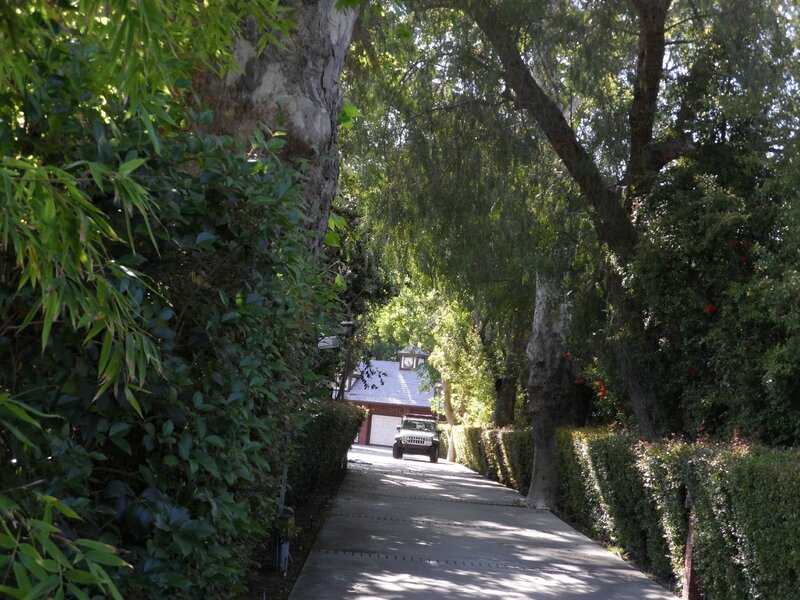 Nous restons un moment ici à discuter de cette maison, à prendre des photos quand soudain, une voiture blanche arrive. Je ne connais pas le conducteur, mais le portail s'ouvre et au loin nous apercevons un homme qui tente de retenir un chien. Je reconnais ce chien tout de suite…c'est Kenya, le chien que Michael avait offert à ses enfants. Le portail se renferme malheureusement aussi vite qu'il s'est ouvert !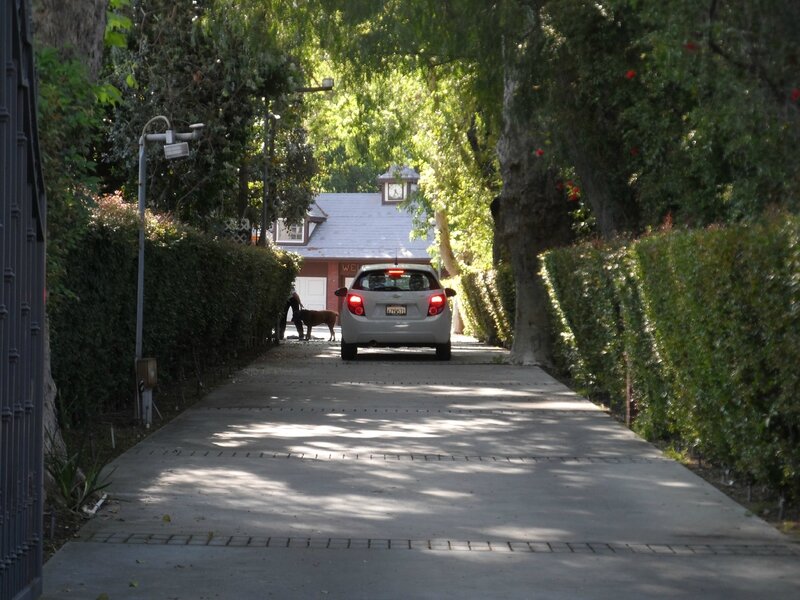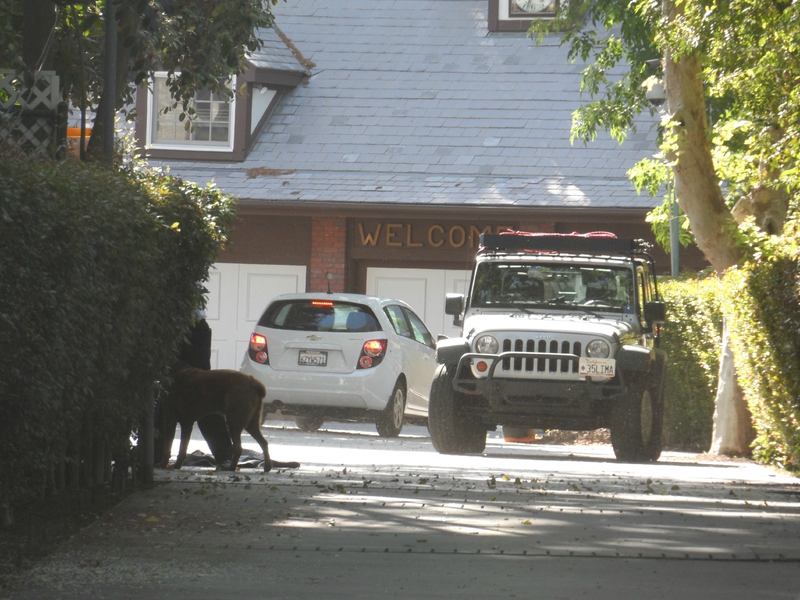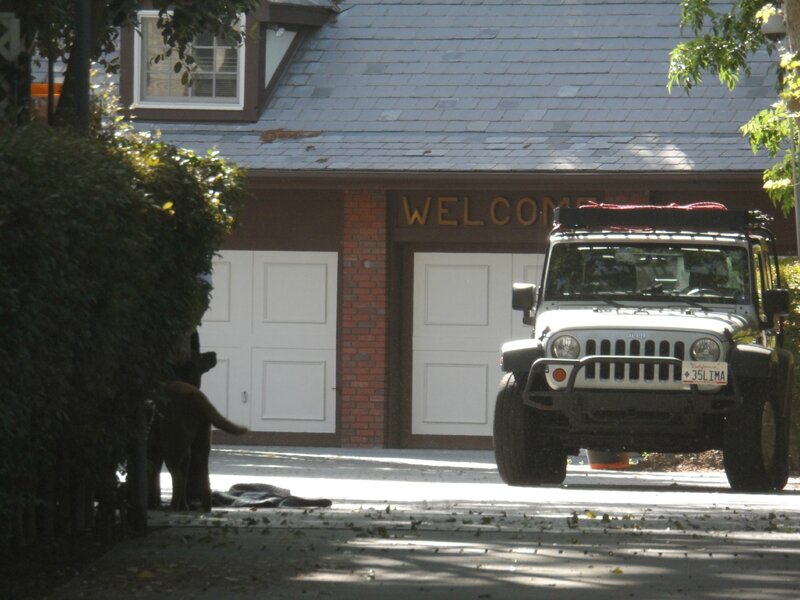 Nous repartons ensuite à la recherche d'un appartement privé que Michael avait dans le quartier. Situé au 5420 Lindley Avenue, The Lindbrook est un complexe privé d'appartements, à l'abri des regards. Une entrée sécrurisée nous empêchera d'en savoir plus !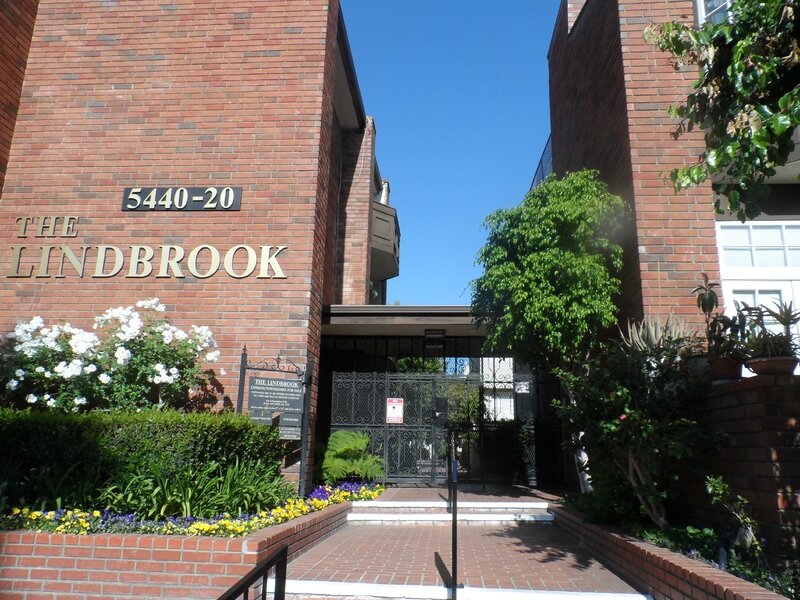 Le quartier Van Nuys n'est pas très loin d'Encino. Dans ce quartier, Michael y a fréquenté la Montclair Prep High School, en 1973, il y fait d'ailleurs la connaissance de Kathy Hilton, la mère de Paris, avec qui il restera lié.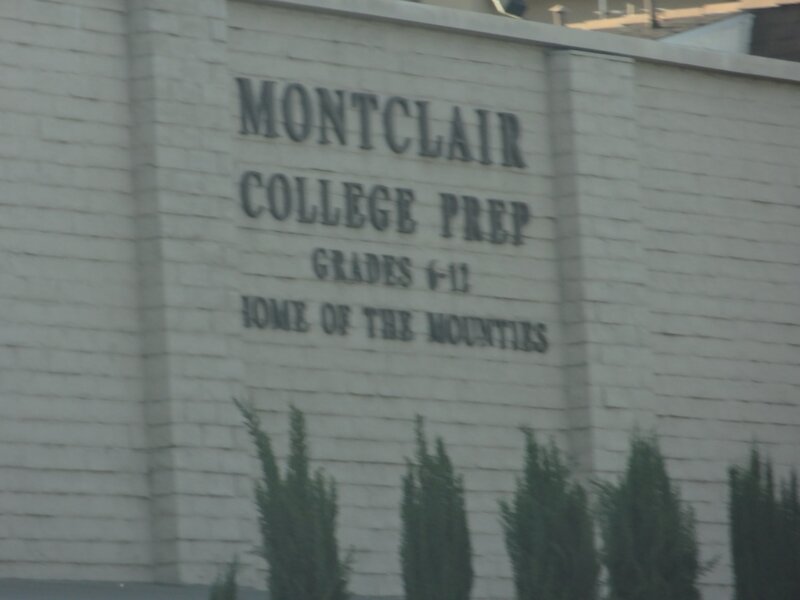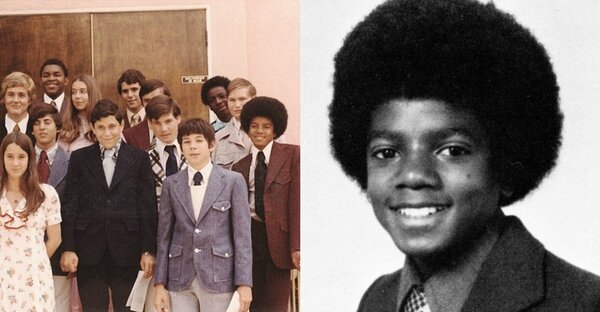 Sur le chemin pour la Montclair School, nous apercevons l'aéroport de Van Nuys, où Michael a tourné Stranger In Moscow et Ghosts
Nous avons marché une bonne partie de la journée. Nos petits pieds ne demandent qu'une chose, trouver du repos et reprendre des forces pour repartir le lendemain ! Le temps de refaire la route et il est plus de 19h quand nous arrivons à l'hôtel avec à nouveau des souvenirs plein la tête !