Nous sommes dans le Tyrol du Sud, côté italien, le village alpin de Sulden (Solda en italien), 350 habitants, au pied du glacier de Ortles, est une station de ski réputée, avec un panorama impreslionnant. Sulden n'a connu les routes goudronnées que dans les années 1960 mais peut se vanter d'avoir reçu la visite de Michael Jackson, de passage dans la région en mars 2001.
Le village de Sulden
Le 06 mars 2001, Michael Jackson est à Oxford (Angleterre) pour une conférence au cours de laquelle il livre un long discours afin de promouvoir sa nouvelle fondation Heal The Kids. Michael s'étant fracturé le pied quelques jours auparavant, il se déplace en béquilles.
Michael arrive à Sulden, le vendredi 9 mars 2001, en fin d'après-midi. Une Mercedes aux vitres teintées l'amène de Innsbruck, où son jet privé s'est posé en provenance de Londres. Il est accompagné de Frank Cascio. Ses conseillers Lee Myong-Ho and Kelly Kathleen sont arrivés peu avant.
Frank raconte : « Malgré toute l'importance de Heal The Kids, nous avions d'autres affaires à traiter en Europe. La veille de ce discours, alors que nous étions encore à Londres, j'avais reçu un coup de téléphone de Myong-Ho, le conseiller d'affaires de Michael, qui souhaitait nous faire rencontrer dans les Alpes Italiennes, un magnat des médias européens, Jürgen Todenhöfer. Prince et Paris n'étant pas du voyage, Michael n'avait qu'une envie, aller les retrouver à New York. Mais ce rendez-vous était sans doute capital puisque, au lieu de rentrer à la maison, nous nous retrouvâmes sur une route de montagne qui n'en finissait pas de grimper, dans une région où le printemps avait des relents d'hiver et où les villages sans cesse plus isolés, semblaient figés dans le temps ». (Mon Ami Michael)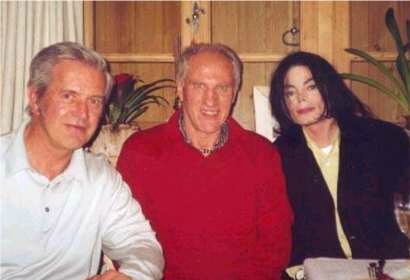 Jürgen Todenhöfer, Paul Hanny et Michael
Michael séjourne dans une résidence privée réservée par l'allemand Todenhöfer mais son personnel doit être logé à l'hôtel. Paul Hanny, le représentant de la ville, qui sait tout ce qui s'y passe, et homme de confiance de Todenhöfer, a été pris au dépourvu par cette arrivée de l'artiste. «On m'a demandé au dernier moment de réserver une douzaine de chambres individuelles dans les meilleurs endroits de la ville " a déclaré Hanny au " Dolomiten " (journal local). Toutes les chambres de Sulden étaient pour la plupart déjà réservées, mais " c'est mon travail de réaliser les trucs les plus fous ", dit Hanny .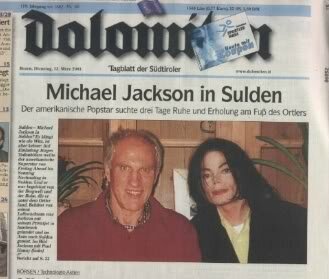 Dès son arrivée dans les montagnes italiennes, Michael doit faire face à un problème : son pied, plâtré, le fait énormément souffrir et le seul médecin du village doit être appelé.
Le Dr Raffaella Ortler Stocker explique: «Je ne m'attendais pas à ce type de patient." Le vendredi, le médecin qui a son cabinet dans le village, reçoit un appel pour un examen médical. «Je savais qu'il y avait un invité célèbre, mais je ne pensait pas que c'était Michael Jackson, un chanteur que j'aime beaucoup. Ca a été un examen très rapide. L'artiste avait la cheville cassée et il était plâtré .Il ressentait une grande douleur, probablement causée par le stress, la fatigue du vol et son voyage en voiture depuis Innsbruck. Je lui ai prescrit des pilules pour calmer la douleur. J'ai échangé quelques mots avec lui, avec le peu d'anglais que j'avais appris à l'école. C'était un patient normal pour moi, mais honnêtement, je dois dire que j'étais très heureuse, car en face de moi j'avais un grand artiste qui s'adressait à moi gentiment. Il était timide, il semblait fragile et se préoccupait de tout. Il voulait savoir s'il y avait des accidents de ski, et si des enfants avaient également été blessés en faisant du ski. Il avait peur d'attraper un rhume avec le froid. Il m'a semblé très solitaire ».
Michael s'est reposé un peu puis est descendu dîner ce soir là avec ses hôtes.
« L'heure du dîner venue, nous nous changeâmes. J'enfilai un costume noir et Michael opta pour une chemise vert pomme, un pantalon noir et une veste de sport, noire elle aussi. Et pour des lunettes de soleil, qu'il finit par retirer.
Le dîner, fort long et convivial, trouva Michael dans une forme rare. D'ordinaire très timide, il discuta de toutes sortes de sujets avec les convives assis à cette grande table. Nous parlâmes méditation, football et musique. Au milieu du repas, une famille d'artistes locaux vint nous régaler de la musique folklorique traditionnelle de son village. Ils semblaient descendus tout droit d'un conte de fées, tels des personnages des frères Grimm sortis de leur maison en pain d'épices » raconte Frank Cascio.
Michael et Jürgen Todenhöfer
Ce groupe d'artistes locaux est en fait le groupe La Zag, surpris eux-mêmes par la présence de Michael. Les membres du groupe se souviennent : "Le 9 mars 2001, nous avons été invités à Solda (une localité bien connue du Tyrol du Sud pour le ski et l'escalade) pour jouer à la table d'un hôte mystérieux. On ne nous a pas révélé son identité. Imaginez alors notre surprise quand nous avons appris qu'il s'agissait du "King of Pop", Michael Jackson lui-même et que nous devions jouer pour lui ! Il était à Solda pour une rencontre d'affaires. Notre musique lui a tellement plu qu'il a interrompu son dîner et a commencé à se balancer sur sa chaise! A la fin, il nous a serré la main en nous disant : "Nice music!"
Michael apprécie les spécialités locales et goûte au "Stilfser Almkäse" (un fromage local) et au "Schüttelbrot" (du pain croustillant spécial).
Il retourne dans sa chambre tôt pendant que son personnel part danser à la seule discothèque de Sulden " l'Après-Club" .
Michael aurait du quitter Sulden le samedi après-midi. Mais il apprécie le calme du village et décide de prolonger son séjour d'une journée. "C'est agréable ici, j'ai envie de voir le village" déclare-t-il. Le vol est donc annulé.
Après avoir traité quelques affaires le matin, Michael décide en fin de journée, de se promener dans Sulden et de voir les endroits typiques. Il est fasciné par les montagnes, par le téléphérique qui monte à Milan et par le mur de glace artificiel construit dans le village. Personne ne l'a remarqué. Michael semblait être heureux parce qu'il avait réussi à s'isoler.
Dans la soirée, Paul Hanny va tout faire pour le convaincre de dîner dans un restaurant local en lui assurant sa tranquillité. Michael accepte et à 19h30 Michael et ses amis se retrouvent pour dîner au Parkhotel " Hartmanns Weinstube " Les autres convives présents ne bougent pas quand l'artiste se lève pour aller aux toilettes . On le reconnaît, mais personne n'est autorisé à le déranger.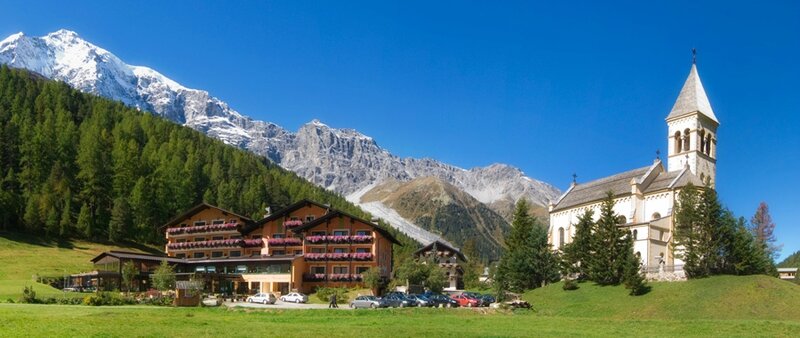 Le Parc Hotel
Les habitants de Sulden ont tenu à lui présenter des cadeaux . Il a été particulièrement impressionné par un bouquet d'Edelweiss (une fleur spéciale qui ne peut être trouvée que dans les montagnes et une espèce protégée ). La star n'avait jamais vu un vrai Edelweiss . Il reçoit également une pierre précieuse du massif de la montagne " Königsspitze " et un billet de banque de 10 "Sulden Tschosch" imprimé pour l'occasion à Sulden.
Michael consacre son dimanche matin à des réunions d'affaires. Après le déjeuner, il repart pour Innsbruck. "Il voulait que je conduise la voiture" se souvient Paul Hanny "et j'ai été ravi de le faire". Ses gardes du corps suivaient derrière. A l'aéroport d'Innsbruck, je suis monté sur les marches de l'avion personnel de Michael, il y avait ses employés autour de moi. Michael est sorti et m'a serré dans ses bras pour me remercier. Il m'a également remis un autographe spécial. J''étais très ému ".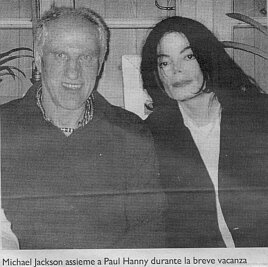 Michael et Paul Hanny
Michael et Jürgen Todenhöfer.
Dans cette vidéo, publiée par Todenhöfer, le 25 juin 2014, on voit l'allemand chanter une chanson pour Michael. Todenhöfer explique sur sa page facebook, qu'il avait d'abord demandé à Michael de lui chanter une chanson mais que celui-ci, voulant économiser sa voix, a insisté pour que ce soit Todenhöfer qui chante. L'allemand lui a donc interprété, à la guitare, "Lili Marleen" et "Sag mir, wo die Blumen sind" ("Tell me where the flowers are"), deux chansons contre la guerre.
Sources: freeforumzone.leonardo.it/MJHideout.com/mjloveland.altervista.org/