La journée de la veille nous a fait côtoyer deux facettes de la vie à Los Angeles : le Los Angeles riche des stars, à Beverly Hills et le Los Angeles beaucoup moins pailleté dans le downtown, où la présence des sans-abris nous rappelle que l'American Dream n'est pas pour tout le monde.
Aujourd'hui, nous avons prévu de rester sur Hollywood, en faisant la tournée des studios d'enregistrement qui ont vu la naissance des grands opus de Michael.
Notre première adresse est le 7317 Romaine Street. A cet endroit se trouve les anciens studios de la Motown où les Jackson 5 ont enregistré nombre de leurs titres lorsqu'ils étaient sous contrat avec la maison de disques de Berry Gordy. « Il y avait un parc juste en face des studios de Motown, et il y avait souvent des gamins en train de jouer. Je les regardais, stupéfait de savoir que les autres enfants étaient libres de jouer. J'aurais aimé avoir la même liberté. J'aurais voulu m'évader et être comme eux ». Ainsi Michael évoque-t-il ses souvenirs dans son autobiographie Moonwalk pour parler des studios qui se tiennent devant nous mais qui ne portent plus le nom du célèbre label. Le parc, lui est toujours là, juste en face, et un groupe d'enfants est d'ailleurs en train de faire du sport. J'imagine aisément ce que Michael pouvait ressentir en les regardant !
A quelques centaines de mètres de là, au 7265 Santa Monica Boulevard, les célèbres studios Westlake se cachent derrière une façade en briques rouges. Nous nous garons en espérant avoir la chance qui nous a servi la veille. En effet, depuis le mois de janvier, en pleine préparation de ce voyage, j'étais en contact, par mails, avec une des personnes en charge du planning de ce studio, qui sans me promettre quoique ce soit, m'avait laissé entendre qu'une visite serait peut être possible. La semaine d'avant, alors que nous étions à Los Alamos, elle m'avait dit que le mardi ou le mercredi seraient peut être les jours les plus favorables. Malgré l'incertitude et la manque de nouvelles de cette personne, nous avons décidé de nous rendre directement aux studios.
Après quelques photos de la façade, nous contournons le bâtiment pour trouver à l'arrière, à côté des places de parking, une porte ouverte. Une jeune secrétaire relève la tête alors que nous entrons et nous lui expliquons notre cas. J'espère intérieurement qu'elle va accéder à notre demande car j'ai très envie de voir le studio où Michael a enregistré Captain Eo et Bad. Malheureusement, très gentiment tout de même, la jeune femme nous explique que des sessions d'enregistrement sont prévues ce jour et qu'il n'est pas possible de visiter. Elle nous suggère de repasser le lendemain mais nous sentons bien que c'est juste par politesse …. Mais nous repasserons tout de même !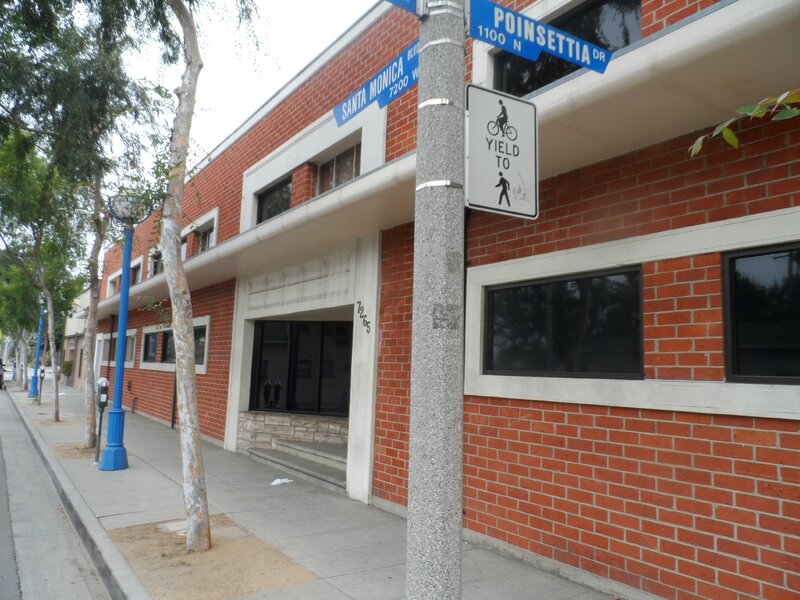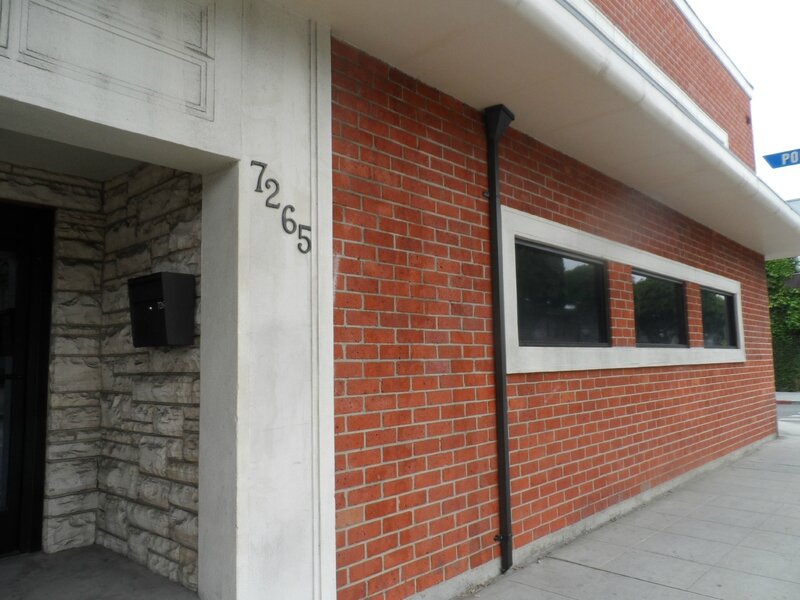 En 1985, les studios de la Jim Henson Company, au 1416 N La Brea Avenue, s'appelaient les A&M Studios. En 1919, ces studios ont été créés par Charlie Chaplin, où l'acteur a d'ailleurs tourné ses plus grands films (Les Temps Modernes, The Kid, Le Dictateur, La ruée vers l'or, Le cirque …) avant qu'il ne les vende en 1953.
En 1966, Herbert Alpert et Jerry Moss rachètent les studios et les renomment A&M (de l'initiale de leur nom). En 1999, ceux-ci deviendront la propriété de Jim Henson, le créateur des Muppets dont ils portent toujours le nom aujourd'hui.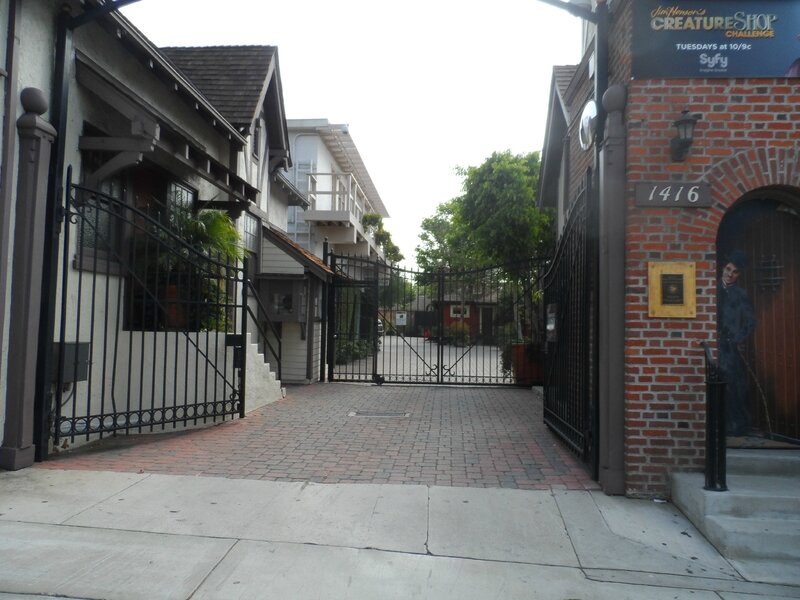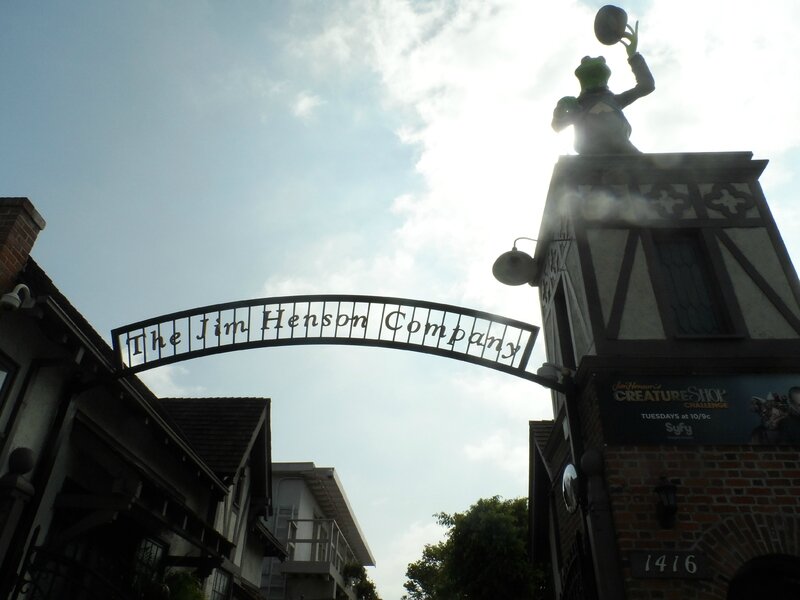 C'est donc dans ces studios que le 28 janvier 1985, dans la plus grande discrétion, Quincy Jones donnent rendez-vous à une pléiade de stars pour enregistrer We Are The World. Ecrite par Lionel Richie et Michael Jackson, la chanson devient le single le plus vendu de tous les temps.
Les extérieurs du studio gardent les empreintes de leur histoire: une porte peinte à l'effigie de Charlie Chaplin, les empreintes et la signature de l'acteur. On trouve également Kermit La Grenouille, la plus célèbre marionnette de Jim Henson, en haut de l'entrée des studios.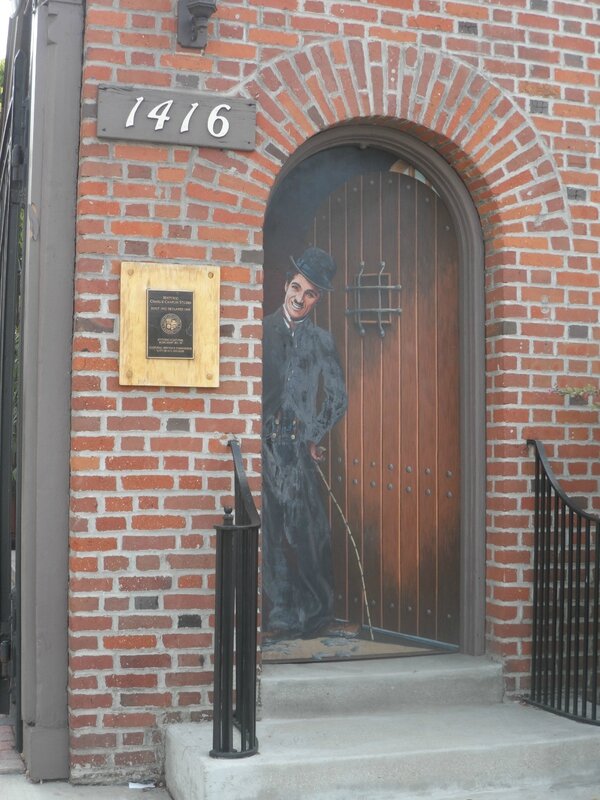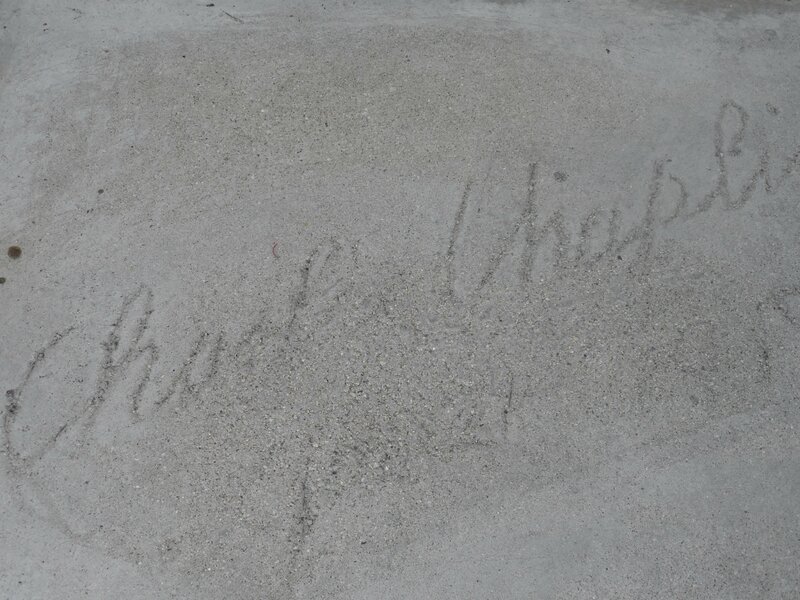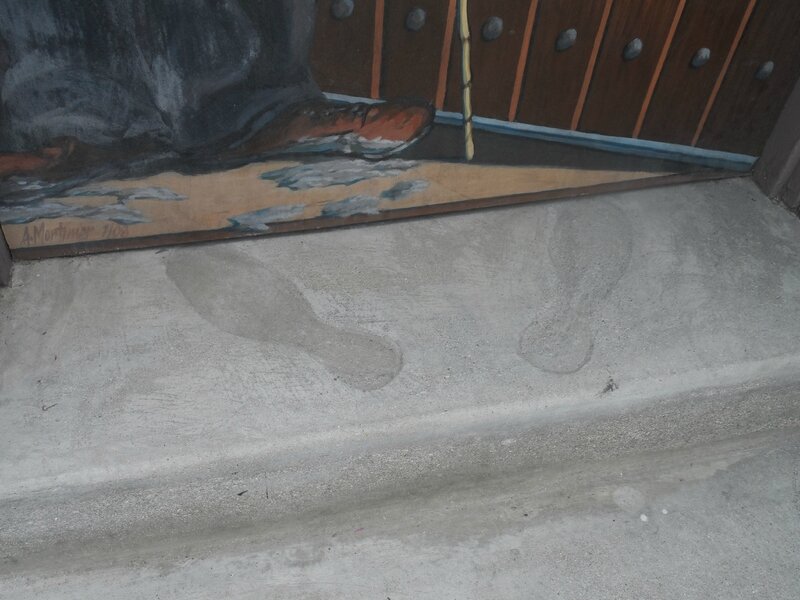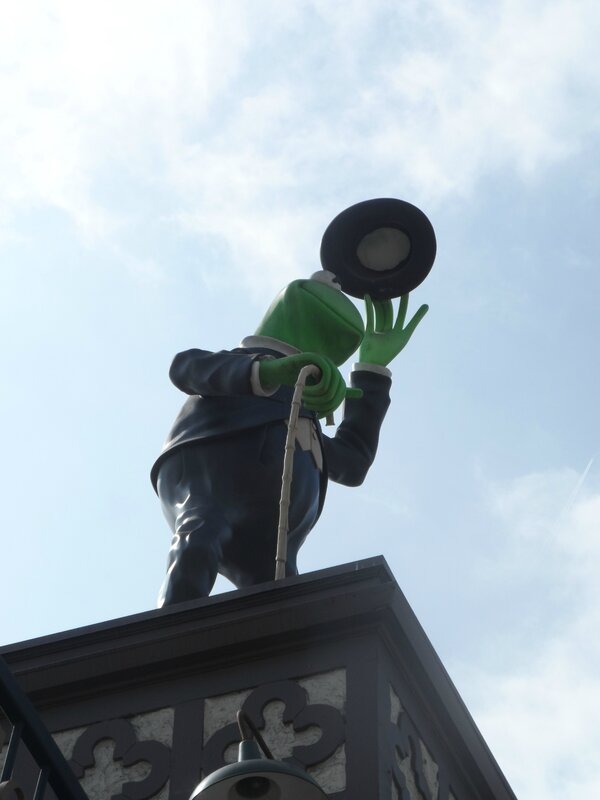 Bien sûr, nous ne pourrons pas entrer mais nous avons tout le loisir d'observer ce superbe lieu mythique, qui ne concerne pas seulement Michael.
A l'opposé de La Brea Avenue, au 6050 Sunset Blvd, les studios Ocean Way ont vu passé Michael au début des années 90 pour l'enregistrement de son album Dangerous.
La porte est close et quelques photos plus tard, nous sommes déjà en route pour les Marvin Gaye Studios, aujourd'hui appelés Marvin's Room au 6553 Sunset Blvd. Créés par l'illustre chanteur soul en 1975, ils sont rachetés en 1997 par John McClain, un des co-executeurs testamentaires actuels de Michael, alors qu'ils sont sur le point de devenir un labo de photos. Michael y enregistre la démo d'Another Day, avec Lenny Kravitz, que l'on retrouvera en 2010 sur l'album posthume Michael.
Lorsqu'on circule sur le boulevard, rien n'indique que derrière la grille de ce petit bâtiment blanc se cache un endroit où les plus grands artistes ont travaillé. Seule l'étoile de Marvin Gaye est visible, sur le seuil de l'entrée, derrière la grille (qui n'est cependant pas l'originale, celle-ci étant sur Vine Street).
Sur le chemin qui nous mène à notre prochaine destination, nous passons devant le bâtiment qui abritait les bureaux de la Motown, au 6255 Sunset Blvd. Un grand building comme on en trouve quelques uns à Los Angeles.
Il ne s'agit pas ici de la première adresse des bureaux. Michael a signé et négocié ses contrats alors que la Motown était installée au 6464 Sunset Blvd (photo tirée de Google Map)
Au croisement de Santa Monica Blvd et Orange Drive, nous cherchons une fresque murale de Michael. En réalité il s'agit juste des yeux de Michael sur un mur de Orange Drive, mais cela nous vaut un petit arrêt et quelques photos.
Nous sommes d'ailleurs tellement attirées par les yeux de Michael que nous ne verrons pas la fresque des mains de MJ, juste à côté, avec un extrait de la chanson Gone Too Soon "born to amuse, to inspire, to delight, here one day... » . L'auteur de ces fresques est Erik Burke.
Au 846 N Cahuenga Blvd, se trouvent les Ren Mar Studios où Michael a tourné le short film Billie Jean en 1983. Les studios ont servi pour quelques séries télévisées telles que Ally McBeal. Madonna et Britney Spears ont également tourné ici. Depuis leur rachat en 2010, ils s'appellent les Red Studios Hollywood.
Il est presque midi et nous nous rendons au Griffith Observatory, l'observatoire de Los Angeles, en haut duquel on a une vue formidable sur toute la ville. Il s'agit apparemment de la même vue que l'on peut d'ailleurs voir dans le clip des Jacksons, Can You Feel It.
Le temps est légèrement brumeux (ou pollué !) et la vue n'est pas nette. Au loin, les buildings du dowtown ne sont pas clairement visibles. On remarque cependant l'étendue de la cité des anges, et tout comme il y a deux, je ne peux détacher ma vue de ce magnifique panorama. Los Angeles est vraiment une ville que j'aime !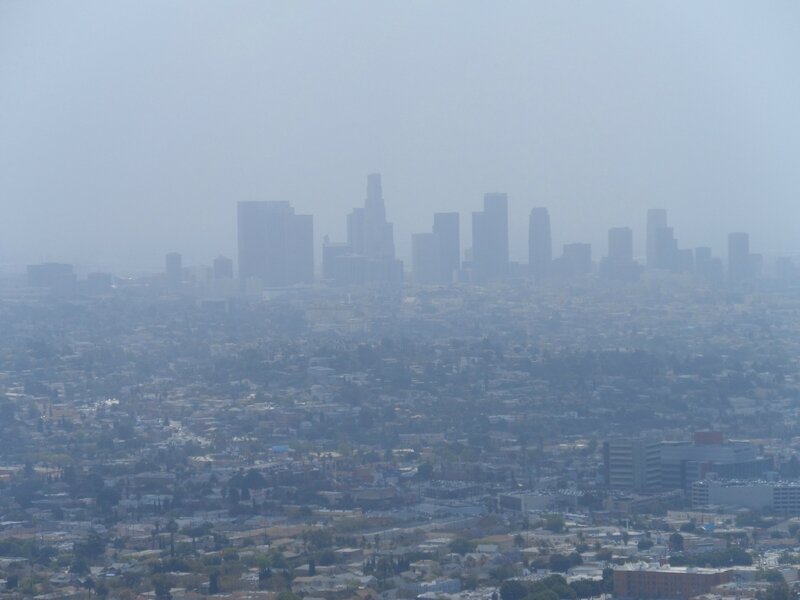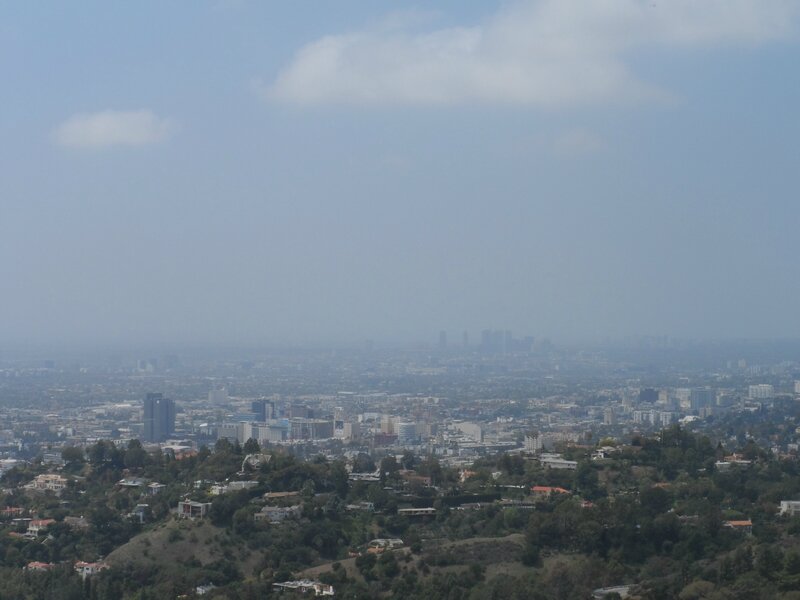 A l'opposé de cette vue, sur une des plus hautes montagnes qui entoure la ville par l'Est, les signes Hollywood sont là, accrochés, attendant qu'on les photographie. Le symbole de cette ville qui en fait rêver tant, y compris moi!
Le Griffith Observatory est également l'endroit qui a vu le premier photoshoot de Michael pour la couverture de l'album Off The Wall. Ces photos de Mike Salisbury n'ont finalement pas été utilisées, un second photoshoot, devant le célèbre mur, aura lieu peu après pour devenir la cover définitive de l'album. On aperçoit les murs de l'observatoire derrière Michael sur la photo.
Nous passons un certain moment à flâner en haut de l'Observatoire puis à le visiter et en début d'après midi, nous reprenons la route pour les Studios Westlake, cette fois, ceux qui sont situé au 8447 Beverly Blvd. Michael y a enregistré Off The Wall et Thriller. Contrairement à ce matin, nous trouvons porte close, il sera donc impossible de demander une faveur !
Nous faisons ensuite un arrêt au 8255 Beverly Blvd, devant les Lion Share Studios. C'est ici que Michael enregistre la démo de We Are The World en 1985. Avant cela, en 1981, Michael avait participé aux chœurs sur un titre de Kenny Rogers, Goin' Back To Alabama, dans ce même studio, dont Kenny Rogers est d'ailleurs le propriétaire.
Les studios existent toujours. Nous nous garons et nous approchons de la porte d'entrée vitrée. On aperçoit un peu de mouvement à l'intérieur, en haut de l'escalier qui mène à l'étage. Nous sonnons, à deux reprises, mais personne ne viendra nous ouvrir…….ce n'est donc pas aujourd'hui que nous pourrons visiter un studio d'enregistrement, d'autant plus qu'il s'agissait de notre adresse pour la journée.
Un peu déçues, nous partons pour notre deuxième visite à Forest Lawn où nous terminerons l'après-midi.
Arrivées à Holly Terrace, nous constatons que nos cartes et les tournesols déposés le samedi ont disparu, alors que les autres bouquets de fleurs sont toujours là ! Nouvelle déception, mêlée à un peu de colère. Les cartes se sont peut être envolées car il y a eu un peu de vent ces derniers jours mais où sont les tournesols ?? Nous n'aurons bien sûr aucune réponse… Je laisse cependant à nouveau un cœur dans les buissons en espérant le retrouver lors de notre visite suivante.
L'endroit est calme, comme la fois précédente. Il n'y a personne à part nous et il y aura seulement une jeune femme qui viendra lors de l'heure que nous passerons ici.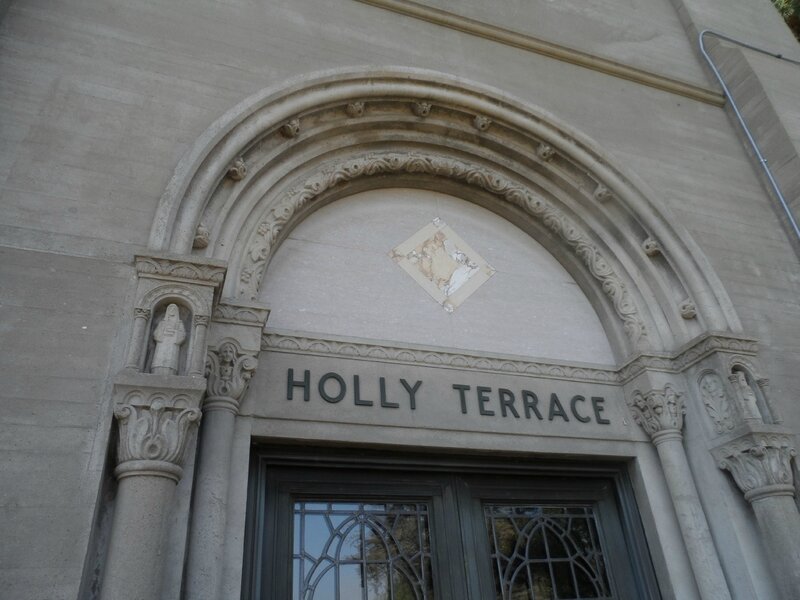 Nous sommes en milieu d'après-midi, le soleil donne sur le vitrail opposé à la porte d'Holly Terrace et nous distinguons l'intérieur du mausolée. Malgré tout ce que je peux ressentir par rapport à cet endroit, j'aurais tellement envie de pouvoir entrer.
J'ai adopté ce banc en pierre près de la porte, qui me permet d'avoir une vue sur le reste du cimetière, et nous passerons à nouveau un long moment perdues chacune dans nos pensées. Je suis toujours rongée par le doute par rapport à ce lieu mais je sais qu'il ne nous reste que peu de jours ici, alors j'oublie un peu ce que je ressens pour ne penser qu'à Michael.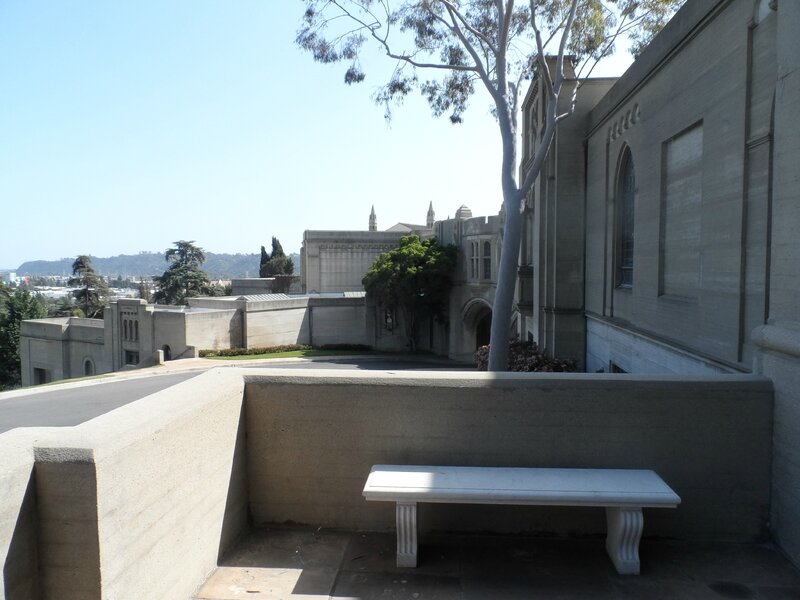 Il est un peu plus de 16h30 quand nous redescendons vers Hollywood. Isabelle veut refaire un petit tour au magasin Starworld, histoire d'alléger un peu son porte monnaie !
Nous circulons un peu en voiture dans les quartiers que nous commençons à connaître un peu, avant de rentrer à l'hôtel. C'est un pur plaisir d'être là, sous le soleil, en vacances, dans la ville de Michael, sur les pas de Michael!