Jeudi 24 avril, c'est notre avant dernière journée dans cette ville de Los Angeles. Ce sera une petite journée de visite et de recherche d'adresses car la fatigue commence à se faire sentir et nous avons décidé de nous reposer un peu et de passer l'après midi au bord de la piscine de l'hôtel.
Vers 9h, nous repartons vers le dowtown. Notre premier arrêt est devant le tribunal de Los Angeles, au 210 W Temple St, là où se sont déroulés les derniers procès contre Murray et AEG.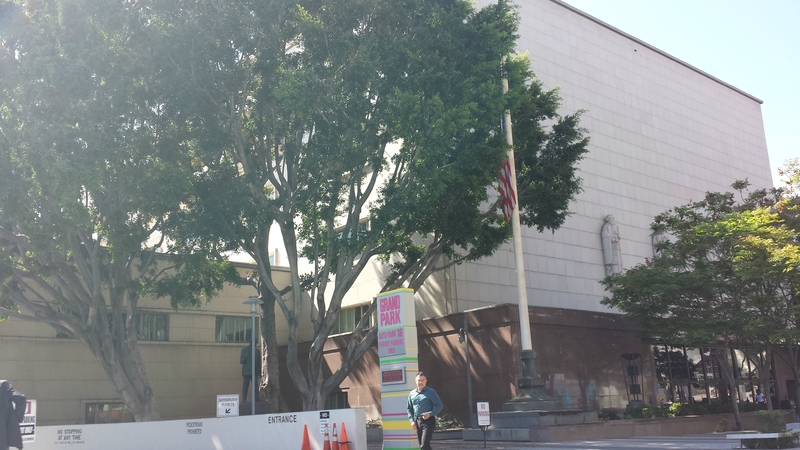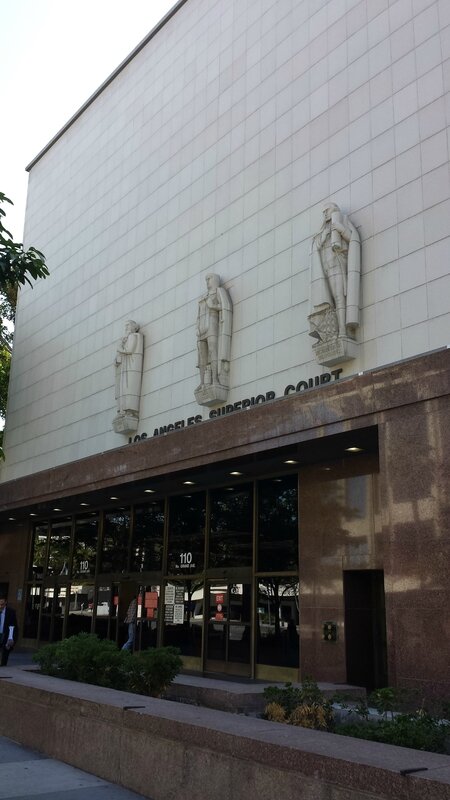 Le Dorothy Chandler Pavilion accueille en 1973 la cérémonie des oscars. Michael y participe car la chanson Ben, qu'il interprète, est nominée dans la catégorie Best Original Song. Malheureusement elle ne sera pas récompensée. Petit arrêt devant cette belle salle de spectacle qui a d'ailleurs accueilli un vingtaine de cérémonies des oscars entre 1969 et 1999.

Sur la vidéo ci-dessous, en 1981, on y voit Michael arriver, accompagné de Diana Ross (à 1 :45)
Le Noe Restaurant, situé dans l'hôtel Omni, n'est pas très loin de là. C'est dans ce restaurant que Michael a réuni sa famille en 2004 pour fêter son 46ème anniversaire.
C'est à l'Orpheum Theater, au 842 South Broadway, que Michael fête ses 45 ans le 30 août 2003. Une fête, appelée Celebration Of Love, où ses fans sont également invités.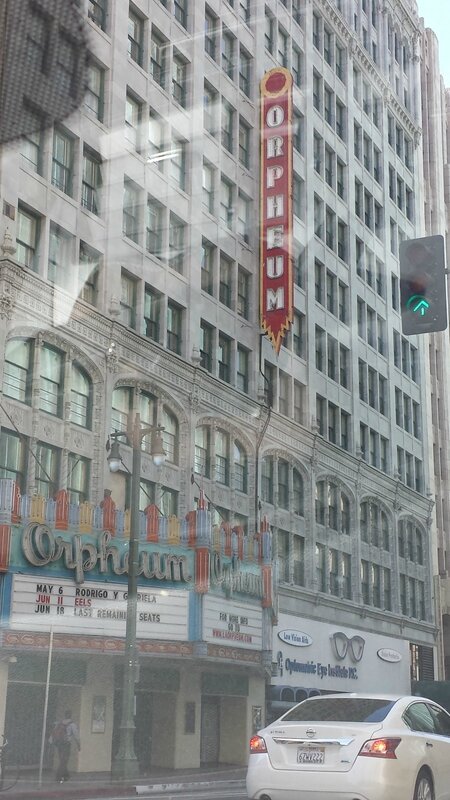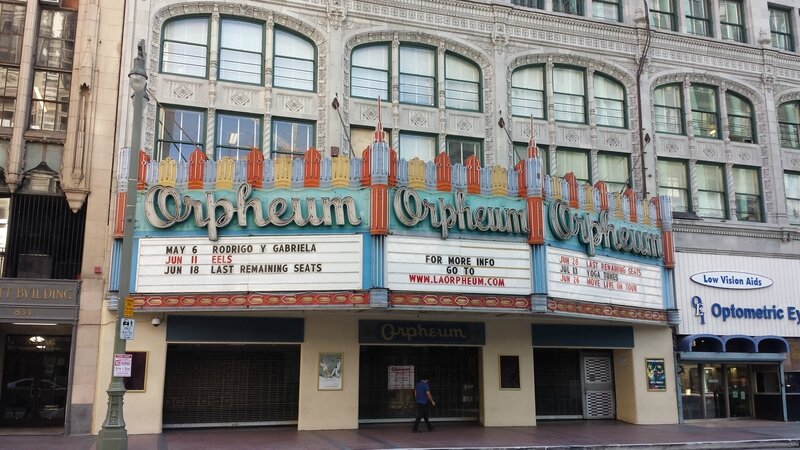 On se souviendra tous du Staples Center, le lieu des dernières répétitions pour This Is It, en 2009 et celui de la cérémonie hommage du 7 juillet 2009. Il est quasiment impossible de se garer devant cette grande salle de spectacle alors pendant qu'Isabelle descend et prend des photos, je visite le quartier en voiture !!

Sur le trottoir en face du Staples Center, se trouvent des médaillons des Grammy Awards (le musée des Grammy Awards est à une centaine de mètres de la salle). Deux d'entre eux indiquent les victoires de Michael aux Grammy,en 1984, pour Thriller et Beat It et en 1986, pour We Are The World.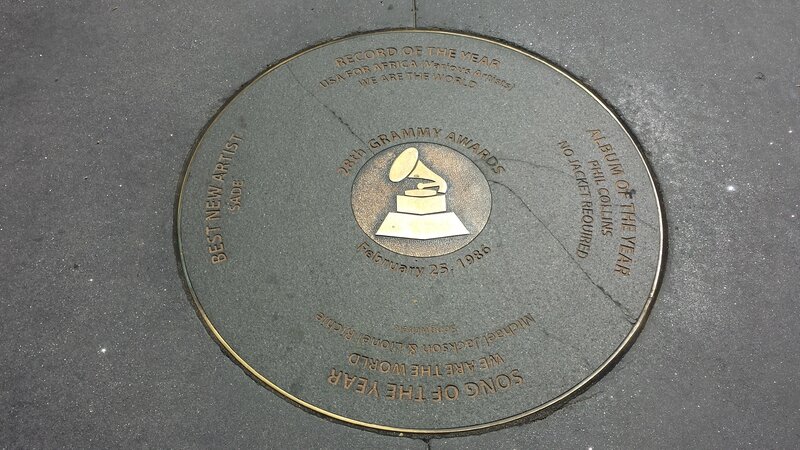 En 2010, l'artiste Rudy Martinez a rendu hommage à Michael Jackson en dévoilant le jour de ses 52 ans, le 29 août 2010, une peinture géante sur un mur de Venice Blvd. Ce graff représente Michael lors de la conférence de presse à l'O2 à Londres, le 5 mars 2009. La peinture de plus de 9 mètres de haut sur 30 mètres de long nous vaut bien sur un arrêt.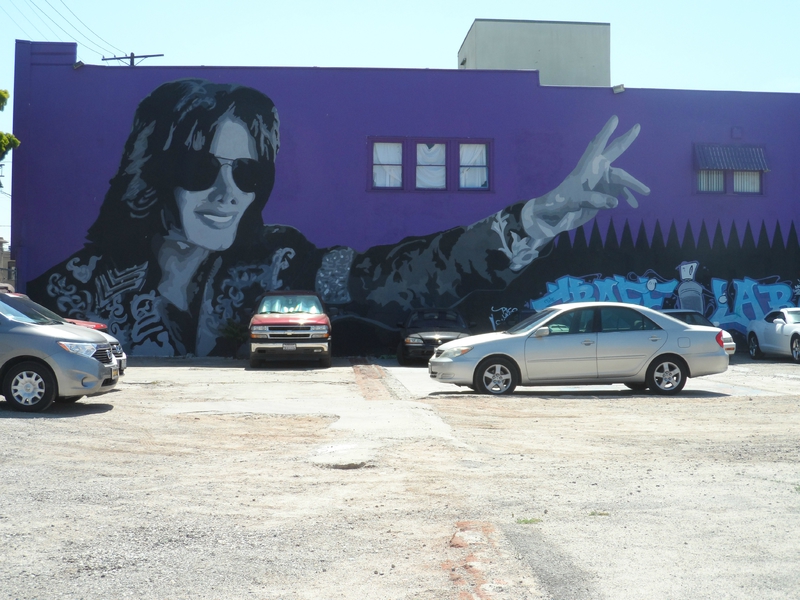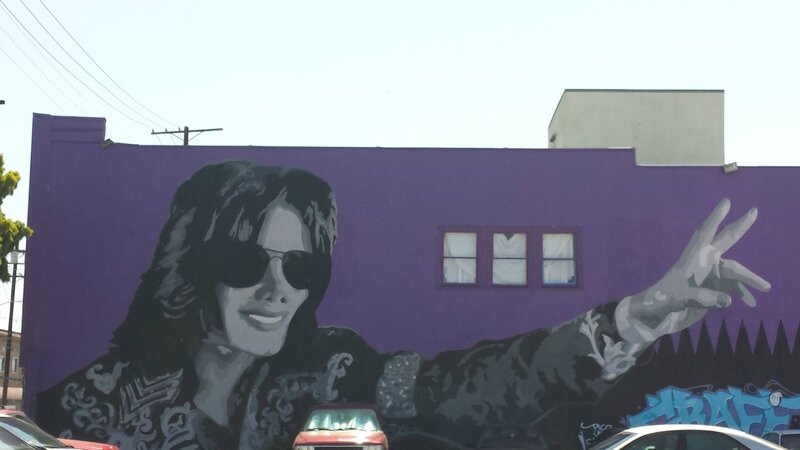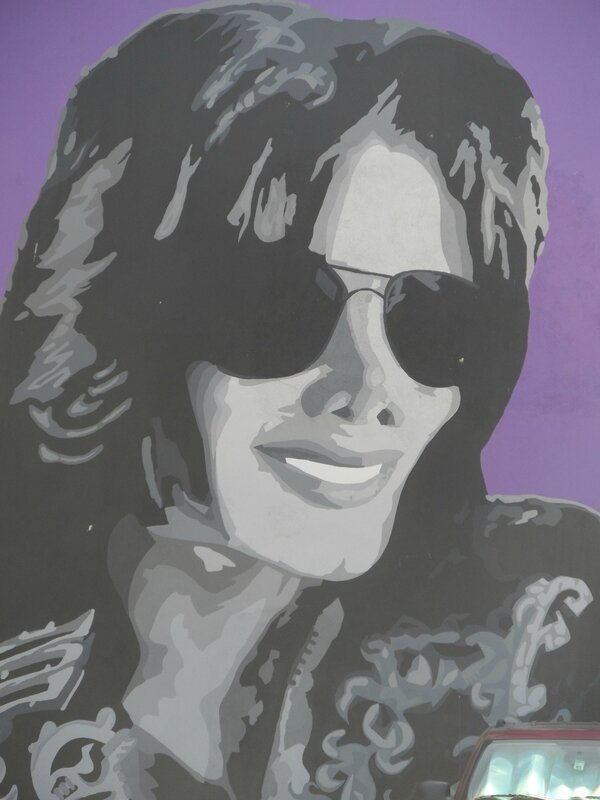 Notre dernière adresse de la journée sera celle de l'église Saint James, au 3903 Wilshire Blvd. Michael se rend dans cette église au début de septembre 1997 afin d'assister à la messe en mémoire de son amie la Princesse Diana, décédée quelques jours plus tôt.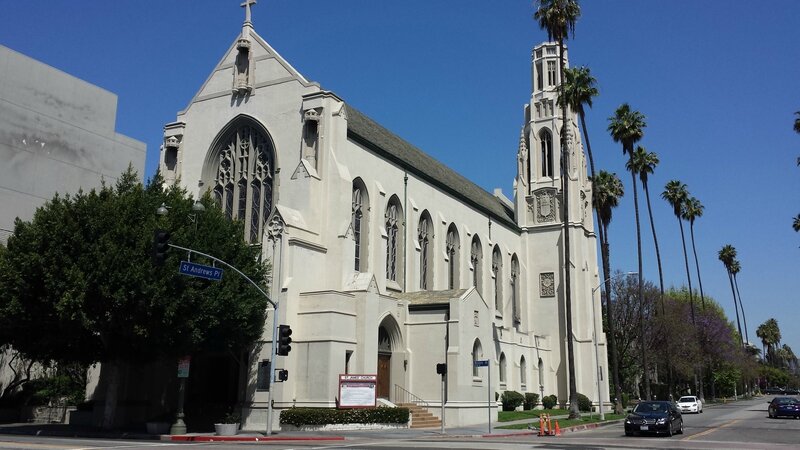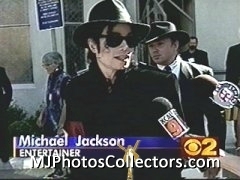 Nous rentrons à l'hôtel vers 12h30. Nous devons changer d'hôtel le lendemain pour nous rapprocher de l'aéroport et après avoir préparer les valises, nous passerons une partie de l'après-midi au bord de la piscine, sous le soleil de Los Angeles. Parce que les vacances c'est aussi la détente et qu'il faut recharger les batteries avant notre retour !!!